Good news for Starbucks fans all over the world!! Finally, Starbucks Japan has released the latest information about Japan limited sakura products collection in 2018. Starbucks stores all around Japan will offer various spring merchandises including sakura(cherry blossom) themed food, beverages, tumblers, mugs, stainless bottles, limited-edition designed card and so on.
The new 2018 sakura collection will start soon with 2 themes: "Looking Back" with retro-designed items from 15 February 2018 and "Looking Forward" with pop and modern-designed products from 28 February 2018.
Today, I'd like to introduce the details of the brand new products with prices. Starbucks Japan's limited sakura collection has been much more popular than other collections since you can buy them only in Japan and sakura itself is one of the most popular things in the country.
▽Check the Sakura Collection in 2019▽
If you are planning to visit Japan in the season, don't miss the chance to get them and feel Japanese spring a little earlier than real cherry blossoms flourish.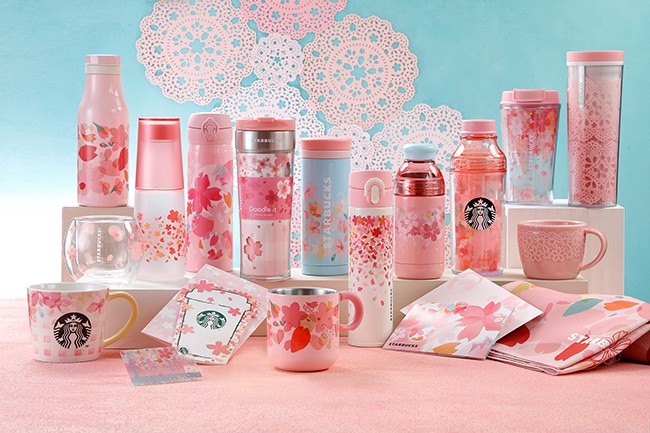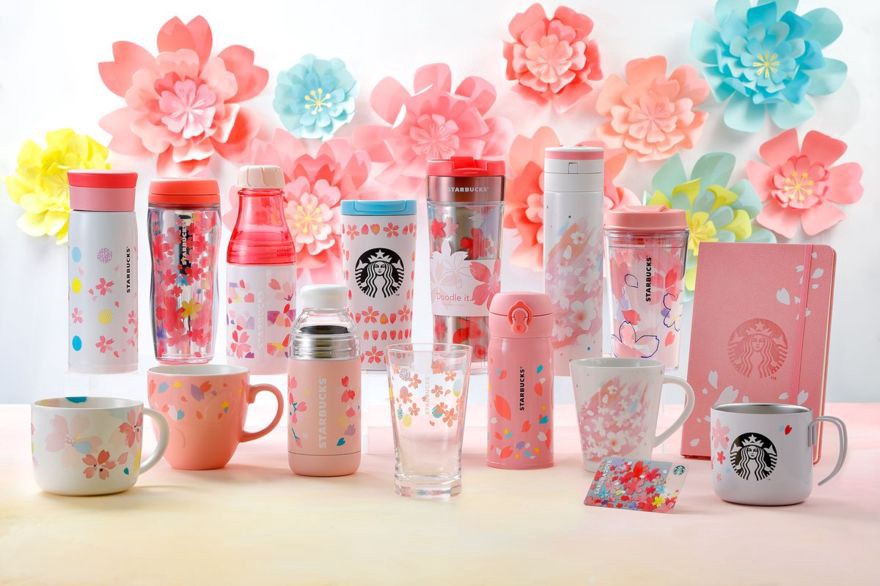 Looking Back (will release on 15 Feb)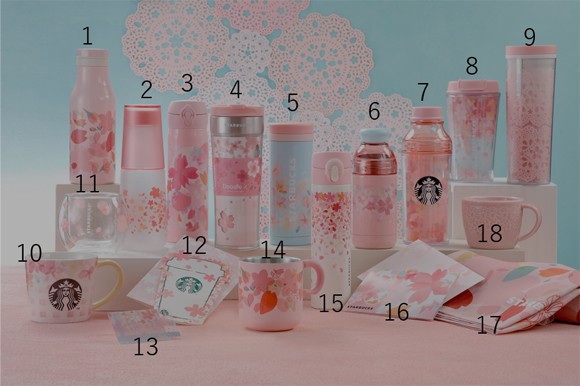 SAKURA 2018 Variety petal stainless steel bottle 473m. / 3,900 yen
SAKURA 2018 Frost crave bottle 500ml. / 2,100 yen
SAKURA 2018 Full bloom handy stainless steel bottle 500ml. / 4,500 yen
SAKURA 2018 Checked create your stainless steel tumbler 473ml. / 2,900 yen
SAKURA 2018 Blue stainless steel screw bottle 330ml. / 3,700 yen
SAKURA 2018 Layered flower double wall stainless steel bottle 355ml. / 3,500 yen
SAKURA 2018 Checked double wall sunny bottle 473ml. / 2,500 yen
SAKURA 2018 Pink tumbler 355ml. / 1,700 yen
SAKURA 2018 Laced tumbler 473ml. / 1,900 yen
SAKURA 2018 Checked mug 355ml. / 1,800 yen
SAKURA 2018 Bubble double wall glass 237ml. / 2,200 yen
SAKURA 2018 Cup beverage card / 620 yen
SAKURA 2018 Sakura layered flower 18 card / 620 yen
SAKURA 2018 Variety petal stainless steel mug 355ml. / 2,700yen
SAKURA 2018 Flower shower slim handy stainless steel bottle 400ml. / 4,300 yen
SAKURA 2018 Full bloom beverage card / 620 yen
SAKURA 2018 FUROSHIKI / 1,500 yen
SAKURA 2018 Embossed laced mug 237ml. / 1,500 yen
Looking Forward (will release on 28 Feb)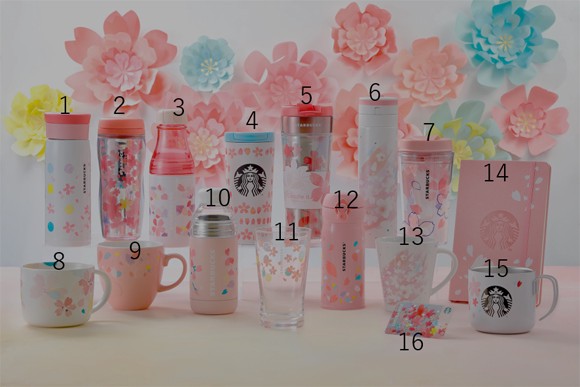 SAKURA 2018 Dotted stainless steel bottle 480ml. / 4,600 yen
SAKURA 2018 Mirrored layered bottle 355ml. / 2,100 yen
SAKURA 2018 Flower striped sunny bottle 500ml. / 2,300 yen
SAKURA 2018 Petal stainless steel tumbler 355ml. / 3,400 yen
SAKURA 2018 Cleared create your stainless steel tumbler 473ml. / 2,900 yen
SAKURA 2018 Pink brush one-touch stainless steel bottle 450ml. / 4,400 yen
SAKURA 2018 White tumbler 355ml. / 1,700 yen
SAKURA 2018 Colorful petal mug 355ml. / 1,800 yen
SAKURA 2018 Embossed petal mug 355ml. / 1,800 yen
SAKURA 2018 Colorful petal double wall stainless steel bottle 355ml. / 3,500 yen
SAKURA 2018 Dotted glass 355ml. / 1,300 yen
SAKURA 2018 Embossed petal handy stainless steel bottle350ml./ 4,300 yen
SAKURA 2018 Pink brush mug 296ml. / 1,500 yen
SAKURA 2018 Journal book / 1,900 yen
SAKURA 2018 White stainless steel mug 355ml. / 2,600 yen
SAKURA 2018 Sakura full bloom 18 card / 620 yen
Sakura Flavored Beverages
Sakura Strawberry Pink Mochi Furapuccino 550 yen (Tall size only)
Sakura Strawberry Pink Milk Latte 430 yen (Short)/470 yen (Tall)/510 yen (Grande)/550 yen (Venti)
Sakura Strawberry Pink Tea 430 yen (Short)/470 yen (Tall)/510 yen (Grande)/550 yen (Venti)
Season: 15th February to 14th March