Samurai Museum Tokyo vs Samurai Museum Kyoto
Samurai Museum Tokyo or Samurai Museum Kyoto: Review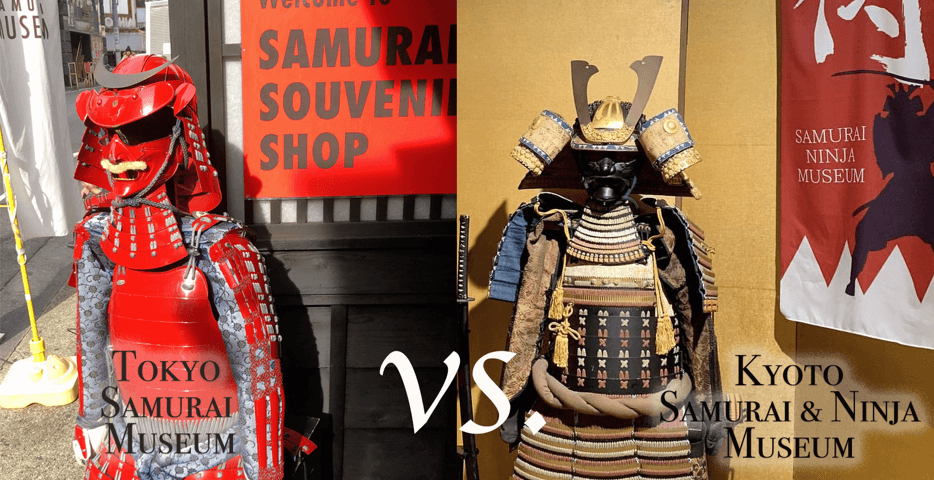 If you are a samurai and martial arts fan like me, you may want to stop by one of the Japanese museums to explore the impressive history and culture of the great warriors of ancient Japan. Luckily the two main hubs, Tokyo and Kyoto, have special samurai-focused museums that will provide you a glimpse of how the feudal Japan looked like and how these unsung heroes lived and died for honor.
*Please note that this article contains affiliate links.
Tokyo Samurai Museum vs. Kyoto Samurai & Ninja Museum
I was fortunate enough to visit both Tokyo Samurai Museum and Kyoto Samurai & Ninja Museum at the end of 2018, and I provided my review below. I realized both had pros and cons. Overall my favorite was Kyoto Samurai & Ninja Museum because I enjoyed the hands on samurai and ninja experiences that are included in the standard ticket along with the engaging history tour. Here is my take on both venues:
Location
Samurai museum Tokyo is located in Shinjuku , relatively convenient area with a catch. It is surrounded by host clubs and at night the area is considered to be the red light district of Tokyo. The closest train station is Shinjuku Station, the closest landmark is the Godzilla head.
Samurai & Ninja Museum Kyoto is located in the downtown Kyoto area right next to Nishiki Market which is a walking distance from the Kiyomizu Temple, the Gion area and a number of historic temples. The closest station is Kawaramachi Subway station and the closest landmark is the Nijo Castle.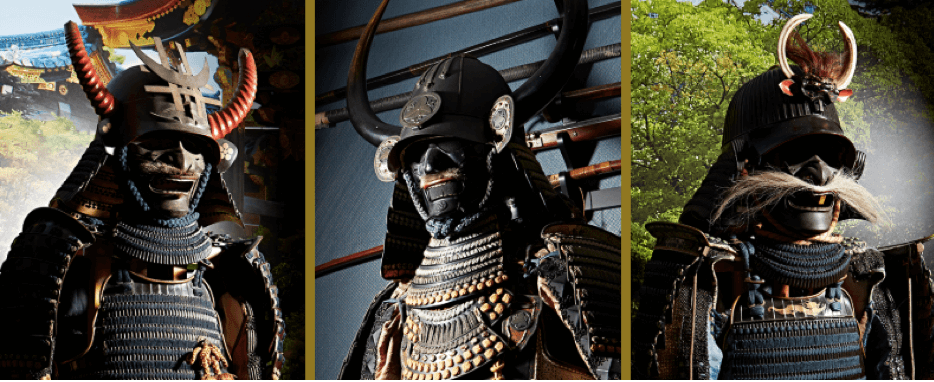 Winner: Kyoto Samurai & Ninja Museum for groups and families. For solo travelers both locations are OK.
Experience
The samurai museum in Tokyo had a limited helmet wearing experience which was OK while in Kyoto we could put up a full body armor and choose from various real samurai helmets (more than 20 types). The Kyoto museum also had ninja experiences; each of us got to use a ninja blow gun and throw ninja stars. Kyoto is historically a samurai city, so it fit well in the itinerary. Additionally, The museum in Kyoto offers samurai sword lessons and real sword tatami cutting experiences several times a day for an an extra fee.
Winner: Kyoto Samurai & Ninja Museum
Exhibitions
Both museums have about the same number of a full set of armors (about 10~15) some from the Edo period and some replicas. Both museums consist of 2 floors and about 6 rooms. The room lighting and the glass cases were better in Tokyo on the other hand you can get very close to the centuries-old armors in Kyoto. The samurai museum in Tokyo has more rifles while the samurai museum in Kyoto has more ninja artifacts and more samurai sword displays. Both museums allow photos (which is rare in Japan) and both museums forbid video filming.
Winner: Even
Guided tour content and tour coverage
Both museums offer FREE guided tours in English. I found the samurai history tour in Kyoto to be more informative and easy to follow. The guide in Tokyo, who looked like a college student fluent in English, mostly talked about the features of armors and swords while the guide in Kyoto talked about the same things by putting them in the context of Japanese history and the samurai culture. The tour guide in Kyoto started from the Heian period and ended in the Meiji period, it also talked about Bushido, why samurais commit harakiri and Kyoto's samurai temples. After the tour in Kyoto, I was able to understand other places I visited in Japan better (Nijo Castle, Kinkakuji temple, Sengakuji Temple).
Winner: Kyoto Samurai & Ninja Museum
Samurai show
Both museums score avg. in terms of the show since in both venues a sword master demonstrates certain sword moves without fighting against an opponent. It is sort of a fighting simulation and there is only one person on the stage. It is not like many samurais are fighting against each other which would be considered an "epic" show performed by a team or acrobats. I figured this is called "kata" in iado. The shows in Tokyo are offered 4 times a day mostly in the afternoons, while in Kyoto they have shows every hour.
Winner: Even
Gift Shop
The gift shop in the Tokyo samurai museum was bigger while the museum in Kyoto had a souvenir shop that sold mostly replica swords and antique samurai swords. Both museums ship replica swords overseas for an additional cost (abut 30~40 USD depending on where you live).
Winner: Tokyo Samurai Museum for variety of samurai memorabilia, Kyoto samurai museum for variety of samurai swords.
Price
The entrance fee of Tokyo samurai museum is ¥1900 per person . The ticket (which costs approx. 17 USD), covers the tour and the sword demonstration in the afternoon but does not include any significant hands on experience. The entrance fee of the Kyoto Samurai & Ninja Museum with Experience is ¥2400 which includes ninja blow gun use, ninja star throw, samurai armor trial, the guided tour and the samurai show. The ticket price of ¥2400 (approx. 21 USD) of Samurai & Ninja Museum in Kyoto was a good value for money since it comes with ninja and samurai experiences and an engaging history tour.
Winner: Kyoto samurai & ninja museum. If you are tight on the budget, I recommend the Edo Tokyo museum which is cheaper but does not offer shows, tours or experiences.
Business hours
The Samurai museum in Tokyo opens at 10:30 AM and closes at 9:00 PM. They do not accept guests after 8:30 pm. The Samurai museum in Kyoto opens at 10:00 AM and closes at 8:00 PM. In both museums, guided tours are offered frequently from the opening. In both venues I waited less than 10 minutes for the free English tour and I didn't have to reserve online. If you search online, you will find out that you can purchase tickets either on the spot or online in advance. The museum in Kyoto has discounts for large groups.
The samurai museum in Tokyo has 4 shows a day, offered in the afternoons. The samurai museum in Kyoto has shows every hour.
Winner: Even
Conclusion
IMPORTANT NOTE: Overall, my recommendation is Kyoto Samurai & Ninja museum as a good learning and fun activity for groups and families visiting Japan for the first time. However, please consider the following as well.
▽Book the Kyoto Samurai & Ninja museum online right now!▽
If you already know about the armors and Japanese history, or if you already know the difference between yoroi and gusoku, then I recommend visiting the Edo Tokyo museum or the Tokyo National Museum.
If you want to see the largest and the most expensive samurai armor collection in Japan, then I recommend the Kunozan Toshogu Museum in Shizuoka . But please remember that you are not allowed to take photos, and the place is far from any big city.
If you want to enter into a samurai house where samurai families actually lived, I recommend the Nomura Clan Samurai house in Kanazawa.
If you want to visit a samurai village, I recommend Kokunodate samurai district in Akita or the Chiran samurai residence in Kagoshima.
If you want to wander around where the samurais traveled in the past, I recommend hiking between Kumano and Mount Koya, a.k.a. Kumano Kodo.
If you want to enter into a house where ninjas lived or stayed at, I recommend the Nijo Jinya in Kyoto.
If you want to visit a samurai castle, I recommend Himeji Castle (accessible from Osaka in 20 minutes by the bullet train) which is a UNESCO world heritage site.
If you want to visit a site where they shot the last samurai movie, I recommend the Engyoji temple in Shosa-zan. Some important scenes were filmed here but the bulk was actually shot in New Zealand.
If you want to buy an antique samurai armor or antique samurai sword, I recommend the Kyoto Samurai & Ninja Museum.
If you want to see how samurai swords are made, I recommend Bizen Osafune sword museum in Okayama.
For more info about Japanese culture, check out these articles below, too!
▽Related Articles▽
▼Editor's Picks▼
---