Pronto x Pokémon Special Autumn Collaboration 2023
Pokémon Special Menu: Three special autumn drinks and four special dishes at Pronto!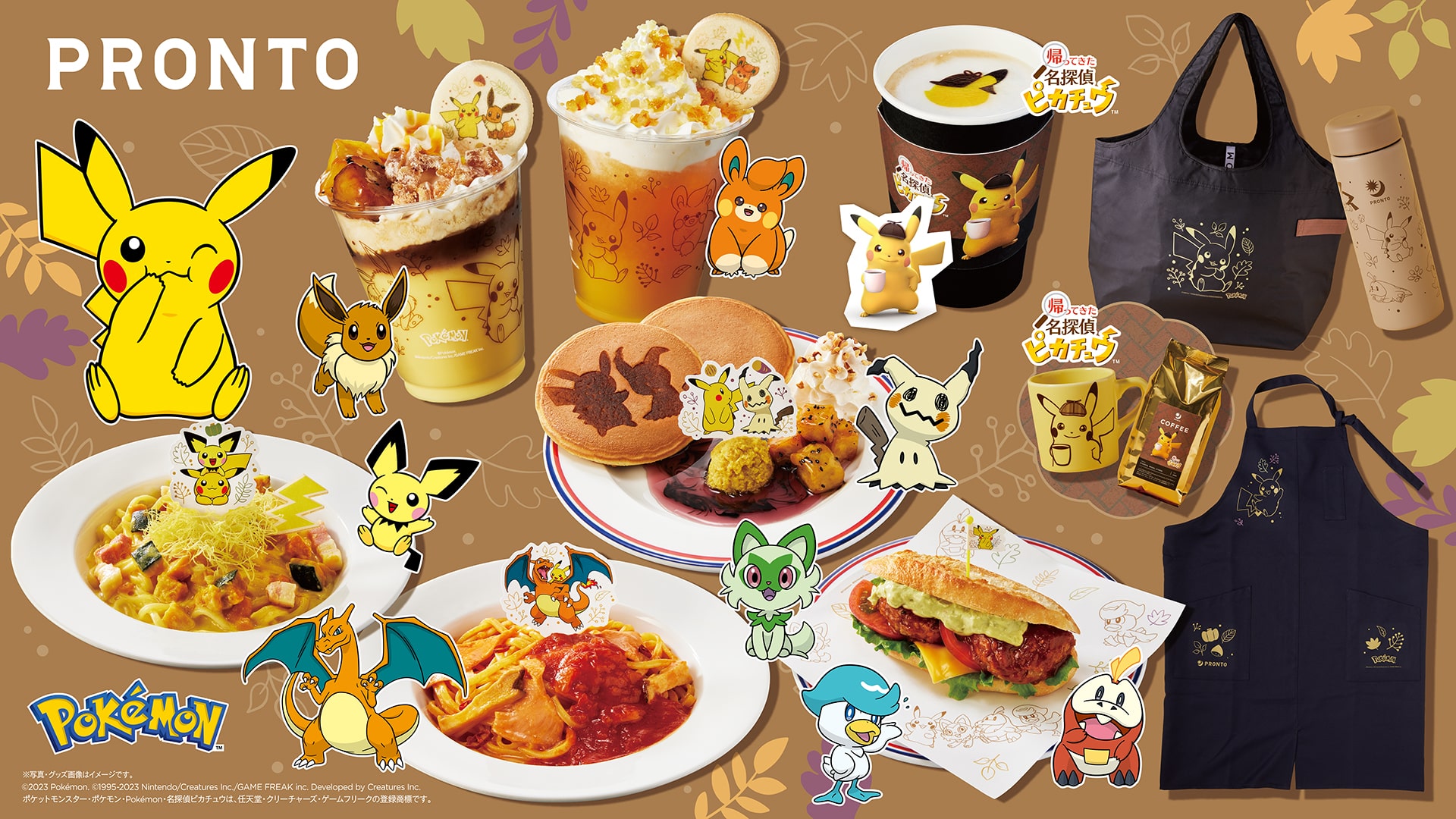 The popular coffee shop Pronto, that serves breakfast as well as simple dishes such as pasta, sandwiches, etc., is making a collaboration with the famous Pokémon to create a new Pokemon special autumn menu.
Pronto will be selling special Pokémon menus and original goods at Pronto stores nationwide from October 12th (Thursday) to December 10th (Sunday) to commemorate the release of the Nintendo Switch game Return of Detective Pikachu.
The menu includes three special autumn drinks and four special food items (pasta, sandwiches, and sweets) inspired by various Pokémon. In addition, five key stores will be decorated with Pokémon and special fall-inspired decorations!
Wanna see the special menu and goods of this unique time-limited collaboration? Keep reading!
Drink & Food Menu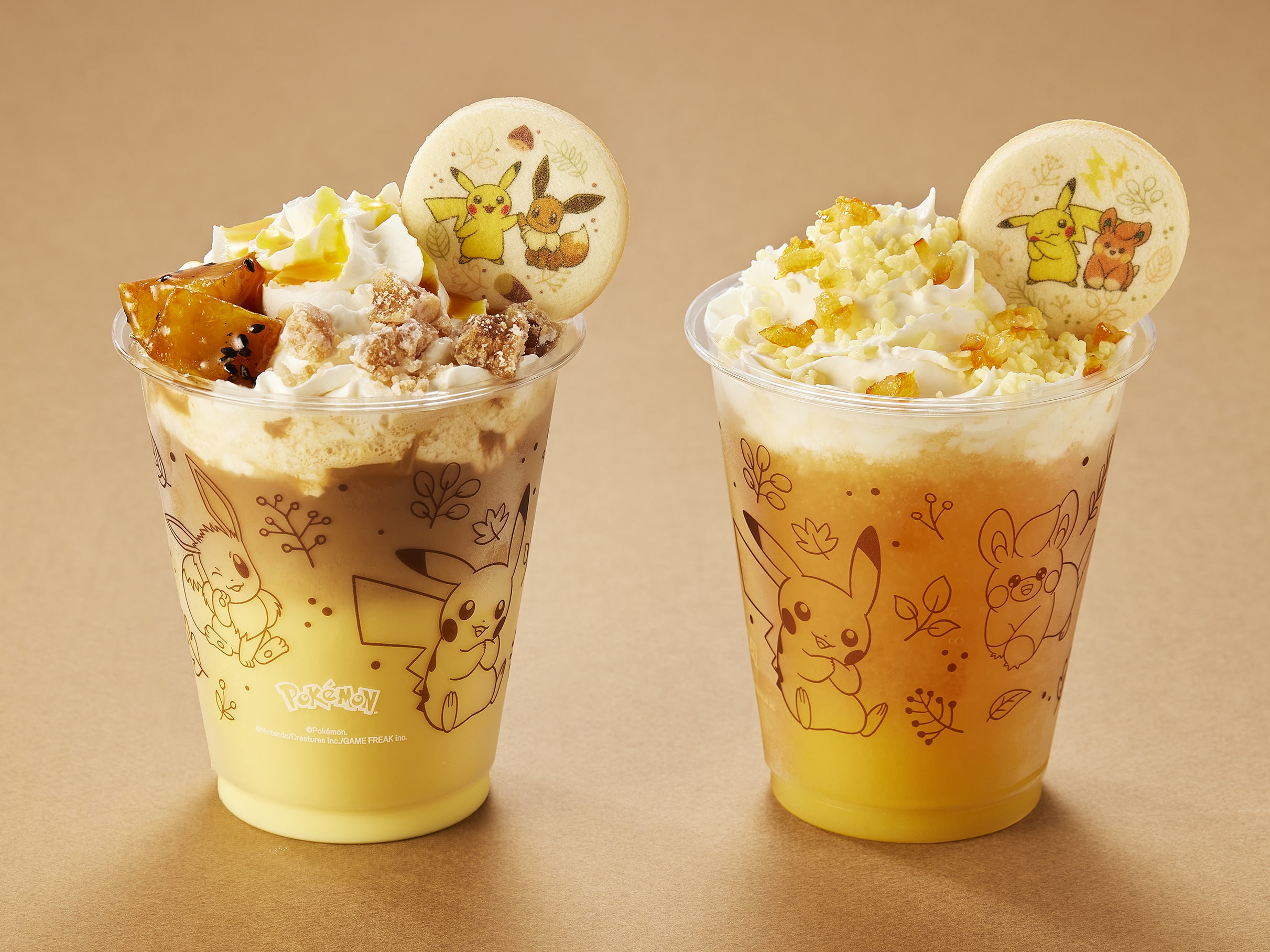 Pikachu and Eevee's Friendly Sweet Potato Marron Latte: 990 yen
An original Pronto beverage that mix sweet potato milk with expresso, topped with whip, sweet potato dice, marron glace and sweet potato sauce. The finishing touch is a crunchy cookie with Pikachu and Eevee.
The drink is yellow and brown, representing the colors of Pikachu and Eeevee.
Pikachu and Pawmi's Crackling Electric Orange Tea: 990 yen
Fragant Earl Grey and orange juice combined with vanilla syrup, topped with whipped cream, crackling yellow chocolate and blood orange peel. Finished with a Pikachu and Pawmi's crunchy cookie.
In this case the colors of the drink are yellow and orange for Pikachu and Pawmi.
Pikachu and Pichu's Pumpkin Cream Pasta: 1,870 yen
A cream sauce pasta served with pancetta and diced pumpkin from Hokkaido. On the top, kadaif noddles and monaka (a Japanese sweet) to create an "electric shock".
Pikachu and Charizard Flamethrower Tomato Cream Pasta: 1,870 yen
Spicy tomato cream sauce pasta with sliced chili peppers, salmon and Japanese eringi mushrooms. The plate represents the flamethrower attack of Charizard.
Sandwich with Pikachu, Sprigatito, Fuecoco and Quaxly: 1,650 yen
A generous sandwich filled with cheddar cheese, avocado, tomato slices, green leaves and hamburger steak. A Pikachu flag pick and a sandwich paper with Pikachu, Sprigatito, Fuecoco and Quaxly are used to represent a fun picnic.
Pikachu and Mimikyu Shadow Sneak Sweet Potato Pancake: 1,870 yen
A pancake plate with bean paste and purple sweet potato sauce inspired by the Ghost type and a bamboo charcoal maple sauce inspired by Mimikyu's Shadow Sneak technique. The pancakes have the silhouettes of Pikachu and Mimikyu. Served with sweet potato dice and whipped topping sprinkled with almonds.
Detective Pikachu's Pikkatto Fluttering Milk Coffee: 990 yen
Milk coffee with the gentle sweetness of condensed milk, topped with an illustration of Detective Pikachu. An original menu item to commemorate the release of Detective Pikachu is back.
Special Gifts
Customers who order a special drink will receive a shiny Pokemon original Thanks card (21 designs in total) while those who order special food will receive a Pokemon original acrylic keychain (9 designs in total). In both cases they will be given randomly' (you can't choose).
We will give you one free gift is for each order.
Goods
Original goods will also be available at Pronto stores during the period.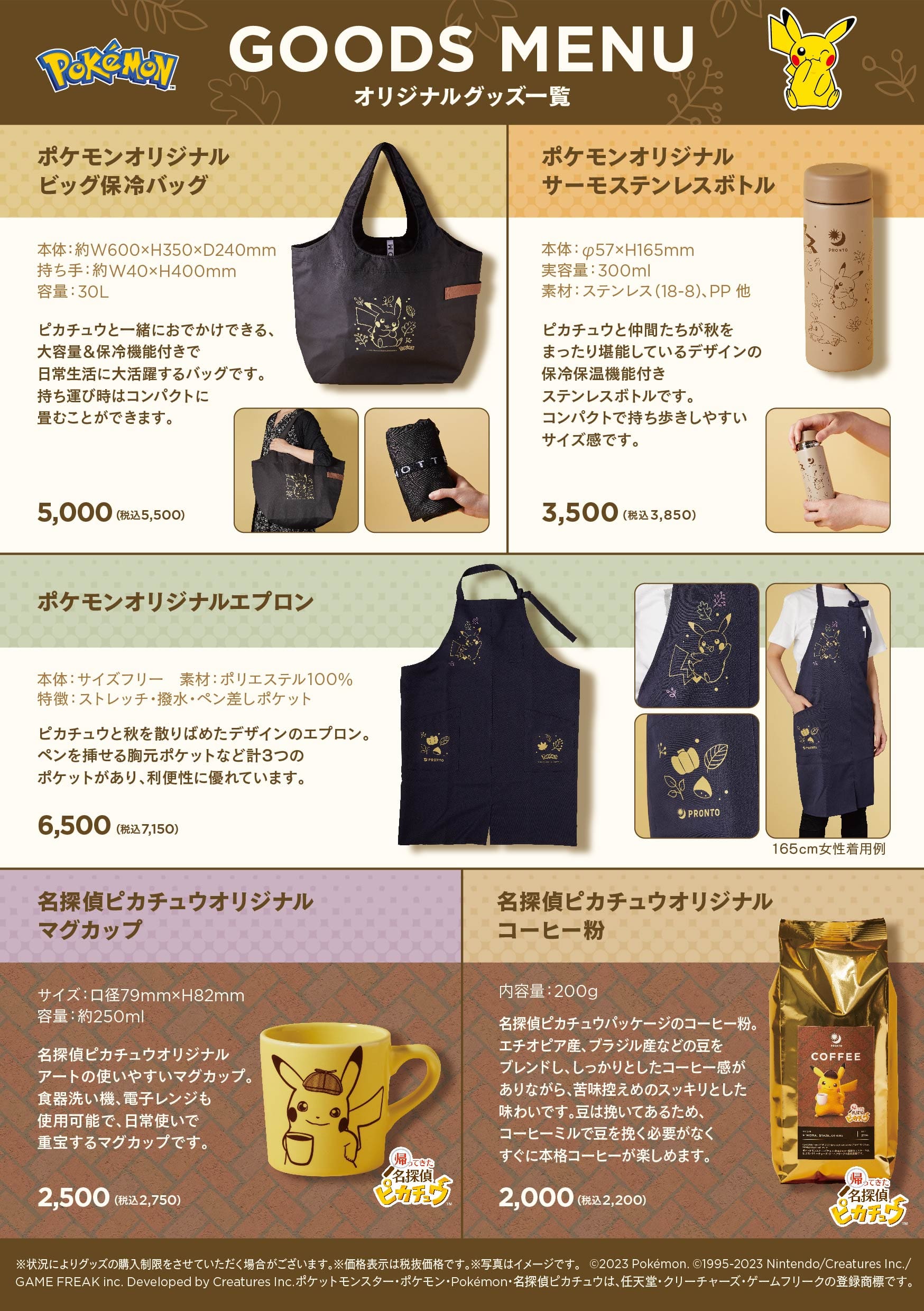 Key stores with special decorations
PRONTO New Chitose Airport Store: https://bit.ly/3RF8q1s
PRONTO Akihabara North Exit Store: https://bit.ly/3PzDmgU
PRONTO Ginza Corridor Store: https://bit.ly/45bjoi3
PRONTO Umeda Rakutenchi Building store: https://bit.ly/3LHVOml
PRONTO Fukuoka Shintenmachi store: https://bit.ly/46rE2LY
---
Who else is looking forward to going to Pronto to get their hands on this special menu?🤩 If you are a Pokémon fan you can't miss this unique chance!
To know about other best things to do in Japan during Autumn and Halloween, don't miss these articles either!
▽Related Articles▽
▼Editor's Picks▼
---