Tanzan Shrine: Hidden 13 Storied Pagoda in Nara
Nara Tanzan Shrine: The only 13-story wooden pagoda existing in the world!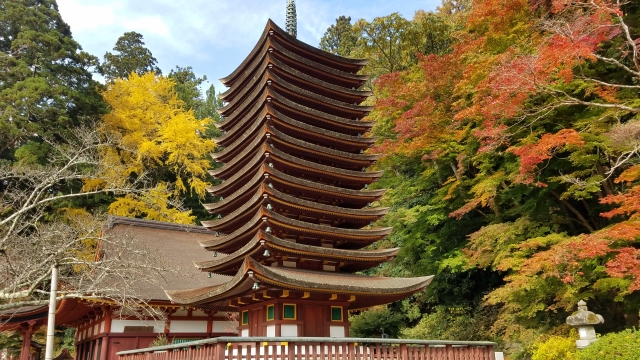 The only 13-story wooden pagoda existing in the world! An amazing shrine to visit for both cherry blossoms or autumn leaves 😉
Tanzan Shrine (談山神社) is a Shinto shrine located on the mountain in Sakurai city, Nara prefecture.
The shrine is one of the most old and historical sites in Japan. It was founded in 678 during Asuka period by Fujiwara no Kamatari, the founder of the powerful Fujiwara clan, who governed Japan in Heian period. The shrine was in fact built was a temple originally, though it was converted to a shrine during anti-Buddhist movement in Meiji period.
Tanzan Shrine features 17m tall, 13-story pagoda, which was built in Muromachi period. The pagoda is considered as the only one 13-story wooden pagoda existing in the world and it is designated an Important Cultural Properties of Japan.
The shrine is a very popular spot for viewing autumn leaves. Usually from mid October, an autumn festival is held at the shrine site for 2 months. Though, the best time for autumn leaves viewing is from mid November to early December, and the shrine holds a light-up event at night from 10th to 26th November 2017.
Although most of visitors go there for autumn leaves, Tanzan Shrine is actually a great spot for cherry blossom viewing too. There are over 500 cherry trees at the site blooming from early to mid April, usually.
Other highlight of the shrine is Kemari Festival, which is held twice annually on 29th April (Showa Day) and 3rd November (Culture Day). Kemari is a ball game which was popular in Japan during the Heian Period and it's similar to football in present day. At the festival, people in ancient costumes and arranged in a circle play a form of football in which they kick a ball made of deerskin to each other.
MAP:
Access: bus from Sakurai station south exit and get off at Tanzan Jinja stop ( 25 mins)
Hours: 8:30~16:30
Admission: 600 yen
Website: http://www.tanzan.or.jp/english/
↓↓↓ Check more articles about Japan!! ↓↓↓
---