1 Day Itinerary in Tokyo for First Time Visitors
Best One Day in Tokyo from Sushi and Wagyu Beef to Sumo wrestling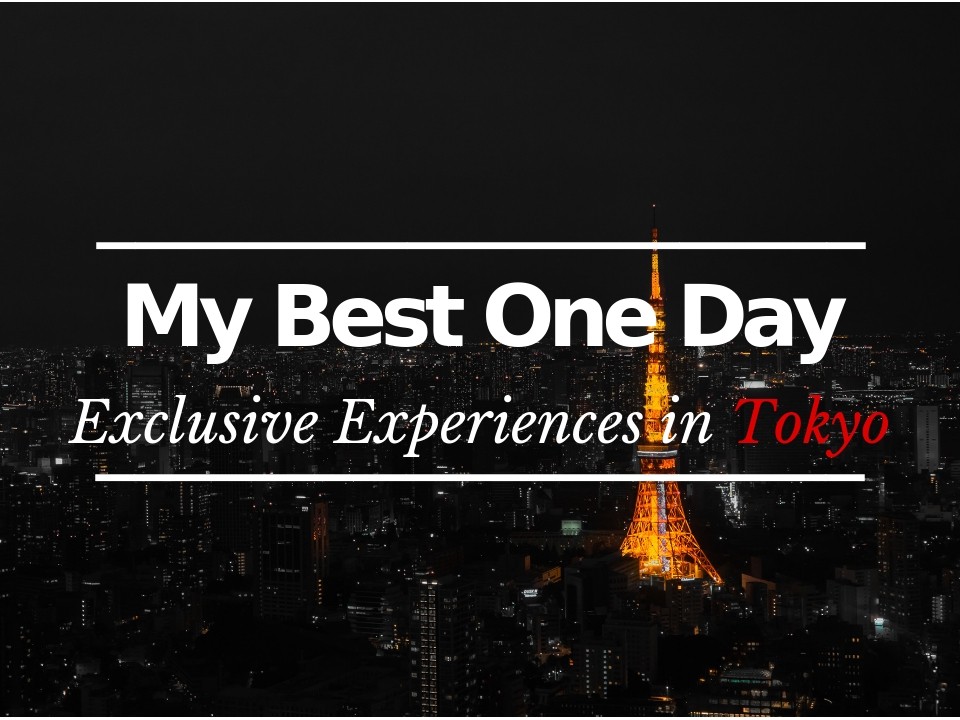 Tokyo is the best popular travel destinations as you know, and there are too many things to do to put in your bucket list. The capital has a variety of faces from old towns with traditional buildings and traditional culture to modern metropolis with skyscrapers and pop culture.
Tokyo also offers all kinds of food options including popular Japanese food like ramen and sushi, of course. You may wonder how to plan, what to do or where to eat on your trip to the city especially for those who visit Tokyo for the first time. Otherwise, some people want to enjoy traveling in Tokyo only in a few days before moving to other areas such as Kyoto and Osaka.
Today, I'd like to suggest my best one day itinerary in Tokyo with which you can fully enjoy Tokyo's essential attractions including Japanese traditional and pop culture, authentic Japanese food and nightlife.
These restaurants and activities below are really popular especially among foreign tourists, so it's highly recommended to book them as soon as you buy flight tickets to Tokyo. You can book these wonderful activities and limited seat reservations at the best rate from the links listed below!
*Please note that this article contains affiliate links.
8:00am-10:00am Sumo Wrestling Morning Practice in Asakusa
Sumo wrestling, national sports in Japan, is one of the most interesting traditional Japanese cultures. Six grand Sumo tournaments are held in Japan every year and watching the matches is popular among foreign tourists. What's more unique and interesting is watching morning practices of Sumo wrestlers. There are numerous Sumo stables (training room) in Ryogoku, Tokyo which is located near Asakusa. You can see how they practice in the morning before your nose. You can't have that exclusive experience except Tokyo. After that, it's recommended to walk to Asakusa (about 15–20 mins walk from Sumo stables) to see Sensoji Temple and Kaminarimon Gate.
Let's take the subway named Asakusa Line to move to Ginza area for special lunch!
<Next>
Asakusa Station to Shimbashi Station
Line: Asakusa Line
Time: 20 mins
Train Guide: http://bit.ly/2ULB7bY
11:30am-1:00pm Sushi Lunch at Kyubey in Ginza
Choose the best sushi option for your lunch in Ginza area: Sushi Ginza Kyubey. It takes 20 mins to get to the nearest station Shimbashi Station from Asakusa Station by Asakusa Line. Ginza Kyubey, a long-established restaurant since 1935, is one of the most popular and top-rated sushi restaurants in Tokyo, and you can taste the authentic quality sushi reasonably in lunch time. It's not easy to make a reservation, however, I'd like to offer the special booking link below. Some handling fee is charged, but it's totally worthy by thought of its booking difficulty and affordable lunch offering.
Move from the classy town Ginza to the pop culture town Akihabara taking JR Yamanote Line at Shimbashi Station.
<Next>
Shimbashi Station to Akihabara Station
Line: JR Yamanote Line
Time: 8 mins
Train Guide: http://bit.ly/2SeJsZe
1:30pm-2:30pm Pop culture in Akihabara
After satisfied with the gorgeous Japanese food, enjoy Japanese pop culture in Akihabara. It takes less than 10 mins from Shimbashi Station to Akihabara Station by JR Yamanote Line. The most recommended activity is a Go-Kart, but it's not just Go-Kart. You can drive through the modern pop town wearing special costumes such as your favorite characters of anime, manga and vedio games. Don't forget to bring your International Driving Permit.
If you don't have the driving permit or worry a little about driving in the foreign country, another option is here: Maid Cafe. You are welcomed by waitresses dressed up in maid costumes at the maid cafe where you can chat with them and have cute food and drinks.
<Next>
Akihabara Station to Shinjuku Station
Line: JR Chuo-Sobu Line
Time: 17 mins
Train Guide: http://bit.ly/2SwBJVv
3:20pm–6:00pm Robot Restaurant in Shinjuku
Take the JR Chuo-Sobu Line from Akihabara Station and get off at Shinjuku Station. The next activity is Robot Restaurant in Shinjuku, one of the most popular tourist attractions in Tokyo. It's located at the red-light district Kabukicho in Shinjuku. Robot Restaurant is not a normal restaurant, which offers a performance show featuring gigantic robots, dazzling neon light, laser beams, acrobatic Kawaii dancers and loud music. That will be one of the most impressive memories on your stay in Tokyo. It's really recommended to book your seat from this link below since you can get 34% discount!!
<Next>
Shinjuku Station to Shibuya Station
Line: JR Yamanote Line
Time: 6 mins
Train Guide: http://bit.ly/2RK1q0v
7:00pm–9:00pm Dinner at Hakushu in Shibuya
The bustling town Shibuya is our final destination on the day. Just several minutes from Shinjuku to Shibuya Station. What to eat for dinner in Shinjuku? My answer is Wagyu Beef which is the hottest Japanese food following sushi and ramen. You can eat premium Wagyu Beef brands including Kobe Beef and Matsusaka Beef. Hakushu is the most-visited Wagyu Beef restaurant by foreign people for its quality and affordable rate. Wagyu Beef is grilled on the iron griddle just in front of you in the Teppanyaki style. Enjoy tasting and watching the juicy beef!!
9:00pm- Drinking at Izakaya
It may not be enough for you if you go back to your hotel before 9 or 10 pm, keep enjoying nightlife at the energetic Shibuya. There are a great number of Izakaya (Japanese style pub), bars and night clubs in Shibuya. For Japanese Izakaya experiences, I recommend to visit Niku Yokocho which is the drinking complex housing 28 Izakaya. It is located at the center of Center Gai near Shibuya Station.
It is nice choice to stay overnight in Shibuya, and here is the list of best hotels in Shibuya. On the following morning, how about going out for a walk to Yoyogi park for rich nature? The park is located close to each hotel on this list.
The best way to move in Tokyo is train and subway, so you should get day passes with unlimited rides.
Tokyo Subway Pass is the most-used one by visitors in Tokyo, and there are 3 kinds of duration: 24-Hour, 48-Hour and 72-Hour.
If you move to other areas from Tokyo such as Kyoto, Osaka, Hiroshima, etc, Japan Rail Pass is the only option for you!
This is also useful travel tips for you! Did you know you can be a luggage-free traveler by delivering your heavy luggage from airports or hotels to your next destination. Enjoy traveling in Tokyo and the whole of the country hands free.
I'd be very happy if this suggested itinerary could help your plan. This is my best one day in Tokyo, honestly. You can complete the Tokyo's popular neighborhoods including Asakusa, Ginza, Akihabara, Shinjuku and Shibuya with various activities and food. Experience the exclusive attraction only in Tokyo reasonably and efficiently.
▽Compare another one day itinerary in Tokyo?▽
For more info about Tokyo, you might also like these articles below.
▽Related Articles▽
▼Editor's Picks▼
---