5 Spots Where You Can Find Yayoi Kusama's Artworks in Japan!
Where to see Yayoi Kusama in Japan?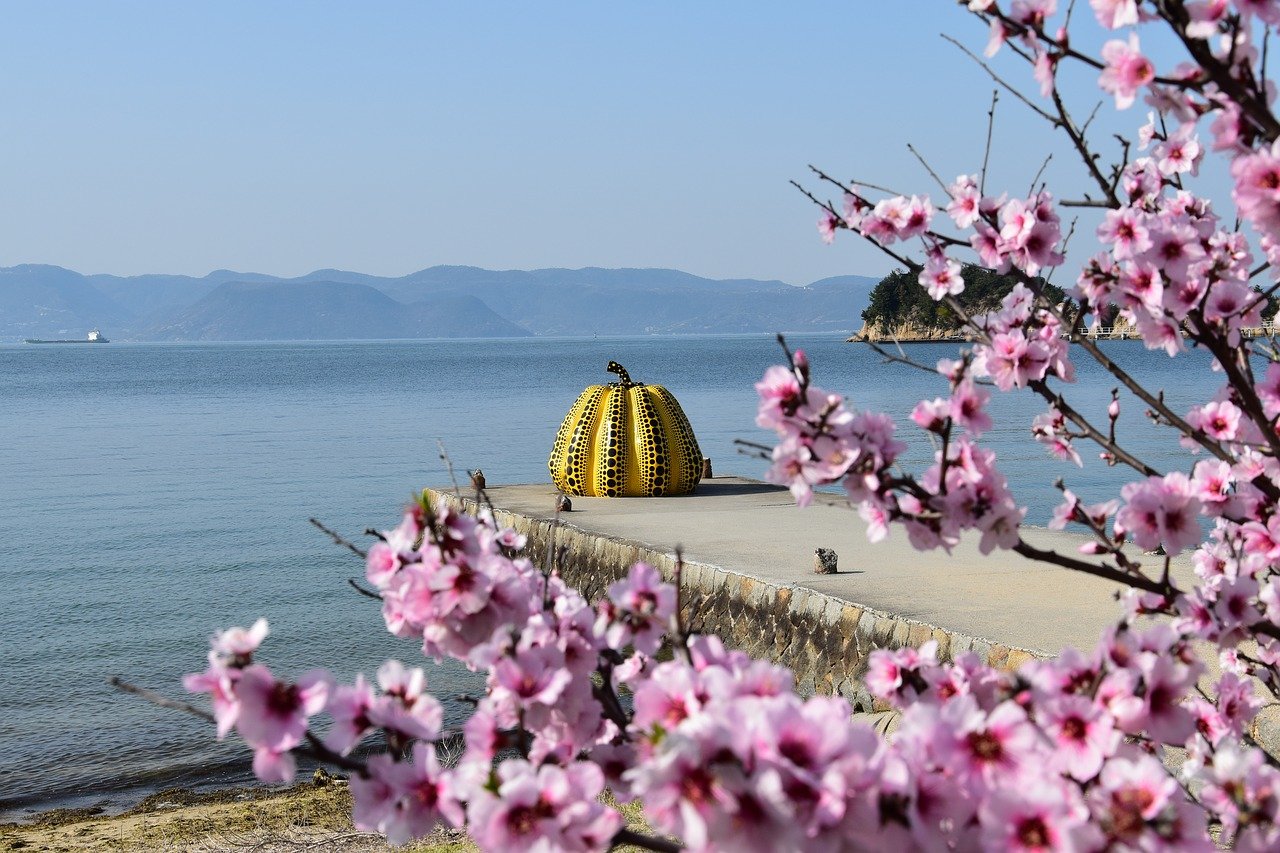 The Queen of Pop Art! Yayoi Kusama is a famous Japanese artist and one of the most influential people on earth! Her artworks attracts are enormously famous and inspire numbers of artists worldwide. In 2017, her very first own museum has opened in Shinjuku area, Tokyo, and it has been one of hottest spots in Tokyo today. But did you know that her masterpiece of art can be found in several locations in Japan?? Today, I'm going to introduce 5 spots in Japan where her exclusive artworks can be found!
Who is Yayoi Kusama??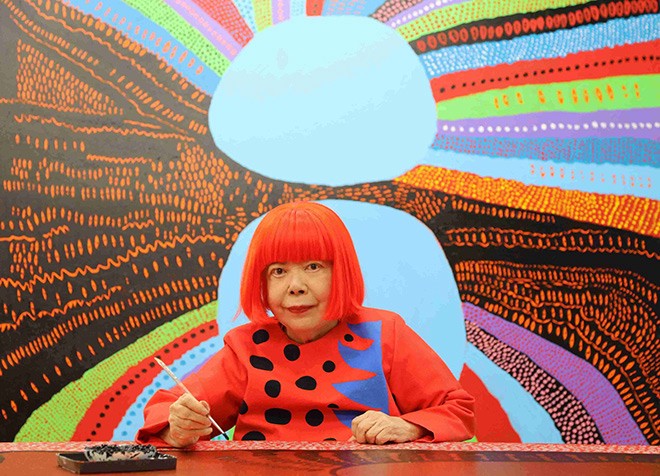 Yayoi Kusama (草間 彌生, born March 22, 1929) is a Japanese artist and writer. Throughout her career she has worked in a wide variety of media, including painting, collage, soft sculpture, performance art, and environmental installations, most of which exhibit her thematic interest in psychedelic colors, repetition, and pattern. A precursor of the pop art, minimalist and feminist art movements, Kusama influenced her contemporaries such as Andy Warhol, Claes Oldenburg, and George Segal and exhibited works alongside the likes of them. (source: wikipedia)
1. Towada Art Center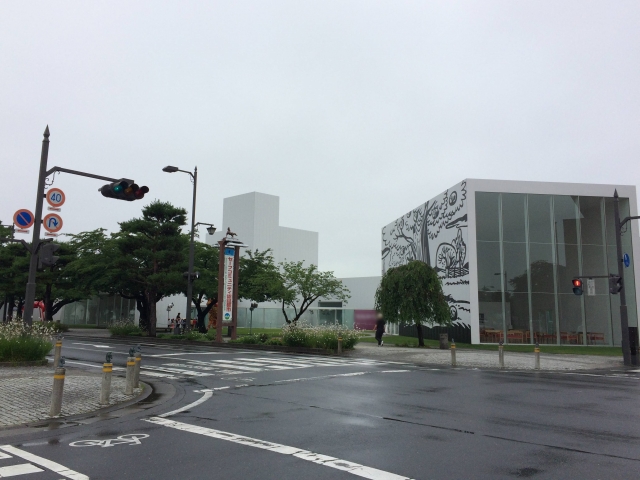 Towada Art Center (十和田市現代美術館) is a contemporary art museum located in Towada City, Aomori prefecture. The museum stores a permanent collection of 38 commissioned artworks by greatest artists, including Yayoi Kusama, Yoko Ono, Choi Jeong Hwa, and Ron Muek. 8 of Kusama's sculptures "Love Forever, Singing in Towada" are displayed at their outdoor space.
Map: https://goo.gl/iv6IG3
Access: bus from Shichinohe-Towada Station (40 mins) or Hachinohe Station (60 mins)
Hours: 9:00–17:00 (Closed on Mondays)
Fee: 500 yen (permanent exhibition), 1,000 yen (permanent+special exhibition)
Link: http://towadaartcenter.com/en/
2. Matsumoto City Museum of Art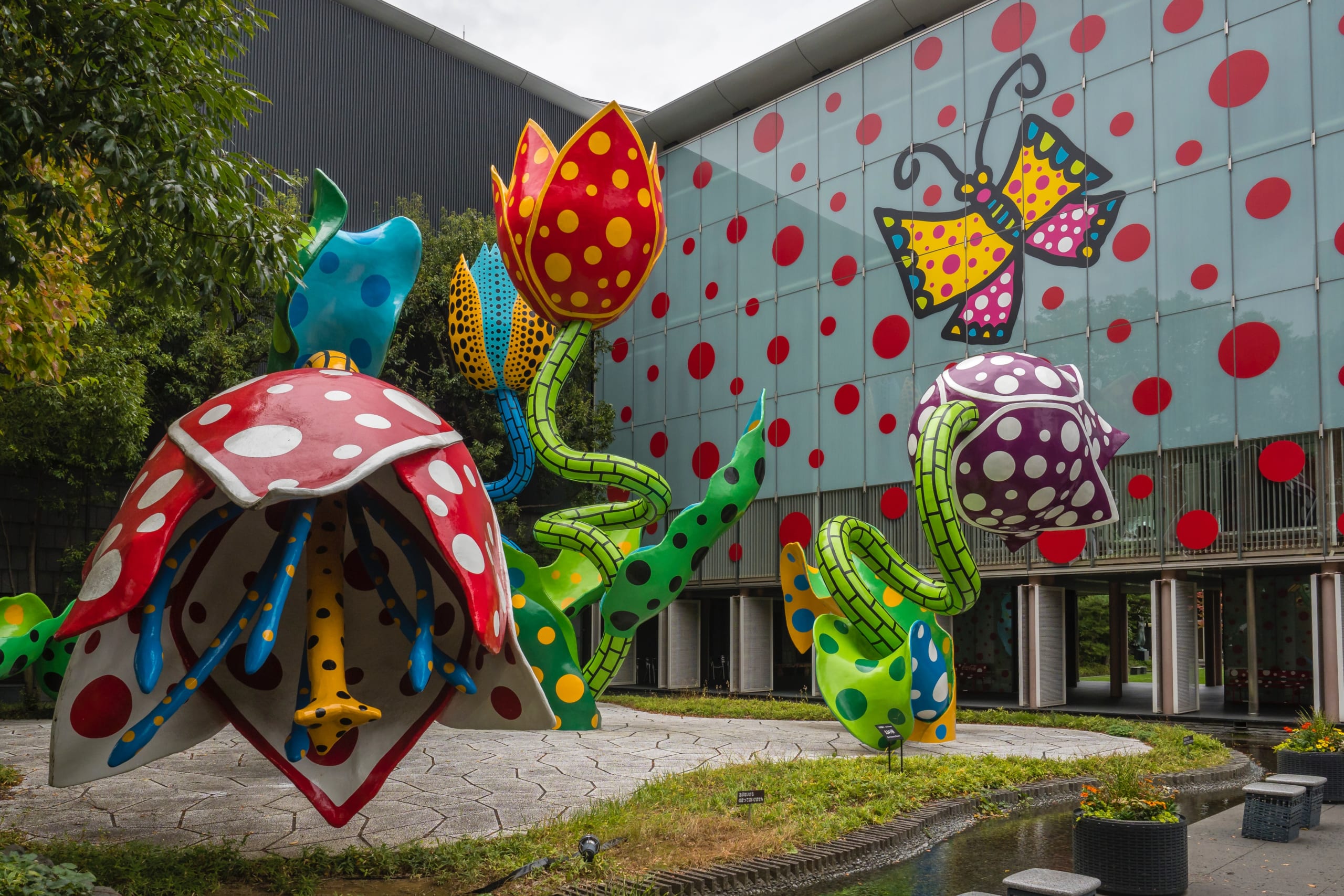 Matsumoto City Museum of Art (松本市美術館) is a museum located in Matsuoto City, Nagano. Matsumoto is well known for the Matsumoto Castle and it is indeed her birth place. Her famous sculpture, "Flowers that Bloom at Midnight" is displayed at the entrance of the museum and several other her artworks are at the exhibition. It's the best place to discover her roots at the place of her nativity.
Map: https://goo.gl/fKiZkn
Access: 12 mins walk from Matsumoto station
Hours: 9:00~17:00 (Closed on Mondays)
Fee: 410 yen
Link: http://matsumoto-artmuse.jp/en/
3. Naoshima Island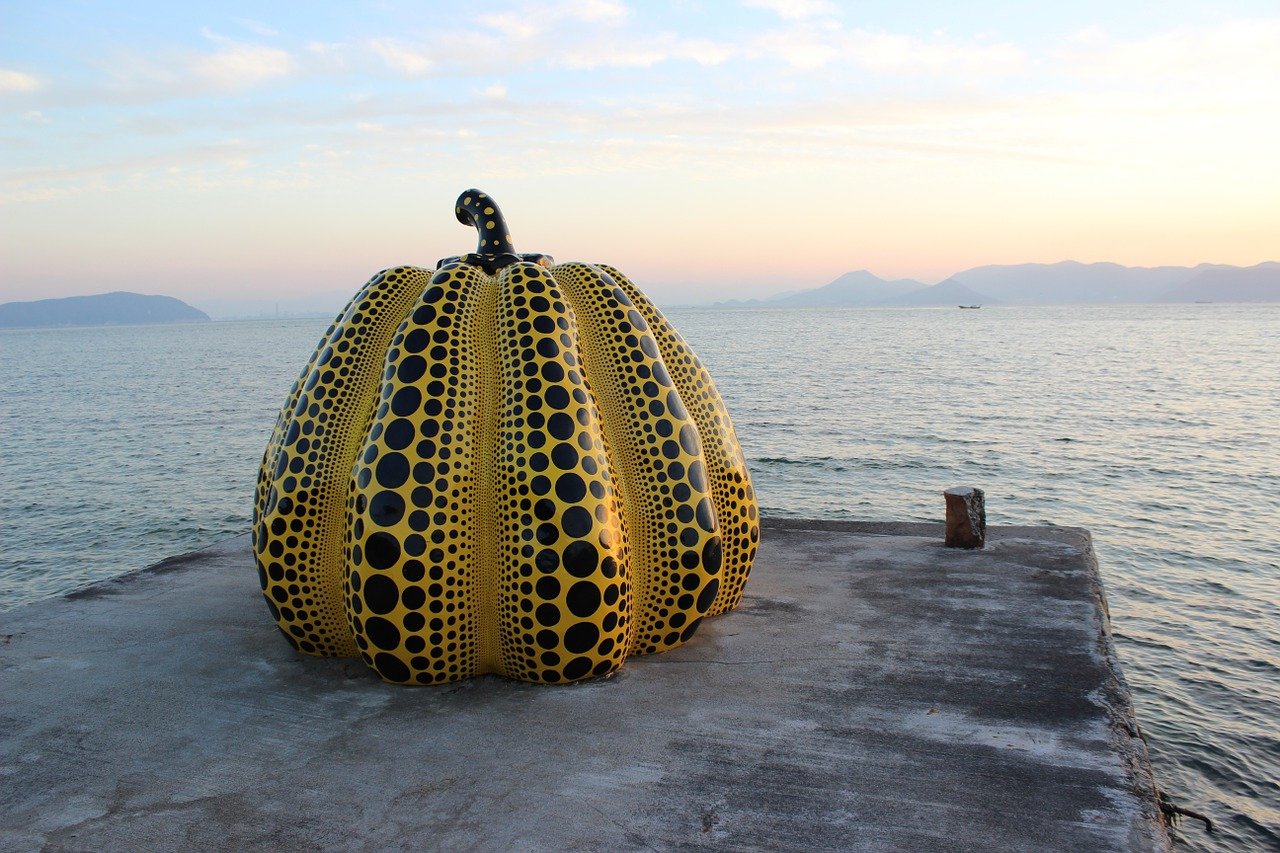 Naoshima Island (直島) is an island on Seto Inland Sea in Kagawa prefecture. The island is often called "an art island" and her pumpkin sculpture is the symbol of the island. There are numbers of museums and outdoor art exhibits on the island including two of Kusama's dotted pumpkins.
Map: https://goo.gl/gOjTUp
Access: Ferry from the main island or Shikoku island. Check their website for more details.
Link: http://benesse-artsite.jp/en/
4. Kirishima Open-air Museum
Kirishima Open-air Museum (霧島アートの森) is an open-air museum located in Yusui town in Kagoshima prefecture. The museum has a 20ha space and number of artworks are displayed at the indoor Art Hall and outdoor including Kusama's "Flowers of Shangri-la" and "High Heel".
Map: https://goo.gl/pRu2qI
Access: bus from Kurino station (30 mins)
Hours: 9:00am~5:00pm (till 7:00pm on weekends, Closed on Mondays)
Fee: 310 yen (permanent exhibition), 1,040 yen (permanent+special exhibitions)
Link: http://open-air-museum.org/en/
5. Yayoi Kusama Museum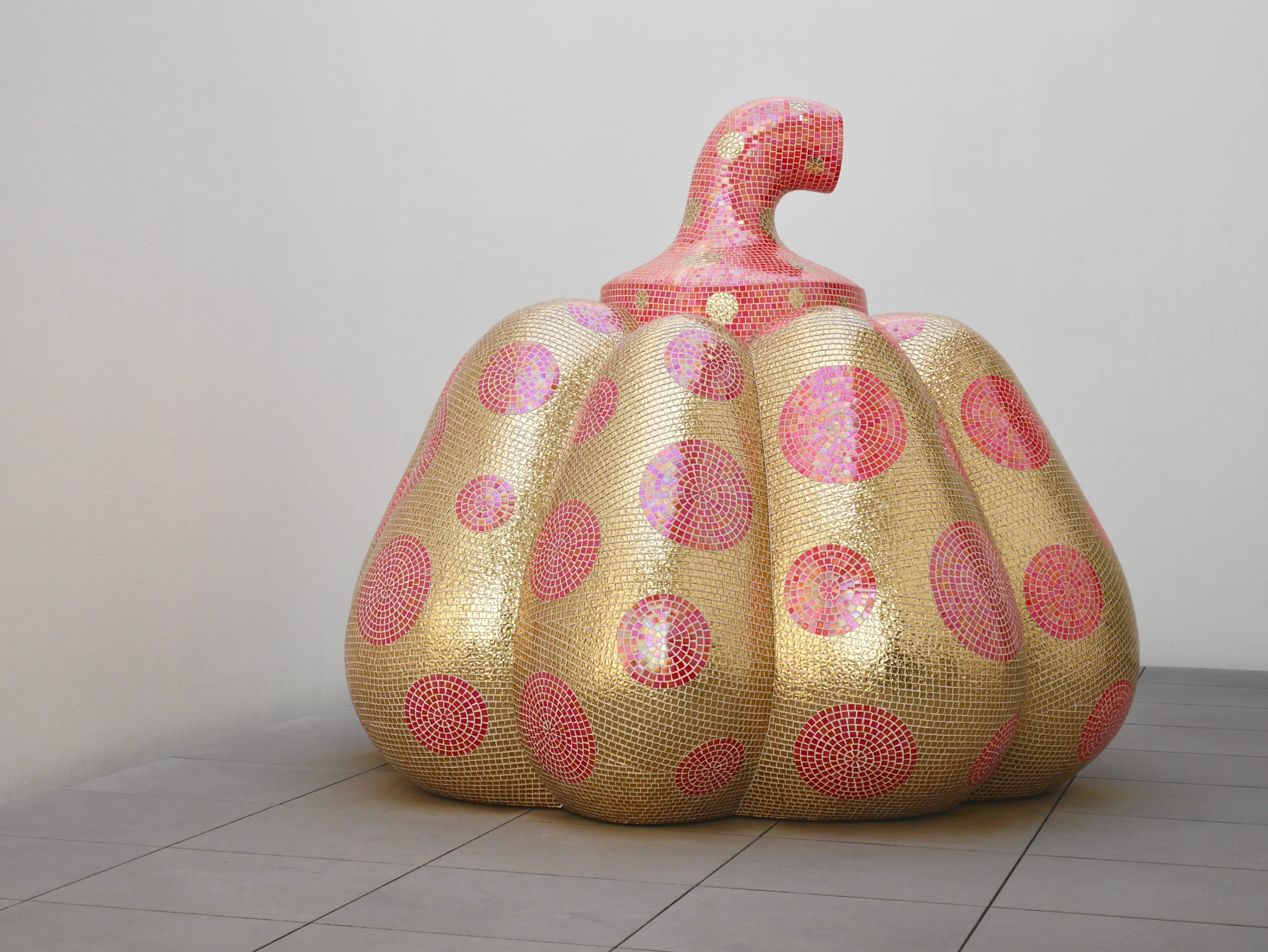 Yayoi Kusama Museum (草間彌生美術館) is a contemporary art museum in Shinjuku, Tokyo, dedicated to the work of Yayoi Kusama. The museum opened in 2017 with an inaugural exhibition of 600 Kusama's works. The five-story building was designed by Japanese architecture Kume Sekkei. One floor of the museum is dedicated to one of Kusama's infinity room installations, titled "Pumpkins Screaming About Love Beyond Infinity. The museum requires booking in advance as it allows 200 visitors per day, based on timed tickets.
Related Article:
+GINZA SIX <<NOT AVAILABLE>>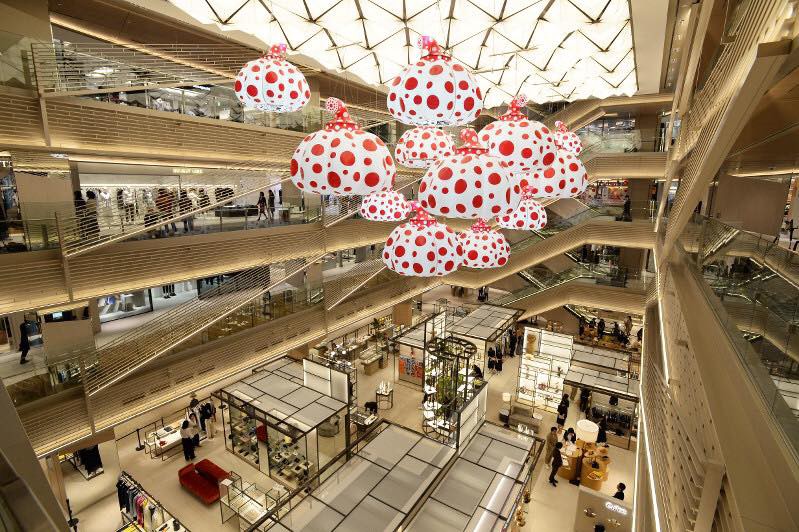 The newly opened department store in Ginza, Tokyo, GINZA SIX features Yayoi Kusama's famous pumpkin statues are displayed at the center of the complex building!! It will be displayed for one year, and her pop-up store is held till mid May 😉
→ Update in April 2018. The pumpkin statues have been removed in March 2017 after being a symbol of GINZA SIX for the past year, and now replaced by the new art installation by French conceptual artist Daniel Buren.
Map: https://goo.gl/jYkKGd
Access: 2 mins walk from Ginza Station A3 Exit
Hours: 10:30~20:30
Link: https://ginza6.tokyo/
---
Are you into art?? Then please check out these articles, too!
▽ Related Articles ▽
▼Editor's Pick▼

---