EL MONTE RV JAPAN : Travel around Japan with a Rental Campervan!
Best Rental RV in Japan: EL MONTE RV JAPAN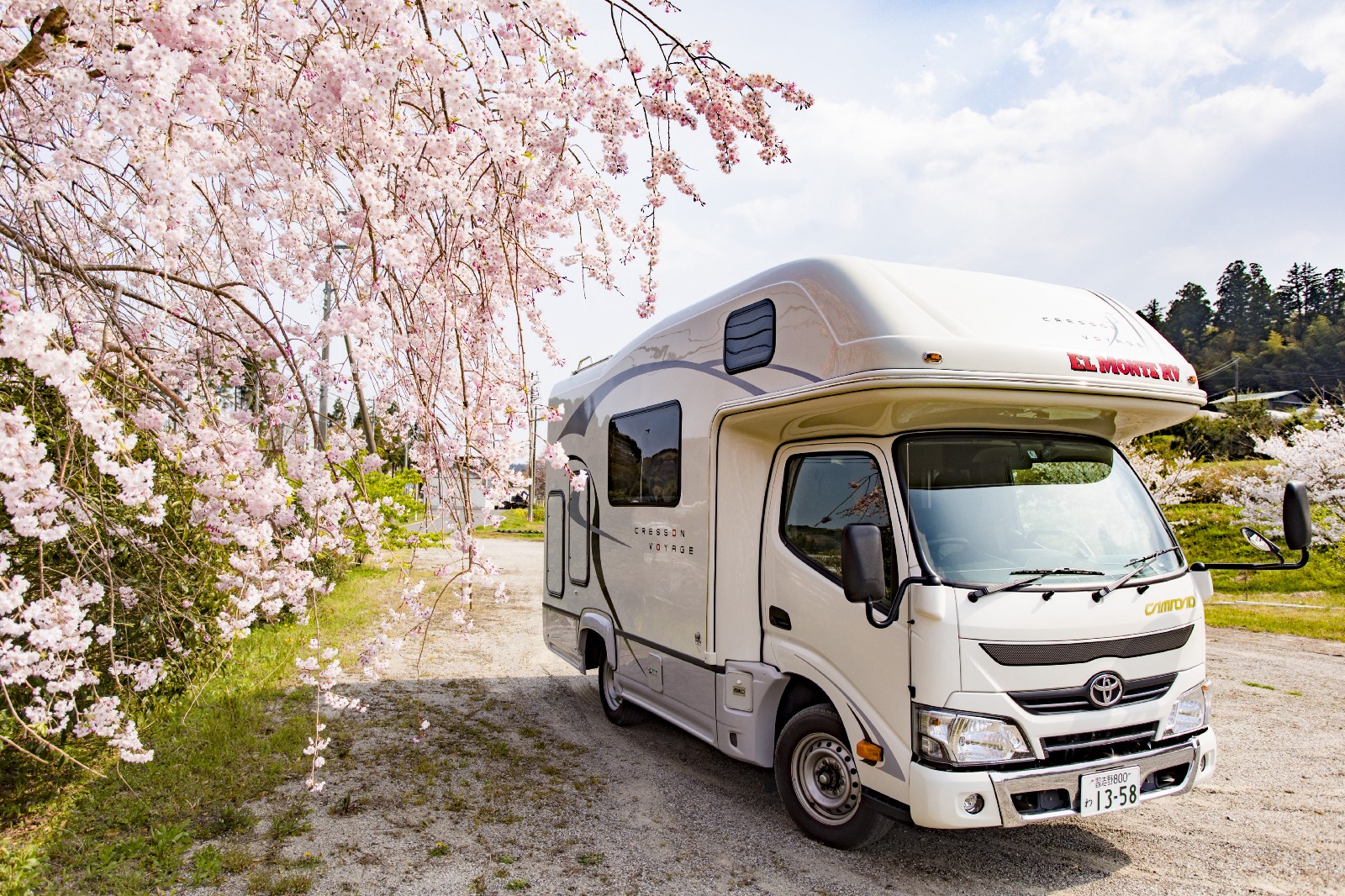 Travel around Japan with Campervan (or also called camper, RV, motorhome) and explore the country by road-trip! EL MONTE RV JAPAN is the best RV rental company in Tokyo, offering wonderful RV experience for tourists!
Let's go on a road trip adventure by RV in Japan!
Have you ever been on a RV? It's one of the greatest and the most extraordinary ways to travel around and explore beautiful places! For those who wish to go off the beaten track and have an unique experiences, RV road trip is an ideal way to travel.
In recent years, renting a RV (or called motorhome, campervan, etc) becoming more common in Japan and it's actually recommendable for foreign visitors, too. RV allows you to travel freely, go and stay anywhere, anytime. Also you can dig Japan deeper by exploring the hidden beauties of the country!
El Monte RV Japan introduces new, clean and comfortable motorhome vehicles at affordable price near Tokyo! If you are planning your visit to Japan and wish to have unique adventure, you should definitely consider about renting a RV for your trip!
Make a reservation NOW! ▶ https://elmonterv-japan.com/jprental/en/reservation
Review: RV Travel in Japan: 2-day Camping Trip from Tokyo!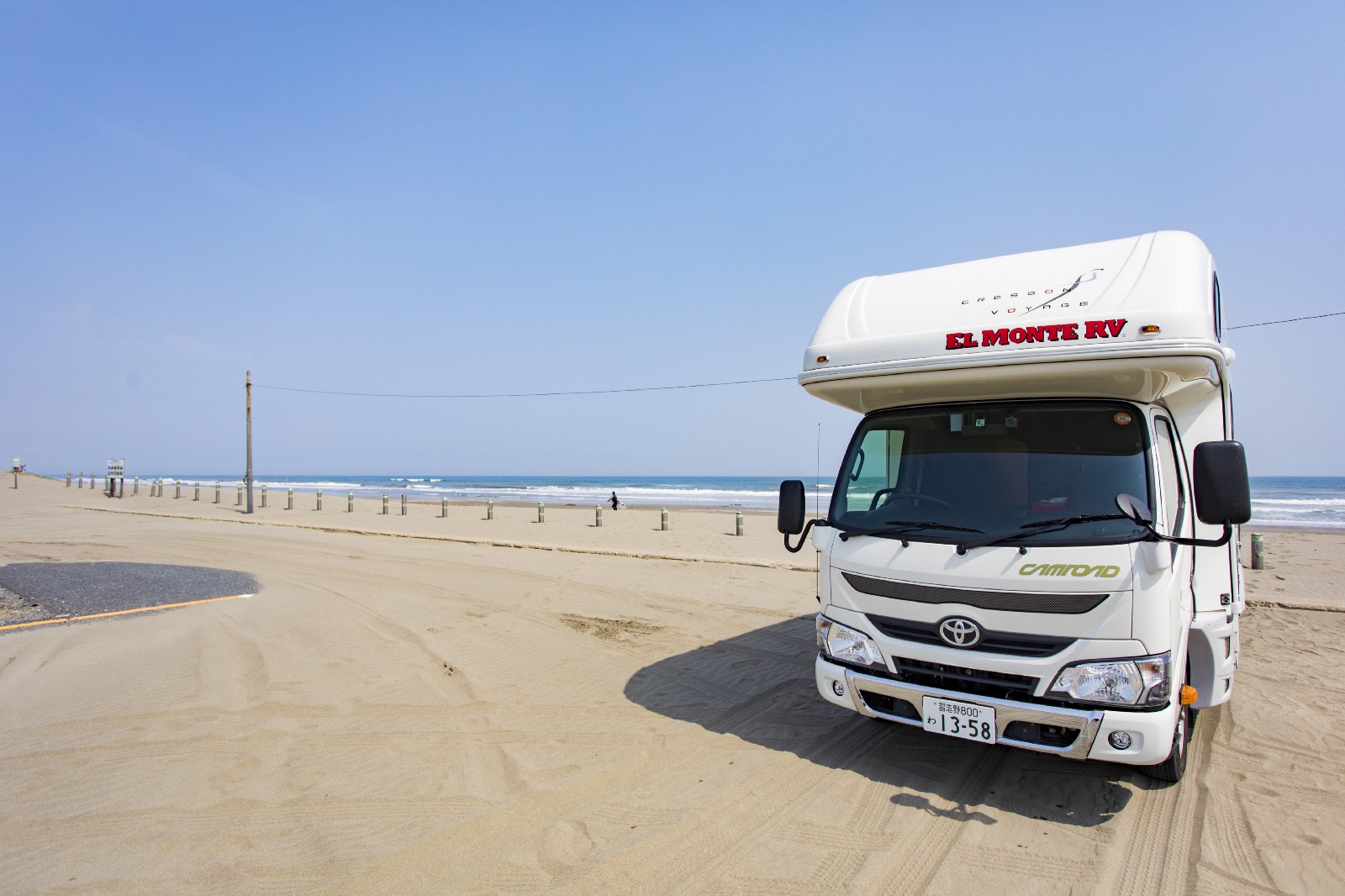 – Why you should go for RV in Japan
Japan is in fact one of the best countries to travel by RV.
Why??
Although there are some narrow roads and Japanese road signs, generally, it's easy to drive in Japan. Also the country is very safe and travelling by RV is actually much more affordable than you imagine, or you may be able to save a lot of money with travelling by RV instead of the normal way. Hotels and transport fee can be skipped as well as food cost if you cook by yourself at the RV! It's also recommended for family travellers.
Also the biggest benefit of travelling in Japan by self-driving is that you will be more flexible with the schedule and able to plan your very own trip! Road trips can bring a lot of good surprises, too such as finding new places and hidden gems that are not on guide books!
– Where to stay?
There are numbers of campsites in Japan and with the RV, you can stay hussle free. RV can accommodate 7 passengers and 5 people can sleep at once. There are also many parking area called "RV PARK" all over Japan where motorhome vehicles can be parked and you can stay overnight. Both campsites and RV PARK usually require 1,000~3,000 yen per site.
– What you need
All you need is a permission to drive in Japan, hence you definitely need one of these: International driving permit or Japanese driver's license.
Besides your driver's license, I'd say you also need confidence! A lot of you may be worried about driving in Japan. It used to be a crazy idea to travel by RV in Japan for many tourists, but it is actually one of the best ways to get around the country, and driving in Japan is much easier than everyone thinks.
EL MONTE RV JAPAN is a RV rental company in Tokyo, offering affordable, clean and comfortable rental vehicles with simple and easy steps. If you are considering about renting one, they are highly recommended!
There are three types of RV vehicles currently available at El Monte RV Japan today: CORDE Leaves, CORDE BUNKS and CRESSON VOYAGE TYPE-W. (Engine: Diesel Turbo, Transmission: AT/Full Time 4WD, Fuel: Diesel) They are all new and registered in 2017, offering clean, safe and the most comfortable motorhome experiences.
Here are brief introductions of each models:
CORDE Leaves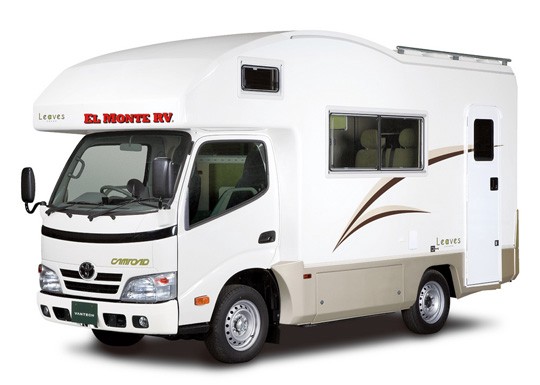 The best feature of CORDE Leaves offers the spacious living room by providing an entrance space at the rear part of the vehicle. The layout of the living room can be shifted from face-to-face sitting to a U-shape and it can accommodate a large number of passengers. The kitchen is equipped with a large storage and a 90l fridge. CORDE Leaves is a perfect vehicle for long-term travel.
Length: 4,995mm
Width: 1,980mm
Height: 2,960mm
Passenger capacity: 7 pax
Sleeping capacity: 5 pax
Special feature: Rear entrance, Spacious living room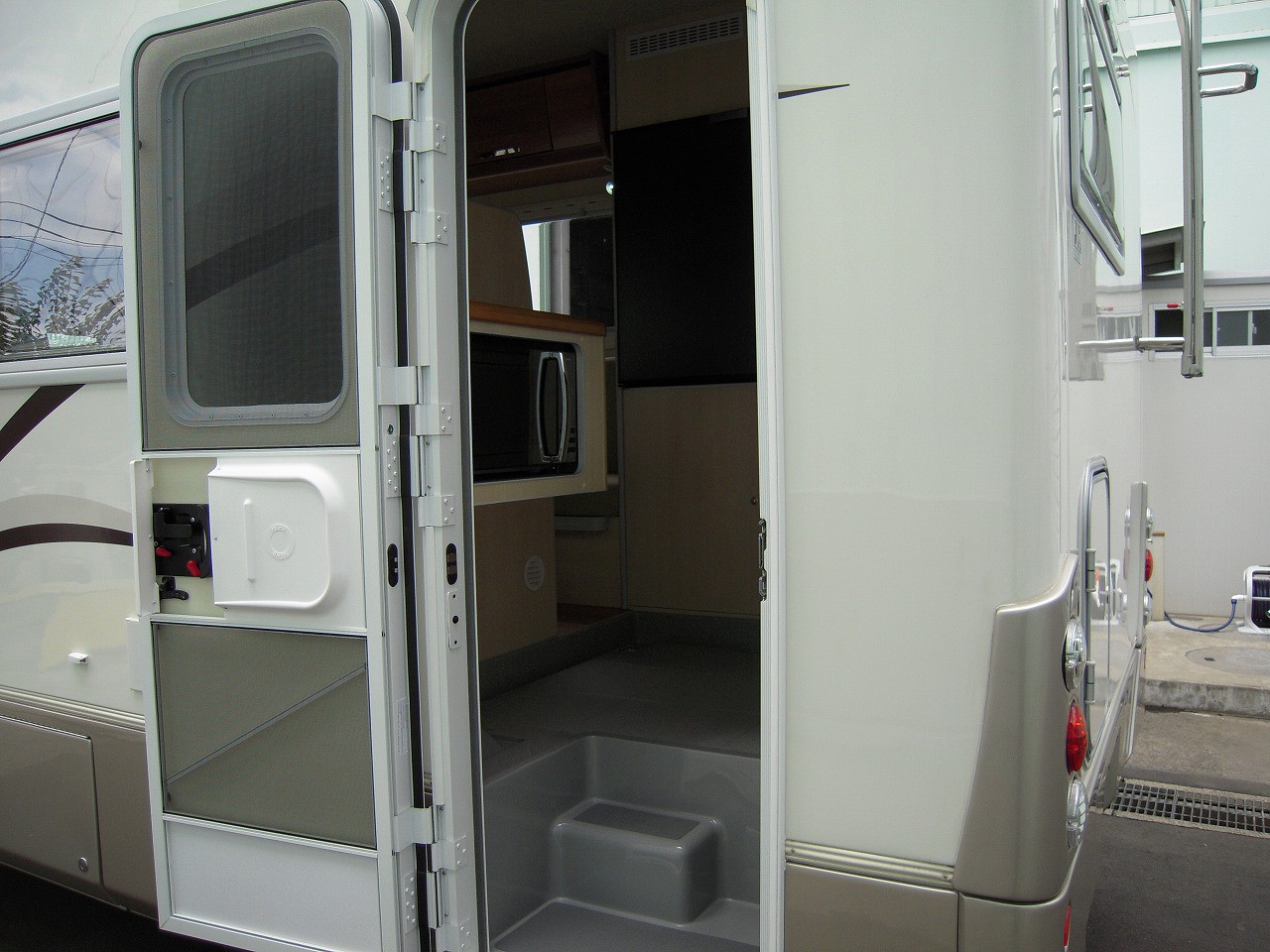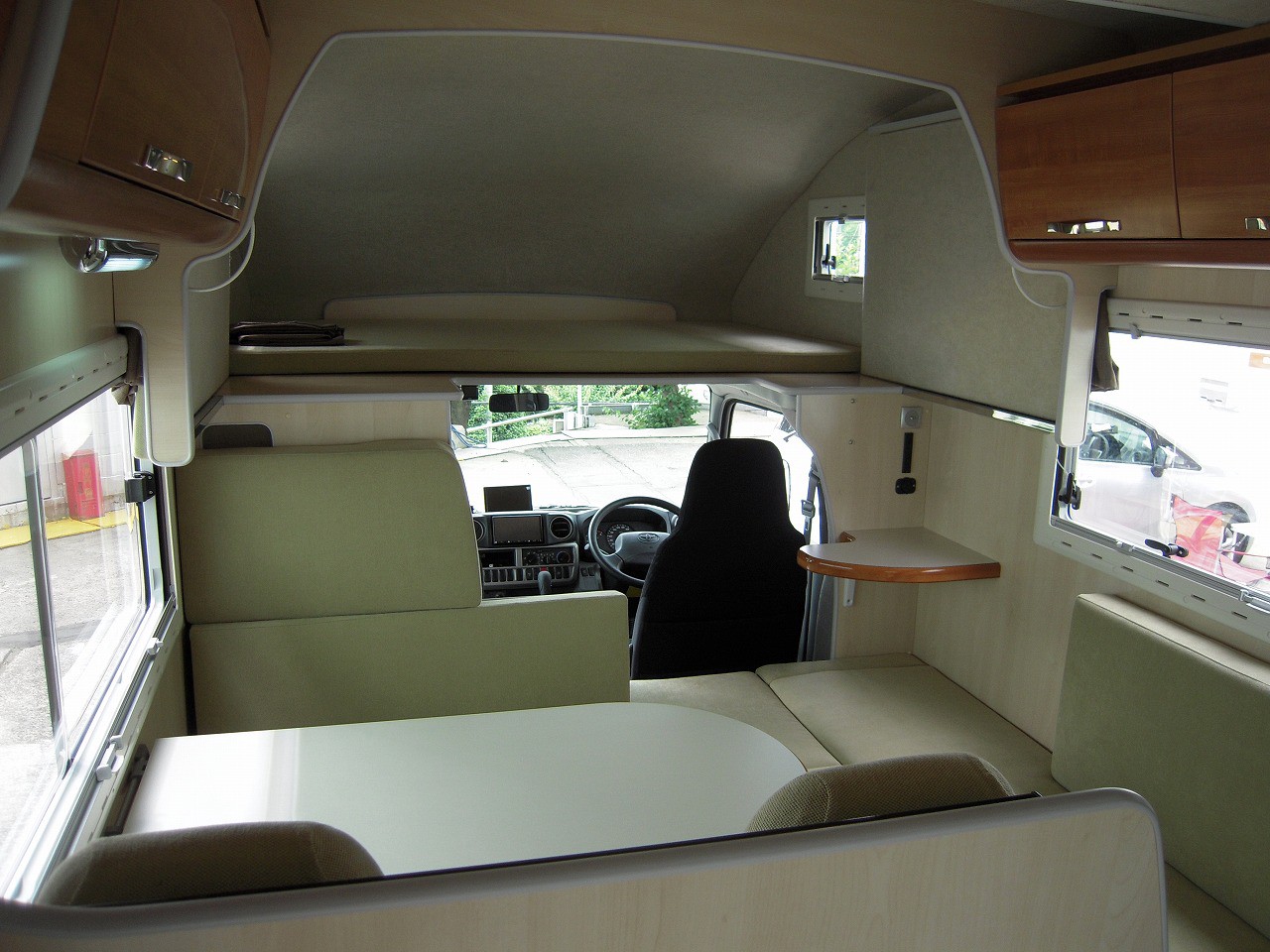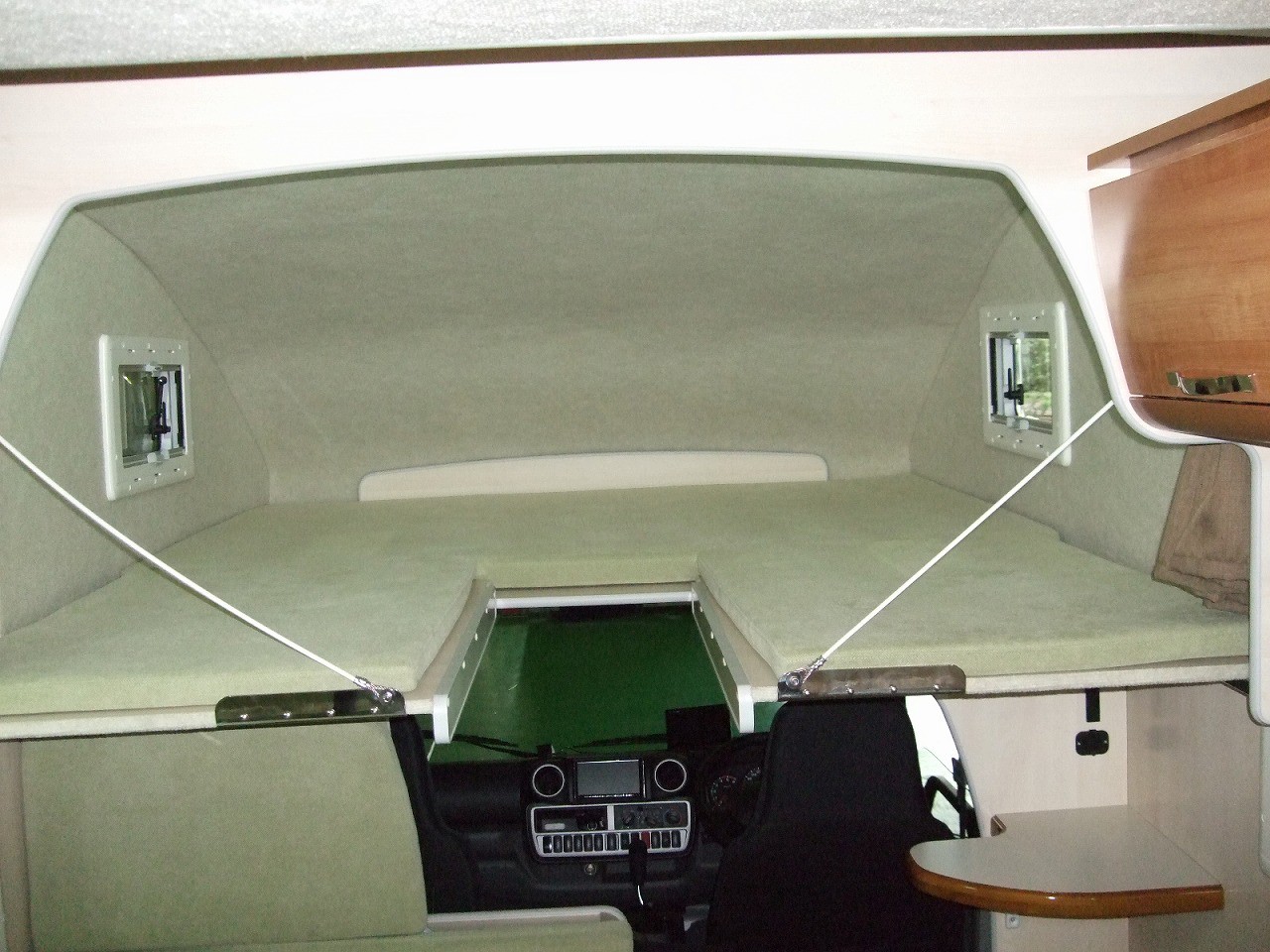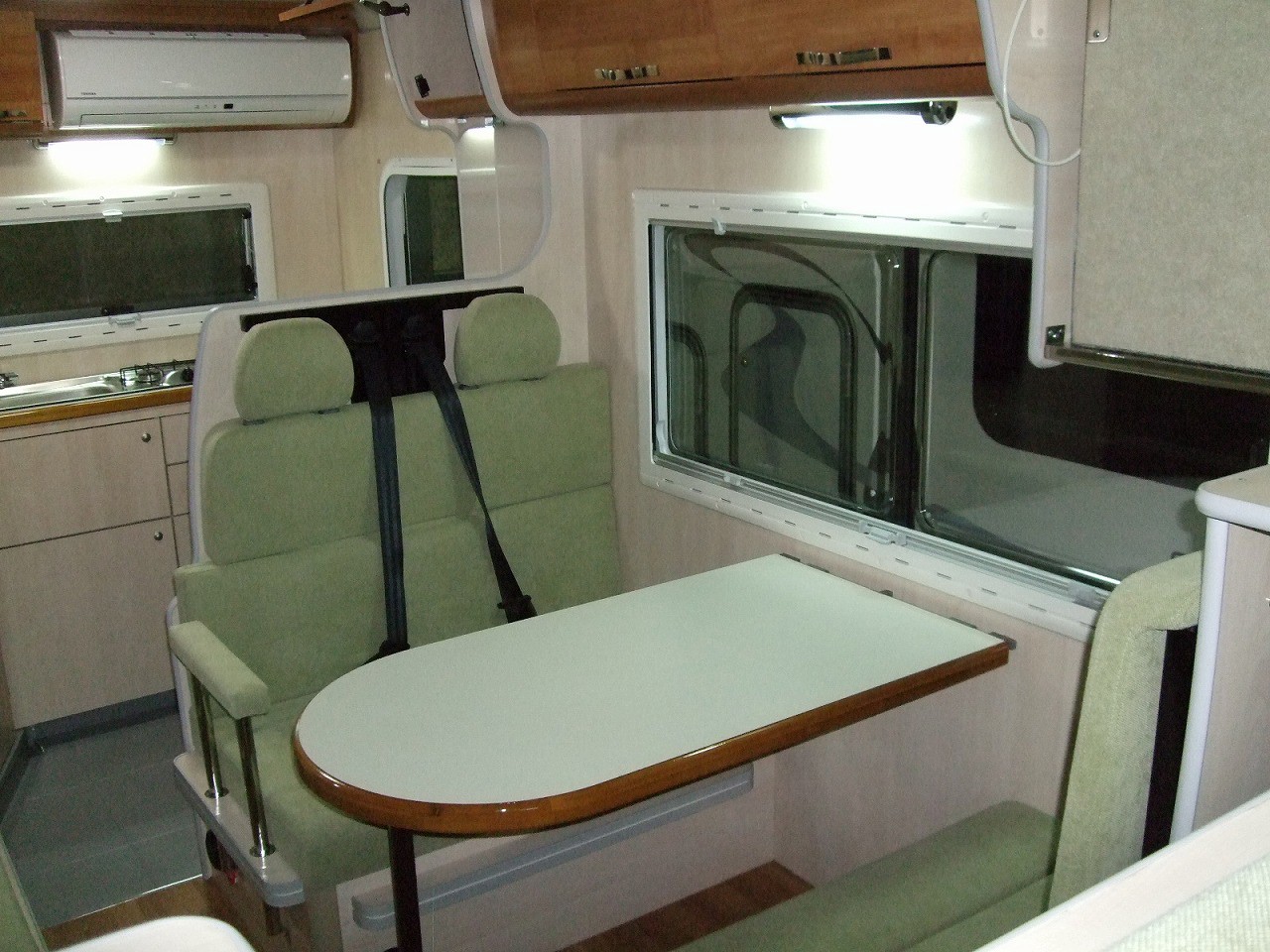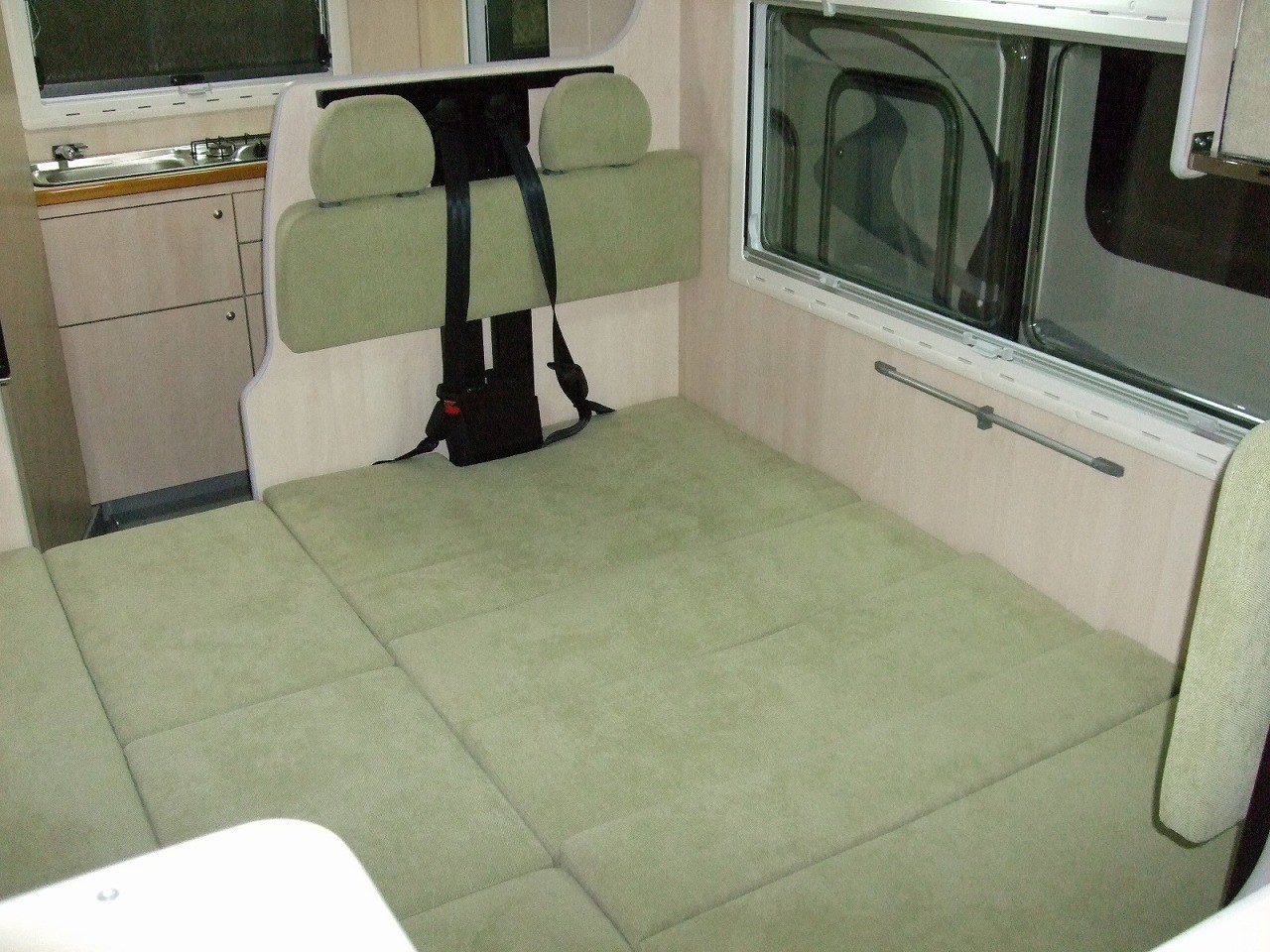 CORDE BUNKS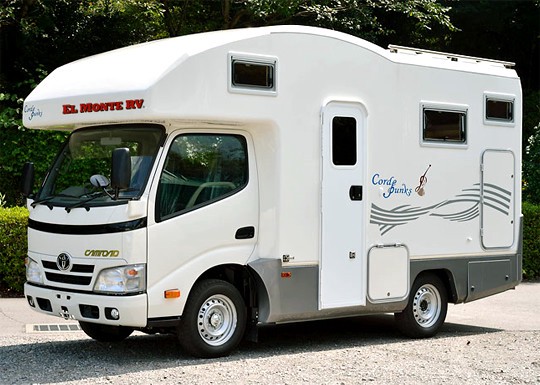 CORDE BUNKS offers bright and spacious interiors with white and wooden pattern. There is a large capacity storage space that can store leasure equipments such as bicycles, ski equipments and more. The storage can be accessed from the rear part of the vehicle, too. The spacious living room is with fully equipped facility, fixed bunk beds and the kitchen.
Length: 4,995mm
Width: 1,980mm
Height: 2,960mm
Passenger capacity: 7 pax
Sleeping capacity: 5 pax
Special feature: Rear equipped with 2 bunk beds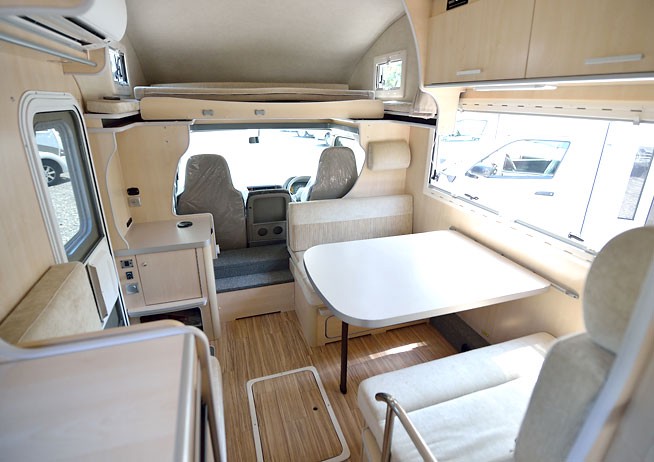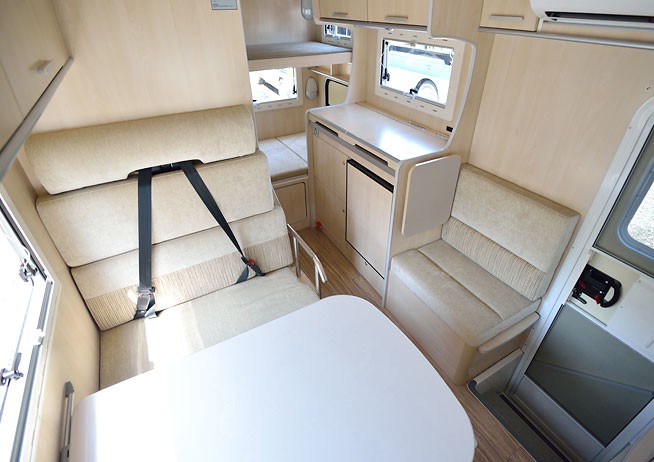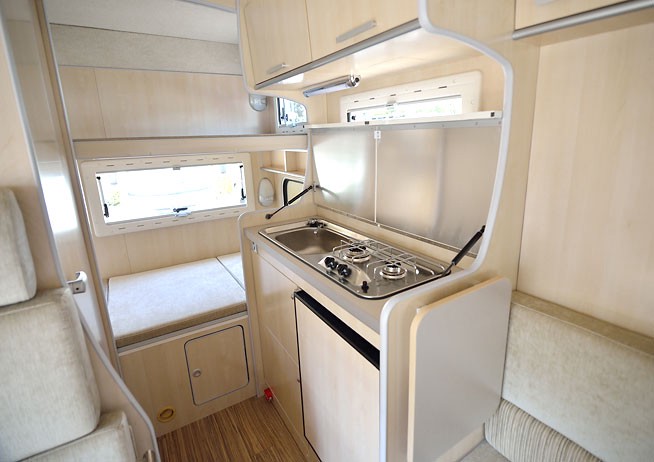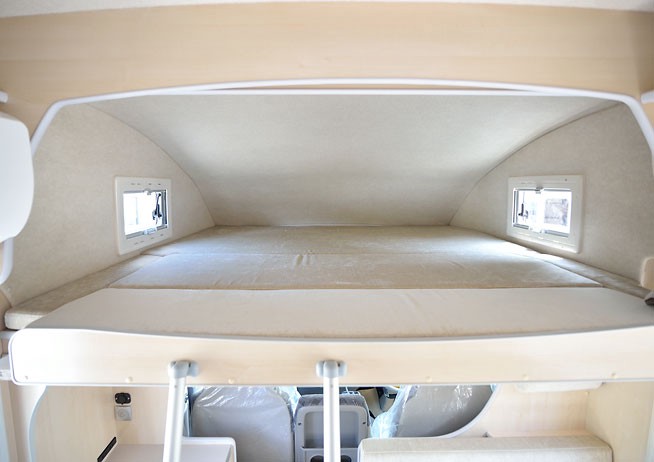 CRESSON VOYAGE TYPE-W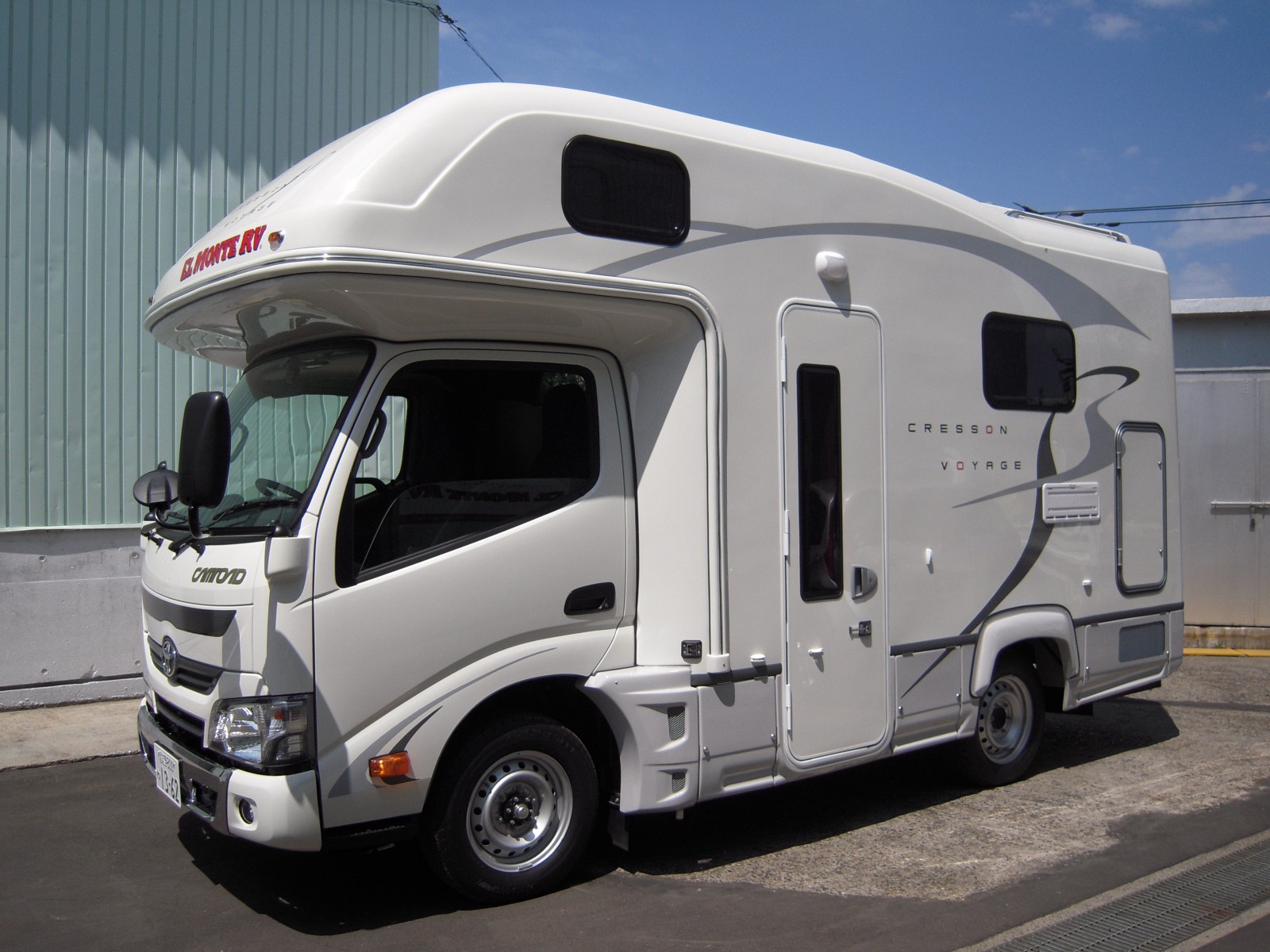 CRESSON VOYAGE features a classy and luxurious interior with rosewood pattern. The popular layout includes fixed bunk beds, convertible dinette and pull-out bunk beds that maximum 6 people can sleep. The car is equipped with double-glazed windows with high thermal insulation, shades and insecticidal net CRESSON VOYAGE offers the most comfortable and pleasurable camping experience.
Length: 4,990mm
Width: 2,070mm
Height: 2,910mm
Passenger capacity: 7 pax
Sleeping capacity: 6 pax
Special feature: Rear equipped with 2 bunk beds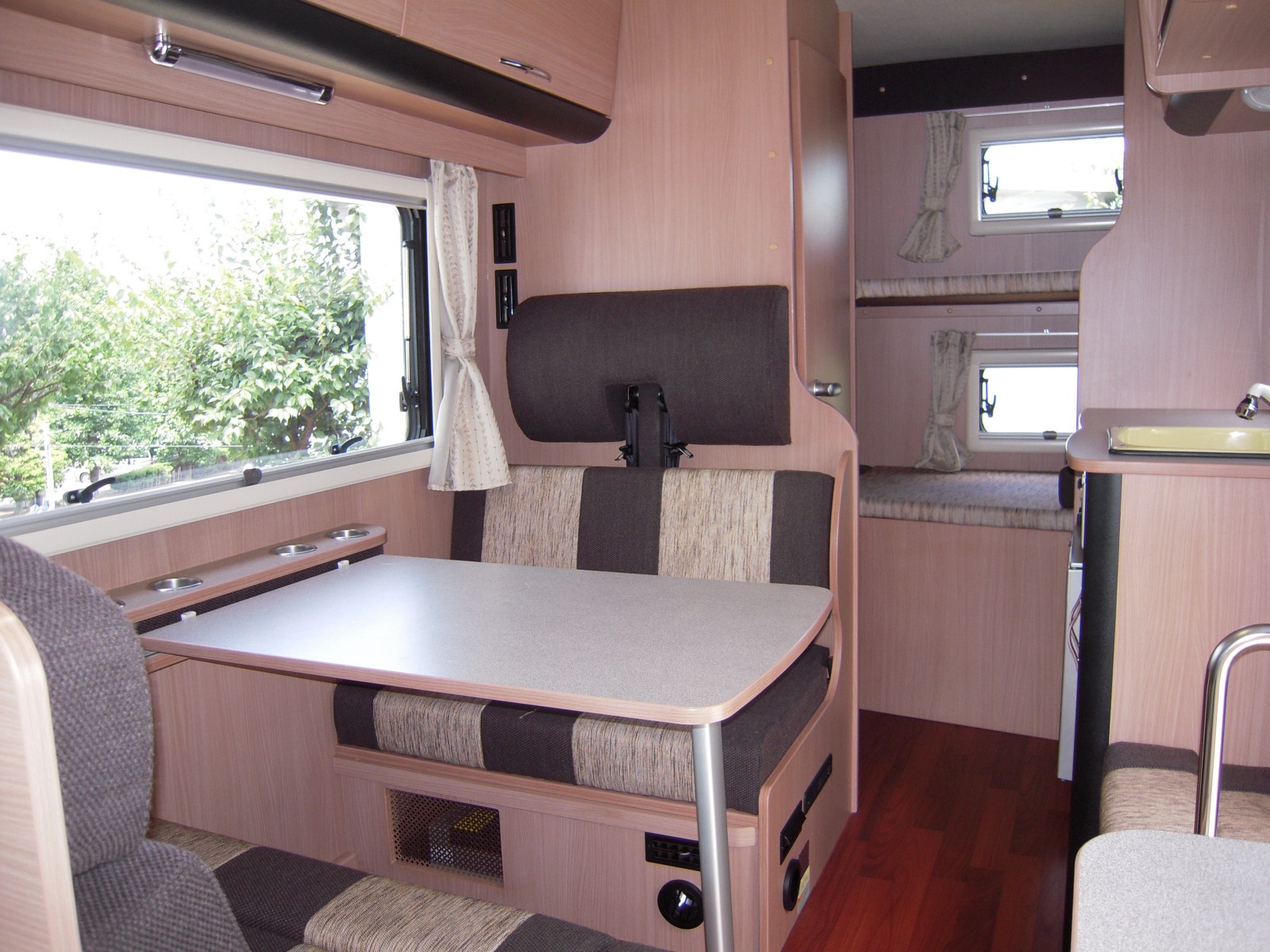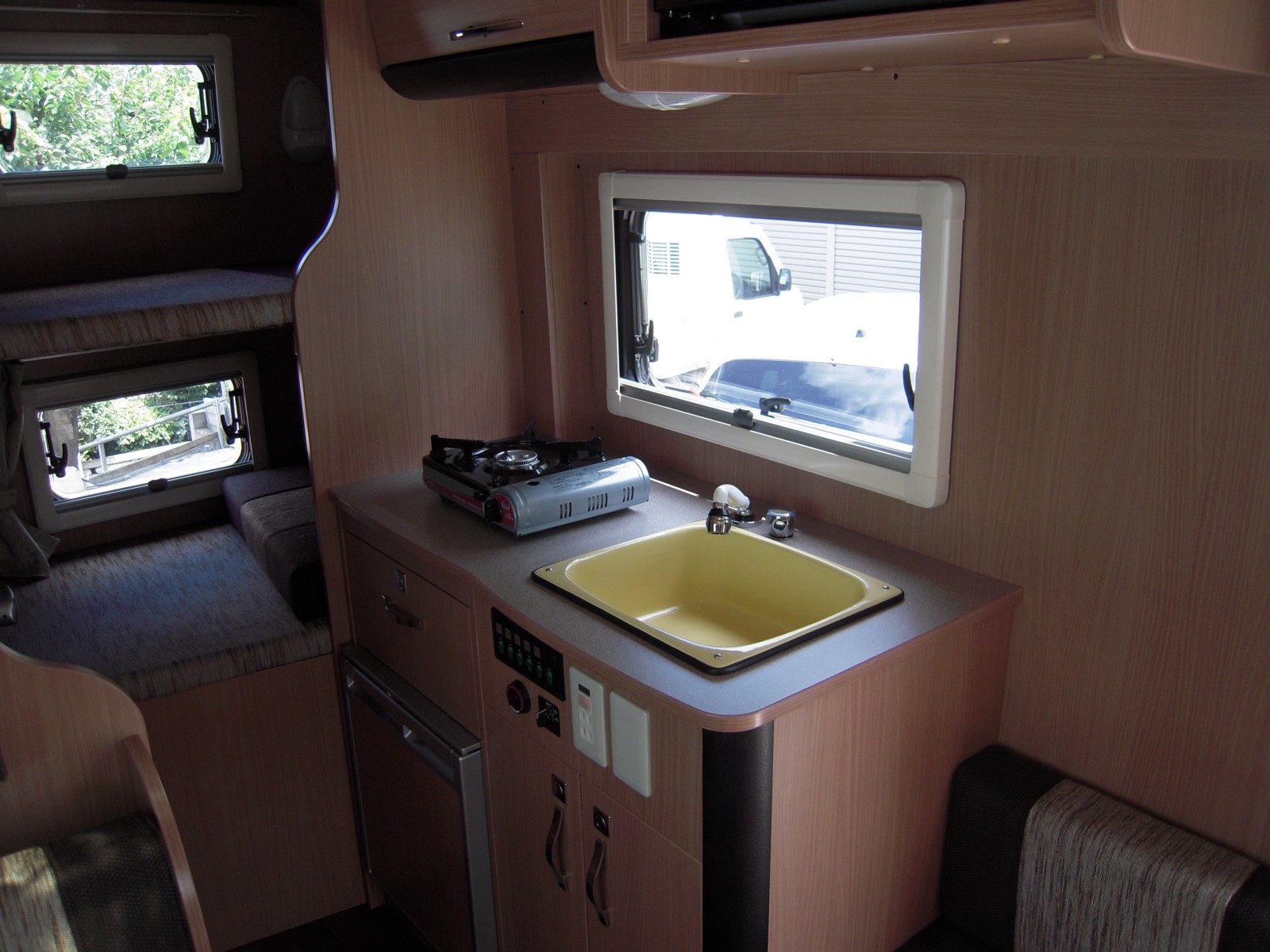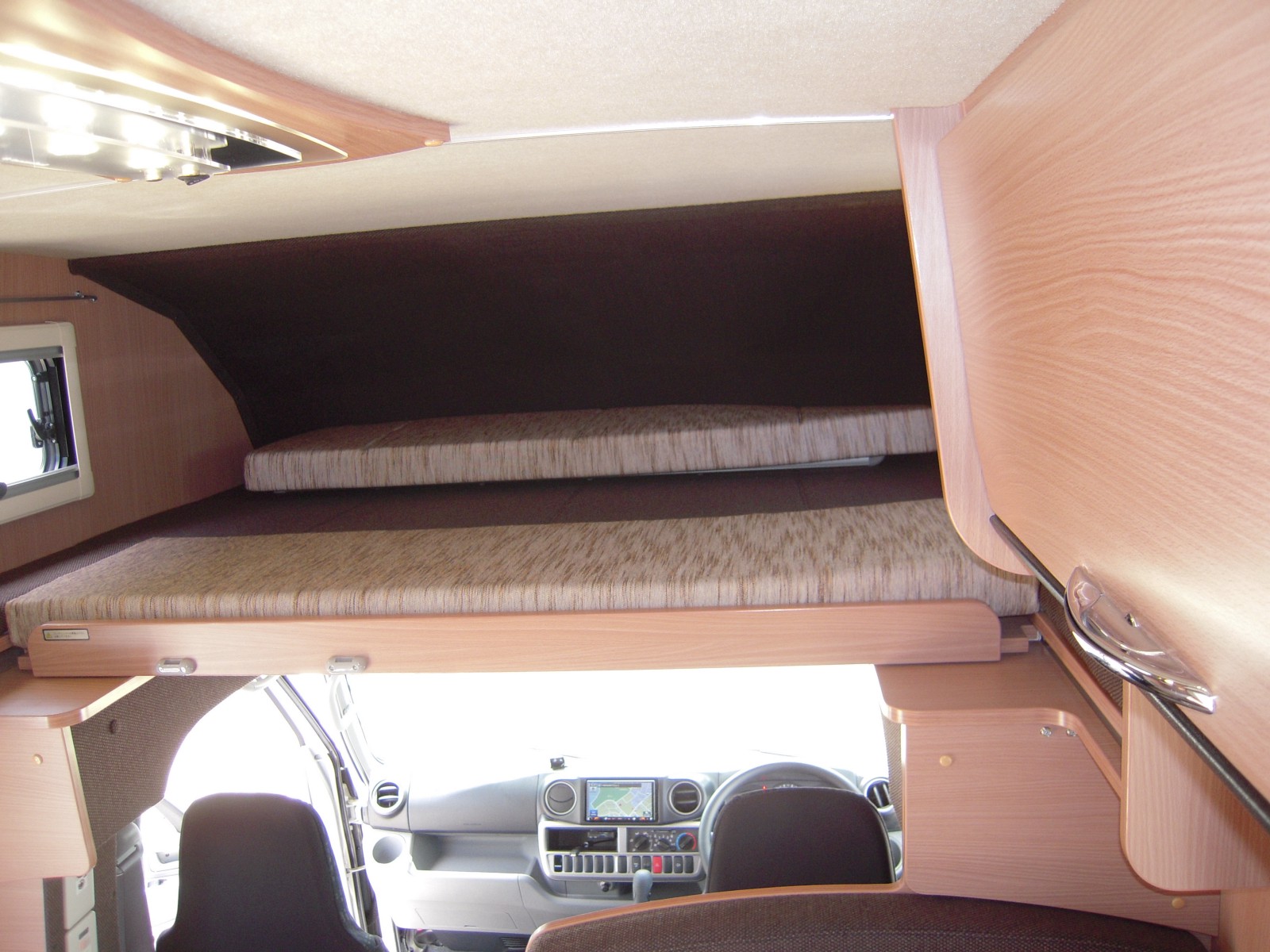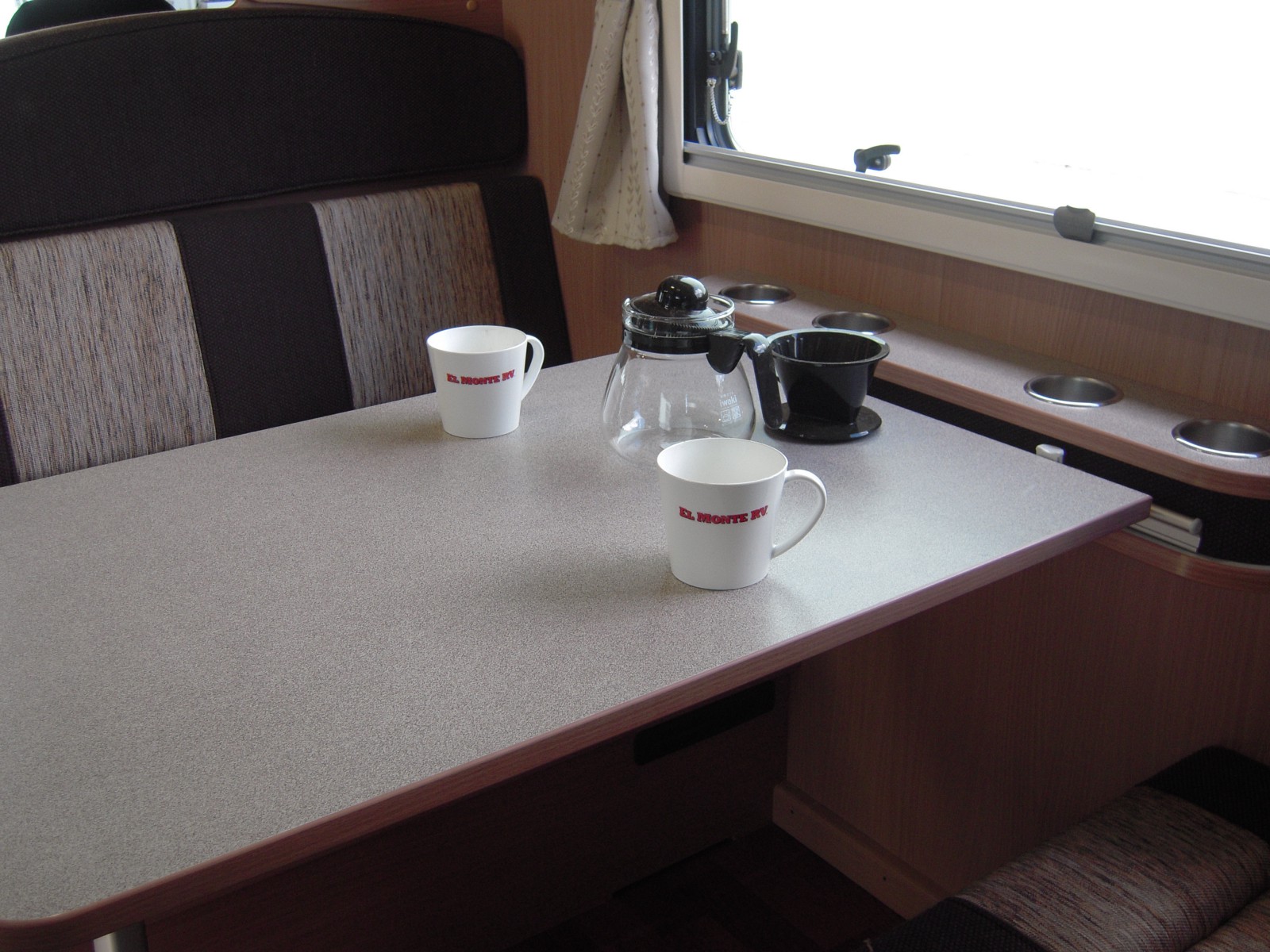 All vehicles are equipped with following accessories:

The rental fee for the vehicles is starting from 20,000 yen per day depending on season. Long-term rental discount can be applied for rentals of 3 days or more!
Want to have an outdoor experience?? Additional equipments for camping and BBQ (tables, chairs, BBQ stove, lanterns, etc) can be also rent at El Monte RV Japan with additional charge.
EL MONTE RV JAPAN is located at Funabashi City in Chiba Prefecture, which is approx 30 km from central Tokyo (60 mins by train). Pick up and return of rental vehicles are available at their store in Funabashi or can be arranged at Narita and Haneda Airports, too. Please note that pick up and return must be at the same location. FYI, they do offer 5,000 yen discount for Funabashi pick-up and return 🙂
Make a reservation NOW!
▶ https://elmonterv-japan.com/jprental/en/reservation
In case you are concerned about car accidents, Collision Damage Waiver(CDW/optional) can be added with 2,500 yen per day.
Please read more about the insurance and compensations policies
▶ https://elmonterv-japan.com/jprental/en/insurance
EL MONTE RV JAPAN Funabashi Branch
Access: 10 mins walk from Hasama Station (Toyo Rapid Railway Line)
Hours: 08:00~20:00
Official Website: https://elmonterv-japan.com/jprental/en
---
Along with your RV road-trip in Japan, I think it's a perfect idea to rent a portable WiFi! Book a rental WiFi via Japan-Wireless with the special promo code "JWWMAUTUMN" for my readers! Place your order HERE NOW 🙂
---
For those who are looking for regular car rental in Japan, I'd also recommend to check the comparison site Airtrip Rentacar, suggesting the cheapest rate among numbers of rental car companies in Japan.
>> Click HERE to book your rental car in Japan (English Website)
---
What do you think about travelling by RV? If you are tired of being in cities and wanna avoid crowds, RV road trip could be one of the best way to travel in Japan! For more unique travel ideas in Japan, here are similar articles that you may be interested in 😉
▽Related Articles▽
▼Editor's Picks▼
---