How to use the Visit Japan Web for Entering/Returning to Japan
Easy Step-by-Step guide about Visit Japan Web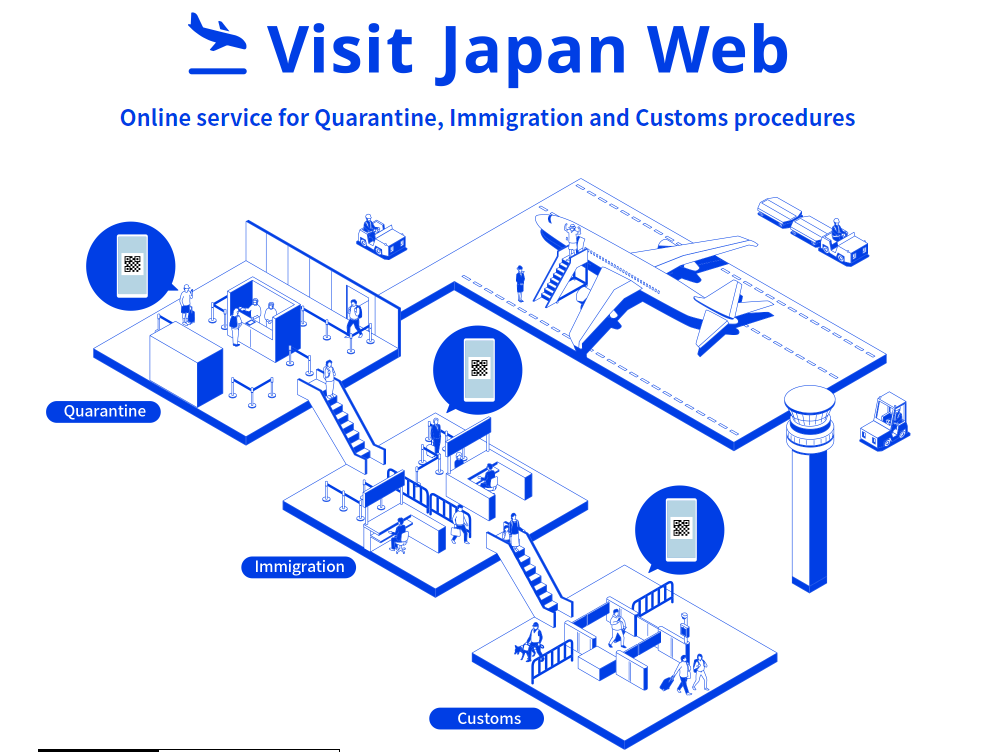 Are you planning a trip to Japan soon? Or are you a resident of Japan who is going to travel abroad and then re-enter? Then you may be interested to read this article to the end!
After more than two years closed due to the global pandemic situation, Japan has finally opened its doors to tourism recently. This was a long awaited opening by many, as the country of the rising sun is one of the most popular travel destinations in recent years and has been one of the places that has taken the longest to reopen to tourism. Surely many people are excited about this news, buying their plane tickets and preparing their suitcases. However, be careful! There is one very important detail to keep in mind or you could be left with the door slammed in your face and be turned back upon landing in Japan.
To enter Japan it is MANDATORY to present a vaccination passport with 3 vaccines of some of those approved by the Japanese Government or a negative PCR in COVID-19 72 hours before the departure time.
And what does the My SOS app have to do with the entrance to Japan? Well, let's see now.
*Please note that this article contains affiliate links.
What is Visit Japan Web?
Visit Japan Web is a web portal launched by the Japanese Government to Fast Track your entry into Japan. On the Visit Japan Web website you can upload your vaccination passport or your negative PCR certificate before boarding the plane and get a QR. Technically, you can also present it on paper at the arrival airport, but some airlines may deny you boarding if you do not show them the QR code. Also, if you do the process in advance through the website and receive the approved QR, you are 100% sure that there will be no problem with your entry (it is unlikely, but it could be the case that once at the arrival airport the certificate you present is not considered valid).
In addition, with the Visit Japan web portal you can also do the questionnaire for the customs procedure in advance, receiving a separate QR.
In my own experience, I used Visit Japan Web on my recent re-entry to Japan and the process was much faster and streamlined compared to people who did not have it. There is a separation for people who carry the QR code with the 3 vaccinations/PCR tests and you get to Immigration much faster as they don't have to check it manually (they only check that you have the QR). And once you pick up your luggage, you use the second QR code for the customs process.
In both cases, the time spent waiting in line is reduced considerably and you leave the airport much earlier. Below, I'm going to explain how to do the processes from my own first hand experience!
How to use the Visit Japan Web before entering Japan
The first thing you have to do is to go to this website and create an account. The procedure is the usual for this kind of cases: after registering an email address and accepting the terms of use, they send you a confirmation code and after entering the code you can access your page.
Once you are in your account, go to the "Your details" section and fill in the information requested (full name, date of birth, nationality, passport number, etc).
After registering your details, you will be able to click on the "New registration" button in the "Register Planned Entry/Return" section. Here you have to put the arrival information (date, airline company and flight number). Then you will then arrive at a screen with two options. One for the Fast Track and the other for the customs declaration. I recommend you to start with the Fast Track.
It's time to start with the pre-registration procedures for quarantine. According with your departure country this part may vary slightly, but as long as I know most part of the countries have the same process. The top part is in red, and if you scroll down you can see a red band that says "Not yet registered" with your passport information. Below you can see the four documents that you must complete: passport, Questionnaire WEB, Vaccination certificate and PCR result less than 72 hours before departure.
The documents are easy. The passport is just take a picture of the page with your information and updated it. Once they check and see that it's ok and the information can be read well, you can go to the Questionnaire WEB. You just need to answer a few questions and then you are ready to go to the next step, the vaccination certificate. In my case I took a screenshot of my digital vaccine certificate and they accepted it.
As you can see, since I have the vaccination certificate I do not need the PCR test (in case you do not have a valid vaccination certificate, then you can go for the COVID-19 PCR test). All the necessary documents changed from "Not yet registered" to "Completed" and the color changed from red to blue. Once you get this, you are ready to travel knowing that all your documents have been accepted.
After finishing this part, you can go back and fill in the section of "Declaration of Personal Effects and Unaccompanied Articles". For those of you who are used to traveling, this is the typical small piece of paper that you are usually given during the flight to customs declaration in case you are carrying certain substances. With Visit Japan Web you can make this declaration in advance from the website and receive another QR code to pass through customs saving time.
How to use the Visit Japan Web after arriving Japan
Once in Japan it is very simple. When you get out of the plane there is a point where they separate people into those who have the QR code and those who do not. You just have to show the code to the staff and they will let you through.
After you have finished the process at Immigration and once you have your luggage, you will see that at Customs declaration there is a queue for those who have the physical paper and another queue for those who have the QR code. There are some machines where you have to swipe the QR code, and you are out, free to explore Japan!
And that is all. In case you can't find it, here you have the official website of Visit Japan Web.
Visit Japan Web: https://vjw-lp.digital.go.jp/en/
And that is all. I understand first hand that with the current situation entering/returning to Japan can be confusing or make you have many doubts/worries so I hope this article helped you.
---
Looking for a private shuttle from Japan's major airports to your accommodation or vice versa? Airport Taxi is one of the best services in Japan, with large and comfortable cars and affordable prices! The customer service is available every day from 8:00 to 23:00 and the have English-speakers staff.
▶Check the official website: https://www.airport-taxi.tokyo/en

If you are a resident of Tokyo who is going abroad for a while, and you have been vaccinated here, our affiliated clinic Clinic Nearme can provide you with the vaccination certificate necessary for returning to Japan. For 3,000 JPY you can have your vaccine certificate on the same day. Clinic Nearme a clinics authorized for the Japanese government and one of the few clinics in Tokyo with English support.
---
Planning to coming to Japan?? This articles may interest you too!
▽Related Articles▽
---