Shibuya Winter Illumination : Best Illuminations in Shibuya, Tokyo 2019–2020 Winter
6 Best Shibuya Winter Illuminations 2019–2020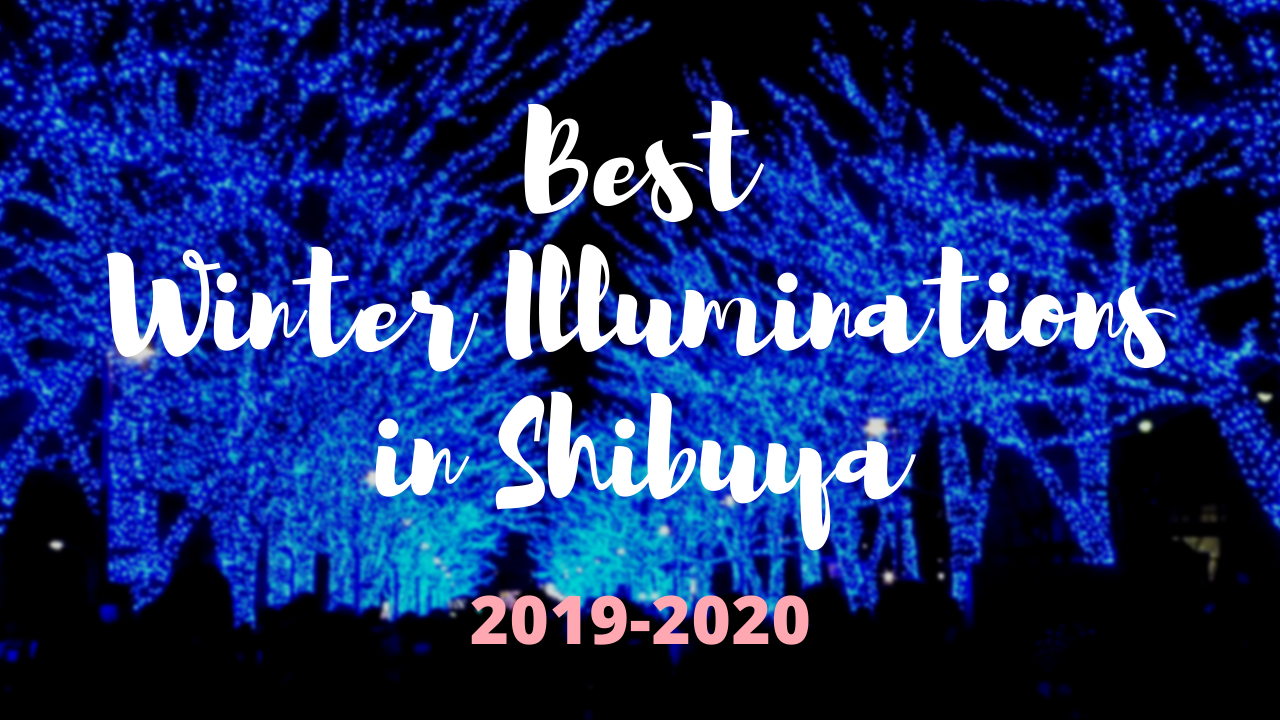 Winter illuminations are a top seasonal tourist attraction in Tokyo, and numbers of special light-up events are held in the city during winter. Shibuya is one of the most popular tourist destinations in Tokyo, known for the trendy young culture, and also the vibrant nightlife. In Shibuya, several illumination events can be enjoyed during 2019–2020 winter including the famous SHIBUYA BLUE CAVE. In this article, I'd like to introduce must-see winter illuminations held in Shibuya, Tokyo as well as nearby events. So let's check them out 🙂
---
– Shibuya Blue Cave
Shibuya Blue Cave is one of the most popular winter illumination events in Japan, that invited over 2.4 million visitors last year. Shibuya Blue Cave 2019 will be held from 29 November 2019, featuring approx 600,000 LED lights decorating 80 m long avenue lined by Zelkova trees around Yoyogi Park to Shibuya Koen Dori Street.
Date: 29 November to 31 December 2019
Hours: 17:00~22:00
– Shibuya Hikarie Christmas 2019
Shibuya Hikarie is a 183 m skyscraper located near Shibuya Station. The building has 43 floors and consists numbers of shops, restaurants, entertainment facilities, office and more. The Christmas event is held at Shibuya Hikarie annually featuring a massive Christmas tree, light-up and special decorations.
Date: 21 November to 25 December 2019
Hours: 17:00 to 23:00
– Bunkamura Christmas Illumination 2019
Bunkamura is a multi-use culture complex building consists of a concert hall, theater and museum. Bunkamura Christmas Illumination is held at the large terrace of Cafe Les Deux Magots Paris at B1 floor, featuring red and gold Christmas colour decorations and lights as well as a large Christmas tree.
Date: mid November to 25 December 2019
Hours: 16:00 to 22:30
– Shibuya Cast Illumination
Shibuya Cast is a stylish high-rise complex building newly opened in 2017. The bright Christmas lights can be enjoyed outside of the building as well as pop-up market and work shops during the season.
Date: 21 November 2019 to 2 February 2020
Hours: 17:00~23:00
– Shibuya River Street Illumination
Shibuya River lays by the newly opened commercial buildings Shibuya Stream and Shibuya Bridge. During winter, the river bank is decorated for 600 m by the yellow LED lights representing as icicles of lights.
Date: 21 November 2019 to 31 January 2020
Hours: 17:00~23:00
– SHIBUYA WINTER ILLUMINATION HELLO neo SHIBUYA
Including the famous symbol of Shibuya district, Hachiko Statue, the Dogenzaka and Miyamasuzaka area will be lit up by about 285,000 LED lights. The iconic Zelkova tree avenue will be decorated by warm and wintery champagne gold lights.
Map: https://goo.gl/maps/9rSSwwTdyGCmcH2a8
Date: 23 November 2019 to 31 January 2020
Hours: 17:00~24:00
– Sakurazaka
The popular cherry blossom spot in Shibuya area, Sakurazaka slope's cherry trees are covered in charming pink LED lights during winter. The streets are lined by numbers of restaurants and Izakaya pubs.
Map: https://goo.gl/maps/4gcpHxK8bUaDVJmv8
Date: 21 November 2019 to 26 January 2020
Hours: 17:00~23:00
---
There are two spectacular illumination held not exactly in Shibuya district, but very near locations within 2 km (approx 20 mins walk) away. If you are going to Shibuya for winter illuminations, you should definitely extend your trip to these two winter illumination spots in Tokyo, too!
– Omotesando
Omotesando is a popular shopping street that connects Aoyama area and Meiji Jingu Shrine through Harajuku area. The 1.1 km long Omotesando Street will be lightened up by approx 90,000 classic champagne gold LED lights along shops, restaurants and cafes. Omotesando Illumination is a perfect event to stop by while enjoying shopping. Omotesando can be accessed from Shibuya area by metro (1 stop) or walk for 15–20 mins.
Map (How to get from Shibuya): http://bit.ly/2Jjk6Bu
Date: 28 November to 25 December 2019
Hours: from sunset to 22:00
– Yebisu Garden Place
Yebisu Garden Place Winter Illumination is one of the long-time beloved winter illuminations in Tokyo. The event features spectacular light-up as well as authentic German style Christmas Market which serves classic Christmas food and drinks. Yebisu Garden Place is only 5 mins away from JR Ebisu Station, which is only one stop from Shibuya Station by Yamanote Line.
Map (How to get from Shibuya): http://bit.ly/2SoEkht
Date: 2 November 2019 to 13 January 2020
Hours: 16:00 to 24:00
---
How did you enjoy the list?? Shibuya is one of the coolest districts to visit in Tokyo, especially at night. Besides the spectacular winter illuminations, don't miss hanging out at night in Shibuya for local bar hopping and nighttime photography! For more info about Shibuya area, please check out these articles, too!
▽Related Articles ▽
▼Editor's Picks▼
---