Best Unique Ramen in Tokyo
Unique and Photo-Worthy, Delicious Ramen in Tokyo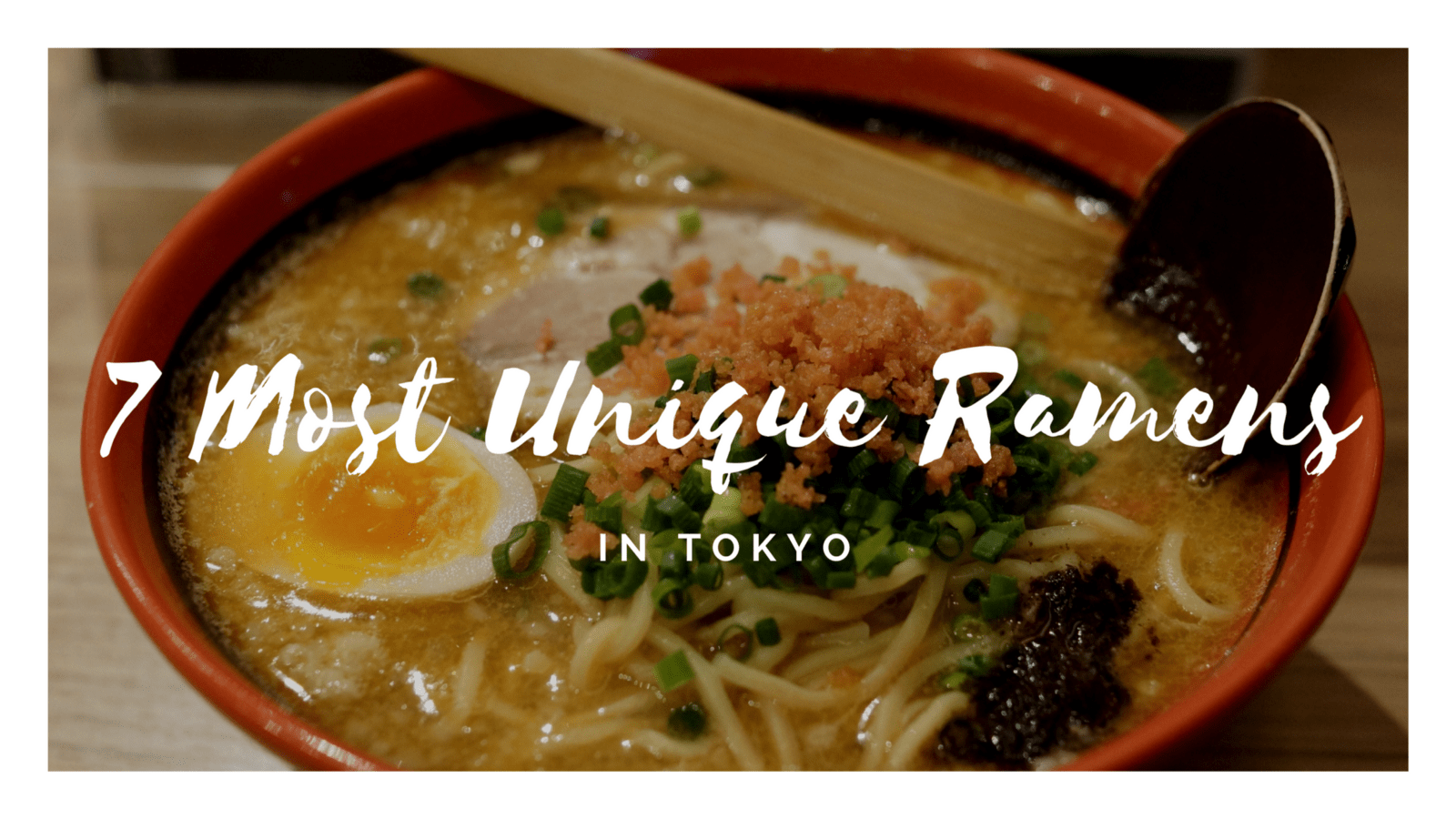 Do you love ramen? What kind of ramen have you tried in Japan?
There are 4 most common ramen flavours in Japan, which are Shoyu (soy sauce), Tonkotsu (pork broth), Sio (salt) and Miso, and broths are commonly made with chicken, pork or fish base. If you have already tried ramen with all these four flavours, how about trying out something different and unique?
Tokyo has thousands of ramen restaurants and some of them serve very creative and unique dishes. In this article, I'd like to share some of the ramen restaurants which take their prides to create original, unique and delicious ramen dishes. Let's check them out 😉
1. MENSHO TOKYO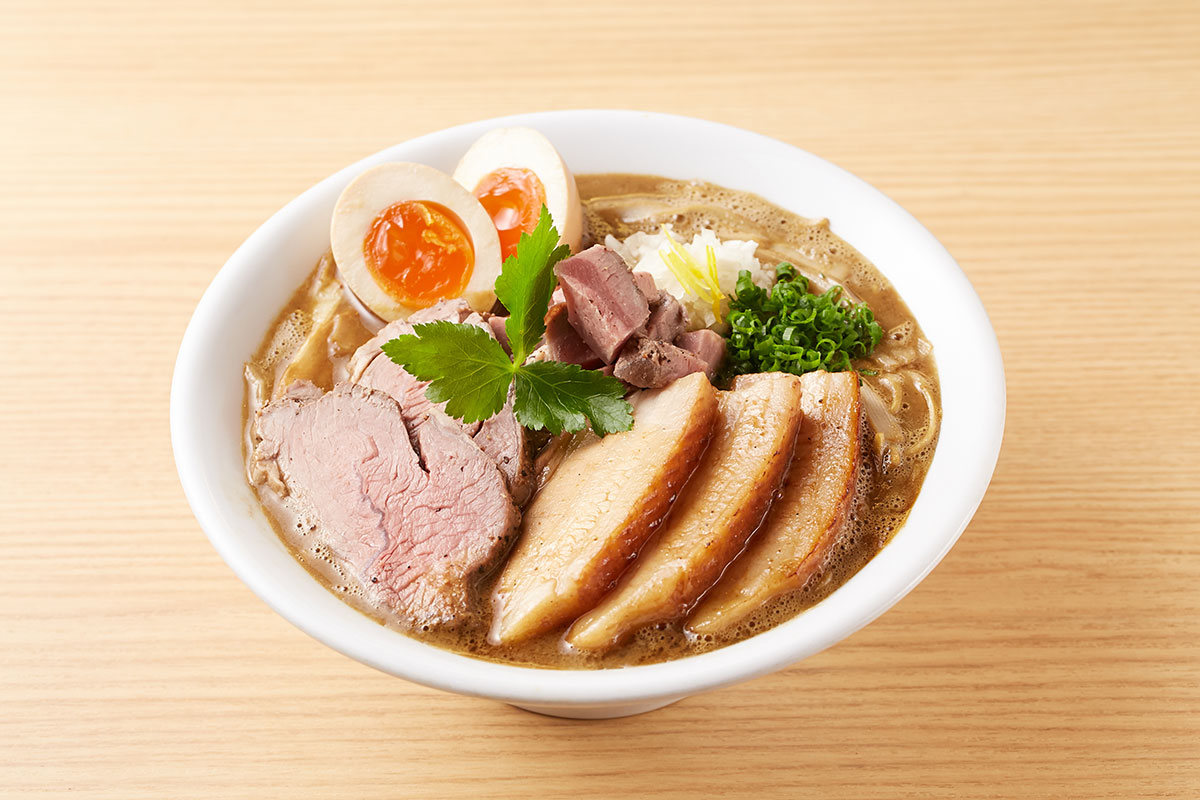 MENSHO TOKYO is a ramen restaurant located near Tokyo Dome, serving unique and creative ramen and tsukemen dishes with lamb based broth soup. The soup is blended to a perfect combination of lamb and pork stocks, which give the rich, mild but aromatic flavour. The bowl of ramen is topped with slices of chashu lamb and pork.
Access: short walk from Korakuen Station or Kasuga Station
Hours: 11:00~22:00
Website: http://menya-shono.com/tokyo/
2. Ebisoba Ichigen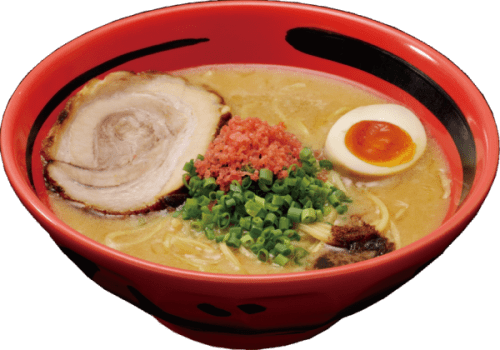 The Sapporo based ramen restaurant, Ebisoba Ichigen (えびそば一幻) has currently two branches in Tokyo, one in Shinjuku and another near Tokyo Station (Yaesu Chikagai). The shop's signature ramen is served with shrimp broth soup. The broth is made with concentrated shrimp stock cooked everyday freshly from numerous sweet shrimp heads, and has full body aromatic flavour. The shrimp ramen is available with three different soup bases: Soya Sauce, Salt or Miso, and the soup can be blended with Tonkotsu soup (pork broth) if you like. The dish is topped with pickled ginger and crunchy tempura flakes in a red bowl topped with juicy and aromatic sliced pork belly and boiled egg.
Shinjuku Branch
Map: https://goo.gl/iAQsez
Access: 6 mins walk from Shinjuku Station West Exit
Hours: 11:00~23:00
Yaesu Chikagai Branch
Map: https://goo.gl/gW9bQY
Access: 5 mins walk from Tokyo Station Yaesu Exit
Hours: 11:00~22:00
Website: http://www.ebisoba.com/
3. Mugi to Olive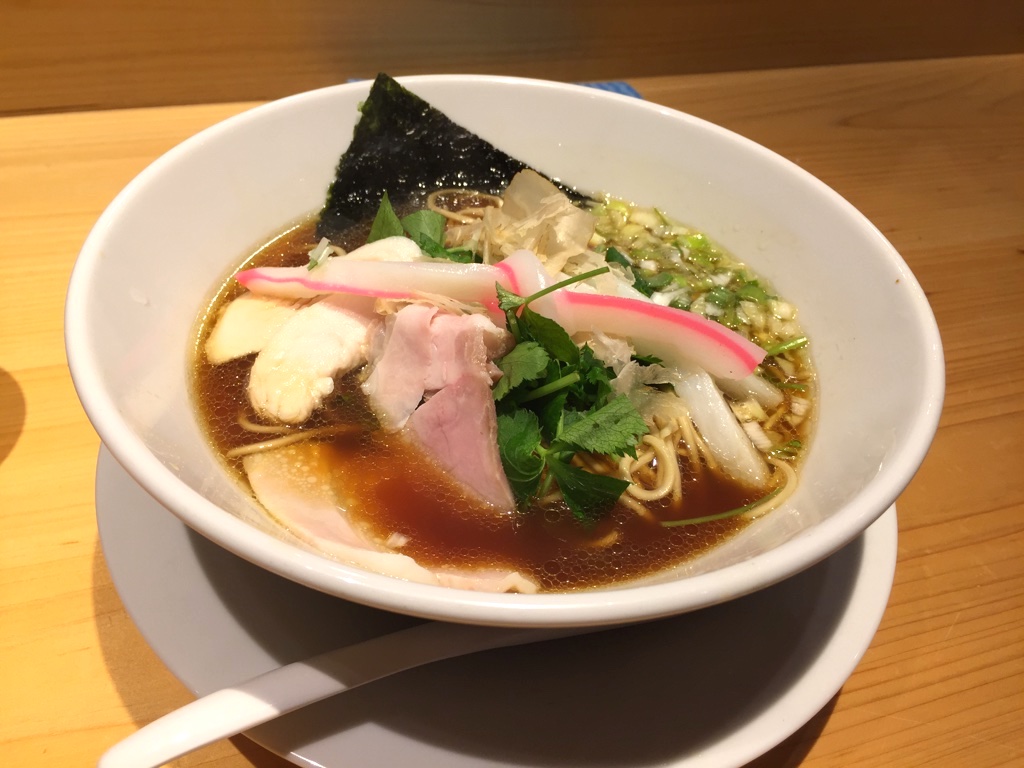 Mugi to Olive (むぎとオリーブ) is a cozy cafe style ramen restaurant located in the competitive ramen district Ginza area, yet it has managed to become one of the busiest Ramen restaurants in the neighborhood. The restaurant was introduced by Michelin Guide Tokyo 2015 as one of Bib Gourmand restaurants in Tokyo. The signature dish at Mugi to Olive is Hamaguri Soba, a bowl of ramen served with broth from Asian Hard Clam (Hamaguri) in soya sauce based soup. It's topped with clams, a few slices of chicken chashu, and it's recommended to eat with a drizzle olive oil.
Access: 5 mins walk from Higashi Ginza Station
Hours: Lunch 11:30~15:30, Dinner 17:30~21:30 (Closed on Wednesday)
4. Ginza Kamo Soba Kyudaime Keisuke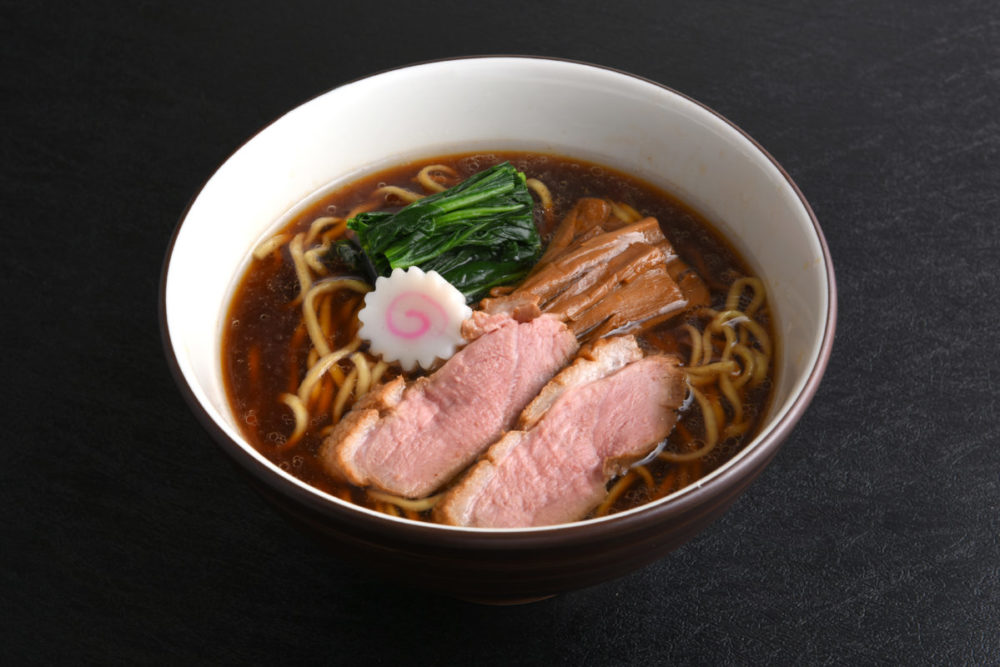 Another unique ramen restaurant from Ginza area, Ginza Kamo Soba Kyudaime Keisuke (銀座 鴨そば 九代目けいすけ) offers flavour-rich duck based stock Ramen. Two types of ramen are available either with light or rich soup both topped with slices of roasted duck. Besides the regular ramen, other dishes are also served with duck such as Tsuke Soba (dipping noodle), Abura Soba (soup-less oil noodle) and Kamoju (rice topped with slices of duck).
Access: 3 mins walk from Higashi Ginza Station
Hours: 11:00~22:00
Website: http://www.grandcuisine.jp/keisuke/9daime.html
5. Ayu Ramen
Ayu Ramen (鮎ラーメン) is a ramen shop located in Futako Tamagawa area in Tokyo, offering unique bowls of ramen served with sweetfish (ayu) based broth and topped with one whole fish itself. The simple yet dynamic ramen dish is extremely popular and the restaurant is always crowded as there are only 7 seats available. It's salt base soup with thin noodles and has light, delicate, yet aromatic flavour of sweetfish.
Access: 6 mins walk from Futako Tamagawa Station
Hours: Lunch 11:30~14:00, Dinner 18:00~1:00 am
6. Tsukumo Ramen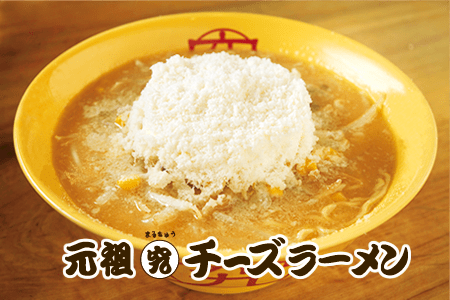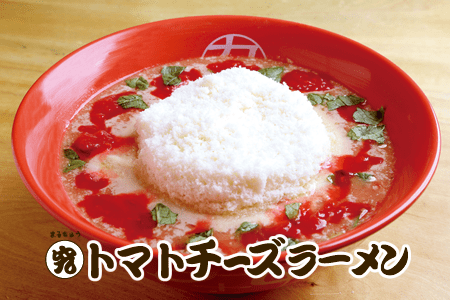 Cheese, Miso and Tonkotsu soup ramen.. can you imagine how it tastes? Tsukumo Ramen (九十九ラーメン)'s signature, Cheese Ramen is served with miso soup with tonkotsu broth, and topped with a generous amount of long aging cheese from Hokkaido. It seems a complicated combination, but surprisingly a good match. Cheese Ramen is also available with tomato flavour, which is described as "Ramen Margarita" with rich and mild cheese topped with sour and refreshing taste of Tomato and basil.
Access: 7 mins walk from Ebisu Station
Hours: 11:00~3:00am
7. UMA TSUKEMEN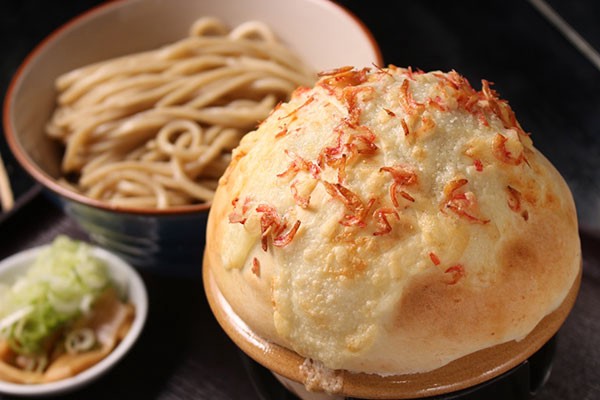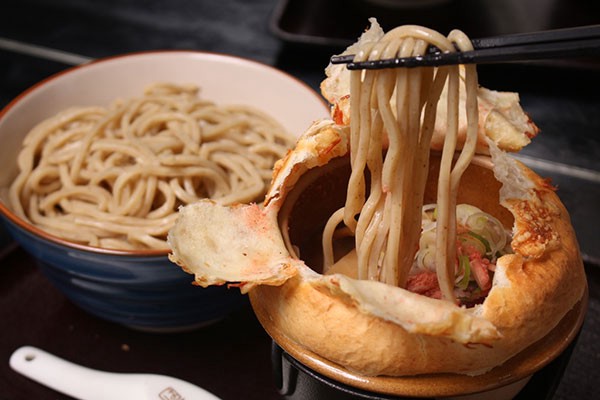 The eye-popping dome shaped tsukemen style ramen dish is served at UMA TSUKEMEN (ユーエムエー ツケメン) in Tachikawa City, the suburb area of Tokyo. Tsukemen is a type of ramen that comes with noodle and soup served in separate bowls and you enjoy by dipping the noodles into the soup. At UMA TSUKEMEN, tsukemen is uniquely served with the soup covered with a crispy pie. This creative "Pot Pie Tsukemen" won the title of New Wave Ramen on the famous TV program in past. The flavour of the soup can be chosen from shrimp, curry, miso, soy sauce or chicken cream.
Access: 3 mins walk from Sebu Tachikawa Station
Hours: Lunch 11:30~14:30, Dinner 17:30~21:00
8. Kipposhi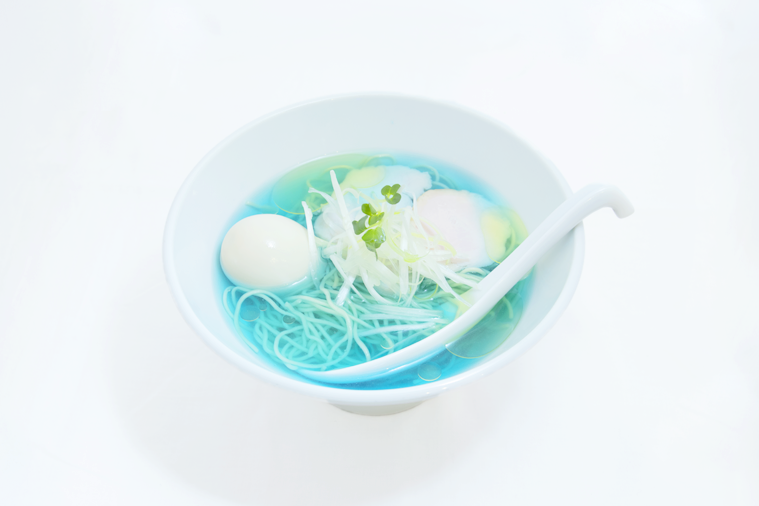 This eye-popping, instagram-worthy bright blue ramen "Clear Chicken Soup Blue" is served at KIPPOSHI (吉法師) which is located in Shibuya area, Tokyo. The unique blue soup is made with chicken broth blended with a special blue-coloured sauce, and has light and delicate taste despite its eccentric appearance. Besides the chicken broth, the shop also serves seabream broth ramen
Map: https://goo.gl/maps/dnmX6vVrWerauoQ19
Access: 5 min walk from Shibuya Station
Hours: Lunch 11:30–15:00, Dinner 18:00–22:00 (Closed on Wednesday)
Which unique ramen would you dare to try?? If you are a ramen lover and looking for a new ramen experience, try these unique ramen in Tokyo! These restaurants are all located in the central area of Tokyo, and easy to access!
For more info about popular Ramen restaurants in Tokyo, please check out listed articles below!
▽ Related Article ▽
▼Editor's Picks ▼

---