4 Best Pocket WiFi Rental in South Korea
Comparing the best Pocket WiFi Rental Services in South Korea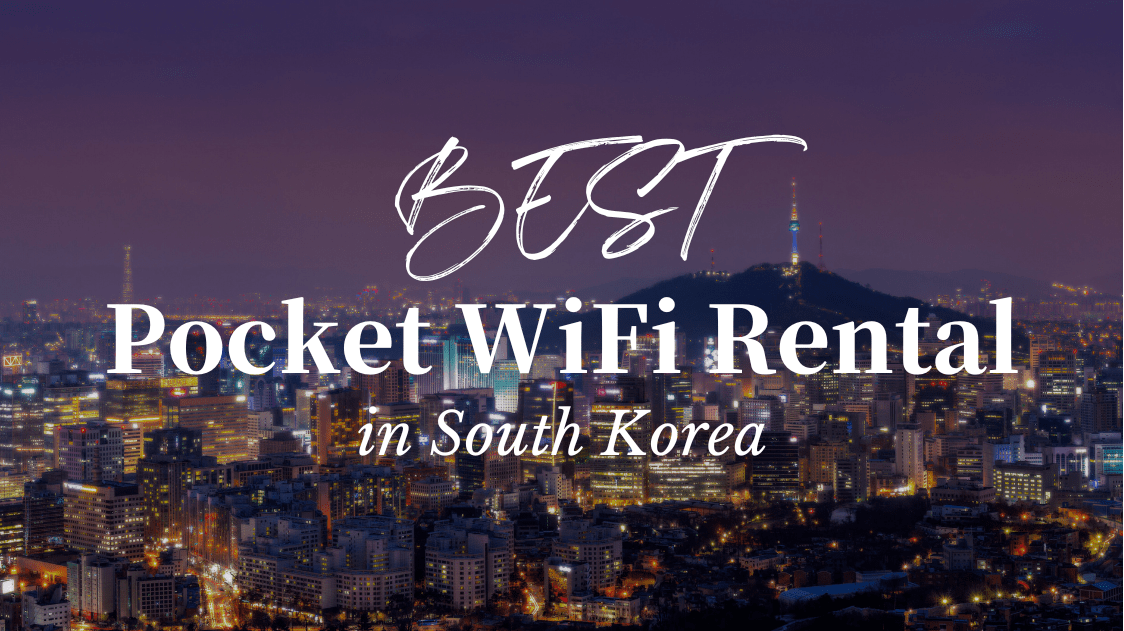 Pocket WiFi, also known as a portable WiFi router, is an indispensable travel companion for anyone visiting abroad. This compact device creates a personal WiFi hotspot, allowing you to connect multiple devices seamlessly.
When compared to other internet connection methods like buying a local SIM card, renting a pocket WiFi offers several key benefits, as it eliminates activation hassles, language barriers, and compatibility issues. Being able to connect various devices at once is also a strong point for renting a pocket WiFi.
With high data caps or unlimited data, you can browse, navigate, and stay connected without worries. Moreover, it ensures reliable and fast internet coverage, even in remote areas. Enjoy the convenience of sharing experiences in real time and staying connected with friends and family throughout your South Korean adventure.
In this article, I will introduce to you the 4 main Pocket WiFi rental services in South Korea.
---
One thing you should know before I go into detail about the services of these four Pocket WiFi rental companies is that there isn't that much difference when it comes to the service that they offer. However, there are some differences here and there when it comes to rental cost, device spec, or customer support. So when choosing which option is best for you, I suggest you check which service provides what you need best.
The process of the service for all four companies works as follows.
1. First, you make the reservation online. This is not a must, but it is recommended since some of these services will have a discount for those who book online beforehand.
2. Next, you go pick up the device at the service counter. All of the services on this list have these counters in the different international airports. Be sure to bring your passport and credit card when you pick up the device.
3. Turn on the pocket WiFi and enjoy high-speed internet connection during your travels in South Korea.
4. Return the device to any of the service counters before heading back to your country.
Ok, now that you know how the process works, let me introduce the four main pocket WiFi rental services in South Korea. The following chart shows five of the most important qualities that people usually look for when deciding. Hopefully, this chart will make things easier for you when deciding on which service you would like to contact.
1. KT (Korea Telecom)

The first pocket WiFi rental service in South Korea on our list is KT (Korea Telecom). KT offers Unlimited Data at 20Mbs speed, ensuring seamless browsing and connectivity. With Nationwide Full Coverage, you'll stay connected even in remote areas.
KT pocket WiFi allows simultaneous connections for multiple users or devices, making it perfect for group travel. Choose between the daily plan (4,400KRW/DAY) or the monthly plan (55,000KRW) based on your stay duration.
You have four Rental Device options to suit your needs. To rent, you'll need your ID card (passport or certificate of alien registration) and a credit card in your name.
For your convenience, pick up and return the device at KT Roaming Centers, located at Incheon International Airport (Terminal 1, Terminal 2), Gimpo International Airport, Gimhae International Airport, and Busan Harbor. Stay connected effortlessly during your South Korea adventure with KT pocket WiFi.
*Up to 25 hours (depends on model)
2. SK Telecom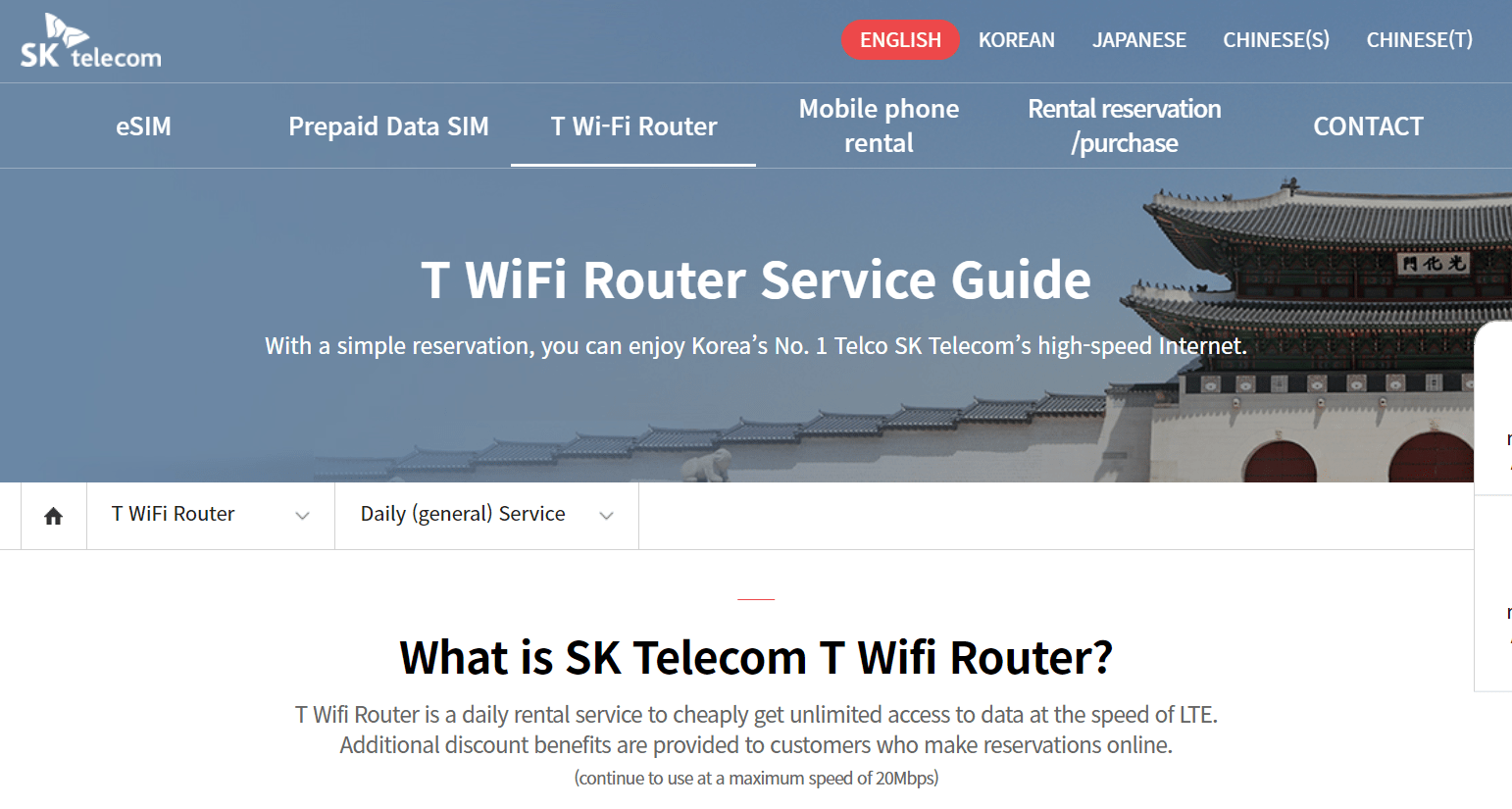 For a budget-friendly and efficient internet solution, consider SK Telecom. With T Wifi Router, you can enjoy unlimited LTE-speed data access at a maximum speed of 20Mbps.
To get started, you can either reserve and pay online, then pick up the device at the roaming center, or visit the center directly, and make the payment and reservation on-site. However, online reservations offer additional discount benefits, making it a cost-effective choice.
The Pocket WiFi supports various devices like laptops and smartphones, allowing multiple users to connect simultaneously. Experience seamless connectivity throughout the country, thanks to its nationwide coverage.
Without online reservations, the daily rental cost from the roaming center is 4,400 won, but reserving online reduces it to 3,300 won per day.
*3,300KRW/DAY (if you book online)
3. LG U+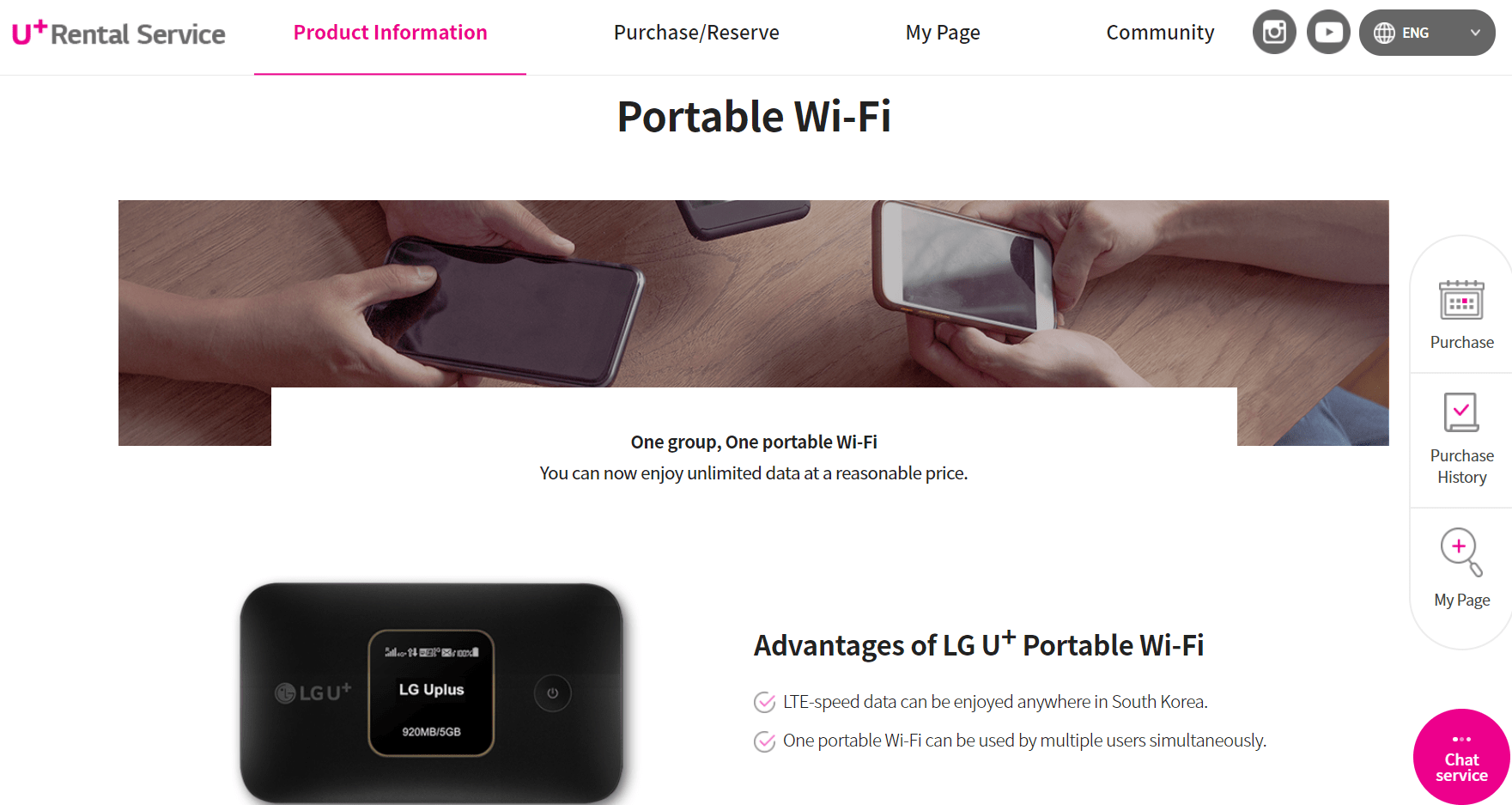 Next on our list is LG U+ pocket WiFi rental service for a reliable and convenient internet experience. Enjoy LTE-speed data anywhere in South Korea, ensuring seamless browsing and communication.
The service allows multiple users to connect simultaneously, making it perfect for group travelers. Plus, LG U+ offers a complimentary portable battery with each WiFi rental, ensuring you stay connected all day.
For pricing, reserving in advance offers advantages, with a cost of ₩8,800/day without reservations. The option to rent without prior booking is available at LG U+ Customer Centers, including Incheon International Airport (Terminal 1, Terminal 2), Gimpo International Airport, and Gimhae International Airport. However, booking in advance grants you additional benefits, making it a preferred choice.
Stay connected even after using the daily 4GB data, as you can continue with unlimited data at a reduced speed of up to 5Mbps. The daily 4GB data limit resets at 12 AM every night.
4. WiFi Dosirak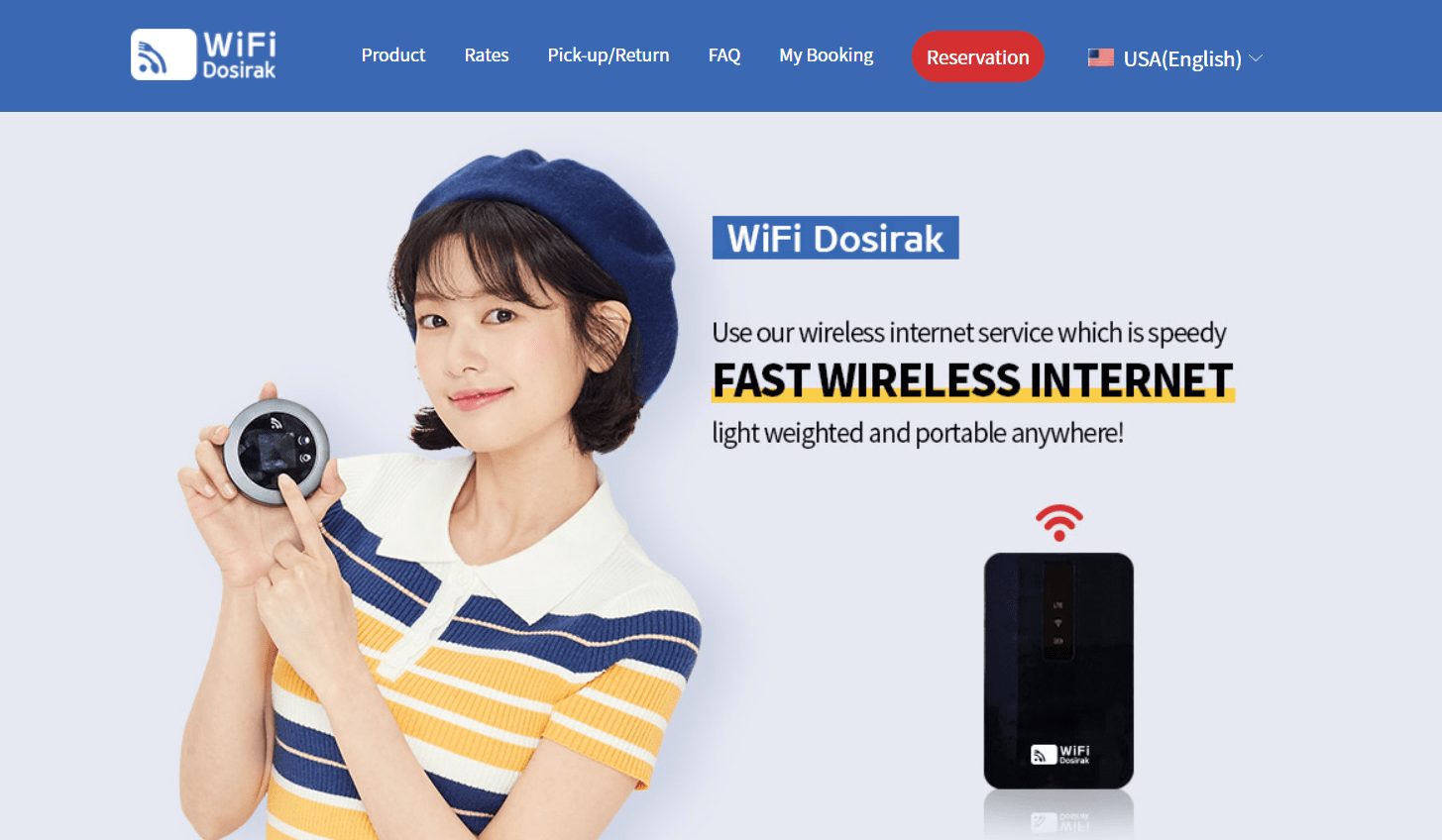 And lastly, on our list, we have WiFi Dosirak. With 4G LTE, you can enjoy fast data delivery wherever you go.
The pocket WiFi allows simultaneous connections to smartphones and tablets, making it ideal for multi-device users. It can be shared among a maximum of 5 persons, although it is recommended for 2-3 persons for optimal performance.
Choose from various data plans to suit your needs. The "unlimited data" plan is 4,500KRW/day, but if you don't require that much data, options like the "3GB" plan at 3,400KRW/day or the "1.5GB" plan at 2,500KRW/day are available.
Benefit from a discount price starting from the 6th day of use, making it cost-effective for extended stays.
Pick up and return the device at various locations including Incheon Airport (Terminal 1, Terminal 2), Gimpo Airport, Gimhae Airport, Daegu Airport, and Seoul Customer Center.
4,500KRW/DAY (for unlimited data plan)
---
▽Subscribe to our free news magazine!▽

For more information about Things to do in Japan, check our other articles below.
▽Related Articles▽
▼Editor's Picks▼
---