5 Best Bubble Tea Shops in Tokyo
Introducing best Tapioca Milk Tea in Japan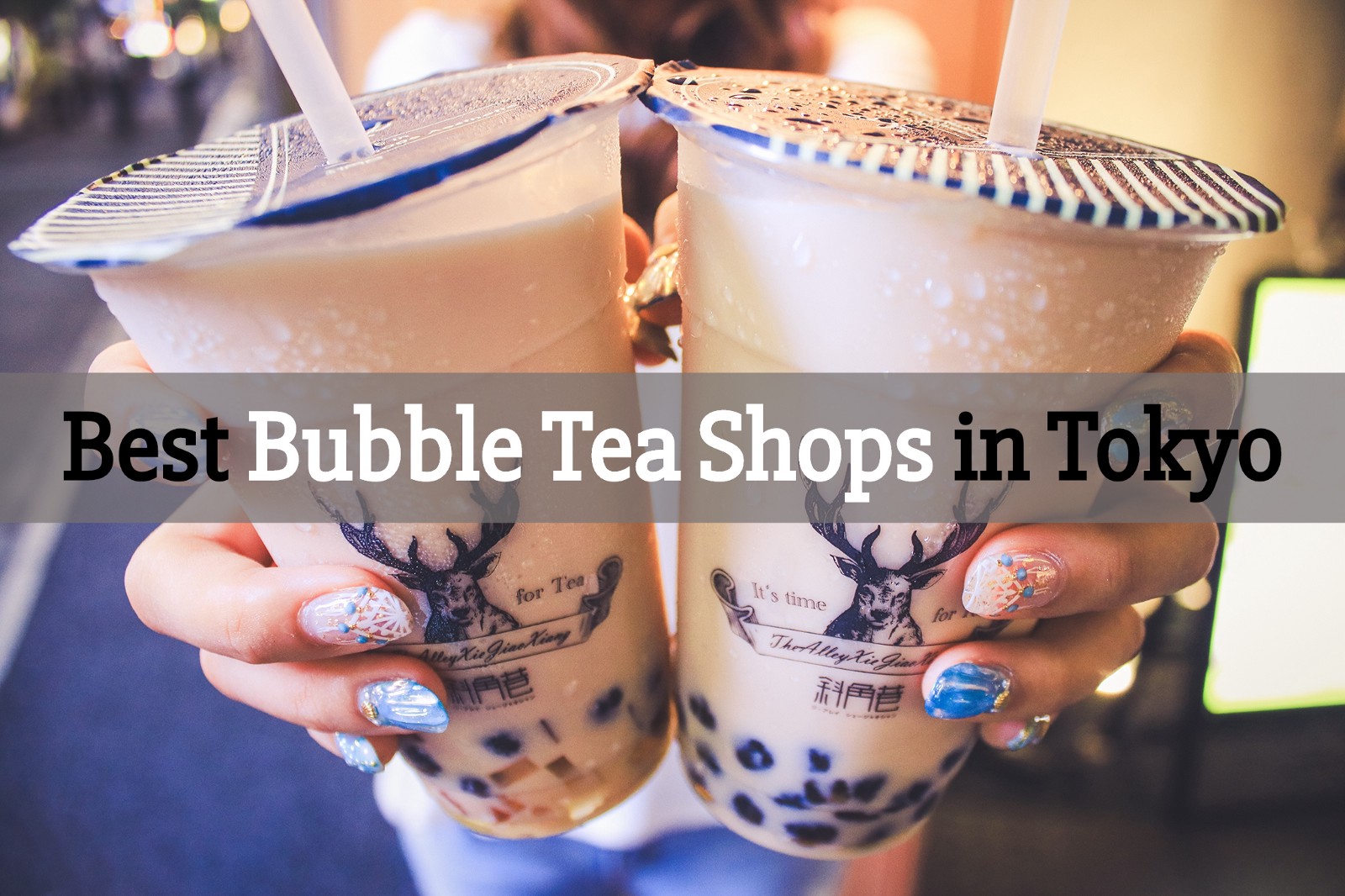 Have you tried bubble tea?? It's a famous beverage from Taiwan (also called Boba, Pearl Milk Tea or Tapioca Milk Tea) served with various flavoured tea with chewy tapioca balls. Bubble tea become very popular all around the world, and more and more new bubble tea shops are opening worldwide, and Japan is not an exception! In the past years, over 10 bubble tea shops have opened in Tokyo, and quickly became trendy and popular spots in the city.
As we have introduced 5 best bubble tea shops in Tokyo previously, I'd like to share another 5 best tasty bubble tea shops which have opened recently in popular spots in Tokyo including Shibuya, Harajuku and Shinjuku!
▼5 Best Tasty Bubble Tea Shops in Tokyo▼
1. THE ALLEY LUJIAOXIANG
The popular Taiwanese bubble tea shop, THE ALLEY LUJIAOXIANG has numbers of stores all around the world, and their first store in Japan was launched in 2017, in Omotesando area (near Harajuku and Shibuya). While serving authentic Taiwanese style boba, their insta-worthy colourful drinks become sensational hits including "BONSAI" Garden Tapioca Milk Tea and Aurora drink series. Currently, there are 8 stores in Tokyo.
Omotesando Store▷http://bit.ly/2MTgLK6
Shibuya Store▷http://bit.ly/2KPDvdu
Lumine Shinjuku Store (B2F) ▷http://bit.ly/2Nu4D3p
Ebisu Store ▷http://bit.ly/2NwYxPw
Jiyugaoka Store ▷http://bit.ly/2IY2PMG
Sanagi Shinjuku Food Track ▷http://bit.ly/2KWrDWQ
Nakameguro Store ▷ http://bit.ly/2Ny5rEu
Skytree Soramachi Store (1F) ▷ http://bit.ly/2IXH6nK
Official Website: http://www.the-alley.jp/
2. ALFRED TEA ROOM
The favourite tea stand among LA's trend hunters, ALFRED TEA ROOM has landed in Tokyo in 2017, and currently there are two stores in Aoyama area (near Shibuya) and Shinjuku LUMINE EST. The millenium pink themed tea shop soon become a favourite spot among trendy Tokyoite and Instagrammers. The cafe menu includes light meals and cakes which some of them are vegan-friendly and gluten-free.
Aoyama Store ▷http://bit.ly/2zexxl3
Shinjuku LUMINE EST Store (1F) ▷http://bit.ly/2MThpr0
Official Website: http://alfredtea.jp/
3. Chatime
Chatime is one of the largest bubble tea franchises in the world. The Taiwan born bubble tea is now beloved by over 30 countries. Their first store in Tokyo has opened in Ginza in 2017 winter. Chatime offers a huge variety of drinks including classic boba, fruit juice, limited drinks and a customize of drinks are also available. There are currently three stores in Tokyo.
Ginza Store ▷http://bit.ly/2NrvDAp
Jiyugaoka Store ▷http://bit.ly/2KxXkKd
Ikebukuro Store ▷http://bit.ly/2KR2jS6
Official Website: https://chatime.jp/
4. SAISABO
Saisabo (彩茶房) is an authentic Taiwanese cafe/restaurant operated by happylemon, the famous franchised tea shop in Taiwan. While Saisabo become mostly popular by its signature drink "Rock Salt Cheese Tea", the classic bubble tea is one things you can not miss on the menu. There are variety of delicious Taiwanese dishes and desserts available alongside.
Cascade Harajuku Store ▷http://bit.ly/2tVPAaG
Queen's Isetan Sengawa Store ▷ http://bit.ly/2NrQh3s
Kirarina Kichijoji Store ▷ http://bit.ly/2zh2Knu
Official Website: http://saisabo.com/
5. CoCo Fresh Tea & Juice
Founded in Taipei City in late 90s, CoCo Fresh Tea & Juice is the largest bubble tea stores with over 2,000 stores worldwide. Their first store arrived in Japan in February 2017 in Shibuya, followed by Harajuku, then currently there are 5 stores in Tokyo in total. At Coco, you can customize your own boba by choosing the amount of tapioca balls and sweetness. At Harajuku and Shinjuku stores, there is a few original and unique drinks that you can find nowhere else!
Shibuya Center Gai Store▷ http://bit.ly/2Nuz4WZ
Harajuku Store ▷ http://bit.ly/2MRltrH
Shimokitazawa Store ▷ http://bit.ly/2m08zwe
Machida Store ▷ http://bit.ly/2MQ5zhu
Shinjuku Store ▷http://bit.ly/2u93sh0
Official Website: https://cocofreshtokyo.amebaownd.com/
How did you enjoy?? If you love bubble tea, you may enjoy reading these articles, too! I have introduced some of trendy cafes and restaurants in Tokyo 🙂
▽Related Articles▽
▼Editor's Picks▼
---