Kanazawa Itinerary: 2 Days from Tokyo to Kanazawa
Best Things to Do in Kanazawa in 2 days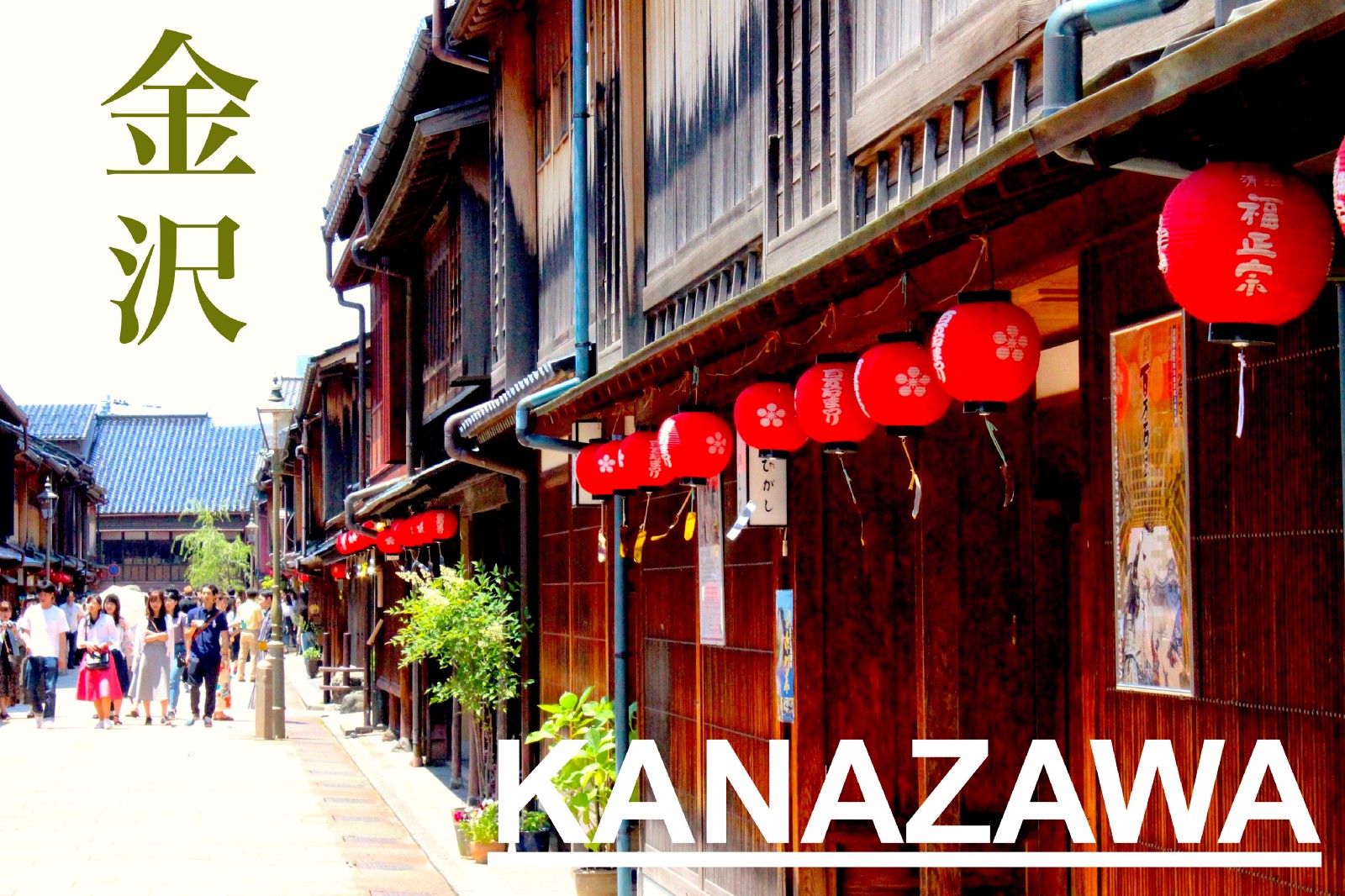 Kanazawa 金沢, the capital city of Ishikawa Prefecture 石川県, has been listed in several travel guidebooks as a second-tier city to visit following Tokyo, Kyoto, and Osaka. However, the situation has been drastically changed. This northland city is increasingly getting more and more popular as a must-visit sightseeing spot in Japan for these past few years.
Due to the installation of Shinkansen 新幹線 ('a high-speed bullet train') bridging Kanazawa and Tokyo (Osaka as well) in 2015, Kanawaza became more accessible and closer to other major cities in Japan. This transportation reform brings millions of both domestic and international visitors to come to Kanazawa every year.
Historically, Kanazawa has been playing an essential role especially in the Edo Period 江戸時代. It used to be the biggest territory known as the Kaga Domain 加賀藩 in Hokuriku 北陸, the Northland region of the mainland Japan, owned by the Maeda clan. Because of this historical heritage, there are several districts in Kanazawa that still maintain the good-old atmosphere of Edo Kanazawa and the venerable architectures on the streets even today.
It is true that Kanazawa remains a historically important site to visit. However, it is definitely more than that nowadays. I would categorize Kanazawa as an evolving city where all the good-old elements of Edo Kanazawa intermingle with modern materials and merge into a brand new entity of New Kanazawa. I would like to introduce this kind of aspects of Kanazawa, which transforms itself into a hybrid city of the modern and old components of Hokuriku culture.
These series of articles on Kanazawa will not only provide you with an overview of what famous places in Kanazawa actually look like from the standpoint of a Japanese native, but also with my subjective comments and feedbacks on each site in Kanazawa as an ordinary traveler from Tokyo based on my actual visit to Kanazawa a few weeks ago. This main article branches out to other articles focusing on each sightseeing spot in Kanazawa. Make sure to read those along with this two-days itinerary article!
This two-days itinerary to Kanazawa is an adjusted version of my recent visit to Kanazawa. My friend and I spent roughly two days in total in Kanazawa as a part of our long journey to the Hokuriku region. From my personal experience, I would like to suggest a two-days schedule to fully enjoy Kanazawa, an evolving city in Hokuriku! I hope you'll find these articles helpful for creating your own itinerary in Kanazawa!
*Please note that this article contains affiliate links.
Day 1
Getting into the evolving city…
Depart from Tokyo 9:00 am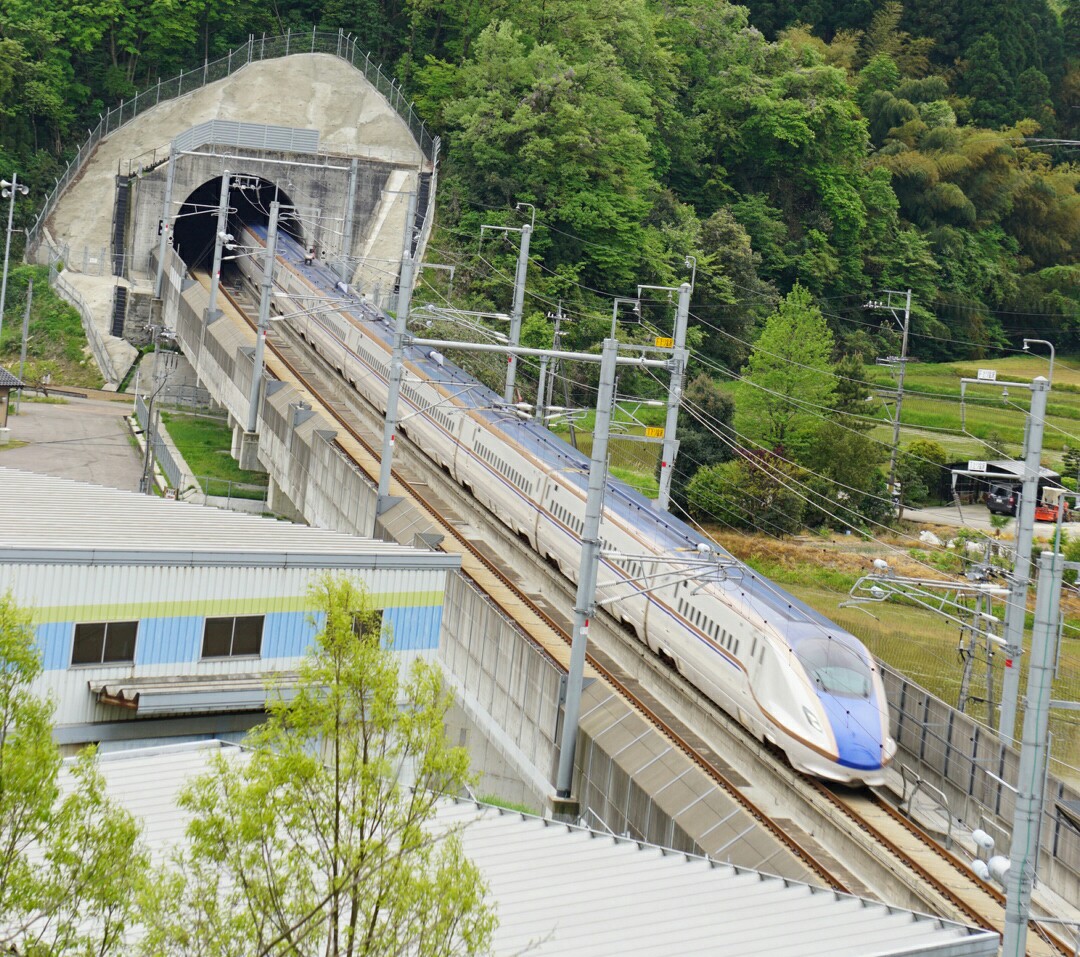 Let's say you'll start your two-days journey to Kanazawa from Tokyo. As is described before, the easiest way to get there is taking Hokuriku Shinkansen launched in 2015. It will roughly take 2 hours and half from Tokyo to get to Kanazawa. The price of a non-reserved ticket fare for an adult is 13,600 yen according to kanazawastation.com. In order to make your trip safe and easier, you might want to get a reserved ticket at any JR front desk especially during the high season.
▶︎Book your Shinkansen ticket from Tokyo to Kanazawa online right now!!◀︎
Enjoy the beautiful mountainous sceneries from the windows of Hokuriku Shinkansen for a while…
Welcomed by the symbols of Kanazawa…
Arrive at Kanazawa Station from Tokyo 11:30 am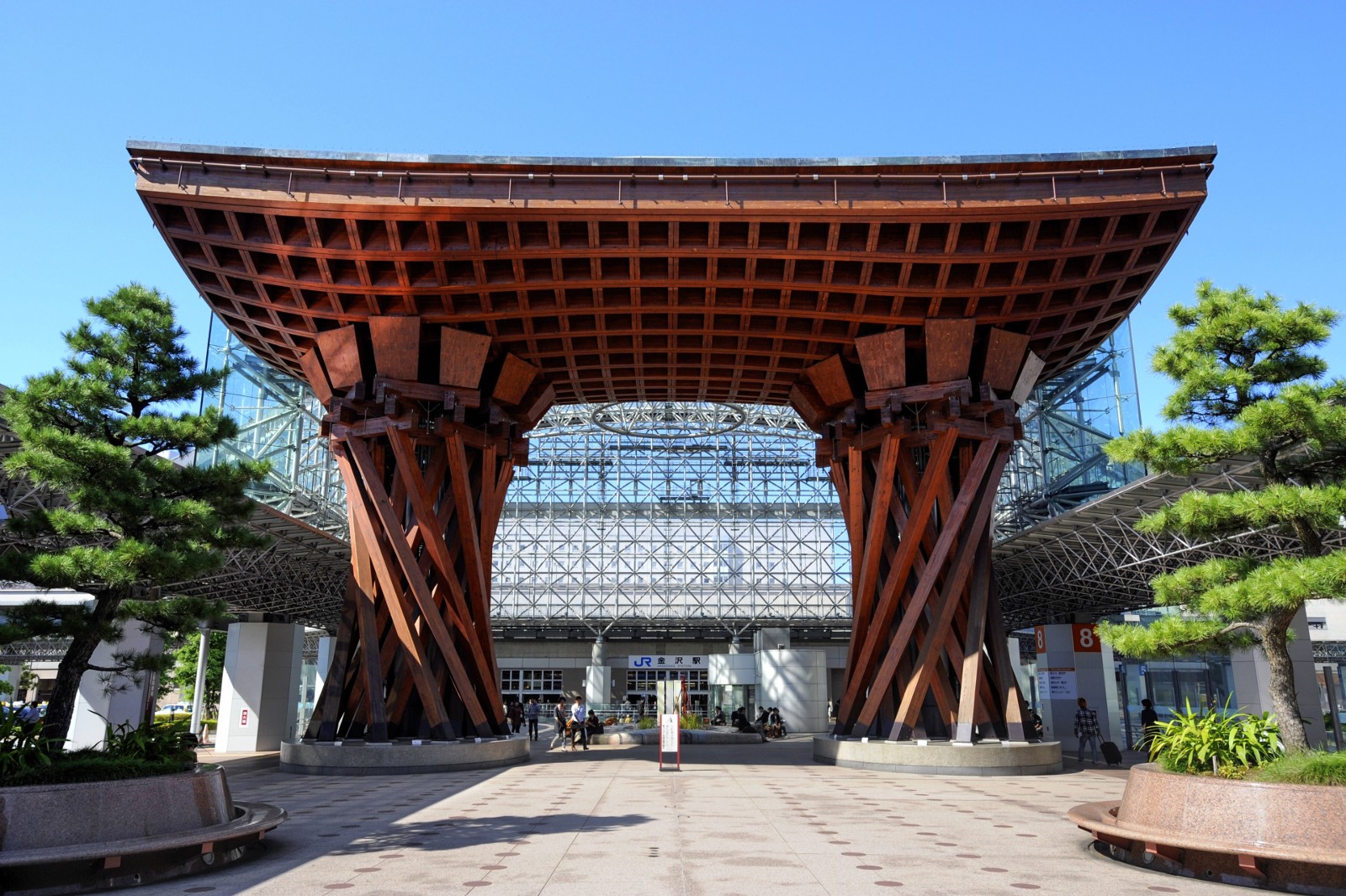 Arriving at Kanazawa Station before the noon, you'll first be welcomed by the two newly renovated landmarks of Kanazawa Station. Kanazawa Station itself serves as a must-see sightseeing spot because of the Tsuzumi Gate and the Hospitality Dome. According to the ranking of "World Most Beautiful Train Stations" published in Travel & Leisure in 2011, Kanazawa Station was selected one of the top 14 beautiful train stations in the world. These two ginormous symbols represent the most vivid aspect of Kanazawa as an evolving city developing through the in-between space of the modern and traditional.
As the Tsushima Gate bears its name of Tsuzumi, a small drum often used in a type of Japanese traditional theater of Noh, the two thick pillars of the gate look very similar to the trunk of the drum. Noh cannot be separated from Kanazawa's culture since it has been historically embedded into the local culture.
On the other hand, the Hospitality Dome is the modernistic glass ceiling that you will first see after getting off the train at Kanazawa Station. The sunlight will run through the glasses, but rain and snow will be shielded for the visitors under the dorm. The spirit of Japanese hospitality is deeply rooted in the construction of this dorm. Please take a look at these two controversial monuments representing the modern and traditional Kanazawa!!
Immersing yourself in scrumptious Hokuriku seafood…
Eat Sushi at Omicho Market 1:00 pm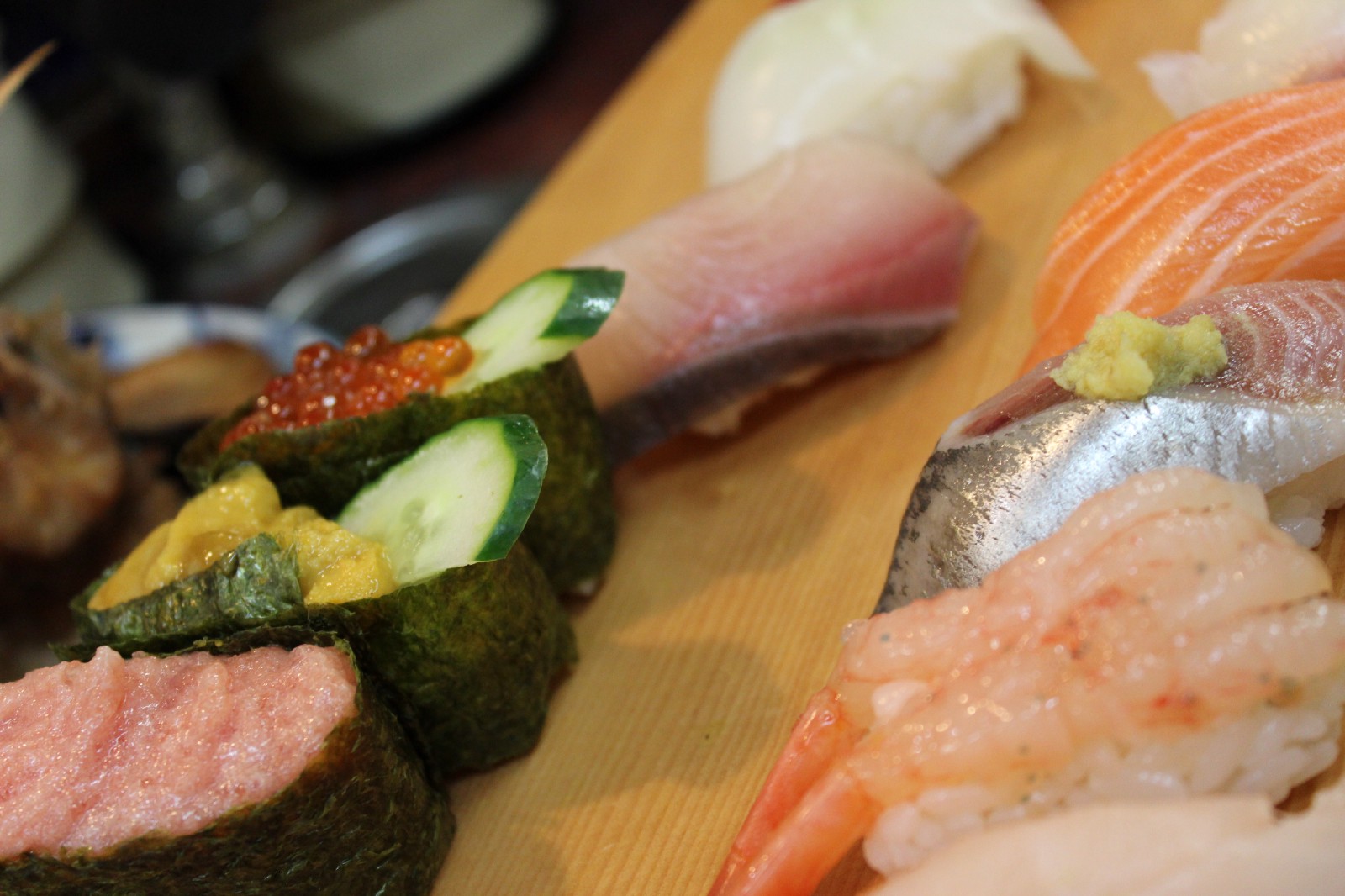 After spending some time at Kanazawa Station, it will probably be the time when your stomach starts growling. Why not suffice your appetite with freshly caught fish on the shoreline of Hokuriku? Immersing yourself in local food culture on one's trip is another way to get to really know the culture. Scrumptious seafood will open up the doors for you to Hokuriku's food culture.
Feeling the good-old Kanazawa on foot…
Higashi Chaya District 3:30 pm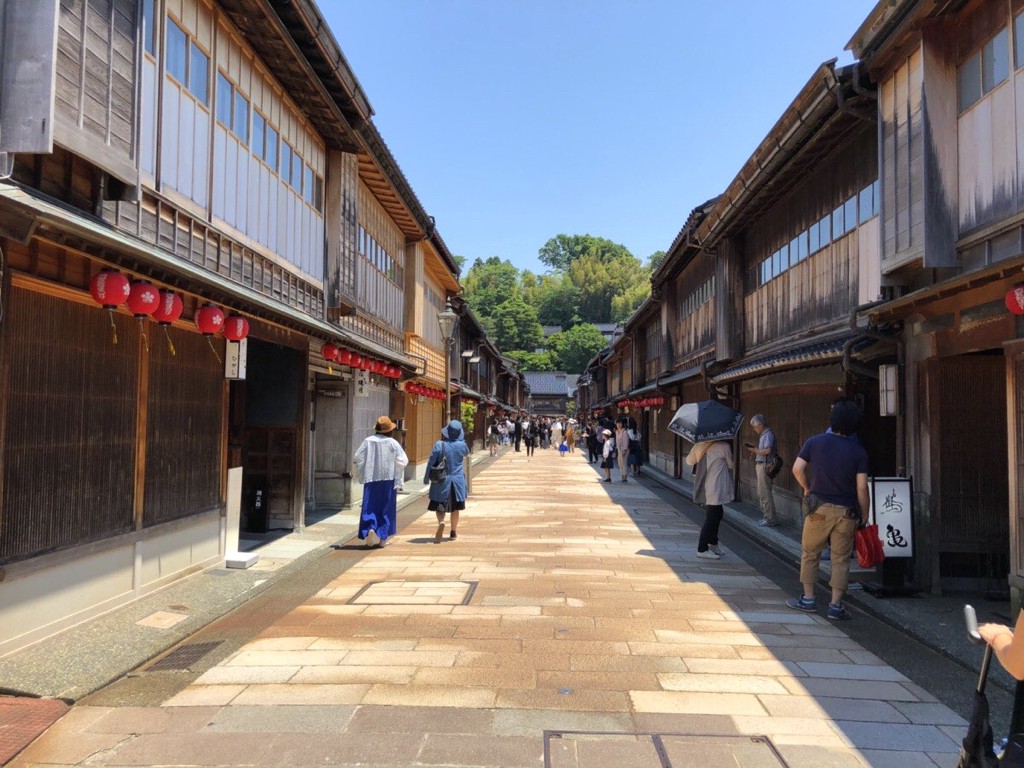 Once your appetite is satisfied with the deliciousness of Hokuriku seafood, you might want to take a walk and feel the gentle breeze of the northland city of Kanazawa. The best place to do that is probably the Higashi Chaya District 東茶屋街. This district became a synonym for the good-old Kanazawa where you will be able to visit the preserved Edo-style tea houses and cultural artifact shops on the streets in the designated entertainment district.
Dinner at Izakaya 6:00 pm
After feeling like being a time traveler to the Edo era, you'll eventually need to get back to the modern city of Kanazawa. Around Kanazawa Station, there are numerous places to be able to enjoy Hokuriku food culture. Koide こいで is a bit pricey, but is one of the best places to enjoy the authentic Hokuriku cuisine. This Izakaya 居酒屋 ('Japanese-style restaurant/bar') is highly evaluated in various food review websites and will provide you with Hokuriku sake at a reasonable price as well as the authentic northland Japanese food.
Access: 15 mins from JR Kanazawa Station
Price: 20,000~29,999 yen
Feeling a bit tipsy by drinking good Japanese sake, you'll get back to wherever you'll be staying at…
Day 2
Wandering around in the most beautiful Japanese garden…
Kenrokuen Garden 9:00 am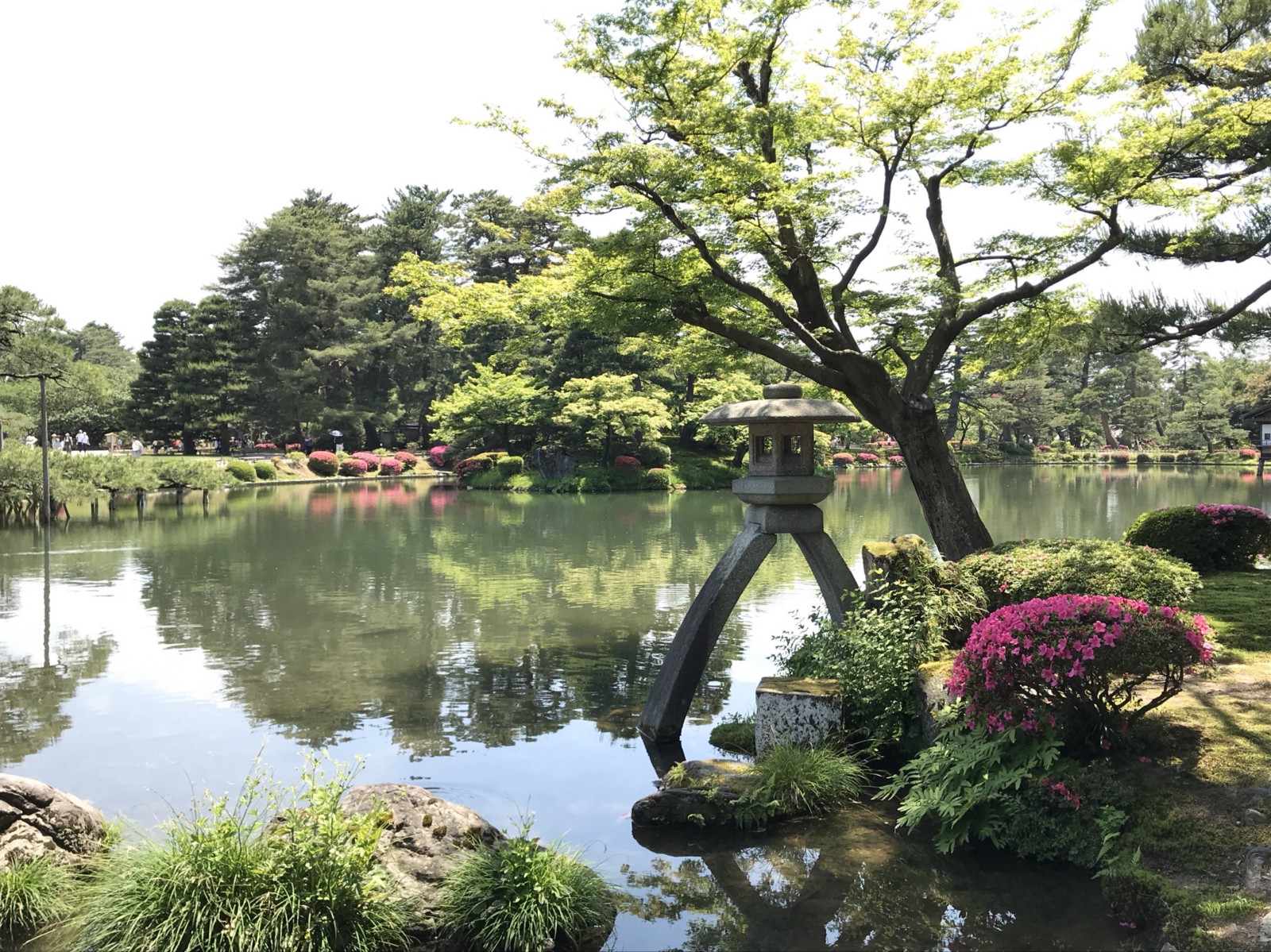 The second day of your exploration in Kanazawa will start from early morning. The best place to be exposed to the morning sunlight in Kanazawa is probably Kenrokuen Garden 兼六園, one of the three great gardens of Japan. It is no exaggeration to say that Kenrokuen Garden is the main purpose of most visitors to Kanazawa. Walking in this beautiful garden will definitely make you feel like becoming a feudal lord of the Edo era.
Lunch at Kenrokuen Garden Miyoshian 11:00 am
Having walked a few miles, I bet that you will start starving. Within the realm of Kenrokuen, there is an authentic restaurant that will serve a full course of Japanese traditional cuisine at a reasonable price during lunch time. Kenrokuen Garden Miyoshian 兼六園 三芳庵 is the best place to take a break from your exploration in the magnificent Japanese garden. Make sure to get there a little early than lunch time since it will be surely crowded during lunch time!!
Access: within Kenrokuen Garden
Price: 1,000~1,999 yen during lunch time
Kenrokuen Garden is located adjacent to Kanazawa Castle Park 金沢城公園. This public park is the site of Kanazawa Castle 金沢城, the partially-restored castle of the Maeda clan. You will be able to observe the unique patterns of the stone walls that were built during various time periods.
Walking down to the modern world…
The 21st Century Museum of Contemporary Art, Kanazawa 1:00 pm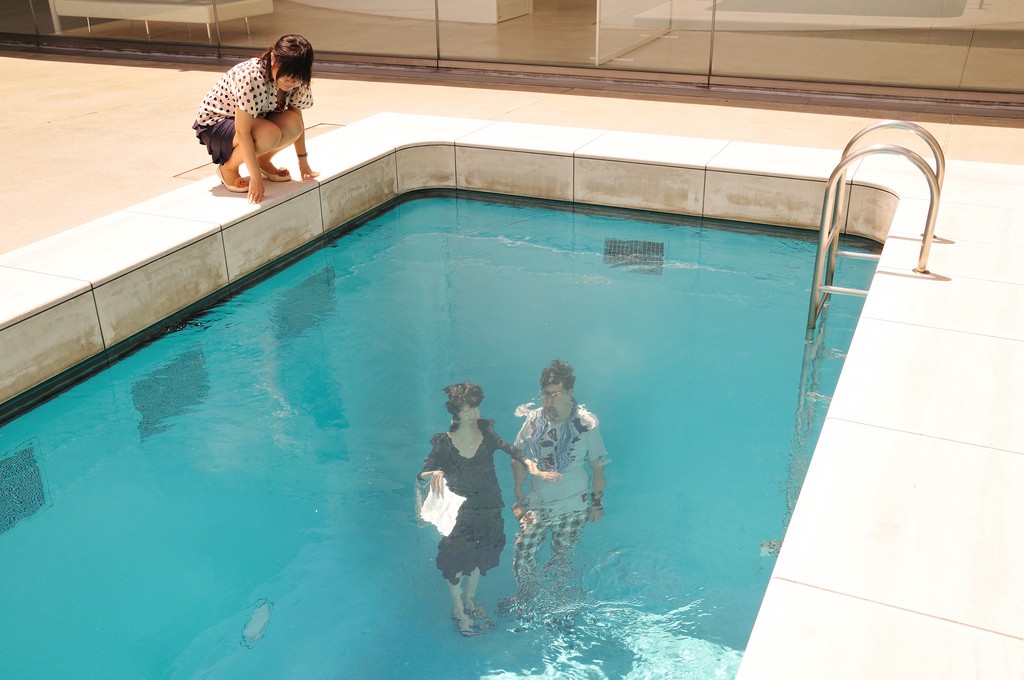 After having enjoyed wandering around in the most glorious Japanese garden in Hokuriku, you will move on to witness the modern aspect of Kanazawa at the base of Kanazawa Castle. Walking down the hill where the castle is located at, it is the time to immerse yourself in the world of modern art. The 21st Century Museum of Contemporary Art, Kanazawa 金沢21世紀美術館 is right around the corner.
Buying souvenirs 4:00 pm
Finishing up your journey to Hokuriku with being in the famous contemporary art space, you'll start to get ready to head back to Tokyo. Please do not forget to buy some souvenirs in Kanazawa. Please check out the following article that will introduce you what to buy in Kanazawa as souvenirs.
Leaving Kanazawa 6:00 pm
Saying bye to the controversial symbols of New Kanazawa at Kanazawa Station, let's jump onto the newly installed Shinkansen to Tokyo…
Central Japan including Kanazawa, Takayama and Shirakawago is one of the hottest travel destinations in Japan. It's highly recommended to visit Kanazawa now! For info about Central Japan, check these articles below, too.
▽Related Articles▽
▼Editor's Picks▼
---