Tokyo with Kids: 15 Best Things to Do 2020
Tokyo with Kids: Places to Visit in Tokyo with Children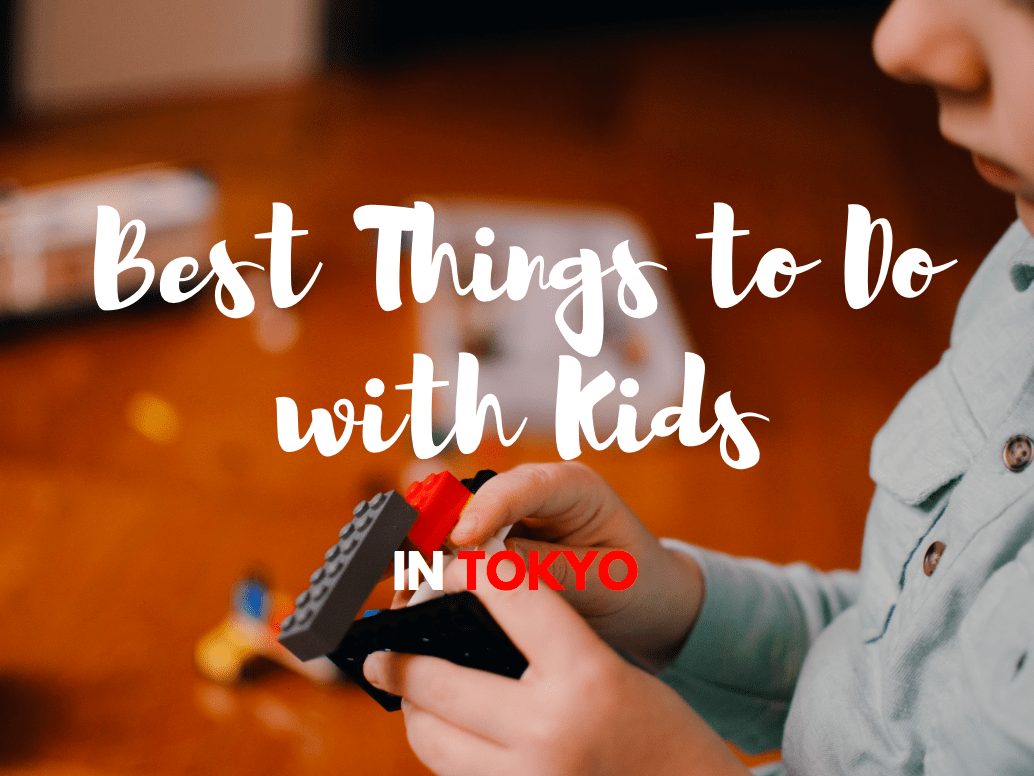 Some people may associate Tokyo with high technology and exciting nightlife and think that Tokyo is not the best destination to go with kids. However, there are a large number of things to do and places to visit in Tokyo with kids.
Japan is famous as one of the safest countries to travel in the world, and so is Tokyo. I ofter see family tourists strolling around Tokyo with little children and even a baby in a baby buggy. Tokyo offers a variety of food options from Japanese food to western food, entertaining spots including aquariums, zoos, and amusement parks. In addition, kids will be satisfied with unique Japanese culture such as Ninja, Samurai, Anime, Manga, video games and so on.
Today, I'd like to introduce best things to do in Tokyo with kids. Of course, these things to do are popular to not only kids but also adults.
1. Tokyo Disneyland
Tokyo has two Disney Resort's theme parks: Tokyo Disneyland and Tokyo DisneySea. Tokyo Disneyland, one of the ideal tourist sites for kids in Tokyo, is more kid-friendly than Tokyo DisneySea and offers Disney and Pixar's characters' ride attractions, delicious dishes and alluring souvenirs.
▶︎Book your ticket of Tokyo Disneyland online!!
2. Tokyo DisneySea
Tokyo DisneySea is another popular theme parks at Tokyo Disney Resort where little kids can enjoy more thrilling and exciting rides and you can also enjoy drinking chilled beer while it is not allowed to drink at Tokyo Disneyland. Tokyo Disney Resort is not exactly located in Tokyo but Chiba Prefecture. But, it is accessible from the center of Tokyo and Narita and Haneda Airports.
▶︎Book your ticket of Tokyo DisneySea online!!
3. Sanrio Puroland
Sanrio Puroland is a popular amusement park in Tokyo perfect for kids. You can enjoy various attractions and shows with Sanrio Characters such as Hello Kitty, Pompompurin, Cinnamoroll and My Melody, etc. Don't forget to eat creative dishes and exclusive souvenirs related to Sanrio Characters at restaurants and shops.
▶︎50% OFF!! Book Sanrio Puroland E-Tickets with discount!!
4. Pokemon Center & Pokemon Cafe
Tokyo, home to the pop culture, has several spots related to the classic video game and Anime: Pokemon. You can buy video game softwares and character items including limited goods sold only in Japan at Pokemon Center and Pokemon Store. At Pokemon Cafe, cute food and drinks with the theme of Pokemon characters are served. Your kids will definitely have a lot of fun with Pokemon.
5. Ghibli Museum
There is no other option except visiting Ghibli Museum in Tokyo for big fans of Studio Ghibli's movies and Hayao Miyazaki. You can jump into the world of various Ghibli movies from classic and new ones. Please be noted that it is required to submit booked admission ticket for the museum and a little difficult to get ones in a normal way. However, you can get the last-minute tickets on this website below. Check the availability of your date!
▶︎Book you last-minute ticket of Ghibli Museum Now!!
6. KidZania
KidZania, visited by both domestic and international kids, is a unique theme park in Tokyo featuring kids. In a little town, children can experience about 100 jobs and activities as adults including dentist, firefighter, bank officer, chef and so on using real items and equipment.
7. Robot Restaurant
Robot Restaurant, located at the red-light district Kabukicho in Shinjuku, is one of the most popular things to do among foreign visitors, and children can enjoy the performance shows with dazzling neon light, laser beams, unique robots and Kawaii dancers. How about visiting Robot Restaurant to see the exciting performance in the daytime for kids.
▶︎Book your ticket of Robot Restaurant with 34% discount rate!!
8. MORI Building DIGITAL ART MUSEUM: EPSON teamLab Borderless
If you want to experience high technology in Tokyo with kids, the digital art museum MORI Building DIGITAL ART MUSEUM: EPSON teamLab Borderless is what you should choose. Touch the digital art at the cutting-edge art museum and it offers the chance for children to try workshops.
▶︎Book your E-Tickets for MORI Building DIGITAL ART MUSEUM — teamLab Borderless Now!!
9. LEGOLAND Discovery Center Tokyo
The worldwide famous Legoland has the entertainment facility named LEGOLAND Discovery Center Tokyo in Odaiba, Tokyo. There are Lego build and play zones, ride attractions, 4D films and a shop providing over 400 Lego products incluidng the very latest items.
10. Animal Cafes
Animal cafes are trendy tourist spots in Tokyo, and there are various types of cafes from owls and hedgehog to penguin. Surprisingly, the cafes allow you to touch and play with the animals. Owl cafes and hedgehog cafes are especially popular, so make sure to book the tickets in advance online.
▶︎Book the Owl Cafe in Harajuku Now!!
▶︎Book the Hedgehog Cafe in Roppongi Now!!
11. Ueno Zoo
It is true worldwide that a zoo is also what makes kids excited. Ueno Zoo, located in Ueno Park, is one of the largest and most popular zoos in Tokyo where you can see over 500 species of animal including rare panda and polar bear.
12. Maxell Aqua Park Shinagawa
For creatures in the sea, Maxell Aqua Park Shinagawa is recommended to visit in Tokyo. The popular aquarium holds 25,000 fish with 350 species, and interactive attractions an seasonal events like dolphin performances with LED fireworks are offered.
▶︎Book 10% Off Maxell Aqua Park Shinagawa e-tickets Now!!
13. Ninja Spots
Ninja is one of the most interesting things in Japan for foreign people, and you can experience the Ninja culture at some spots in Tokyo. VR NINJA DOJO offers the chance to your ninja skills and play VR Ninja action game. At Ninja Shinjuku, the Ninja-themed restaurant, high quality dishes and amazing performances are served by Ninja waiters.
▶︎Book E-tickets for VR NINJA DOJO now!!
▶︎Book your seat of Ninja Shinjuku Now!!
14. Samurai Spots
Another Japanese unique culture is Samurai as well as Ninja. Samurai Museum in Shinjuku is perfect for learning the history of Samurai and seeing armors and swords. Besides seeing the Samurai's items, you can put them on yourself and cool photo shooting is available at Samurai Armor Photo Studio. Does Samurai still exist? You should see if they do or not firsthand!
▶︎Book you ticket of Samurai Museum in Shinjuku Now!!
15. Baseball Games
For kids who like sports, baseball is recommended to watch in Tokyo since the level of Japanese baseball teams is world-class. There are some baseball parks of especially popular professional teams in Tokyo such as Yomiuri Giants and Tokyo Yakult Swallows. Here is the booking website for the tickets of the most popular baseball teams in Japan.
▶︎Book you ticket of Yomiuri Giants's game at Tokyo Dome Now!!
When is the Best Time to Visit Tokyo with kids?
Tokyo is famous for the all seasons entertaining visitors with Japanese food, traditional and pop modern culture, nature spots and seasonal events. For more comfortable climate, spring and autumn are recommended for kids to travel around the city since summer may be a bit too hot and winter may be chilled for some days.
Be Connected to the Internet Anytime
You don't want to get lost on your way with children, do you? There are less Free WiFi spots in Tokyo or Japan than other developed touristy countries. It is highly recommended to rent a pocket WiFi to search your route on online maps, book a restaurant, communicate distantly with your family, watch YouTube to amuse your kids and so on. For looking for the best quality and cheapest pocket WiFi rental, check out this article.
Plan your perfect itinerary in Tokyo which pleases both you and your kids. Have a safe and wonderful trip to Tokyo! For more useful info about Tokyo, you might also like these articles below.
▽Related Articles▽
▼Editor's Picks▼
---