10 Best Beaches on Okinawa Main Island
10 Best Okinawa Beaches : Okinawa Main Island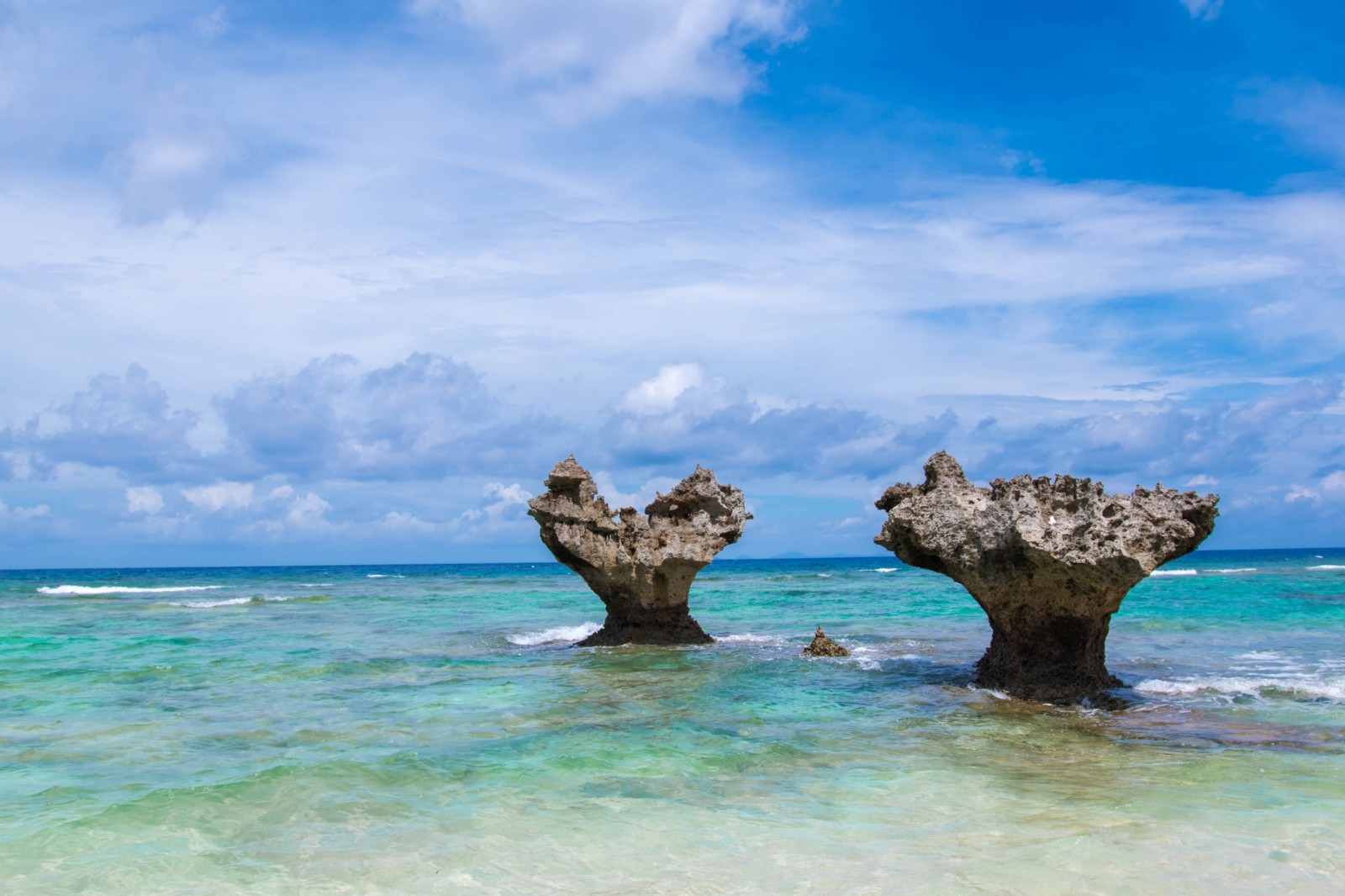 Okinawa Prefecture is a popular holiday destination in Japan, and it's best known for the world-class beaches with crystal clear water and white sand. There are over 100 beautiful beaches on the main island and remote islands of Okinawa where visitor can enjoy swimming and snorkelling with the beautiful scenery during the season.
On Okinawa Main Island (Okinawa Honto), there are numbers of beaches where you can access easily from the city or located near resorts. In this article, I would like to share 10 most stunning beaches which are located on the main island of Okinawa. If you are thinking to visit Okinawa Main Island and seeking for the most beautiful beaches, I hope this list could help you to plan your trip!
-When is the beach season in Okinawa??
The beach season in Okinawa is generally much longer than other parts in Japan (July to September). The most beaches in Okinawa open from mid March to early April until October while some beaches on remotes islands of Okinawa are open through the year. The busiest season in Okinawa is July and August during the school holiday in Japan. The beginning and the end of the beach season (April and October) is pretty good time to visit Okinawa as it's much less crowded, and the weather is moderate. For more info about the beach season in Okinawa, here is a recommended article to check out.
-North
1. Manza Beach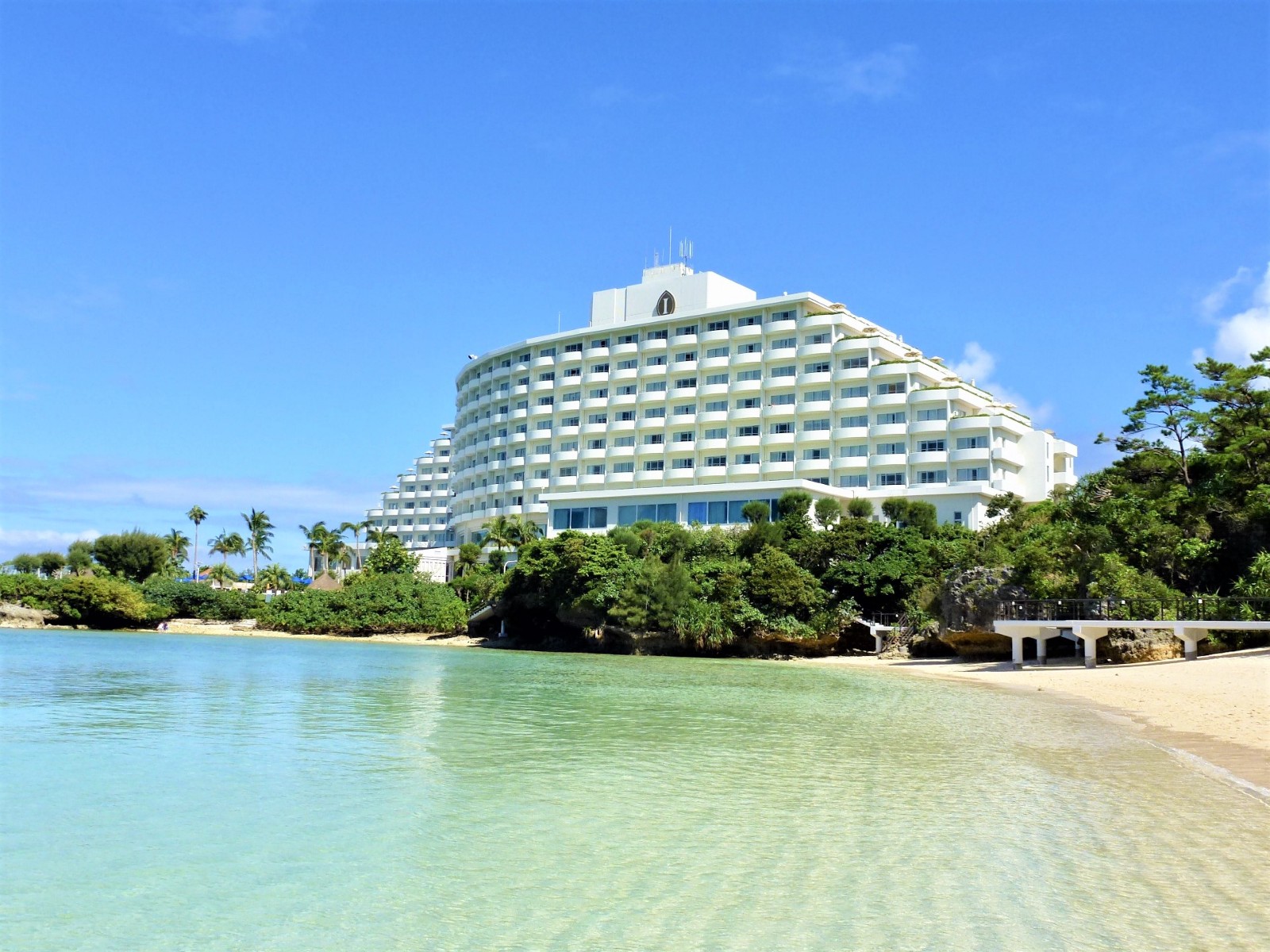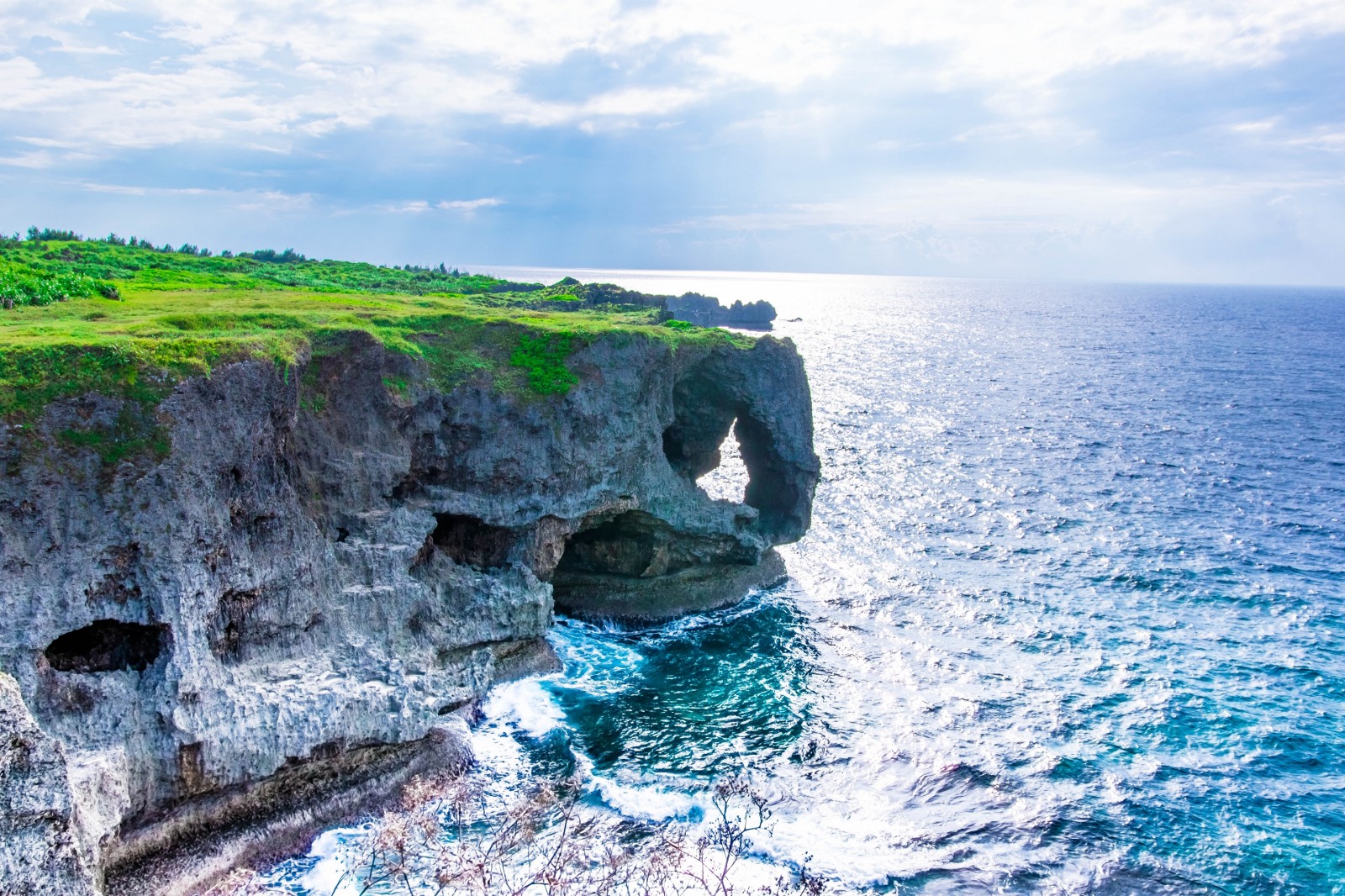 Manza Beach (万座ビーチ) is a beautiful beach located in front of ANA InterContinental Manza Beach Resort, one of the best beach resorts in Okinawa. Visitors can also use the beach freely. The beach is about 300 m long and has soft sand and crystal clear water. A variety of rental facility and beach activities are available for hotel guests and visitors. The famous scenic spot, Cape Manzamo is located nearby.
2. Emerald Beach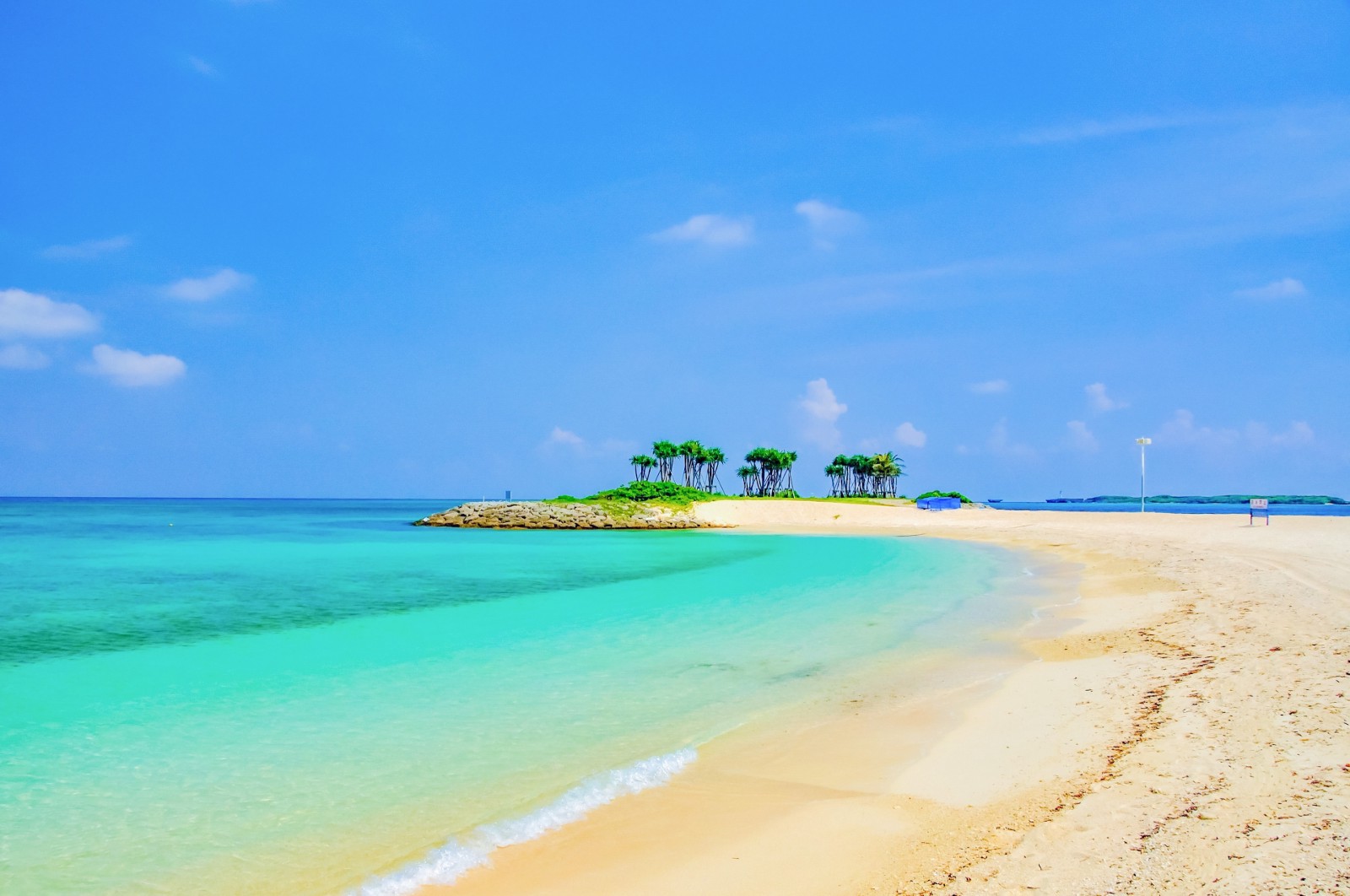 Emerald Beach (エメラルドビーチ) is a man made beach located within the Ocean Expo Park where the famous Churaumi Aquarium is also located. The large sandy beach has one of the most clear water in Okinawa, and the beautiful gradation colour of emerald green can be enjoyed.
3. Okuma Beach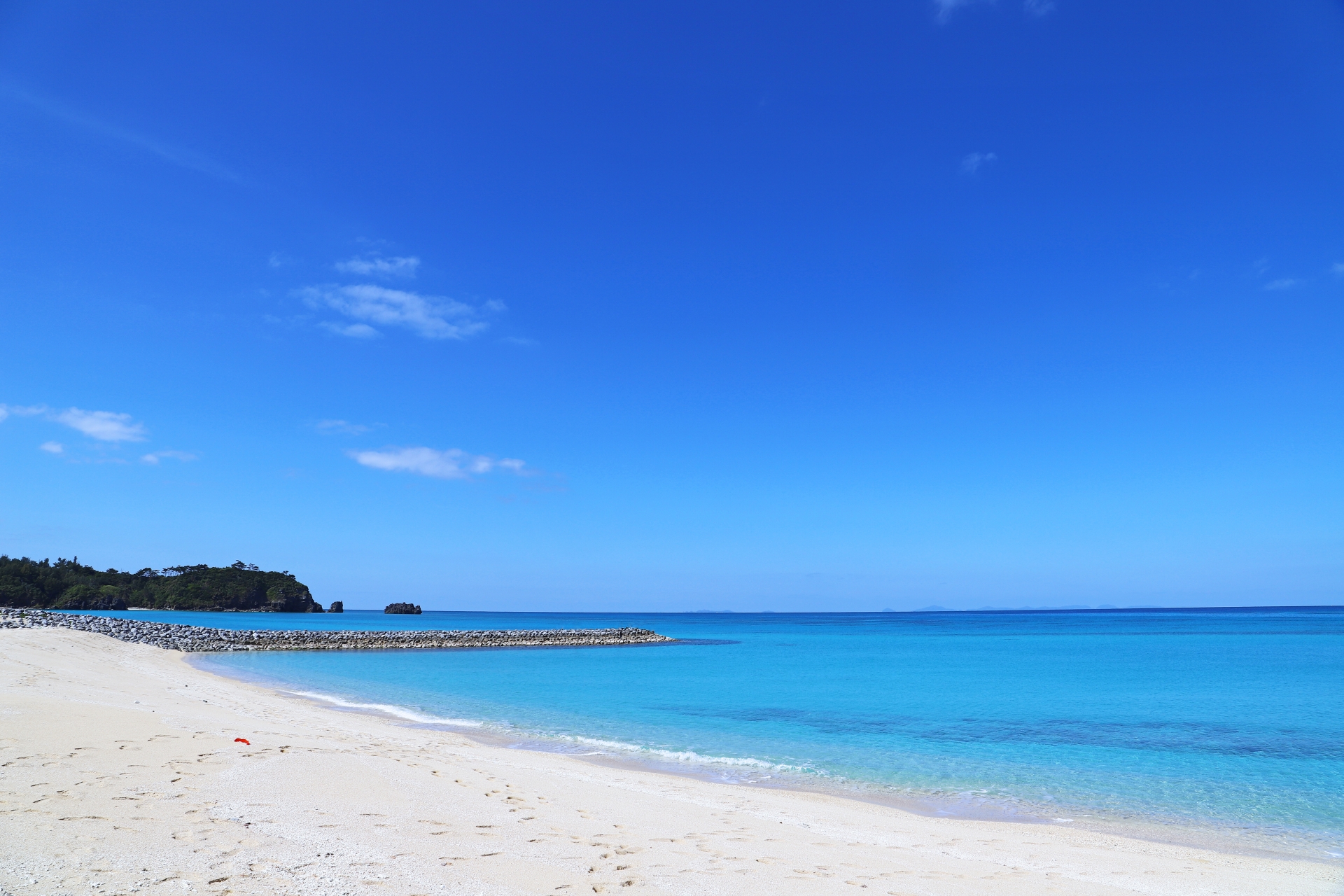 Okuma Beach (オクマビーチ) is located within the beach resort, JAL Private Resort Okuma. The beach with natural white sand stretches for about 1 km and is surrounded by beautiful nature. Various beach facilities and water activities are offered to hotel guests as well as daytime visitors.
4. Sesoko Beach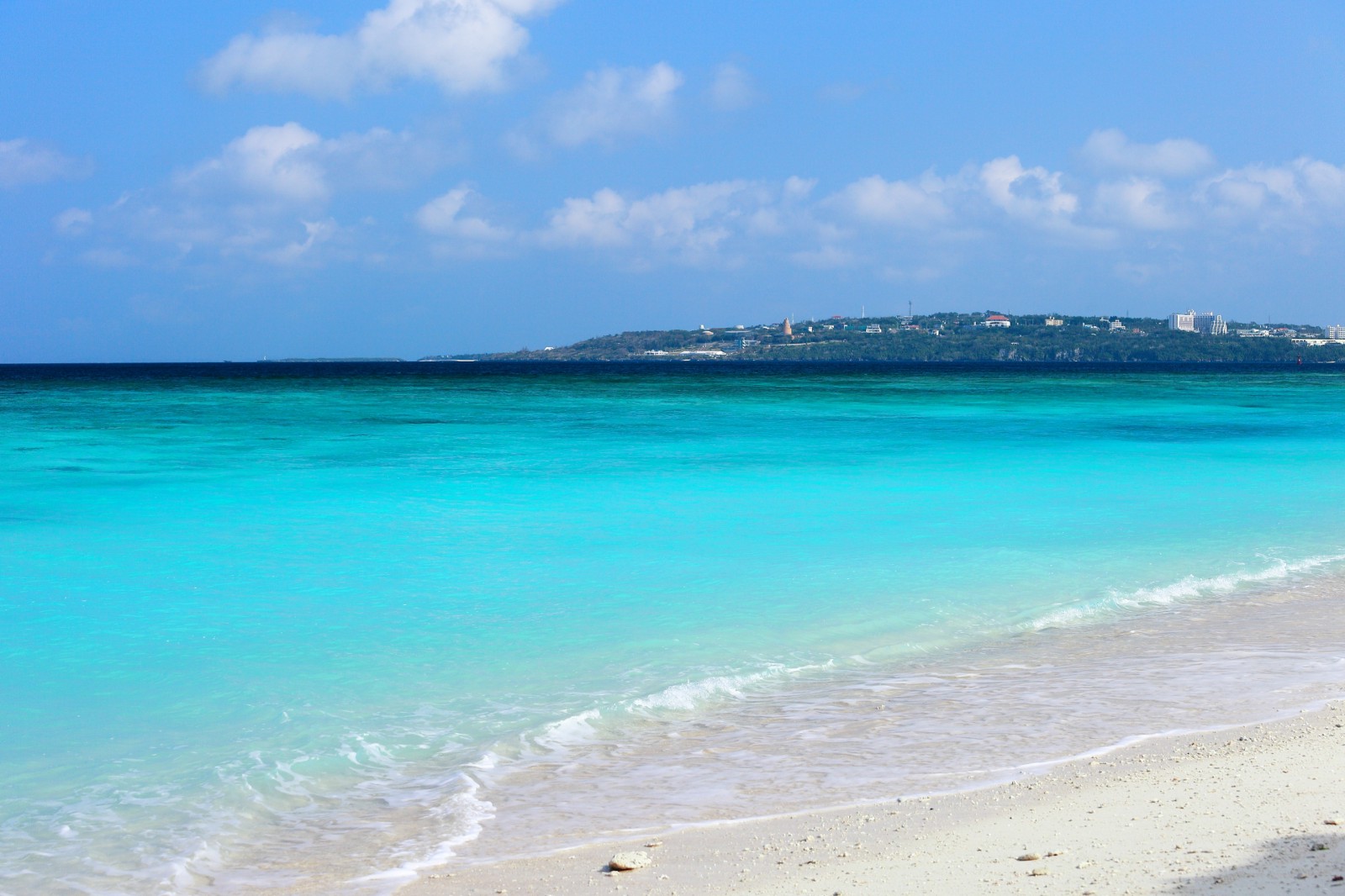 Sesoko Beach (瀬底ビーチ) is located on a small remote island, Sesoko Island, which can be accessed from the main island of Okinawa by car as the islands are connected by the bridge. The stunning beach with transparent water is a popular spot for snorkelling. It's also one of the most popular places to watch sunset in Okinawa.
5. Kouri Beach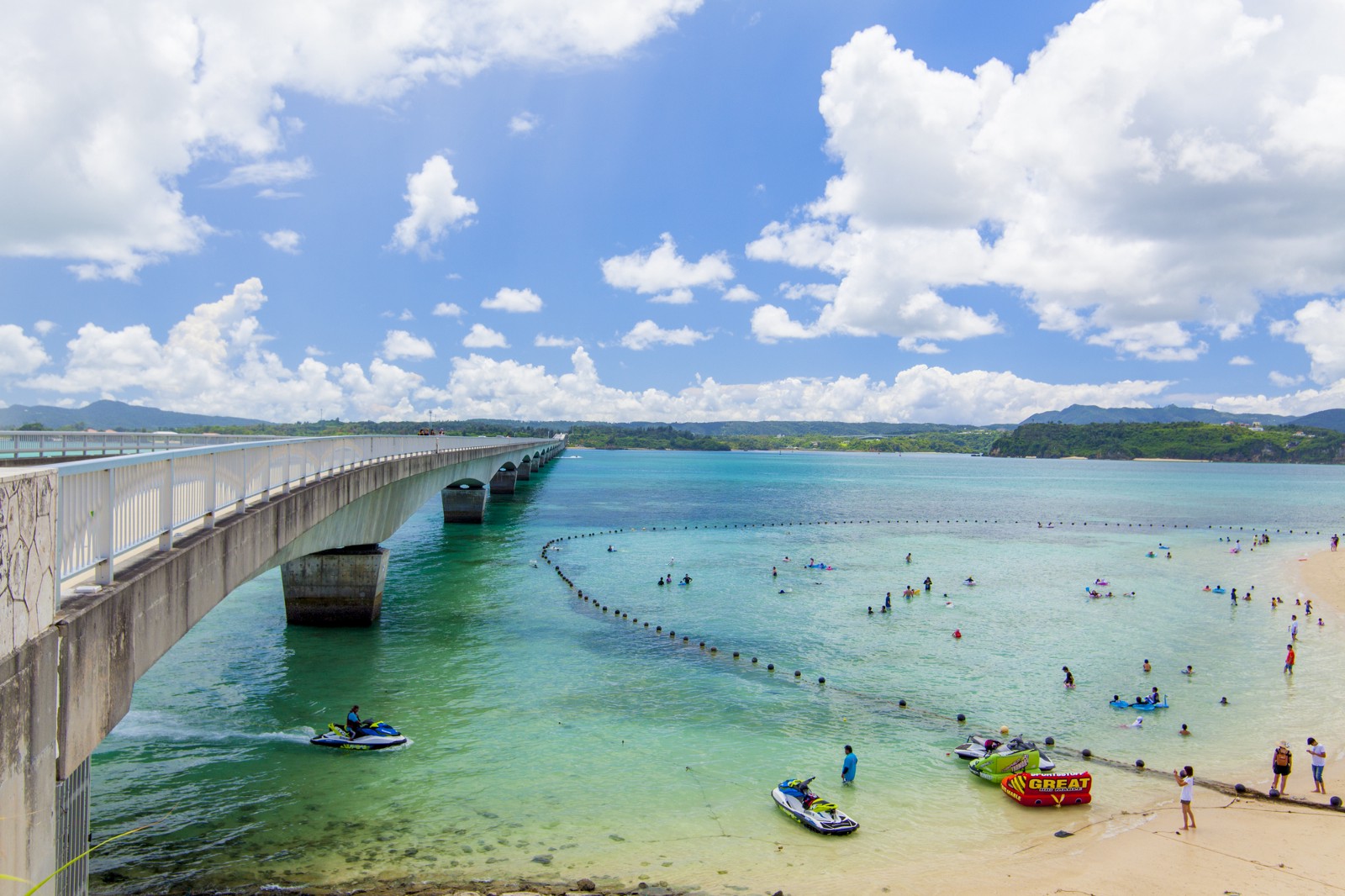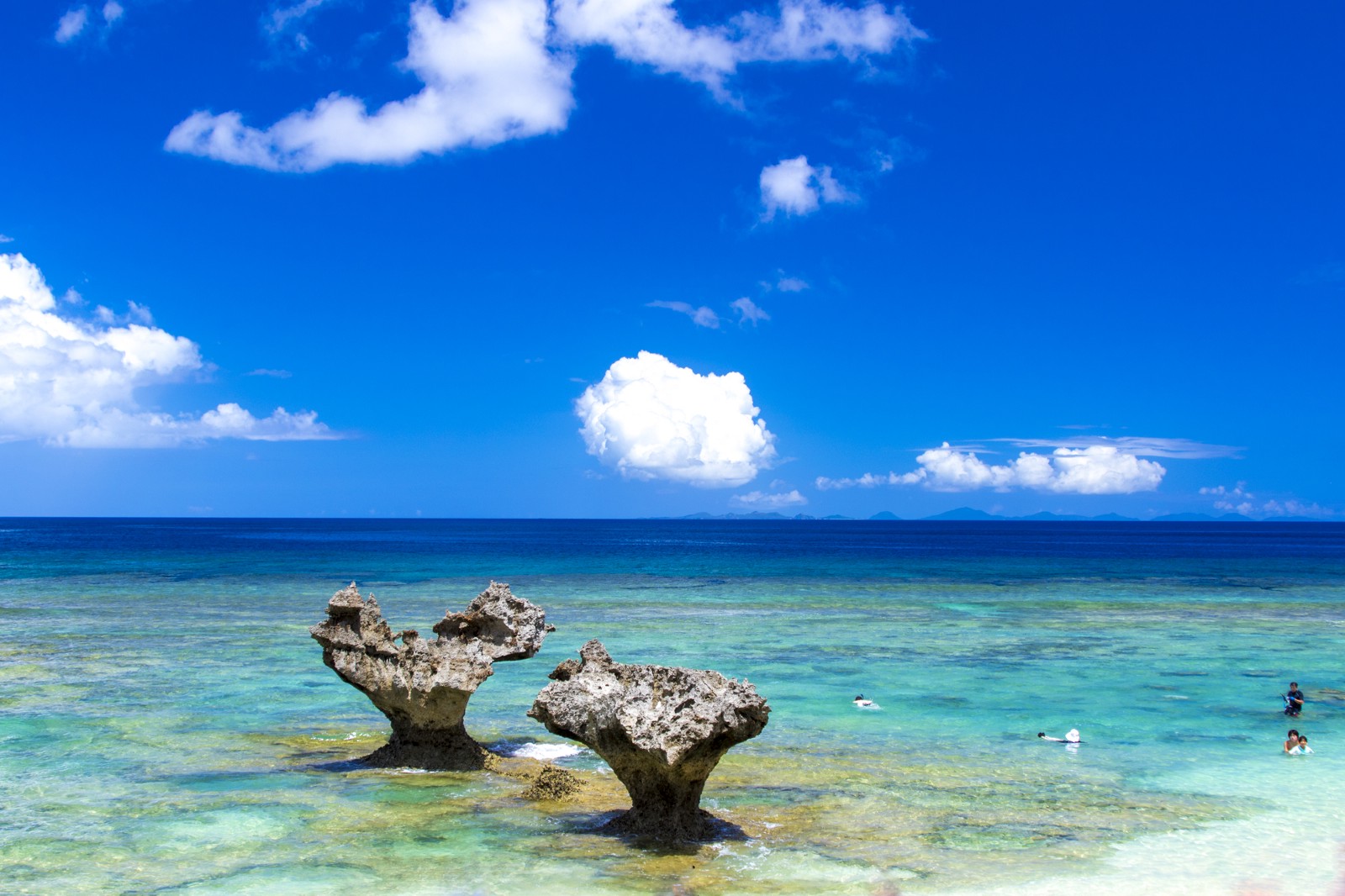 Kouri Island is another accessible remote island from the Okinawa Main Island, connected by the scenic Kouri Bridge. Kouri Beach (古宇利ビーチ) is located at the foot of the bridge. Another popular tourist attraction on Kouri Island is "Heart Rocks", the scenic rock formation with two heart shaped rocks which are located on the north of the island.
-Central
6. Zanpa Beach
Zanpa Beach (残波ビーチ) is a popular beach located near Cape Zanpa Lighthouse, one of the most scenic land marks of Okinawa. The beach offers white sand, clear water, scenic view and beautiful sunset, and it's also surrounded by the large coral reefs. Various beach activities and rental facilities are available for visitors.
7. Araha beach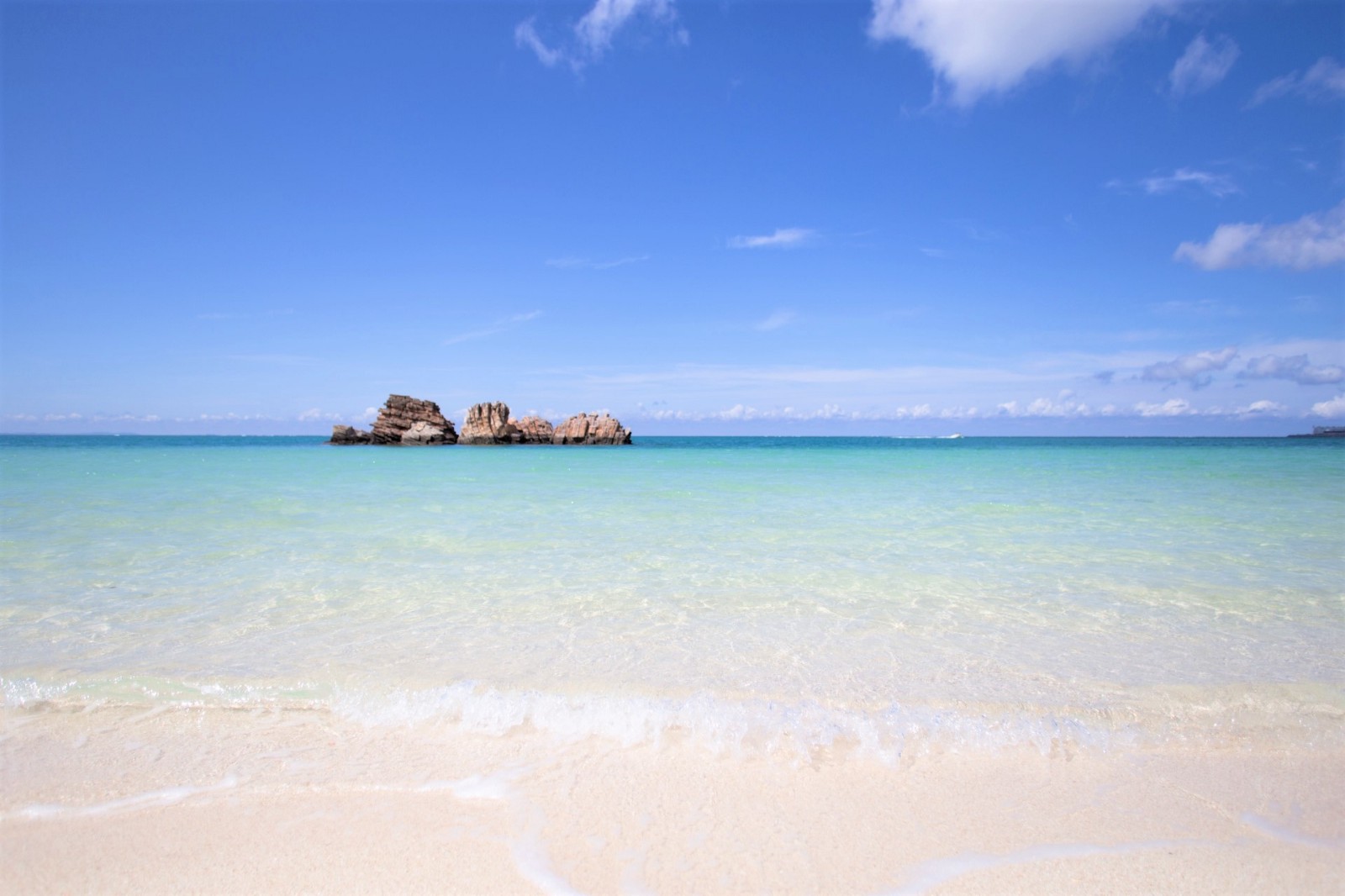 Araha Beach (アラハビーチ) is a 600 m long white sand beach located in Chatan area, one of the most lively areas in Okinawa with a foreign friendly atmosphere. The beach is located next to Araha Park which has an iconic life-size pirate's ship. It's also a popular place to see the sunset. There are numbers of shops and restaurants located near the beach.
-South
8. Bibi Beach Itoman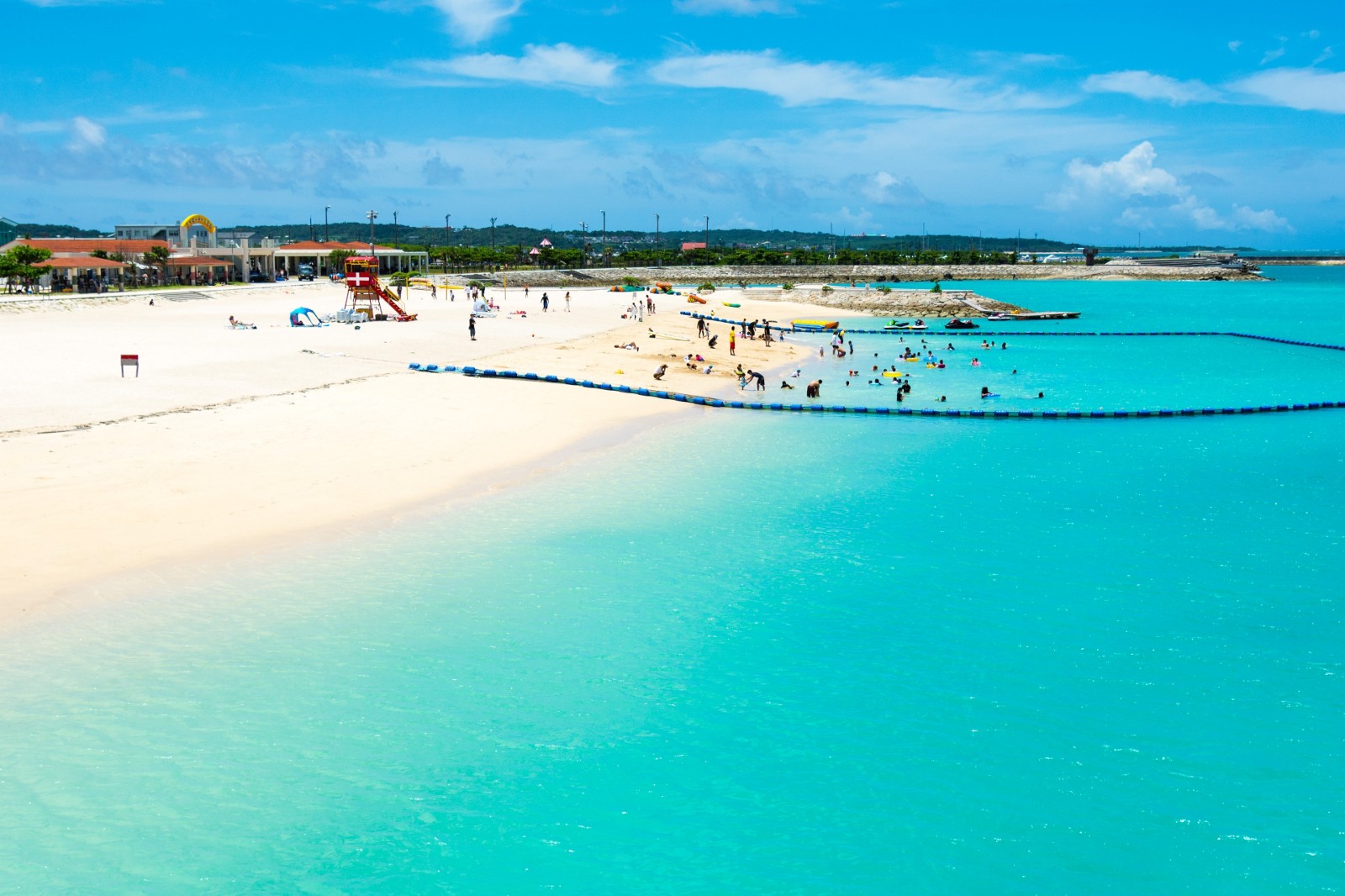 Bibi Beach Itoman (美々ビーチいとまん) is a man-made beach opened in 2006. The beach is accessible from Naha Airport which takes only 20 mins drive. A variety of beach activities and rental facilities are available for visitors. The most popular thing to do among locals is BBQ, and the full cooking equipment and food ingredients are available at the beach.
9. Toyosaki Chura Sun Beach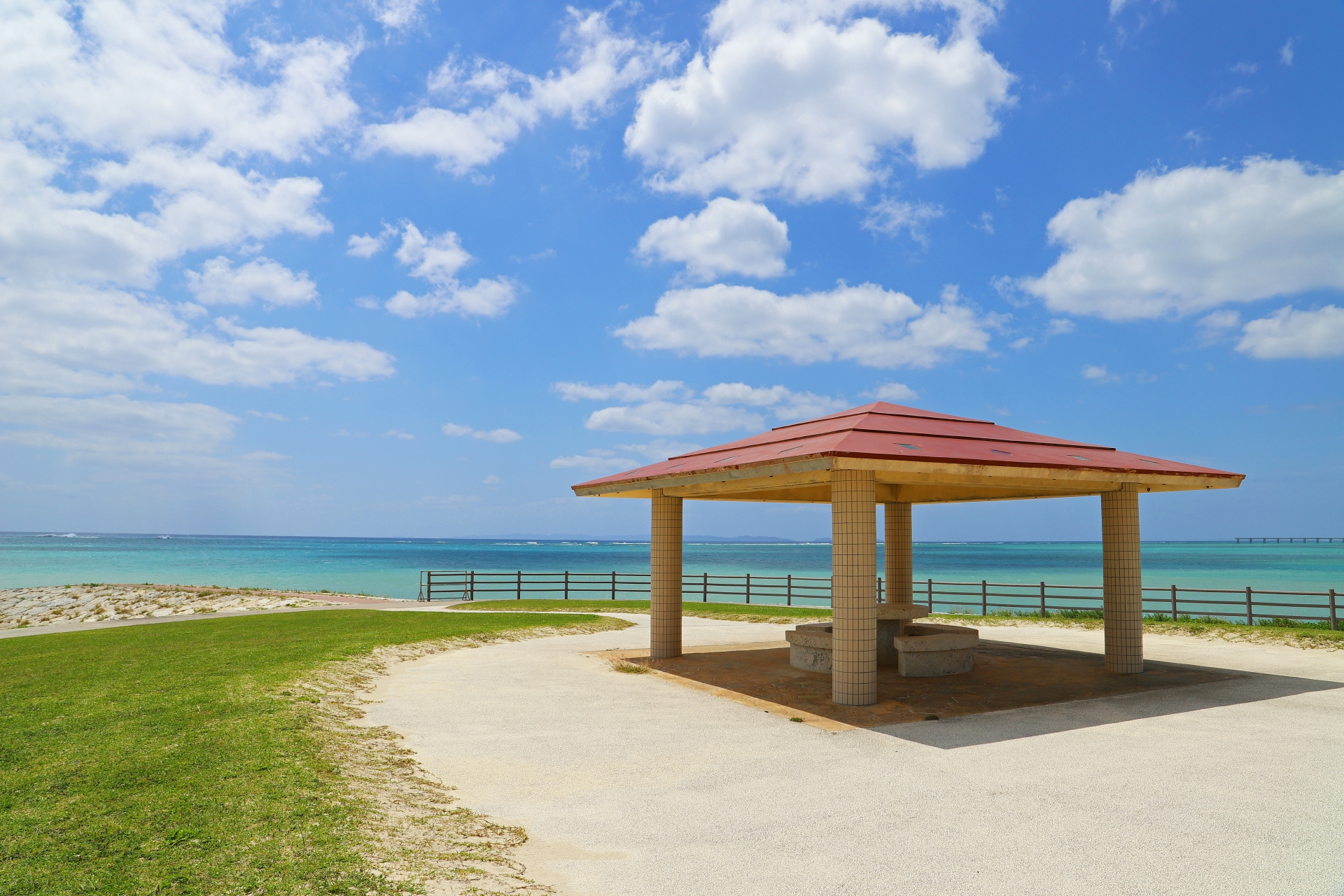 Toyosaki Chura Sun Beach (豊崎 美らSUNビーチ) is a 700 m long artificial beach which opened in 2010. It's popular among local as a variety of beach activities can be enjoyed including swimming, sports and BBQ. The beach also offers the stunning sunset view. It's located only 7 km away from Naha Airport, and also accessible from Naha City.
10. Mibaru Beach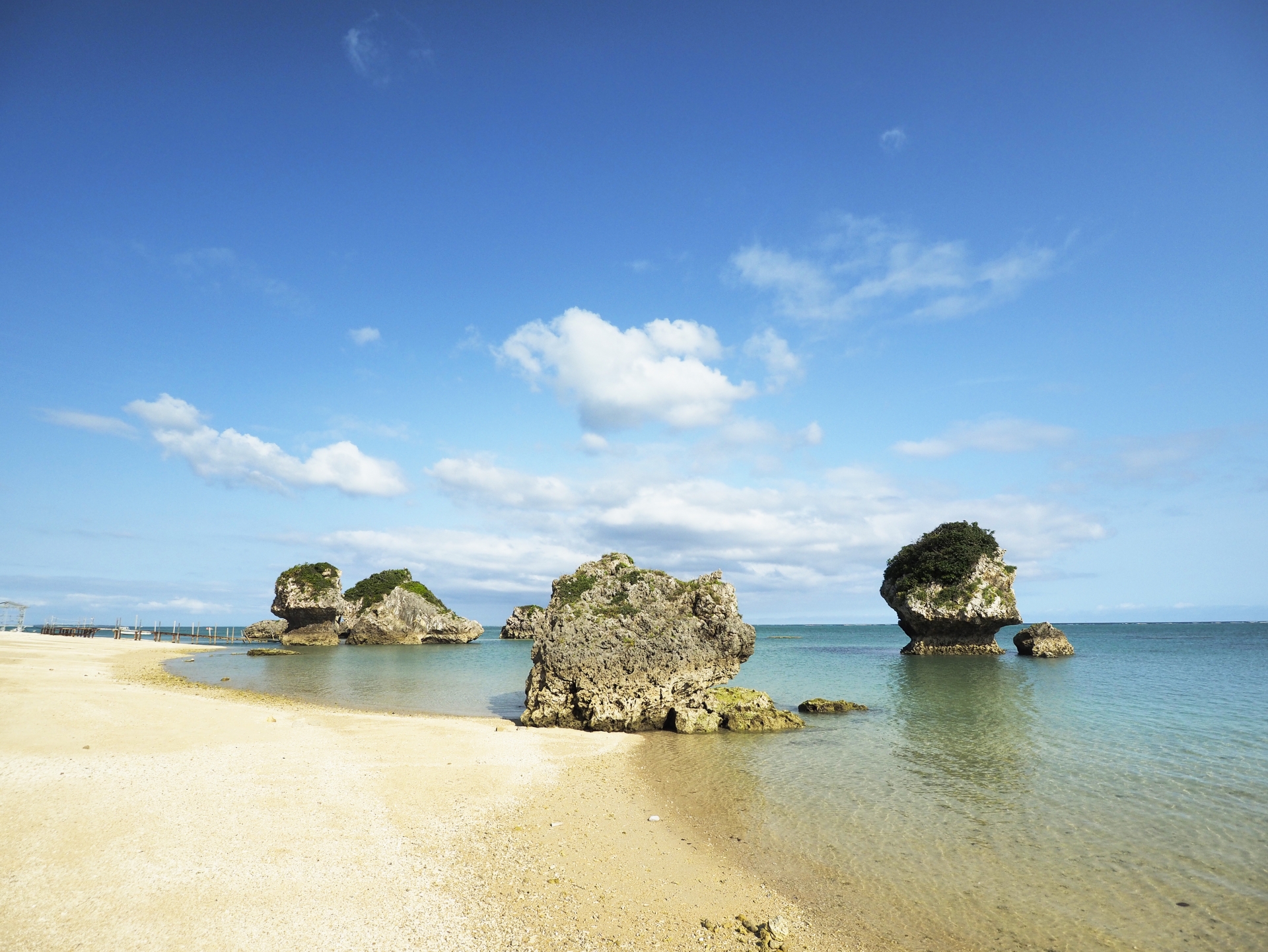 Mibaru Beach (新原ビーチ) is located on southwest of Okinawa Main Island. It's one of the well-kept hidden beach which is surrounded by beautiful nature and less touristy. The scenery with rock formations is absolutely stunning. The beach is also surrounded by coral reefs and the glass boat tour is a popular attraction which offers the splendid view of under the sea.
How did you enjoy the list?? Which beaches on Okinawa Main Island would you like to visit most?? For more information about travelling in Okinawa, here are some more articles for you to check out 😉
▽Related Articles▽
▼Editor's Picks▼
---