Visiting JUMP Expo vol. 2: Meeting the Legendary Heroes/Heroines in the Shonen Mangas in the 90's, Review
JUMP Expo vol. 2 offers a great number of original drawings of JUMP in the 90's. This post will provide a personal review of my visit.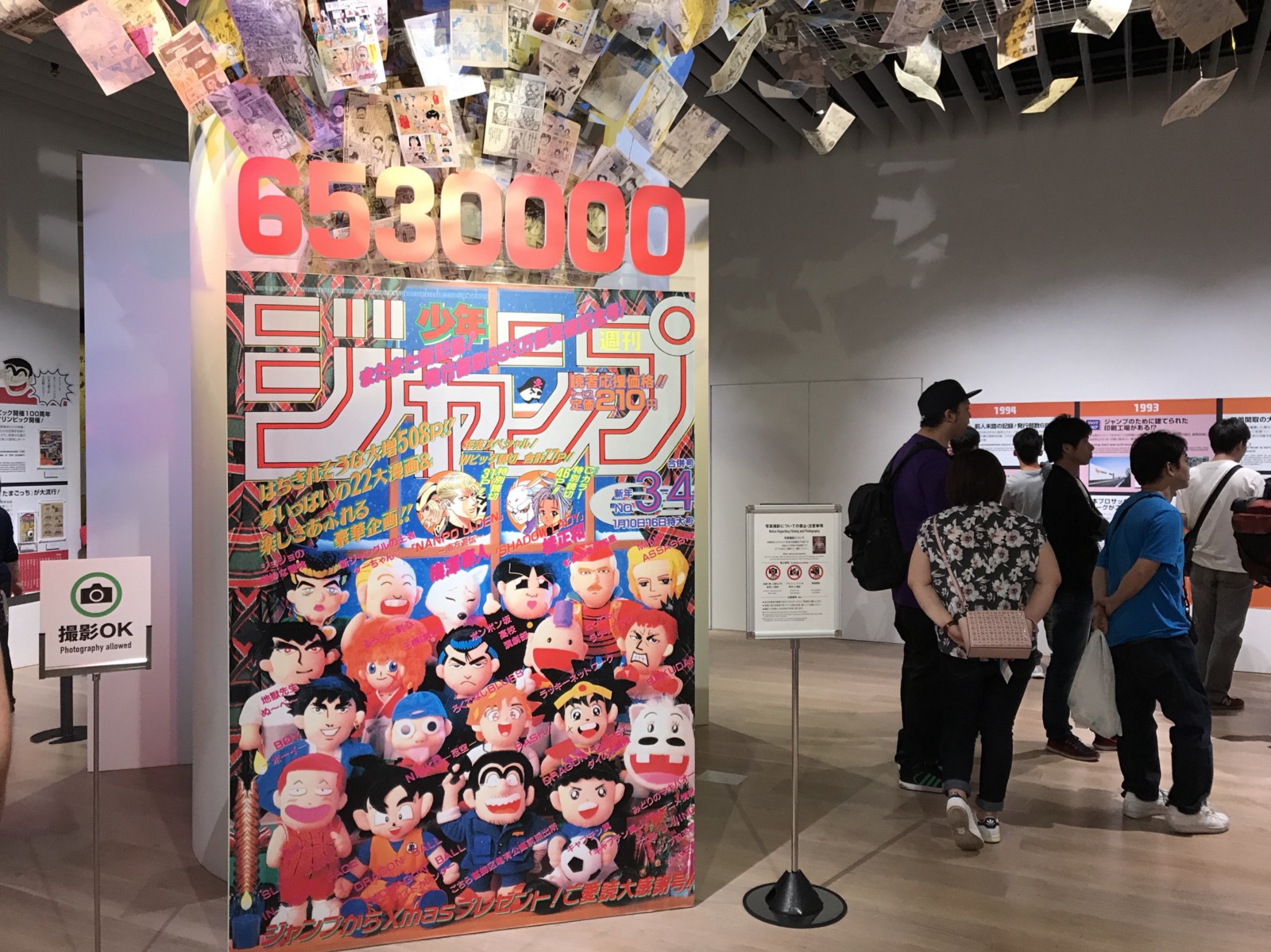 Weekly Shonen JUMP (週刊少年ジャンプ), one of the longest running weekly Shonen manga periodicals published by Shueisha (集英社), commemorates the 50th anniversary of having produced numerous legendary heroes and heroines since its first publication in 1968. It should be noted that JUMP serves not just as a matrix of producing those legends in the manga and anime industry, but also the magazine itself is a legend in the sense that it has paved a way for the mainstream genre of Shonen manga (少年マンガ).
JUMP brought the internationally-read mangas of Dragon Ball , One Piece, Naruto, and other masterpieces into the world. It would take hours and hours just to make an exhaustive list of works that have appeared in JUMP from its founding. In other words, it is no exaggeration to say that JUMP became a synonym of Shonen manga.
To celebrate this remarkable year, Shueisha holds a series of expositions of JUMP this summer by tracing back the history from its founding up to the present. Within these sequenced events, the Weekly Shonen JUMP Exposition is consisted of three different parts depending on the publication years. JUMP Expo vol. 1 covers the initial stage of JUMP up to the 80's under the subtitle of "The beginning of the legend." Vol. 2 focuses on the golden age of JUMP in the 90's and celebrates its historical circulation of over 6.5 million copies during this time. Vol. 3 "Let's Go Beyond the Ultimate!!" reveals the continuous success of JUMP as a major weekly magazine in the 2000s and the diversification of the genres and contents within JUMP.
Since there are several articles or blog posts that provide general information of this series of the expositions as well as JUMP itself, I would like to share my personal experience of actually visiting the Weekly Shonen JUMP Exposition vol. 2. In order to do so, I will give you an overview of the JUMP Expo vol. 2 and provide my subjective comments on each section. Then, I will discuss whether you should visit the JUMP Expo vol. 2 (+vol. 3) or not. I hope this discussion will help you to include or exclude this expo from your itinerary in Japan!!
The Weekly JUMP Exposition vol. 2 has been held in the Mori Arts Center Gallery, 52nd floor of Roppongi Hills Mori Tower. Beginning in March, the JUMP Expo vol. 2 will end its exposition in June 17th and switch it to vol. 3 a month later.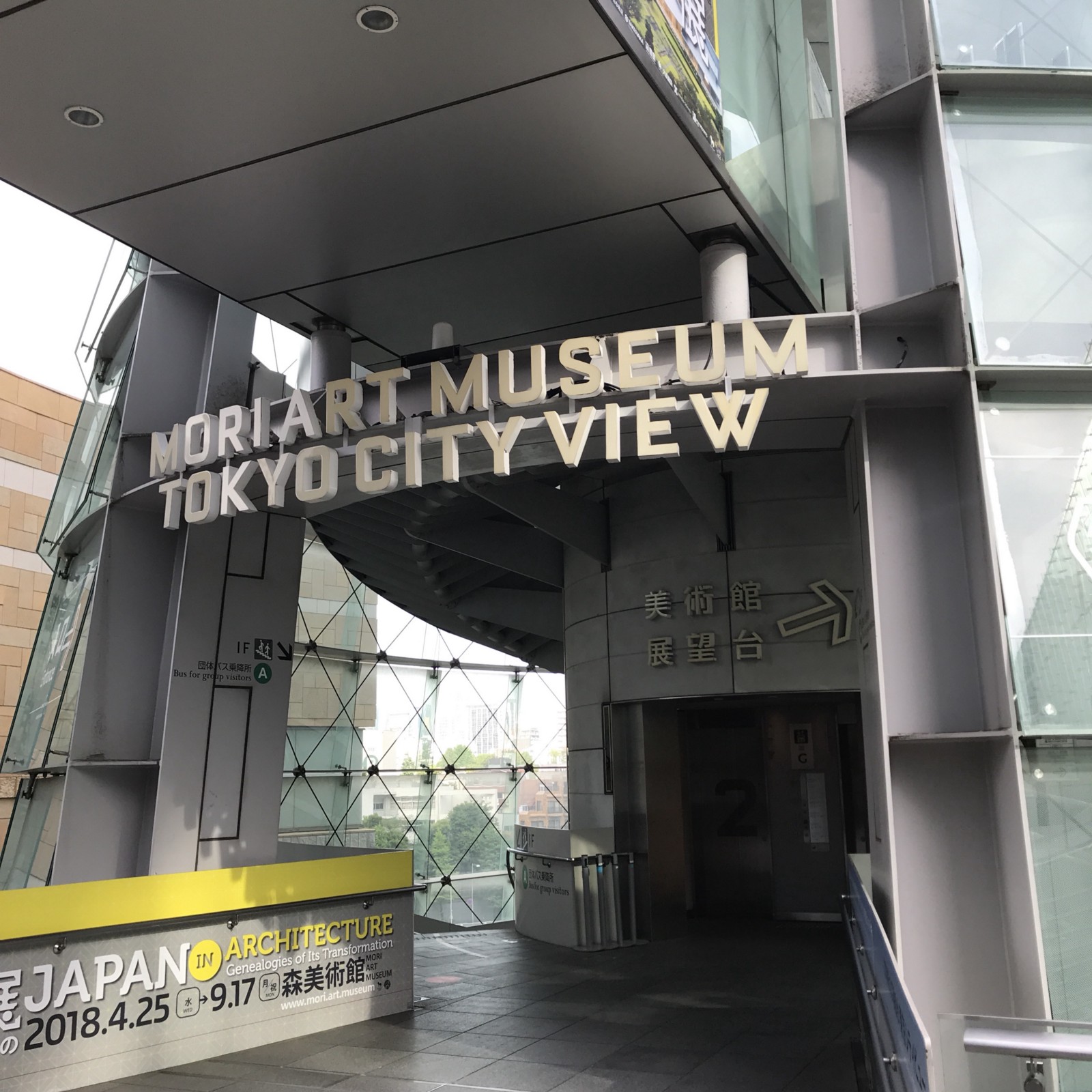 After buying an admission ticket which would cost an adult 2000 yen, you will take a high-speed elevator to reach the 52th floor of Mori Tower. You will also get a special promo sticker of a cover page of a random JUMP volume in the 90's. On the same floor, you will find JUMP 90's Cafe where you can continue to immerse yourself in the world of manga by eating the food featuring on each JUMP manga even after seeing the Expo vol. 2.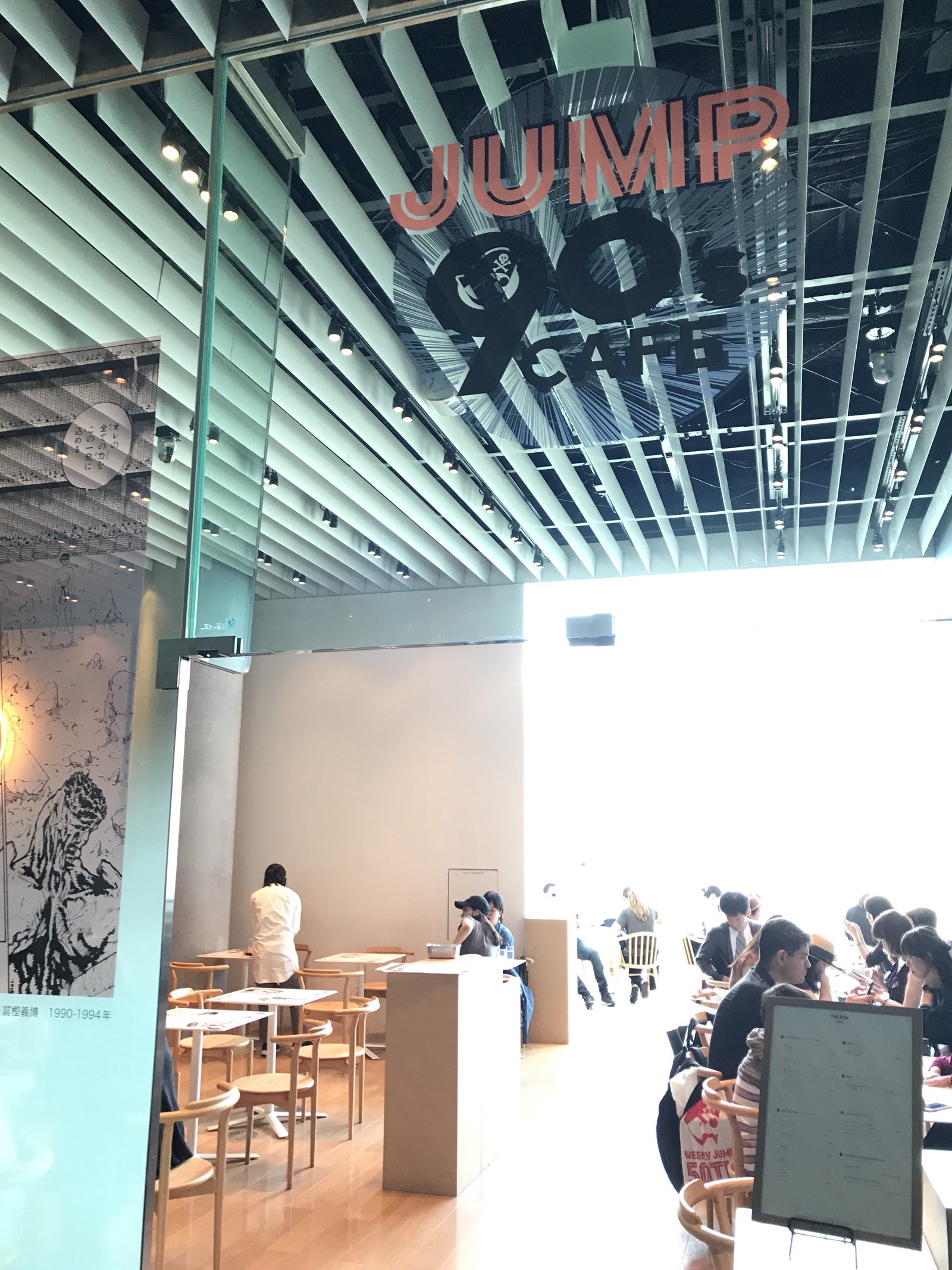 Every food and drink on the menu looked very intriguing, but they were also a bit pricey in my opinion. I chose to spend my money on special items that you can only get from the official shop rather than eating at the cafe. It's totally your choice whether you will pay for limited-sale items from the official store or for your memorable experience of enjoying your favorite manga featured food/drink!! You will be able to check the menu online as well: http://shonenjump-ten.com/cafe.html
The first section that you will enter into is "Back to 90's." This section functions as a waiting room for the next visual exhibition. All the walls in "Back to 90's" are decorated with pages from JUMP in the 90's. For those who grew up with JUMP 90's heroes/heroines, this section will for sure bring back some memories.
Then, you will get to watch a special short movie in the section of "Jump Lightning." The short movie features Dragon Ball as a main driving force behind the JUMP's success in the 90's and replicates the most memorable battle of Goku and Frieza by using multidimensional projection screens.
After the short movie, you will be invited to see the series of booths featuring a manga title from 90's JUMP and displaying the original pictures (原画) of the manga. In those sections, you will get to see the original drawings of JUMP 90's popular manga such as Dragon Ball, Slam Dunk, Jojo's Bizarre Adventure, and Kochikame.
It was truly fascinating to be able to see the original pictures of famous scenes with marks of whiteout and traces of pencil! I had to stop and take a few minutes in front of the original drawing of Goku's outrage in the battle with Frieza.
Unfortunately, there are only two photo spots that you are allowed to take pictures in the entire exhibition. In the section of "Jump Tornado," you will be able to take a photo next to a huge cover page of JUMP from 90's. Although it bears a name of 'tornado,' it reminds me of a tree with leaves made of pages from JUMP hanging from the ceiling.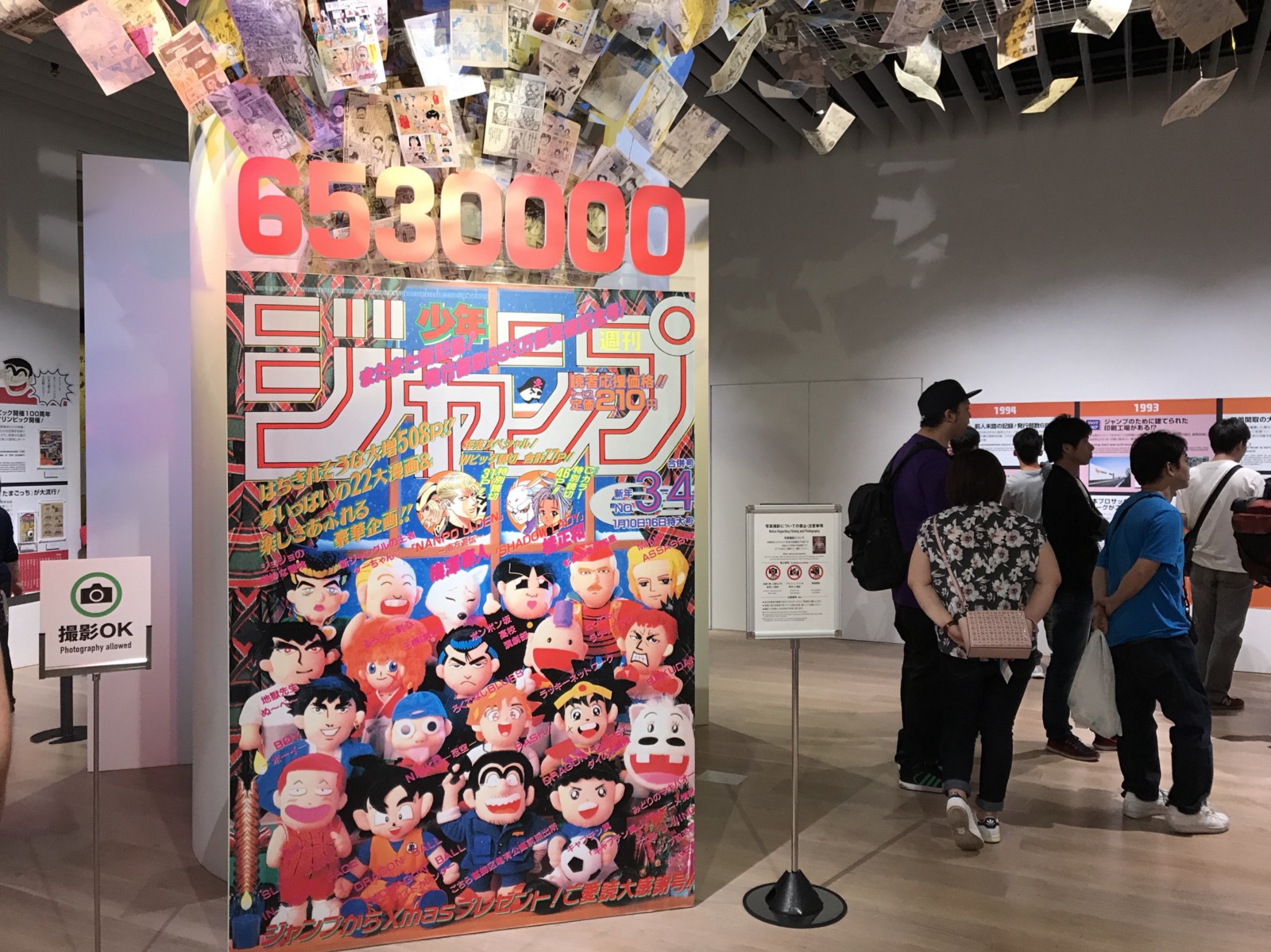 This JUMP Tornado is located in the middle of the JUMP 90's history section. In this section, you will be informed of the achievements of JUMP with the contemporary socio-cultural phenomenon of Japan in the timeline. Every social phenomenon are presented with excerpts from Kochikame, a gag manga serving as a social caricature published in JUMP until 2016.
Finishing up with the original drawing section of 90's JUMP manga, you will move into the section of "Jump to 2000s." As aforementioned in this blog post, this exposition is a part of the three sequenced events. This section bridges the 90's to 2000s by displaying the pioneering works of the manga artists, who became popular in 2000s, such as Eiichiro Oda (author of One Piece), Takeshi Konomi (author of Prince of Tennis), Masashi Kishimoto (author of NARUTO).
Lastly, you will wrap up your tour with another photo spot with a special cover page dedicated to 90's heroes/heroines.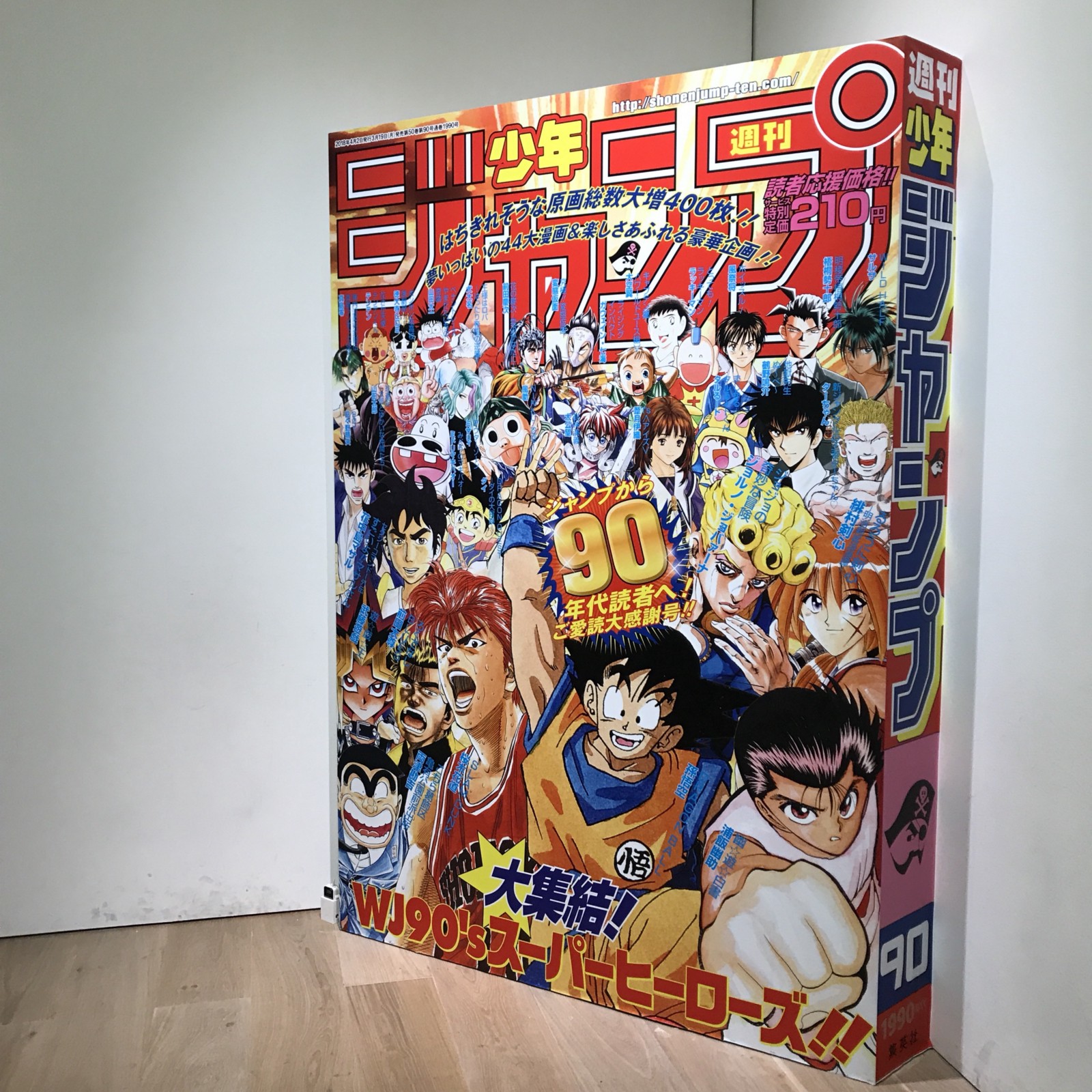 In the same area, you will get to see a comment on the 50th anniversary of JUMP by each 90's JUMP manga artist.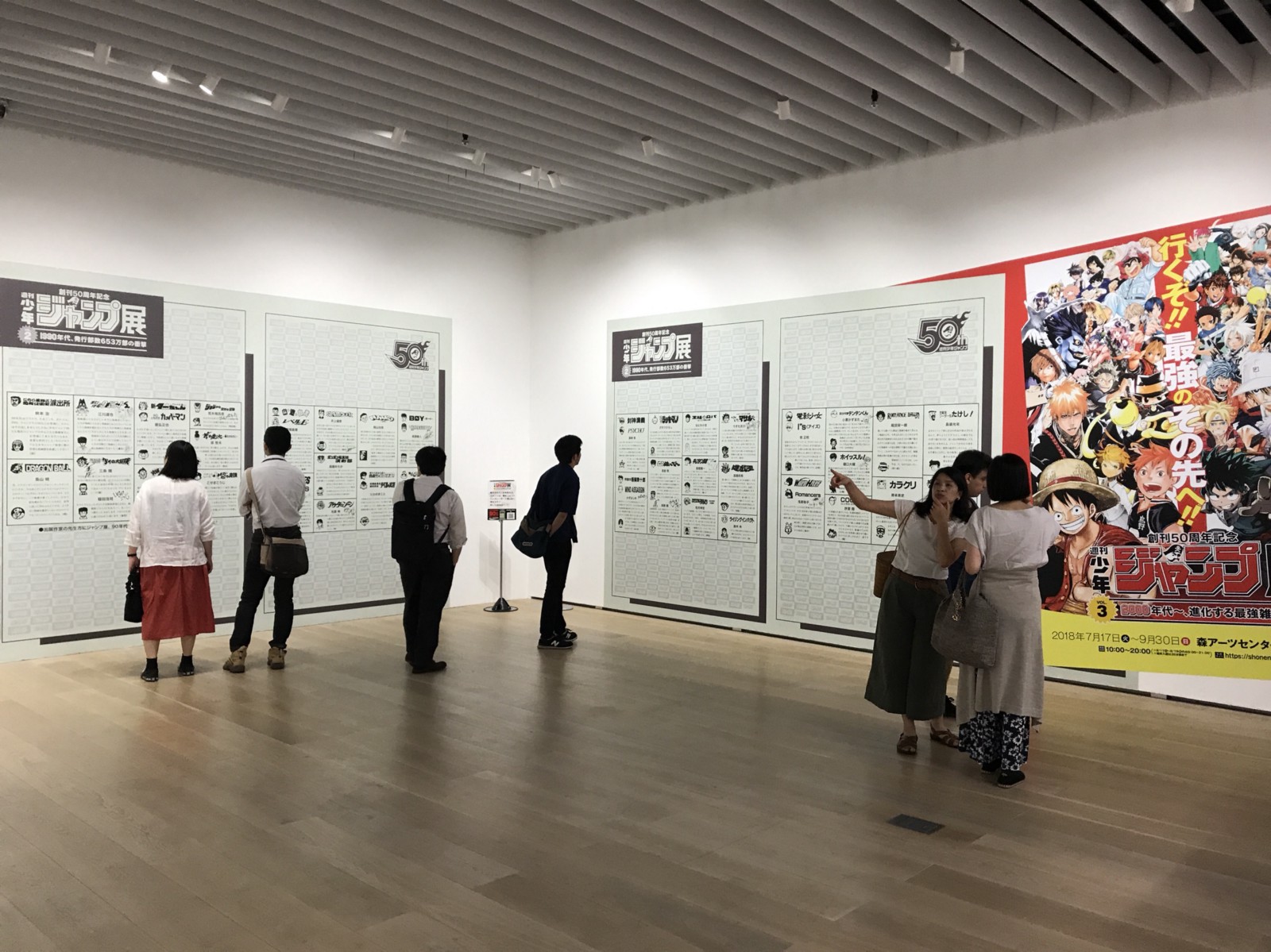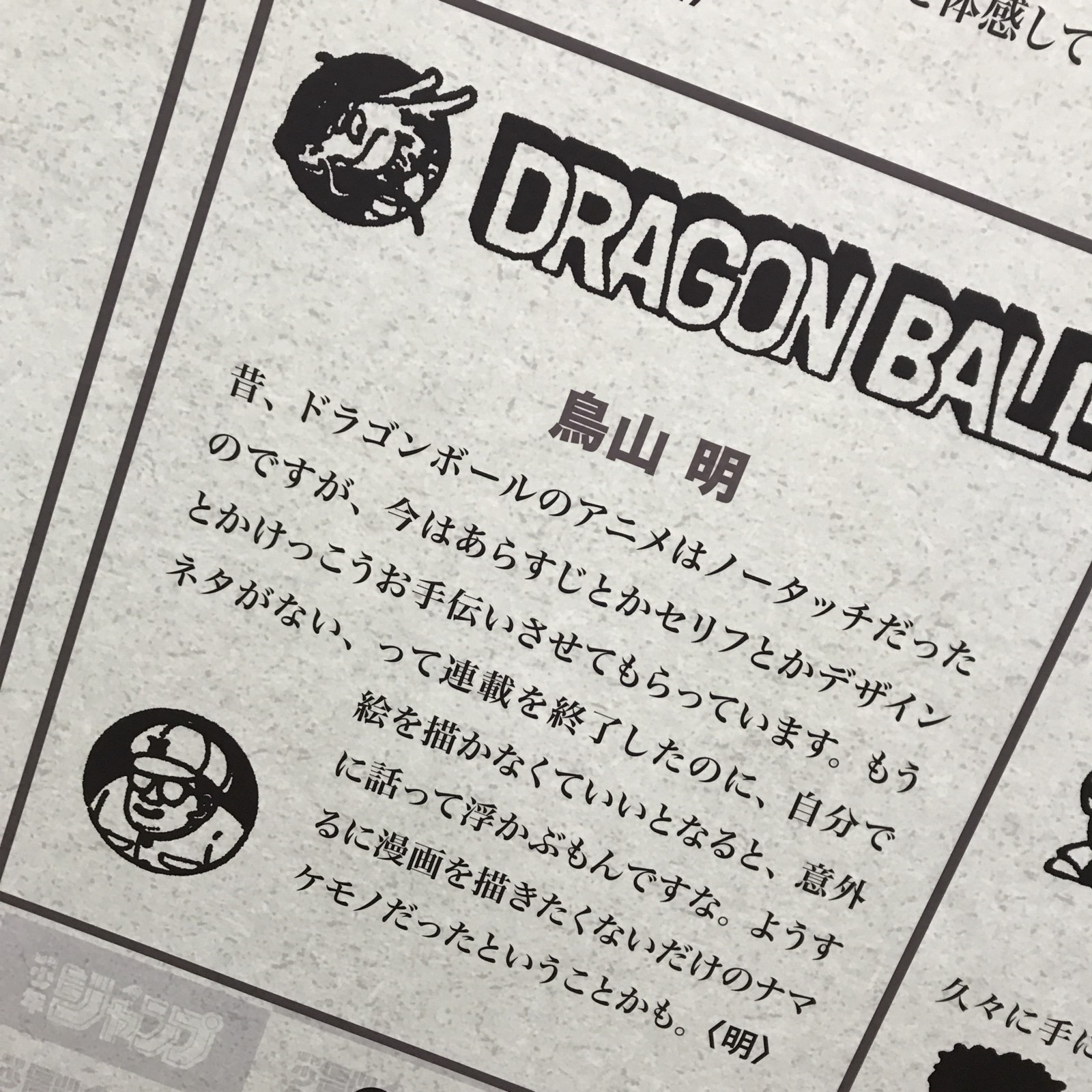 Also, there is a QR code at the corner of the room that will generate your comment with other two manga artists in the same layout of JUMP back-page.
Leaving the exhibition with a nostalgic feeling in my heart, it is now the time for shopping! The official store offers a wide range of limited-sale items that you can only get from the store. This is what I purchased from the store!!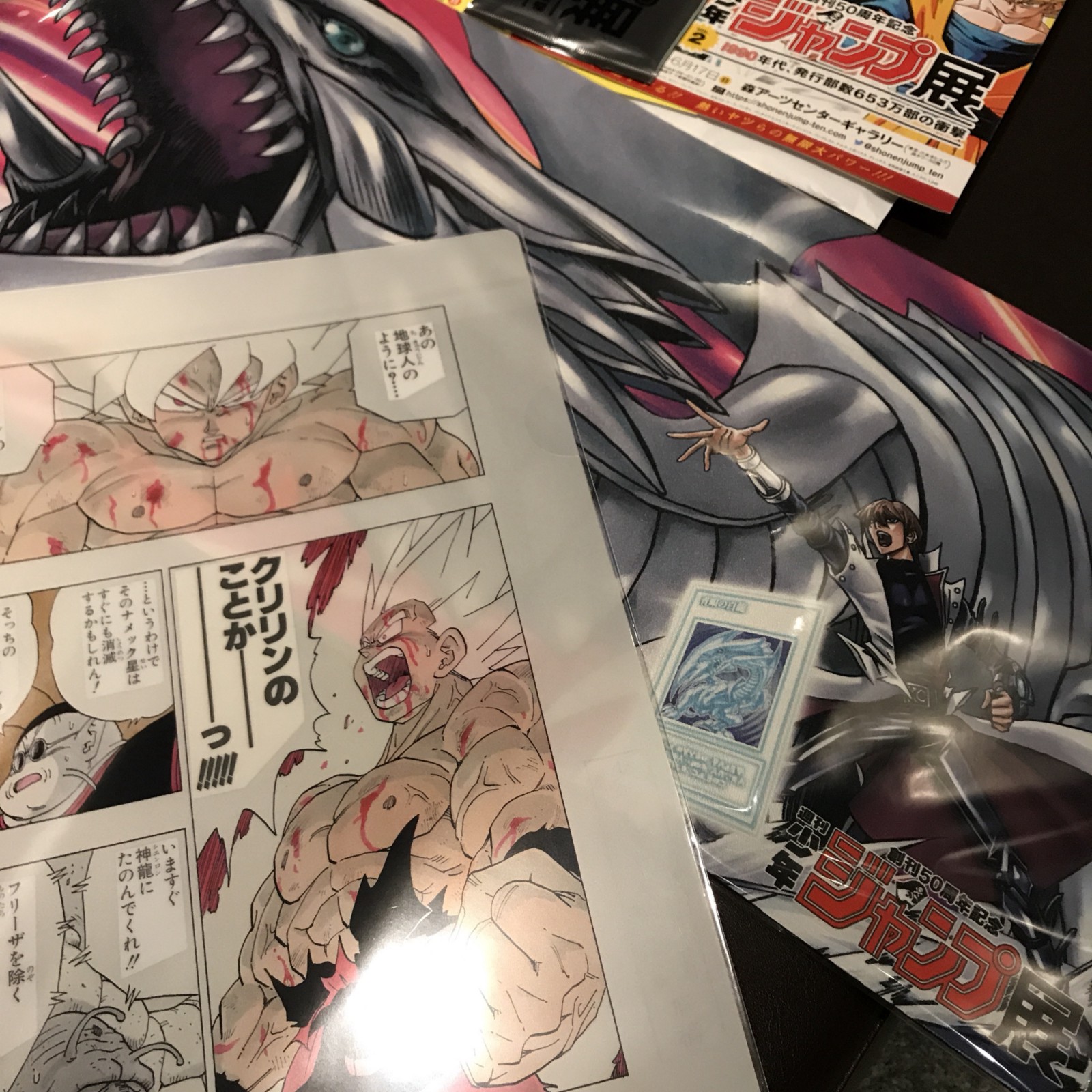 To sum it up, JUMP Expo vol.2 was a worthwhile exhibition for me to visit because by watching the original drawing, I was able to envision the efforts that those JUMP manga artists made in the 90's. The exhibition itself was well-organized in the ways in which all visitors have a section that they can enjoy. Although there are several titles that I was not familiar with, it was a good opportunity for me to revisit not only JUMP major works but also those that I was unfamiliar.
So, the question remains unanswered: whether should you visit JUMP Expo vol.2 or not? Considering the fact that the exhibition ends in a few weeks, it might be difficult to include this exhibition to your itinerary. For those who are already in Japan and look for a place to visit, I would highly recommend this exhibition to visit. The admission fee of 2000 yen is relatively expensive compared to other museums or expositions in Tokyo. However, this also includes the magnificent view of Roppongi (六本木) from the 52th floor of Mori Tower!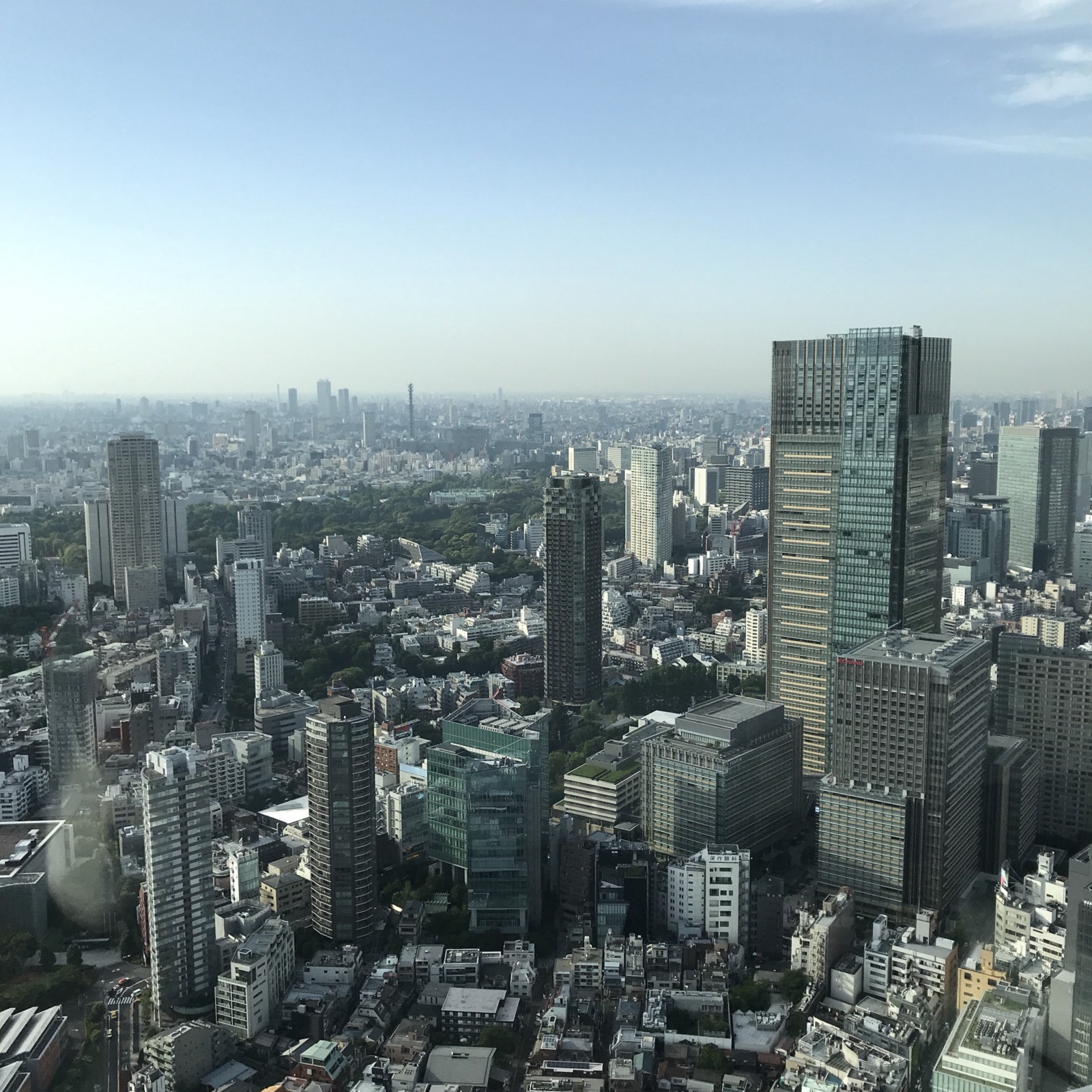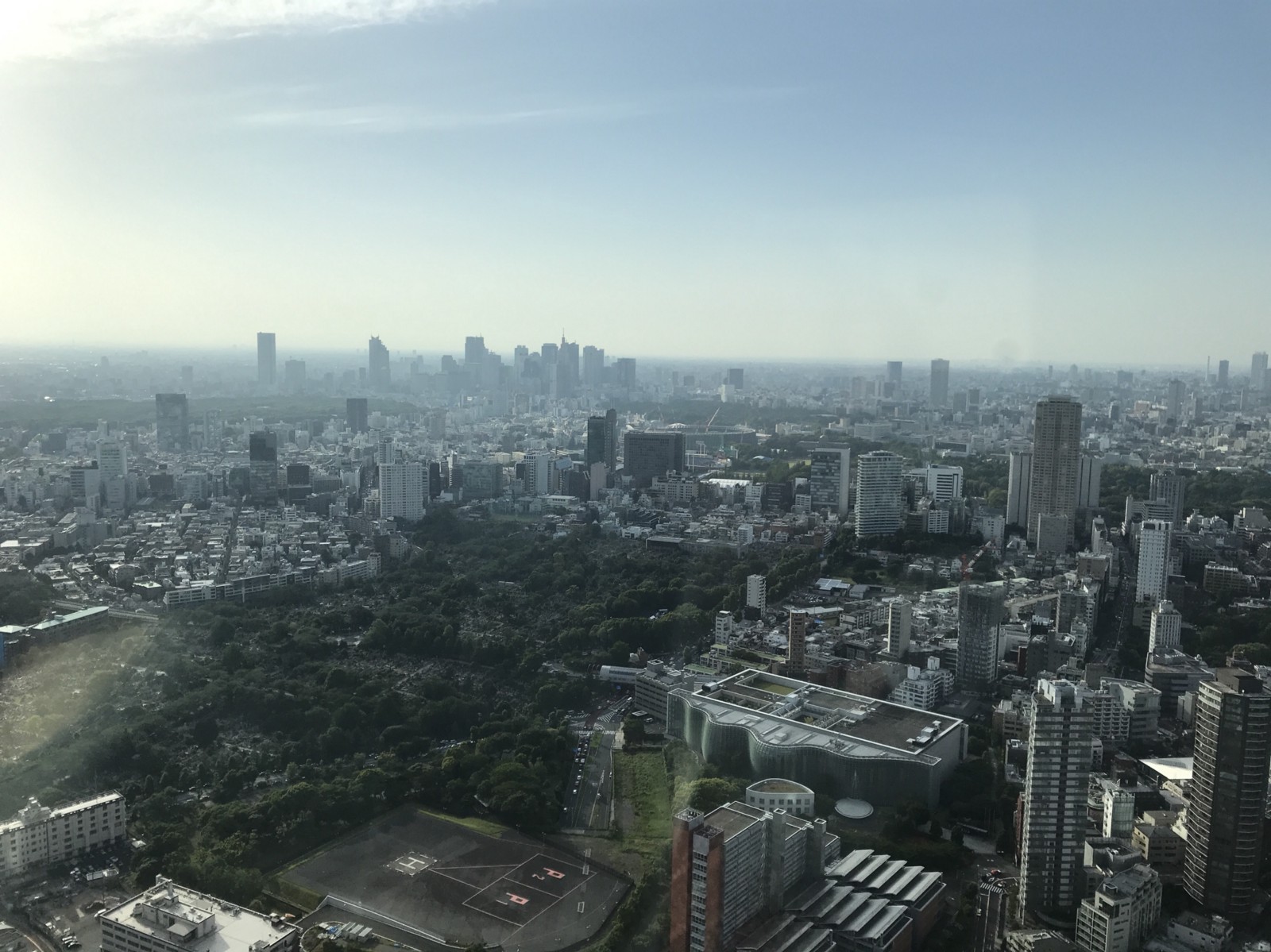 A month later after the end of JUMP Expo vol. 2, vol. 3 will be re-open at the same location in July. For those who grow up with the JUMP heroes/heroines in the 2000s, I would recommend you to include the next exposition into your itinerary! When you visit it in July, you might see me watching the original drawings of One Piece or NARUTO in the museum!
See you there!
Please check out the further information about Shonen Jump 50th Anniversary Exhibitions
▽Related Articles▽
▼Editor's Picks▼
---