Universal Studios Japan Halloween 2019
Join the Best Halloween Event in 2019 at Universal Studios Japan (USJ) in Osaka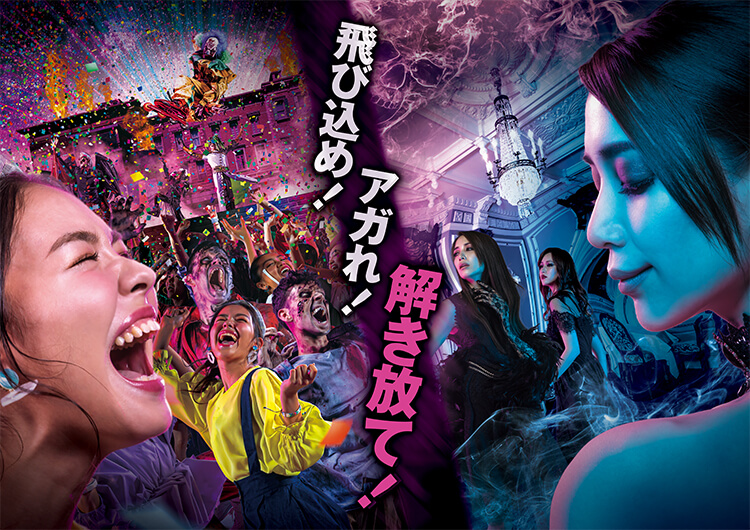 Wanna have the most exciting and thrilling Halloween experience?? Check out the biggest Halloween celebration in Japan, Universal Surprise Halloween (ユニバーサル・サプライズ・ハロウィーン) which will be back to Universal Studios Japan (USJ) in Osaka in 2019 autumn! The event will be held from 6th September for 2 months, featuring 3 types of extraordinary Halloween experiences for everyone!
The Universal Surprise Halloween 2019 will be featured by three different themes: Halloween Horror Nights, Otona Halloween (Sophisticated Halloween) and Kowa Kawa Halloween (Scary and Cute Halloween). Moreover, the park has announced that there will be the scaled up and the biggest number of the attractions in the event history! The event is suitable from adults to children, and adrenaline seekers to those who wish to have a cute Halloween experience as the park offers various special attractions with different horror levels.
Let's take a look at the highlights of the Universal Surprise Halloween 2019 and have an unforgettable Halloween experience this autumn!
---
-Halloween Horror Nights
Halloween Horror Nights features various nerve-racking and exciting horror attractions that make guests scream all day. The Street Zombie is the most popular Halloween event at the park featuring the large number of Zombies roaming around the streets after dark, followed by the Zombie de Dance, which guests can have wacky and enthusiastic dance party with zombies. There are several brand-new horror attractions such as "the Resident Evil" and "Area 51" as well as the classic Halloween attractions such as "the Cult of Chucky" and "Sadako (from the Ring)".
▶ Universal Express Pass Halloween Horror Night – Thrill
-Otona Halloween
Otona Halloween (Sophisticated Halloween) offers an immersive horror experience for adults. The most notable attraction is the Hotel Albert 2 Requiem which has been scaled up from the last year with more thrills and surprises. Guests will also have an exclusive access to the VIP lounge at the Hotel Albert, photo session and cocktail experiences (special tickets are required). In addition, the 4D horror theatre "Blood Legend" will be back as well as the new horror restaurant, Park Side Grill where guests can spooky but splendid dining experiences.
*NOTE*
Some of horror attractions at Halloween Horror Nights and Otona Halloween zones are not suitable for small kids. Each attraction has rating of the horror level from 1–5 (1 is least scary) so please check that in advance. There are safety zones and guided routes in order to avoid street events of the horror areas. Also some of attractions require special tickets to enter.
-Kowa Kawa Halloween
The last one to introduce is the Kowa Kawa Halloween (Scary and Cute Halloween) which is a kids-friendly Halloween event where you can have a lot of fun and excitements with popular characters from the park such as Minion and Sesame Street. If you are travelling with small kids or generally not into horror things, this is the event you should participate to feel festive Halloween atmosphere!
The special shows and themed parades will be held during day at the park including "Festa de Parade", "Happy Trick or Treat" and "Itazura Street". Minions Kowa Kawa Party will be also held and can be joined with a special ticket.
---
On top of these special attractions, the park offers Halloween decorations, and themed food and merchandise available only this time of the year!
Universal Studios Japan (USJ) is one of the most popular tourist destinations in Japan through the year, but Halloween season could be the most exciting time of the year to visit the park if you are into horror movies, scary things or simply big celebrations! Make sure to visit the park with your own special Halloween costumes!
---
<< Universal Surprise Halloween 2019 >>
Date: 6th September to 4th November 2019
(Halloween Horror Nights and Otona Halloween will start from 7th September)
You can purchase electronic tickets to Universal Studios Japan here!
<< Book your USJ Official e-tickets here!! >>
Get express tickets for Halloween attractions!
<< Universal Express Pass Halloween Horror Night – Thrill >>
In case you are looking for an accommodation nearby, here is a link to one.
<< Book a hotel near Universal Studios Japan! >>
---
For more information about travelling in Japan in autumn, check out these articles, too!
▽Related Articles▽
▼Editor's Picks▼
---