Suzume no Oyado: Okonomiyaki, Monjayaki and Wagyu Beef in Shibuya
Suzume no Oyado: Historic Okonomiyaki Restaurant in Shibuya, Tokyo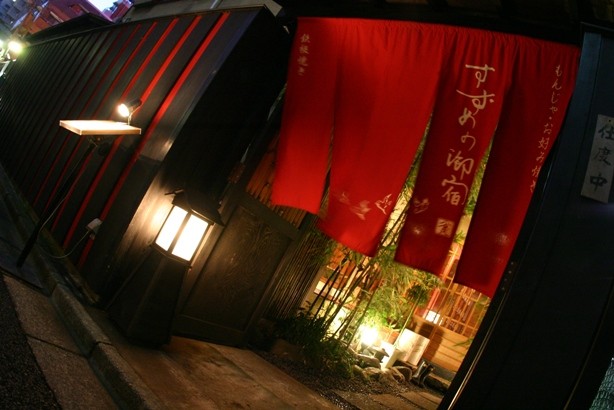 Okonomiyaki is becoming highly popular Japanese dish worldwide. It's sometimes called Japanese savory pancake, which consists of batter with dashi (stock) soup, cabbage and a choice of toppings such as pork, beef and seafood to customize the taste. The dish is usually cooked on a griddle and fried to crispy outside and fluffy inside, and topped with sauce and mayonnaise as you like. Okonomiyaki is a well known local dish in Osaka and Hiroshima, but it's commonly eaten all over Japan as it's one of nation's favourite dishes.
In Tokyo, there are hundreds of Okonomiyaki restaurants serving authentic and high-quality Okonomiyaki dishes as well as Monjayaki, another famous iron griddle dish. Monjayaki is often compare to Okonomiyaki, but it's more liquidy and looks pretty different. Monjayaki is a signature dish from Tokyo and a common dish in Kanto region, yet it's not as famous as Okonomiyaki nationwide or among foreign visitors. A lot of Okonomiyaki restaurants in Tokyo has Monjayaki on their menu, so if you tried and liked Okonomiyaki, I'd highly recommend you to go for Monjayaki, too!
I'd like to introduce one of the best places to taste delicious Okonomiyaki and Monjayaki in Tokyo, Suzume no Oyado(すずめの御宿) located in Shibuya area. The restaurant is situated in a quiet area off the bustling streets of Shibuya district, only 10 mins away from the station. The building has been renovated from one of the old geisha houses which only a little number have survived and preserved today. It's hard to believe that such historic and elegant preserved house exists within this center of young culture in Tokyo! Inside the restaurant has a classic and traditional Japanese style decor with retro and elegant atmosphere. There are both Western style tables and Japanese style tatami seats.
The restaurant mainly serves Okonomiyaki, Monjayaki and other Teppanyaki dishes including Wagyu beef. The dishes are served with carefully selected seasonal ingredients, and some of them are very unique and innovative which you may not find in other restaurants. One of the most popular dishes in Suzume no Oyado is "Camembert Monja" served with a whole Camembert Cheese cooked and melt on to Monjayaki, and making incredibly rich flavour.
Suzume no Oyado is an amazing hidden gem in Tokyo where you can have a delicious food experience with traditional Japanese atmosphere. It's one of the most popular places to dine in Shibuya area, so it's recommended to make a reservation in advance!
Access: 10 mins walk from JR Shibuya Station
Hours: 17:30~23:30 (Mon-Thu), 17:30~24:00 (Fri & Sat), 17:30~23:00 (Sun & Holiday)
Closed: Monday
Budget: lunch 1,000~2,000 yen / dinner 2,000~3,000 yen
Genre: Okonomiyaki, Monjayaki, Wagyu Beef
For more information about dining out in Shibuya area, I have listed more articles for you to check out 🙂
▽Related Articles▽
---