Tokyo to Kyoto : the Cheapest Way to Travel
how to travel Tokyo to Kyoto for less than $100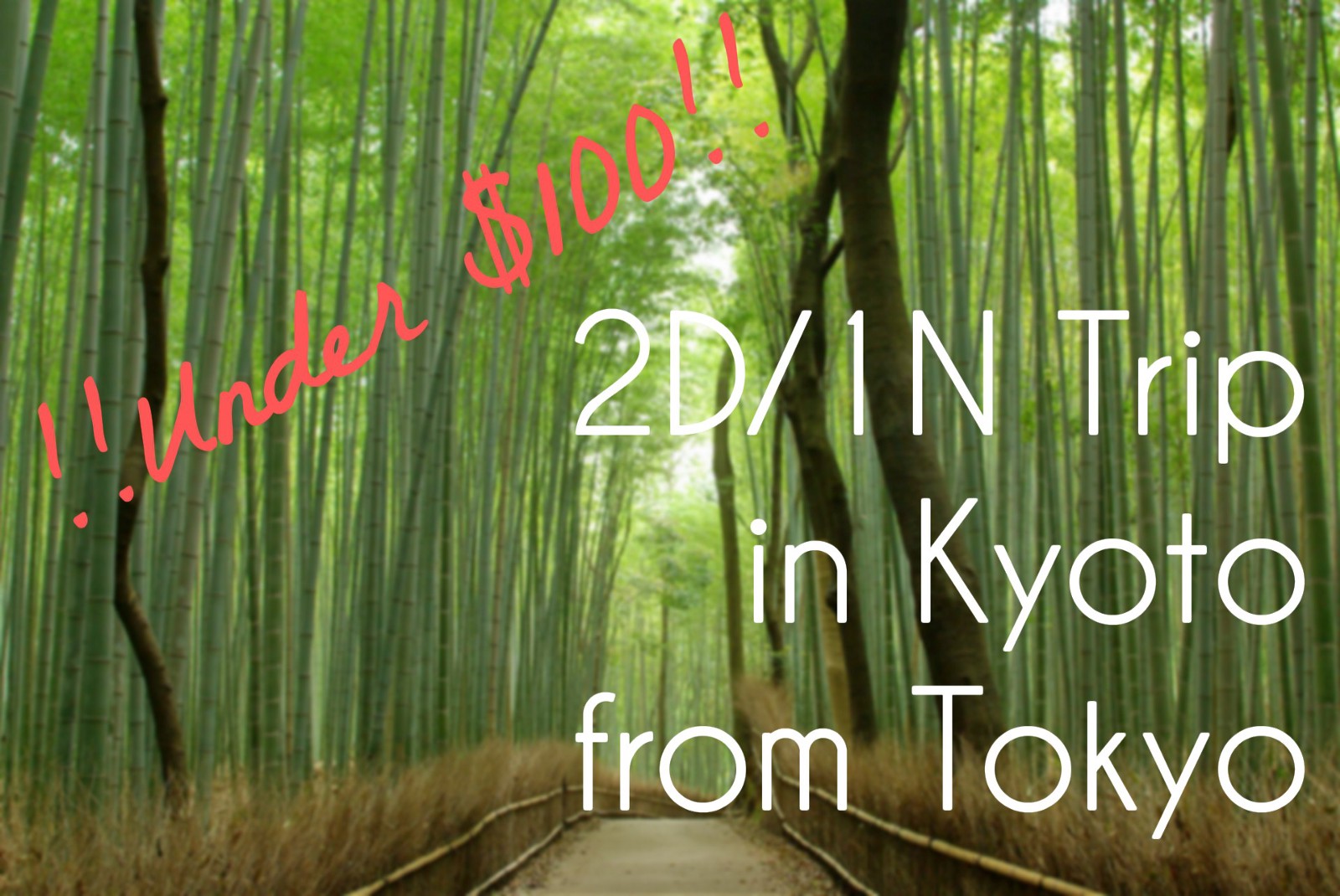 Are you a budget traveller?? Your budget is quite tight but still wish to travel beautiful places in Japan??
Tokyo and Kyoto are top two touristic cities in Japan where most of travellers visit for their first time. As we know, Tokyo is the great capital city of the country and Kyoto is the prime old capital city in western Japan. These two cities are located approx 500 km away from each other, and most of tourists travel by bullet trains (Shinkansen) which is the most comfortable way.
However, tickets for bullet trains are not very cheap, and the single ticket costs around 120–140$. Also these two cities have the highest hotel rates in the country. Of course, because they are super popular and in demand. So if you are a budget traveller, you may give up on visiting one of these cities for economical reason..
But if you are visiting Japan, you really shouldn't miss out both cities..! So, for those who wish to save travel expenses, there is always a way to travel cheaper than ordinary way with a bit of effort 😉
While the 2 days 1 night trip of from Tokyo to Kyoto costs around $500 (including transport, accommodation, food, shopping, etc) on average, it is possible to save it down to $100! I'll show you how 😉
Transport (Tokyo-Kyoto)
If you wish to go on a budget, simply forget about riding a bullet train. The cheapest way to travel between Tokyo and Kyoto today is by long distance coach. The regular single bus ticket price from Tokyo to Kyoto costs around $30–50, but if you catch a good deal, it's cheap as $15–20!!! Which means you can travel return for approx $30–40. This website is absolutely useful for finding extremely cheap long distance bus tickets (sorry, it's only in Japanese)→https://www.bushikaku.net/
If you want to get a cheap deal, it is very important that you check the date&price online and book the tickets in advance (preferably 2–3 weeks before), and avoid Japanese holiday seasons. It's even better if you go for a single journey instead of return, continuing travelling western Japan such as Osaka, Nara and Hiroshima..
Accommodations
Although I mentioned that the hotel rates are pretty high in Kyoto, there are many budget accommodations such as guesthouses and Airbnb where the price for one night could be as cheap as $15–20! And this as well, it's better to book in advance.
Check my previous articles:
7 Best Budget Hotels in Kyoto
10 Best Airbnb Rentals in Kyoto
Eat
When in Kyoto, try Kyoto's traditional dishes..?? Hmm, this might be a bit pricey for hardcore budget travellers. If the priority is saving money, the best way is to eat is at fastfood restaurants or from convenience stores&super market where you can eat each meals with around $8 or less. Which means you can go as tight as $30 for 2D1N trip. Or Ramen could be a great deal for the price!
Please check my previous articles:
10 Most Recommended Places to Eat in Japan for Backpackers
7 Best RAMEN Restaurants in KYOTO
Other Expenses
When you visit Kyoto, the first thing is visiting as many historical sites as possible. But remember that many of famous temples&shrines require admission fees ($3–5), and small transportation fee on top. So visiting 5–6 temples&shrines in 2 days would costs around $20.
Here are Kyoto's must-visits for first timers: 10 Must See Temples and Shrines in Kyoto!
Conclusion:
So if you travel like this, it is very possible to spend only $100 for a 2 days return trip from Tokyo to Kyoto (transportation $30+accommodation $20+food $30+other $20). Of course, if you wish to shop souvenirs, it would be an extra costs. But, to make your trip more memorable, sometimes you need to spend a certain amount of money. So let's think wisely when and what to spend your budget for 😉
If you are looking for a special experience in Kyoto, try these activities!: Top 10 Tours&Activities in Kyoto!
For more ideas about travelling between Tokyo and Kyoto (not only the cheapest way!), here is a useful link to check out 😉
Going to Kyoto soon?? Check out the best things to do in Kyoto!
▽Related Articles▽
▼Editor's Picks▼
---