ANA InterContinental Tokyo Matcha Collection 2019
Matcha Dessert Buffet, Match Burger and more: Enjoy the Best Matcha Sweets and Food in Tokyo in 2019!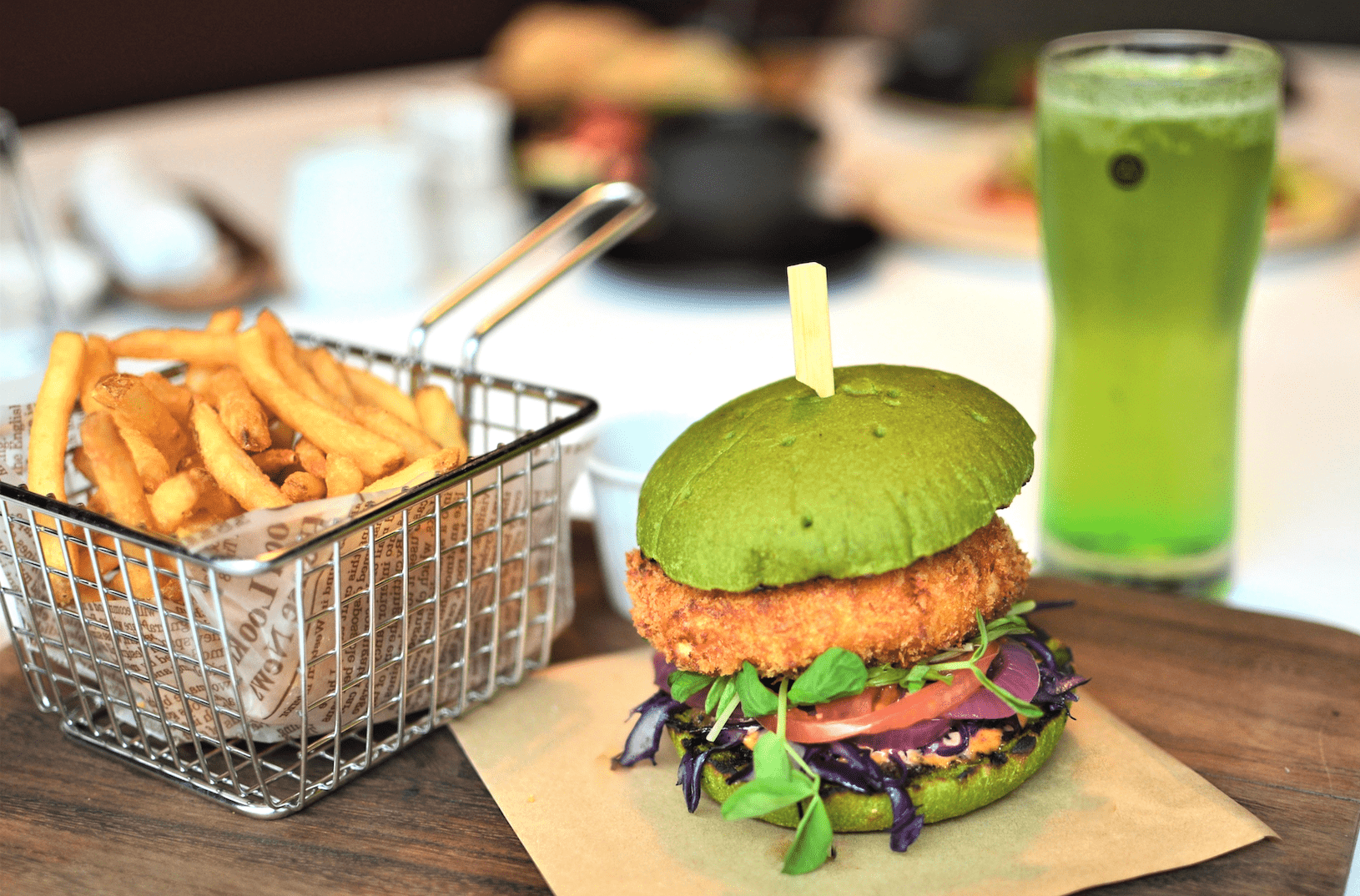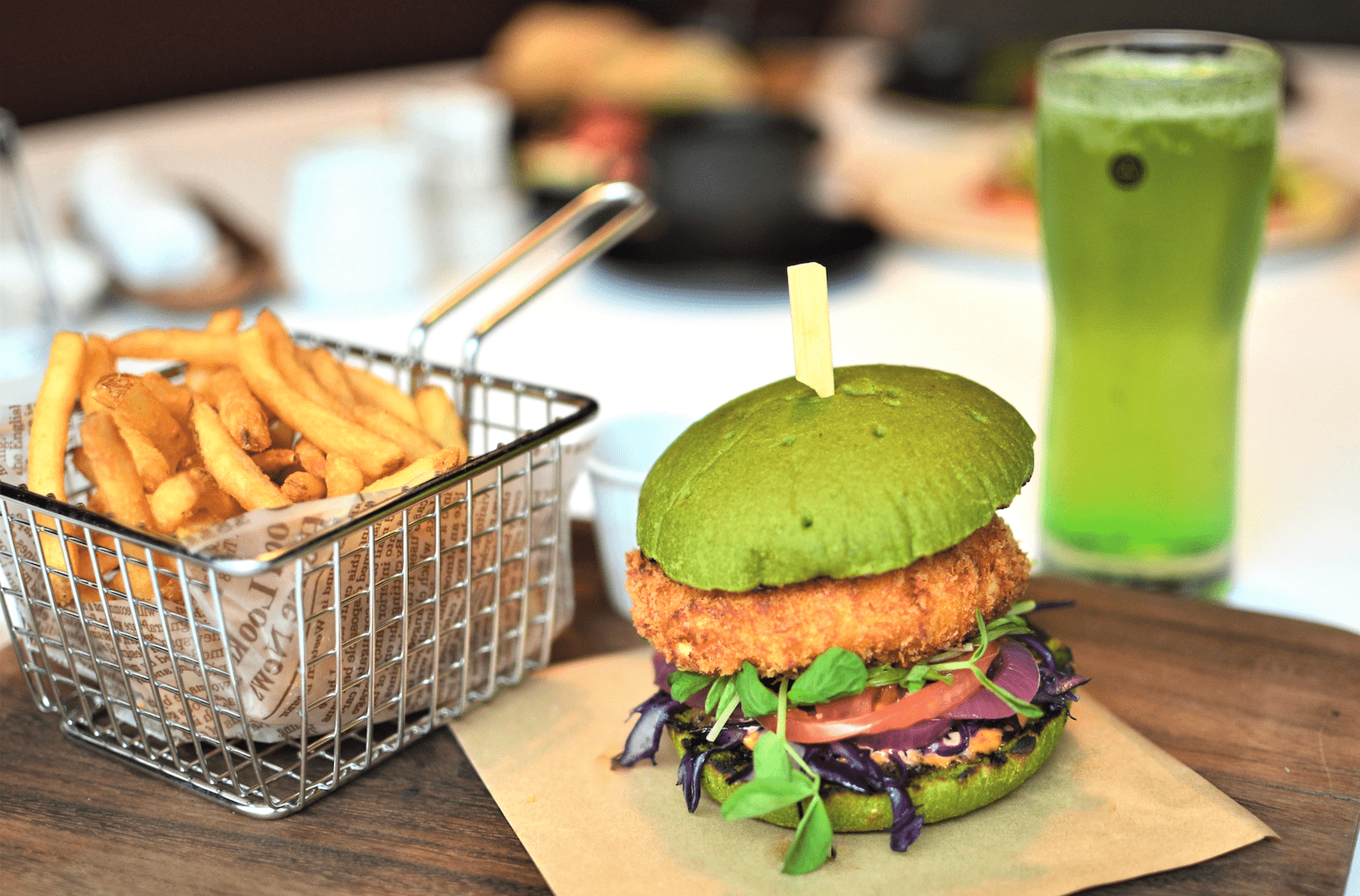 Matcha Collection 2019 is currently held at ANA InterContinental Tokyo, offering a wide variety of Matcha food and drinks including the delightful Matcha dessert buffet, the instagram-worthy Matcha burger and more!
Matcha (green tea powder) is one of the most famous and traditional food ingredients in Japan, and it's popular all around the world. Not only for drinking, Matcha products can be enjoyed with various ways such as Matcha flavoured desserts, dishes and drinks. If you love Matcha products, Japan is surely the best country to visit as you can try a wide variety of Matcha products, in addition, the best possible time would be early summer. Early summer is the harvest seasons of green tea leaves at many tea farms in Japan, and various Matcha products are released every year by numbers of shops, cafes and restaurants.
The most anticipated event for Matcha lovers is currently held at one of Tokyo's best luxury hotels, ANA InterContinental Tokyo. The Match Collection is a seasonal Matcha event which takes place at 7 venues in the hotel including restaurants and bars, and offers various kinds of innovative and flavourful Matcha dishes. From Matcha dessert buffet to savory Matcha dishes, you can indulge yourself with the finest quality and photo-worthy Matcha food and drinks this spring/summer!
More info about The Steakhouse:
-Matcha Taraba Crab Burger & Matcha Panaché <REVIEW>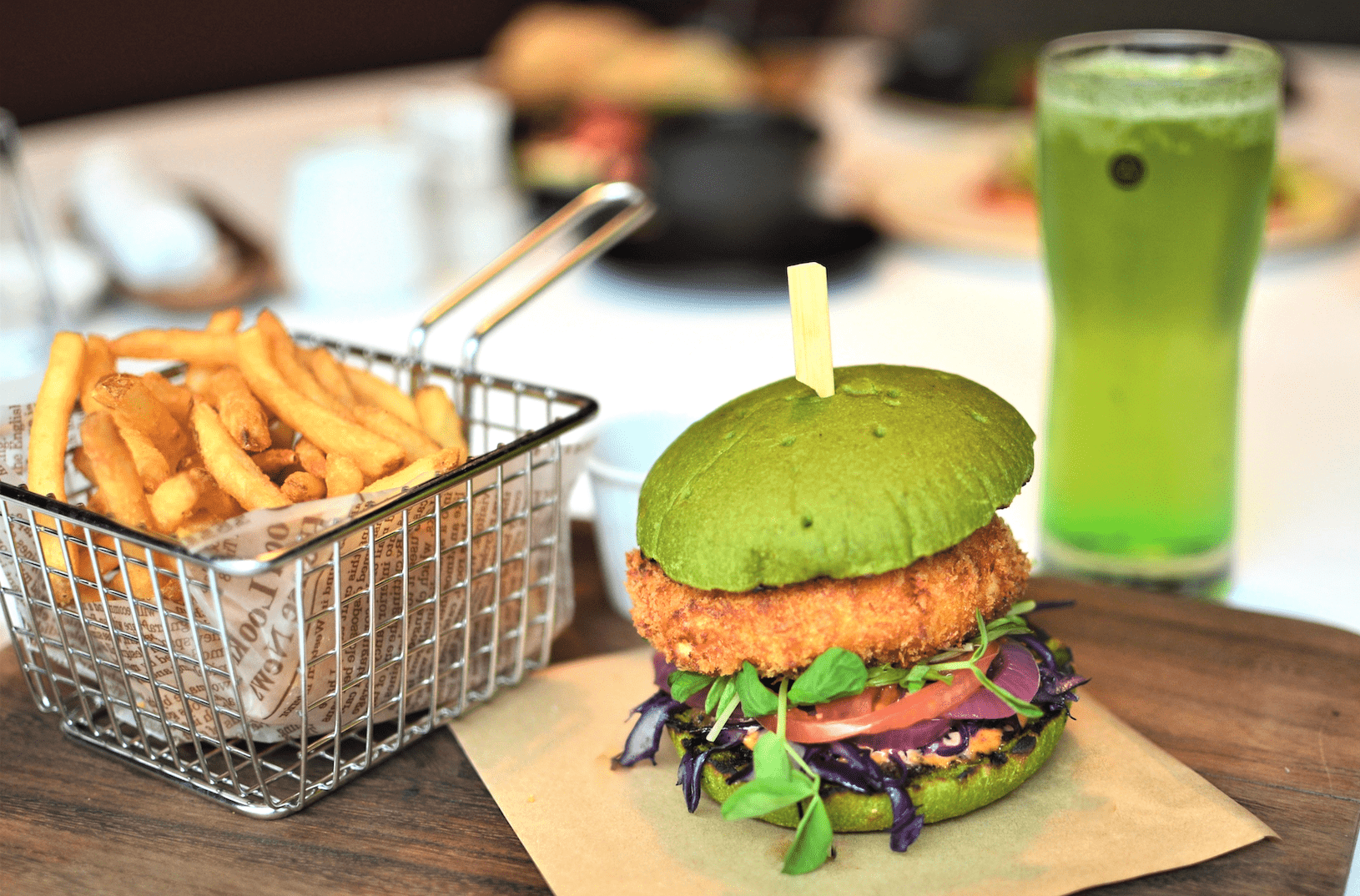 When it comes to Matcha food, most of us may think about Matcha desserts or sweet Matcha drinks, but the Matcha Collection at ANA InterContinental Tokyo offers really unique and creative Matcha dishes. The authentic American style steakhouse, The Steakhouse serves "the Matcha Taraba Crab Burger" for a limited time along with the green Matcha beer cocktail. I have recently visited The Steakhouse and tried out this seasonal Matcha Burger on my own!
My first impression was that this green Matcha Burger was 1000% instagrammable, and the perfect option for foodies and trend seekers! I was not only impressed by its look but also the taste of the burger itself was truly fabulous and very unique. The burger is created with the concept of "East meets West", and it's uniquely served with Taraba Crab (King Crab) patty instead of meat!
The crunchy breadcrumbed King Crab cake was deep-fried to the golden colour, and it was pretty meaty and chunky as satisfying as meat patty! The crab patty was dressed with tomato and aubergine salsa sauce with a hint of Yuzu flavour, then sandwiched between Matcha infused green buns. It had an amazing balance of the taste of East and West! This Matcha Taraba Crab Burger took me to a whole new burger experience. (In case you are not into seafood products, The Steakhouse does fantastic Wagyu Beef Burger which I also recommend!)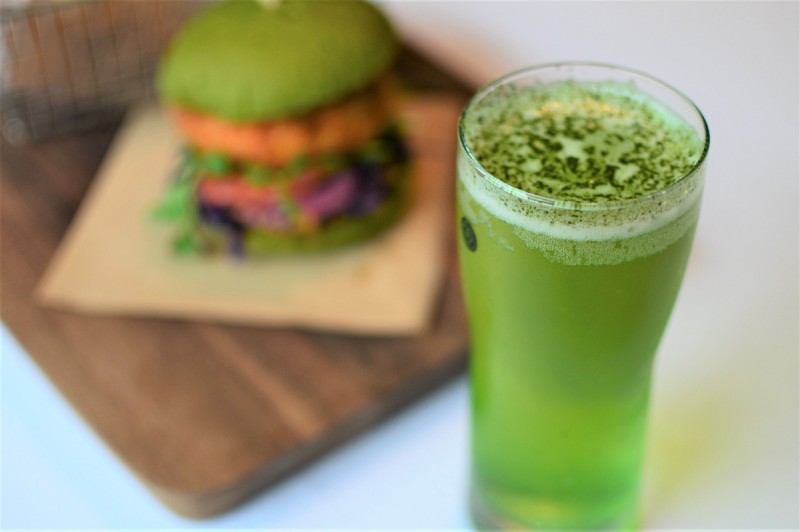 The unique pairing beverage is also available for the limited time. The eye-popping green beer cocktail "Matcha Panaché" is made with one of the best craft beer brands in Japan, COEDO Beer's draft white beer. It was so refreshing, and went perfectly with the mouthwatering Taraba Crab Matcha Burger. I got to know that The Steakhouse currently owns beer taps of 6 kinds of COEDO Beer, so don't miss a chance to try out one of the finest craft beer in Japan!
-Panda-stic Matcha Sweets Buffet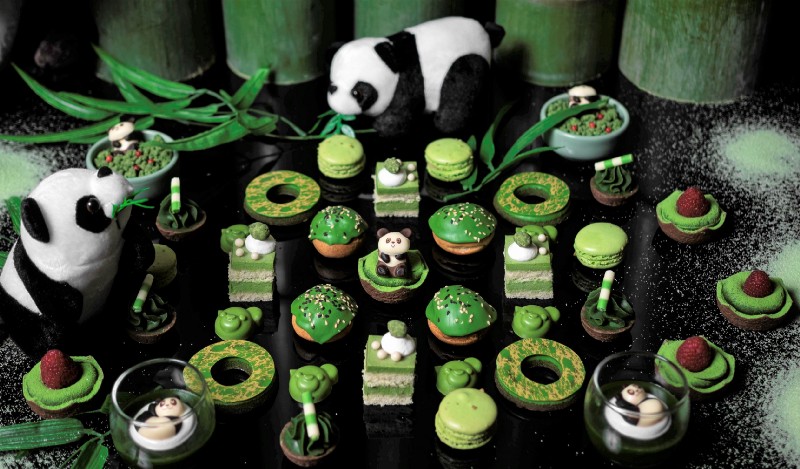 The photo-worthy dessert buffet, "Panda-stic Matcha Sweets Buffet" is available at The Champagne Bar (3F), offering 40 kinds of Japanese and Western style Matcha flavoured bites (25 sweets and 15 savories) including Matcha Tiramisu, Matcha Panna cotta, the Matcha chocolate fountains, Matcha sandwich and Matcha Pizza. All these bites can be enjoyed with all-you-can-eat style!
All the sweets items are infused with the finest matcha green tea products, and some of savory items are made with green vegetables such as spinach and asparagus, which makes the whole buffet green colour! Besides, traditional Japanese ingredients such as Yuzu and Shiso are also used in some items. Along with the delightful Matcha flavoured sweets and snacks, enjoy free-flow drinks with the choice of 15 kinds of coffee and flavour tea.
The delightful matcha desserts are displayed at the counter decorated with green bamboo trees and adorable Panda friends. Make sure to take a lot of photos of Matcha desserts at the buffet!
If you love Matcha, this is the best opportunity to try the finest quality of Matcha desserts as much as you wish! The Matcha buffet is held annually at ANA InterContinental Tokyo, and it's extremely popular every year.
MATCHA COLLECTION at ANA InterContinental Tokyo
Besides the Matcha Burger & Matcha Beer at The Steakhouse and the Matcha dessert buffet at The Champagne Bar, there are in total 7 venues in the hotel offering high-quality and innovative Matcha themed food during Matcha Collection.
If you are a Matcha lover or looking for the best Instagram-Worthy food in Tokyo this spring/summer, don't miss a chance to visit ANA InterContinental Tokyo for the most delightful Matcha experience!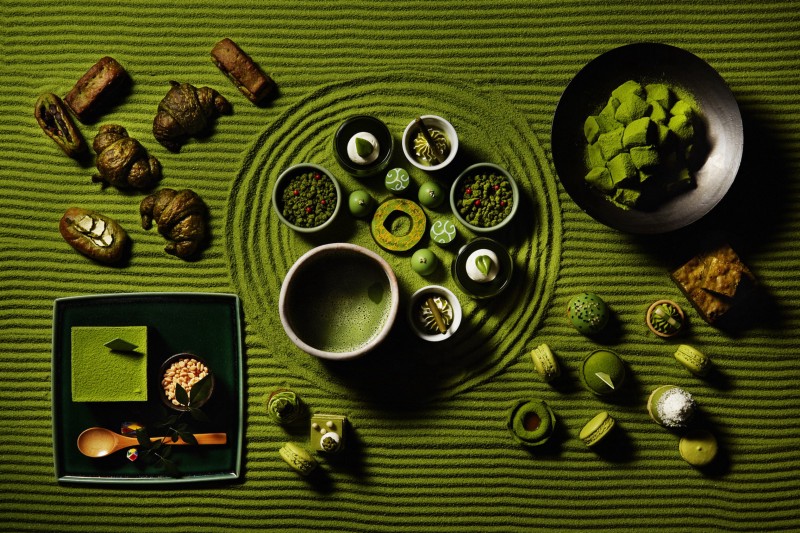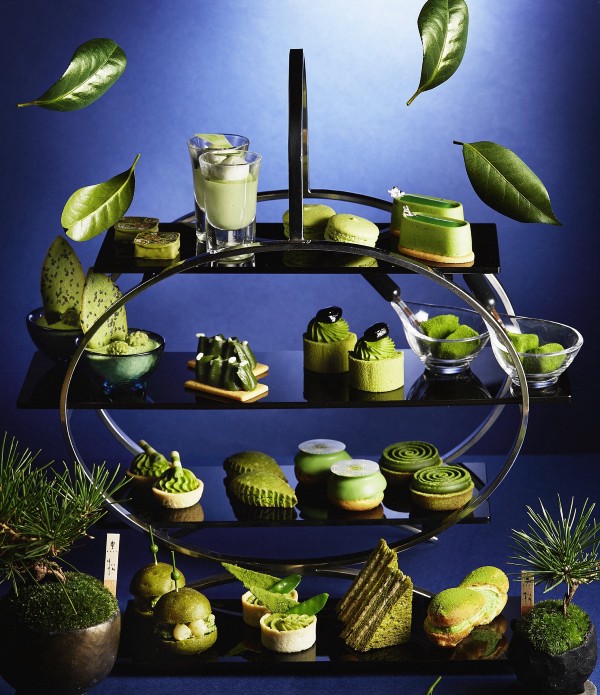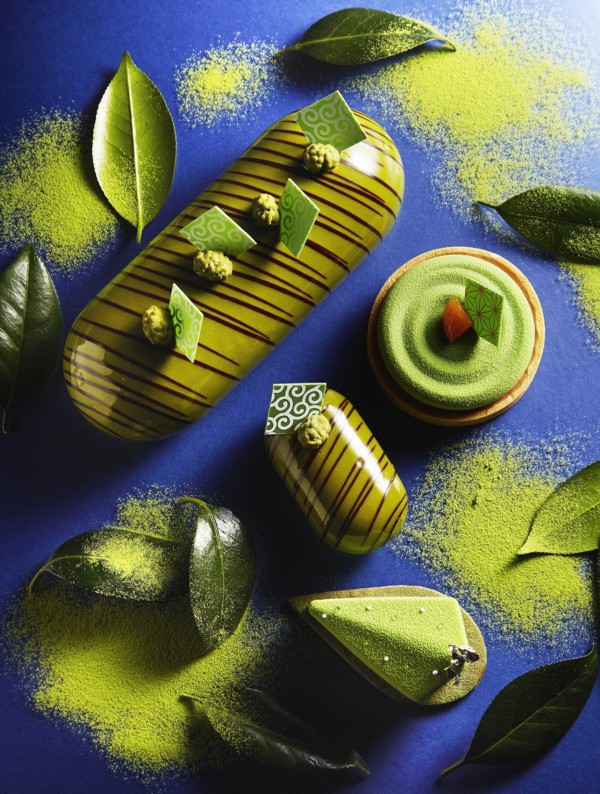 <Information>
Date: 27 April to 19 July 2019
Venues and Matcha Menu:
-The Champagne Bar (3F)-"Panda-stic" Matcha Dessert Buffet
Price: 4,600 yen (Weekdays)/5,600 yen (Weekends and Holidays)
Hours: 11:30〜13:00/13:30〜15:00/15:30〜17:00 /17:30〜19:00 (Weekends and Holidays only)/19:30〜21:00 (Saturday only)
-ATRIUM LOUNGE (2F)-"Evergreen" Matcha Afternoon Tea Set
Price: 4,900 yen
Hours: 12:00~18:00 (Weekdays)/11:00~13:00, 13:30~15:30, 16:00~18:00 (Weekends and Holidays)
-PIERRE GAGNAIRE PAINS et GATEAUX (2F)-Matcha collection (14 kinds of pastry and petit gateau infused with high-quality Matcha green tea)
Price: 280~5,000 yen
Hours: 7:00~22:00 (~20:30 on Weekends and Holidays)
-THE STEAKHOUSE (3F)-Matcha Taraba Crab Burger and Matcha Panaché
Price: 2,900 yen (Matcha Taraba Crab Burger), 1,800 yen (Matcha Panaché)
Hours: Lunch 11:30~14:30/Dinner 17:00~21:30
-TEPPANYAKI AKASAKA (37F)- Matcha Dessert Parfait glacé au thé vert
Price: 1,900 yen
Hours: Lunch 11:30~14:30/Dinner 17:00~21:30,
Weekends & Holidays Lunch-1st seating 11:30 or 12:00~13:45, 2nd seating 14:00~15:45/Dinner-1st seating 17:00~19:00 2nd seating 19:30~21:30
-MIXX BAR & LOUNGE (36F)- Matcha desserts at MIXX Italian Lunch Buffet
Price: Weekdays- Adult 3,900 yen, Senior (over 65 yo) 3,100 yen, Child (4–8 yo) 2,300 yen/Weekends and Holidays-Adult 4,990 yen, Senior 3,990 yen, Child 2,990 yen
Hours: 1st seating 11:30~13:00 / 2nd seating 13:30~15:00
-Cascade Cafe (2F)- Matcha desserts at Lunch/Dinner Buffets
Price:Lunch Weekdays-Buffet Adult 3,900 yen, Senior 3,300 yen, Child 1,950 yen / Weekends and Holidays-Adult 4,500 yen, Senior 3,800 yen, Child 2,250 yen
Dinner Buffet Weekdays- Adult 6,300 yen, Senior 5,300 yen, Child 3,150 yen /Weekends and Holidays-Adult 7,200 yen, Senior 6,100 yen, Child 3,600 yen
Hours: Lunch Buffet-1st seating 11:30~13:00, 2nd seating 13:45~15:15/Dinner Buffet-2 hours between 18:00~21:30 (Weekdays), 1st seating 17:00~19:00, 2nd seating 19:30~21:30 (Weekends and Holidays)
*An additional 8% sales tax and 13% service charge will be added to the indicated prices above
---
For more exciting events in spring and summer in Tokyo, here are some more awesome articles for you to check out 🙂
▽Related Articles▽
▼Editor's Picks▼
---