8 Best Things to Do in Kyoto with Kids
What to do in Kyoto for family fun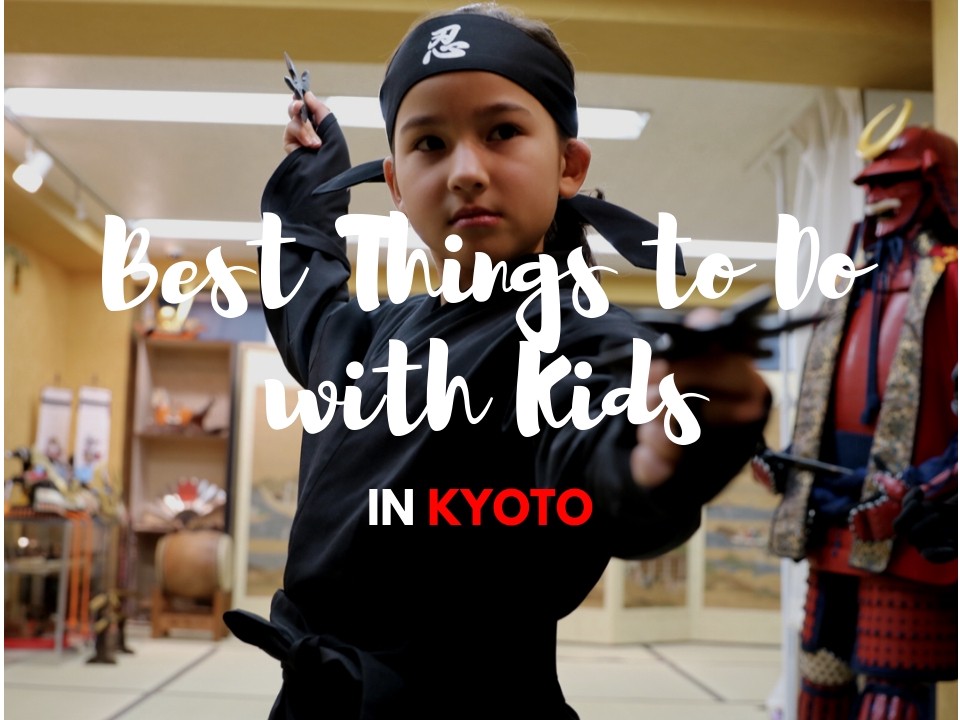 This is a Kyoto guide for kid friendly places for families with toddlers, small children and even teenagers. While Tokyo has many parks and museums, Kyoto has limited options. Nevertheless, Kyoto is booming with new fun facilities opening every year and we listed the best ones for you. This is the introduction of 8 best things to do in Kyoto with kids.
And, a few tips for families visiting Kyoto:
-To go from point A to point B in the downtown area, it is usually more convenient and cheaper to get a taxi rather than waiting for a bus or the train.
-Famous shrines and temples get packed especially during the Cherry Blossom season so you'd want to visit them earlier in the day or late in the afternoon
-For kids who are picky with the Japanese food, we recommend Italian restaurants which tend to be cheaper and offer so many pasta and pizza choices. Kyoto also has the highest number of bakery shops per capita in Japan, just in case.
-After visiting three temples and shrines, most kids tend to get bored unless you create simple games (e.g. spot the tomoe sign, guess the meaning of the kanji, etc.).
1. Iwatayama Monkey Park
Japan has some truly unique local wildlife in each of its regions, however Kyoto is perhaps one of the largest cities in the nation in which people and the native wildlife live so close together. It's not uncommon to see deer, snakes, great and lesser egrets, herons, and even capybara in the tall grasses of Kyoto's rivers, however visitors can also experience an up close encounter with Kyoto's wild macaque population as well. Iwatayama Monkey Park is located in the Arashiyama region, famous for its verdant bamboo corridors. After a short hike up the mountain, guests will find themselves in a small park overlooking the city, and will have the chance to feed the monkeys from within a specially build enclosure. One word of caution however: although the monkeys are used to human guests, they are still wild animals. Guests are warned to avoid eye contact with the monkeys, and to be cautious when interacting with them. Still, the experience of interacting with these adorable grey monkeys is too enticing to pass up!
2. Kyoto Samurai and Ninja Museum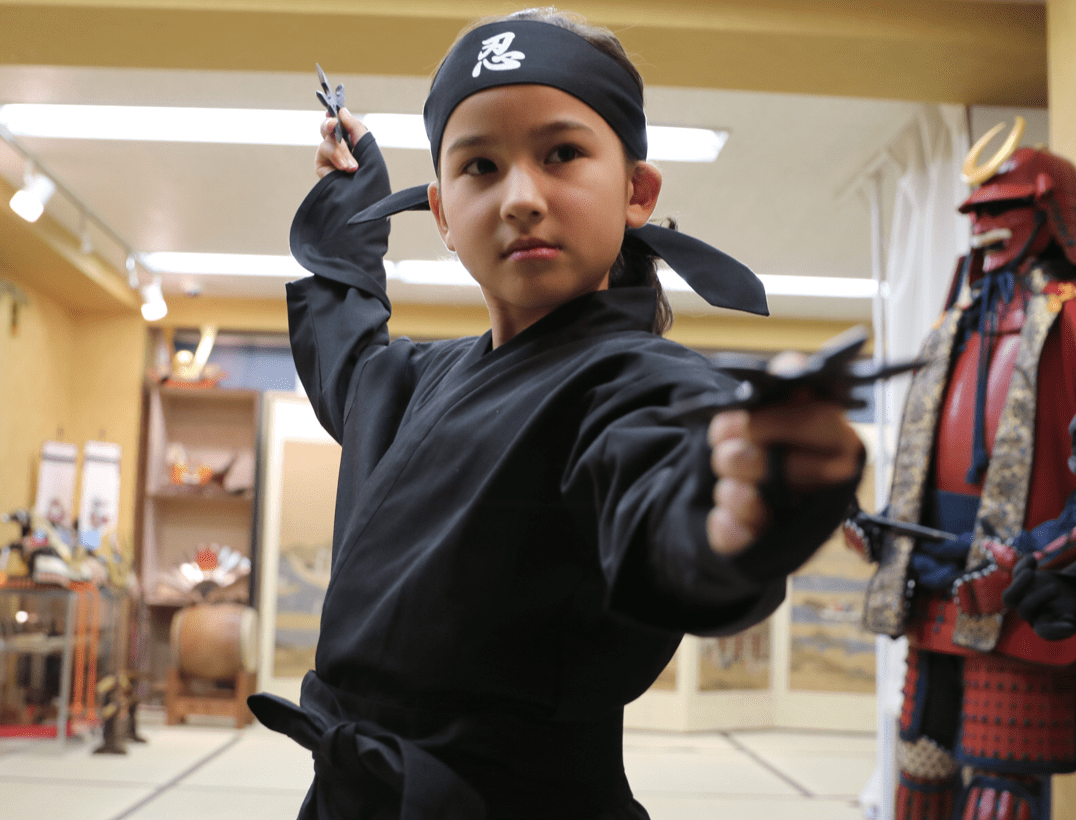 If there is one image that is globally recognized as being exclusively synonymous with Japan, it is that of the samurai and ninja of the romantic past. The influence of these martial figures in both Eastern and Western culture is far reaching and cannot be denied. It is natural then, for any visitor to Japan's old capital to want to capture some of the mythic magic lingering from these long-ago warriors. Fortunately Kyoto has many opportunities for visitors to walk in the steps of samurai. One of the largest and most interactive of these experiences is the Kyoto Samurai & Ninja Museum located in the Nakagyo Ward. Here guests can view genuine artefacts from the Muromachi and Edo periods including both swords and armor. Guests have the option of taking a free, guided English tour of the museum, may try on Samurai or ninja clothing, and may even participate in swordsmanship or ninja throwing star lessons. Learn what makes Japanese katana unique from Western blades, participate in a tea ceremony or yukata dressing class, and above all else, have fun experiencing the Japan of old in this highly interactive, fun, and welcoming environment.
▶︎Book this Samurai and Ninja experience at a discounted rate now!!
If you are not into samurai and ninja, the same facility offers family kimono photo opportunities that you can request at a different location.
▶︎Book this Kimono and Tea Ceremony experience at a discounted rate now!!
3. Kyoto Aquarium
The Kyoto Aquarium is a recent addition to Kyoto's modern entertainment landscape. Opened in 2012, this multi-exhibit aquatic centre focuses primarily on the marine life endemic to Kyoto's waterways, although it does showcase a variety of other saltwater creatures as well. The aquarium seeks to both entertain and educate its guests about marine life and aquatic ecosystems, making it a great place for a fun, intellectual outing with children. Exhibits include Kyoto river biomes featuring Asian giant salamanders, fur seals, penguins, dolphin shows, coral reefs and many more. Admission is 2050 yen for adults and 600 yen for children over the age of three.
4. Hirakata Park
Hirakata Park is a surprisingly large amusement park located in Osaka Prefecture. Established in 1912, the park is tucked away in the green hills of Osaka and is easily overlooked next to Japan's two larger theme parks, Universal Studios and Tokyo Disneyland. However it is precisely its underrated nature that makes Hirakata Park such a gem, especially for children. Wait times for rides are a fraction of those anticipated in the larger parks, meaning that families can experience much more of the park in a single trip than just a few carefully selected rides. The rides are also friendly to all ages, with some larger coasters for older guests, and a variety of smaller rides suitable to young children as well. The park also has an interactive animal exhibit that allows guests an up close and personal experience with a variety of wild and domestic animals. The price of admission into the park is also vastly favourable to the larger theme parks: adults get in for 1400 yen and children over two years old get in for 800 yen.
5. Kyoto Railway Museum
Kyoto is one of the most museum rich cities in Japan. Is your child passionate about trains? Fortunately Kyoto has just the museum to capture the imagination of the locomotive enthusiast. Opened in 2016, this museum showcases the history of rail advancement in Kyoto through life-sized replicas, guided tours and demonstrations, and historical documents. Guests may ride a in a real steam powered train for an additional fee of 300 yen, experiencing the sights and sounds of the early days of rail travel in the city. The museum is unique in that is it opened on weekends and holidays, closing only on Wednesdays, so if you're visiting through one of Japan's national holidays, be sure not to miss this tribute to the interconnection of rail and community in Kyoto. General admission is 1200 yen, while children over three years old get in for 200 yen. The facilities themselves also offer several amenities for guests with very young children, including nursing rooms, rental strollers, and bathroom cots.
6. Nara Deer Park
The Nara Deer Park was established in 1880 in central Nara, about 45 minutes out of Kyoto City. It is best to plan for an all-day trip when visiting the park, as there is plenty to see in this former capital of Japan. Central Nara features several prominent historical sites including Kasuga Taisha, Kofukuji, the Nara National Museum, and Todaiji. The Deer Park itself is popular with tourists and locals alike, as the park's 1200 endemic shika deer are generally friendly and will happily eat out of guests' hands and accept gentle touches. The deer population of Nara is protected as a national treasure, and is believed in Shinto tradition to be messengers of the gods. As such, guests are encouraged to treat the deer with respect both as wild animals and as markers of cultural heritage. What is most notable about the deer is that they are given free reign throughout central Nara, and are frequently seen outside the park on the city streets, as much as they are seen inside the park. Residents patiently wait for the deer to go about their way on town streets, giving the area a very charming, almost magical feel to it. For a small fee, guests can buy special crackers to feed the deer, and some deer are even known to bow in response to being fed. Parents are encouraged to heed warning signs and keep a careful eye on children, as the deer are still essentially wild and can be unpredictable in certain seasons.
7. Osaka Kids Plaza
Osaka's Kids' Plaza is a unique children's science museum dedicated to learning through play. Founded in 1997, the plaza believes that children learn best when they are inspired through active and creative play. Through interactive exploration specially designed for children, guests are encouraged to experience and role play a variety of education based tasks, from ecology to news casting to culture. Spread over four floors, children can exercise their artistic talents on the Creativity Floor, role play various careers on the Adventure Floor, or learn about science, arts, and culture on the Discovery Floor. Admission is 1400 yen for adults and 500 yen for children three years and older. The plaza is open most days year round, although it is closed on the second and third Monday of each month.
8. Universal Studios Japan
Universal Studios Japan, located in Osaka, is one of Japan's largest and most popular theme parks. This incredibly large park offers attractions for guests of all ages, although the Winter Wizarding World of Harry Potter is probably one of its most well known and well attended attractions. Adjacent to the Harry Potter attraction is Universal Wonderland for very young children, with attractions featuring Hello Kitty, Moppy, Elmo, and other Sesame Street characters. Older guests will find no shortage of thrilling rides based on some of Universal Studio's best selling properties including Jaws, Jurassic Park, and Spider Man. Guests are encouraged to arrive early as some of the more popular attractions have a limited amount of daily tickets and sell out fast. However there is more than enough to do in the park to fill an entire day for the whole family, so be sure to come prepared for weather and walking.
Kyoto has numerous things to do with kids, doesn't it? For more info about Kyoto, you might also like these articles below.
▽Related Articles▽
▼Editor's Picks▼
---