How Fast Can I Receive the Item If I Order NOW?! [For Japan Wireless's Customers]
Are you placing a last-minute order?? Need WiFi as soon as possible?? Japan-Wireless provides fast and smooth order procedures if you wish…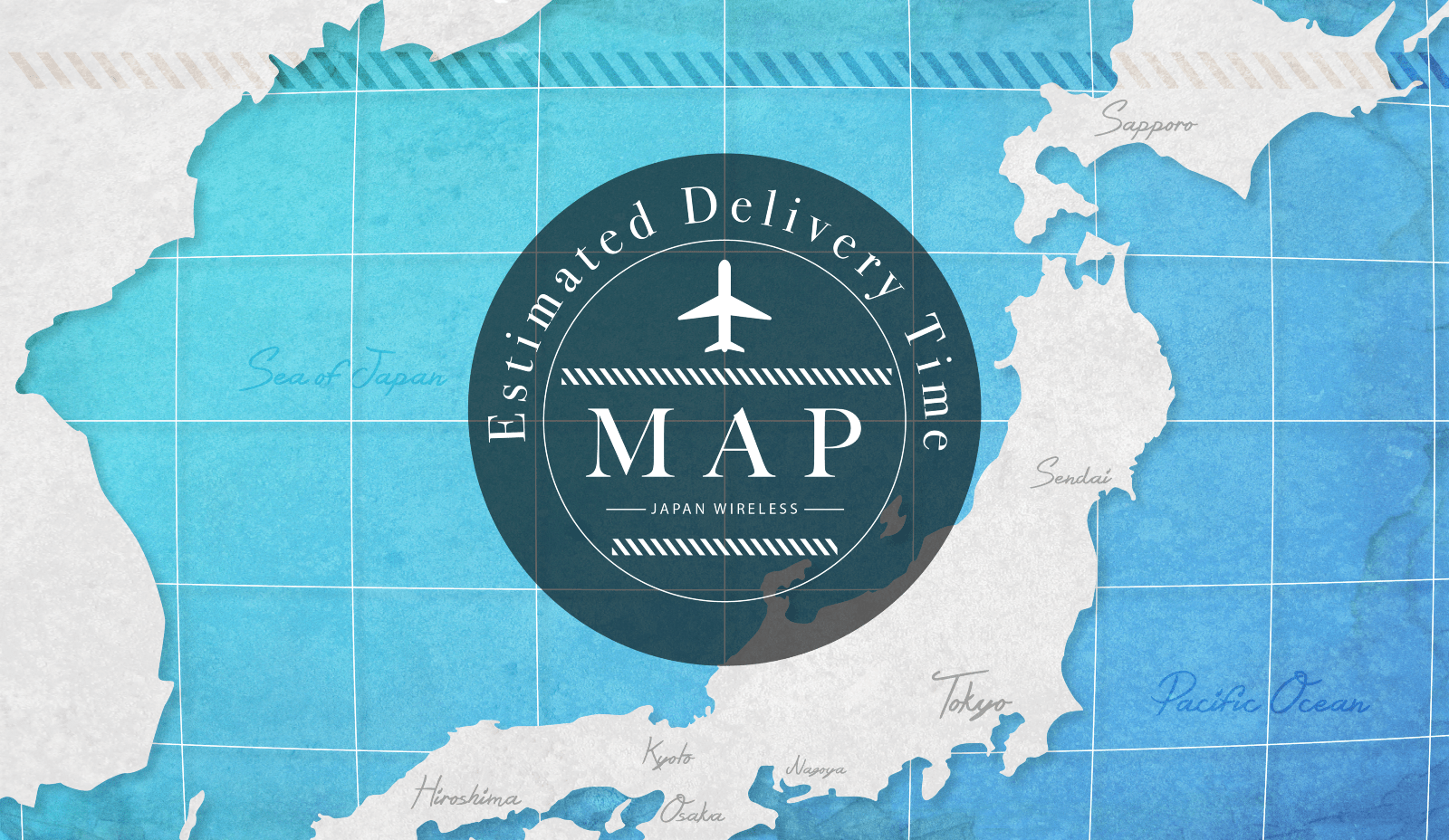 Are you placing a last-minute order?? Need WiFi as soon as possible?? Japan-Wireless provides fast and smooth order procedures if you wish to receive your ordered item in a very short time, even on the same day.
Let's check how fast you can get a rental WiFi from Japan-Wireless!
**********************************************************
Note: Condition applies to above urgent delivery's availability. We still recommend your order and payment both completed at least 3 days in advance for the safe and assured delivery on time.
Last-minute orders may result as delivery delay depending on the day's traffic and/or weather. Japan Postal Service is requiring longer shipping period to some particular locations including airport post offices.
Please contact us for further information via cs@japan-wireless.com
**********************************************************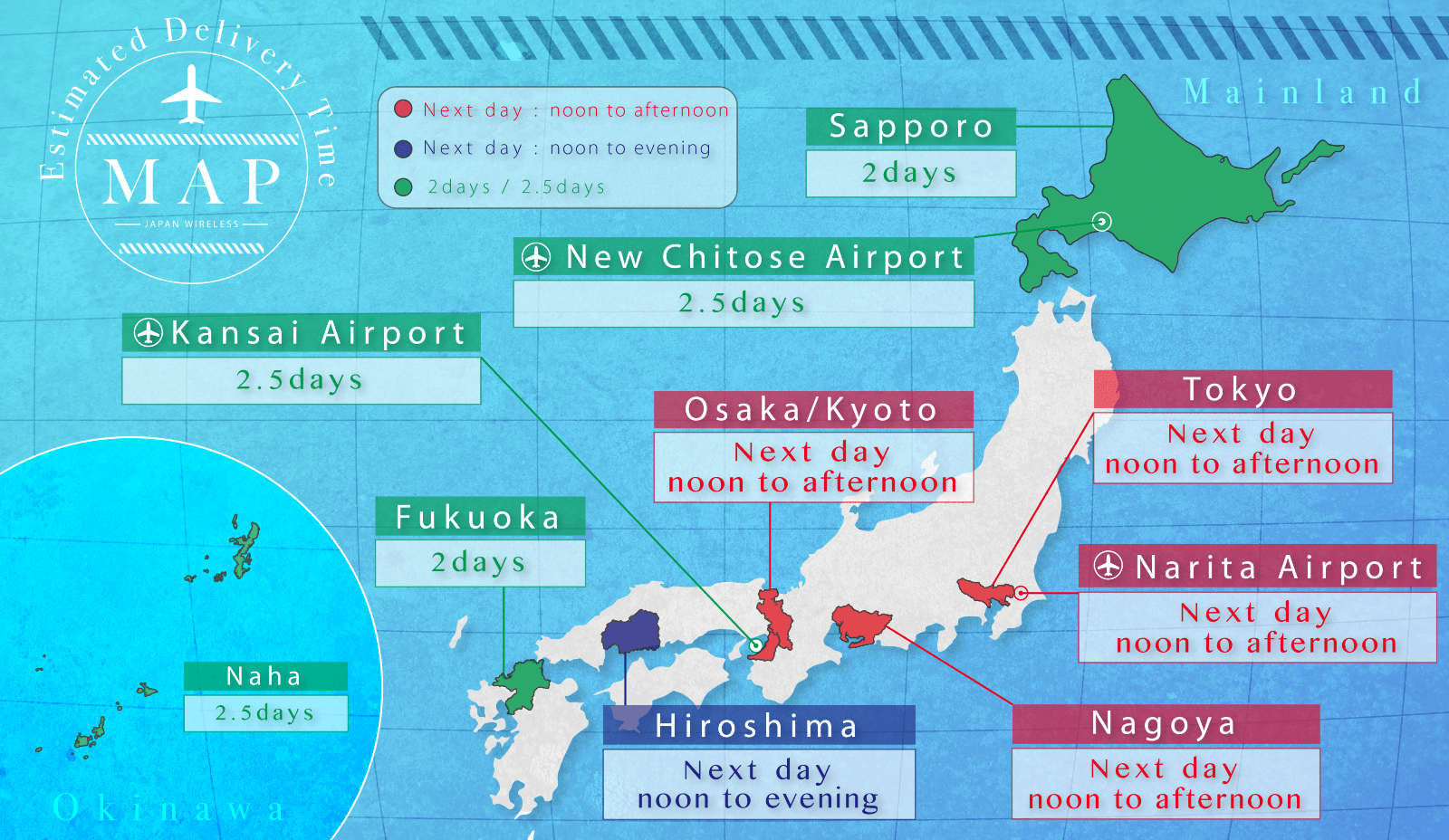 = Next day delivery areas =
If your order is placed and payment is completed by 5:00 pm ( JST ), your ordered item should be delivered on next day noon to evening (depends on shipping locations. See below.) ** Next day delivery service requires an additional express shipping fee of 500 JPY .
arriving the next day; noon to afternoon
-Major cities in Kanto area (e.g. Tokyo, Kanagawa, Chiba)
-Major cities in Kansai area (e.g. Kyoto, Osaka, Kobe)
arriving the next day; afternoon to evening
-Shikoku area
Most of Chugoku area except for Yamaguchi prefecture (e.g. Hiroshima)
Most of Tohoku area except for Aomori prefecture
= 2-days delivery areas =
Here is the earliest delivery timing availability to northernmost and southernmost parts of Japan.
Hokkaido (** deliveries may take up to 3 days or longer to some remote areas of Hokkaido, depending the weather/traffic. )
Kyushu / Okinawa main islands
= Delivery in the Same Day =
If your order is placed and payment is completed by 11:00 am (JST), we can possibly arrange the special same-day-delivery to many locations within Tokyo Metropolitan area! This special service's available area covers popular tourist destinations such as Shibuya, Ueno, Asakusa, Ginza, Tsukiji, Akihabara, Tokyo station etc. (Same-day-delivery requires an additional super express shipping fee of 1,000 JPY)
Same-day-delivery is available to Tokyo's 18 wards below ; (Tokyo Metropolitan Area : Chiyoda ward/Chuo ward/Minato ward/Taito ward/Bunkyo ward/Kita ward/Arakawa ward/Adachi ward/Katsushika ward/Sumida ward/Edogawa ward/Koto ward/Shinagawa ward/Ota ward/Shibuya ward/Meguro ward/Setagaya ward/*Shinjuku ward)
*Shinjuku ward is available on week days only.
**************************************************************
This information is based on the regular season of Japan Postal Services and the availability of earliest delivery timing may change on their high season.
Please contact us for further inquiries via cs@japan-wireless.com
**************************************************************
↓↓↓ To place your order, please visit our website! ↓↓↓
↓↓↓ Check more articles about Japan!! ↓↓↓
---