Best Beauty Products in Japan: Japanese Cosmetics Ranking 2018
The Best Cosmetics Awards 2018: Grand Prize/Hall of Fame/Best New Buys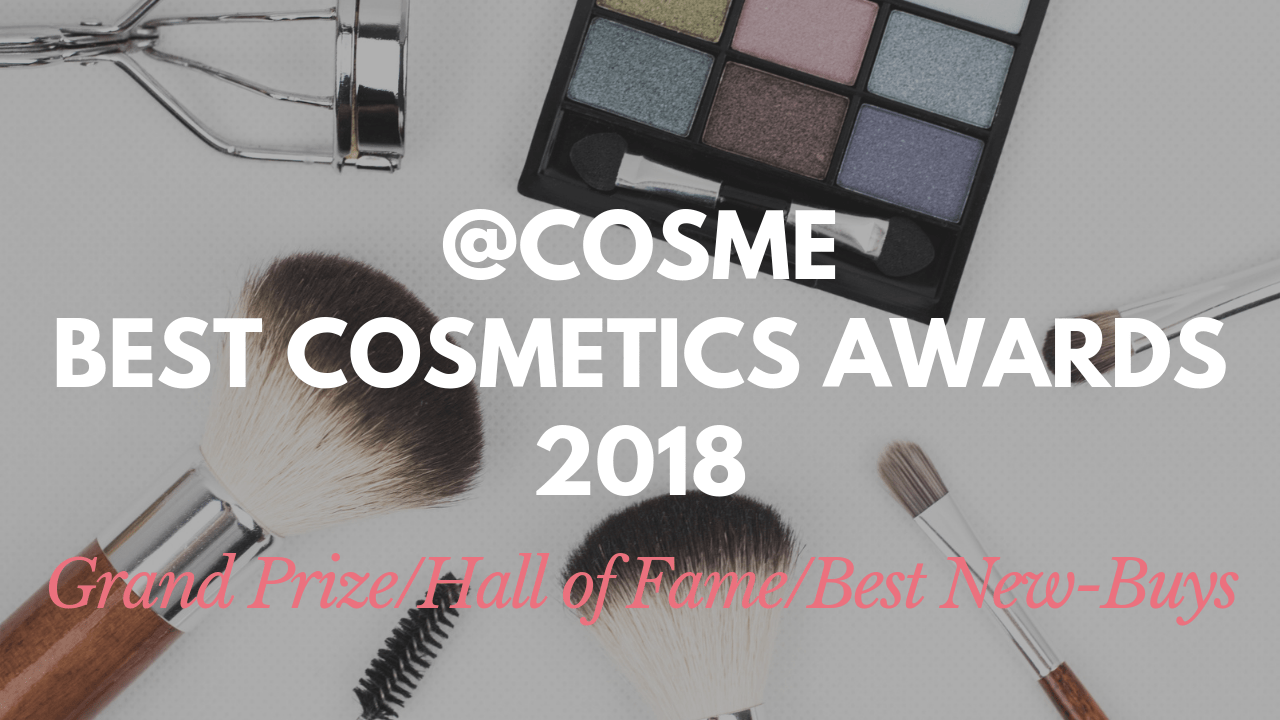 The Best Cosmetics Awards is hosted by @cosme, Japan's most influential cosmetics review website. The awards cover rankings of popular beauty items in Japan by category such as skin care and make-up products as well as the grand prize and the best newcomers which are all based on real users' votes. The Best Cosmetics Awards is held twice a year in mid-year and year-end, and recently the latest ranking of the awards have been revealed.
In this article, I'd like to share the beauty products which won the most honorable titles on the Best Cosmetics Awards 2018: the Grand Prize, Hall of Fame and Year-End Best New Buys. Let's find out the best cosmetics products to buy in Japan in 2018–2019!
🏆 Grand Prize 🏆
The Grand Prize award goes to the three beauty products which have received most positive responses through the year. The 2018 winner of the @cosme Best Cosmetics Awards is LIP TINT by OPERA, and this is the second year in a row receiving this most honorable cosmetics award in Japan.
Left to Right:
Winner: OPERA LIP TINT (1,500 yen)
Runner-up: excel SKINNY RICH SHADOW (1,500 yen)
Third Place: FANCL MILD CLEANSING OIL (10 pc 500 yen, 60 ml 980 yen, 120 ml 1,700 yen)
Hall of Fame
The Best Cosmetics Awards "Hall of Fame" goes to the products which have won the awards multiple times and are considered as all-time best products. Not only cosmetics products, but the Hall of Fame also includes household and daily goods. Every year, several honored products are added to this list, and 16 new products have joined the others in 2018.
Left to Right:
MENTURM MEDICAL CREAM G (145 g 1,512 yen)
TOHO UTAMARO SOAP (133 g 160 yen)
Silcot Sponge Touch Moisturizing Cotton Uruuru Cotton (204 yen)
CANMAKE Marshmallow Finish Powder (940 yen)
ettusais lash version up (1,000 yen)
YVES SAINT LAURENT ROUGE VOLUPTÉ SHINE OIL-IN-STICK (3,800 yen)
Laundrin Fabric Softener Classic Floral (480ml 474 yen)
DECORTÉ AQ MW Face Powder (5,000 yen)
SABON Body Scrub Patchouli Lavender Vanilla (5,093 yen)
DEESSE`S Elujuda Emulsion+ (2,600 yen)
MTG FACIAL FITNESS PAO (12,800 yen)
Kneipp KneippBio Oil (1,800 yen)
Laurier Slimguard (489 yen)
MINON Amino Moist Moist Charge Milk (100 g 2,000 yen)
MAQuillAGE Snow Beauty Whitening Face Powder 2018 (6,500 yen)
▼ Check out more "Hall of Fame" products! ▼
Year-End Best New Buys
The Year End Best New Buy Award goes to the products which has been newly released in the second half of the year. You can the check the most trendy, latest beauty products in Japan with the list. Here are 8 best new-buys of the year-end.
Left to Right:
excel REAL CLOTHES SHADOW (1,500 yen)
LANCÔME TEINT IDOLE ULTRA 24H LONG WEAR FOUNDATION (6,000 yen)
LuLuLun LULULUN FACE MASK PRECIOUS GREEN (7 pc 540 yen, 32 pc 1,944 yen)
Rerise Hair Server For Gray Hair Re Black Sleek Type (2,916 yen)
REACH Pumping Toothpaste (1,030 yen)
GUERLAIN AQUA ALLEGORIA ROSA ROSSA (8,200 yen)
HYTHIOL HYTHIOL COLLAGEN BRiGHT (300 yen)
Humming Humming Fine Room Dry EX Fresh Savon Fragrance (540 ml 398 yen)
For more cosmetics rankings from other categories on @cosme Best Cosmetics Awards, please check out listed articles, below!
▽Japanese Cosmetics Ranking 2018▽
▼The latest Japanese Cosmetics Ranking of 2019 Year-End! ▼
▽Related Articles ▽
▼Editor's picks ▼
---