IPPUDO Cherry Blossom Tonkotsu Ramen 2019
IPPUDO has released the limited-time Sakura coloured Tonkotsu Ramen in 2019!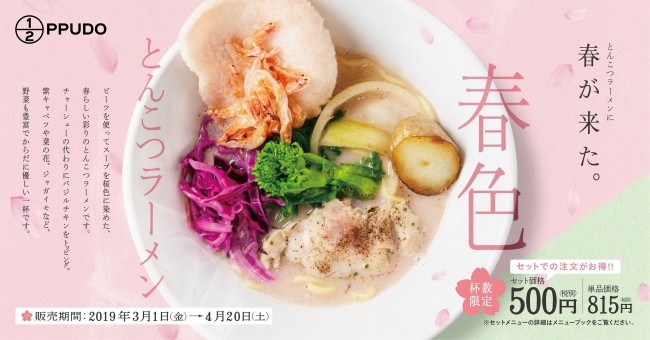 During spring, numbers of cherry blossom themed products are released in Japan including Starbucks Japan Sakura Tumbler and Mug Collection and Sakura flavoured desserts and drinks. One of the most unique entries of 2019 spring would be this Sakura pink Ramen by the famous Tonkotsu Ramen store, IPPUDO.
IPPUDO was originally launched in Fukuoka City in 1985, serving the classic Hakata style Tonkotsu Ramen which comes with the remarkable rich and creamy pork broth soup with thin noodles. IPPUDO is today arguably the most popular and well known Ramen shop in Japan which also has numbers of branches in over 10 countries across the world.
1/2PUDDO is IPPUDO's new branches that currently has 4 stores in Tokyo (Shibuya, Shinjuku, Tachikawa and Hachioji) and serves smaller sized bowls of IPPUDO Ramen and a variety of side dishes. 1/2PPUDO is a perfect option for those who want to try various side dishes with Ramen or take a slightly healthier option while eating Ramen.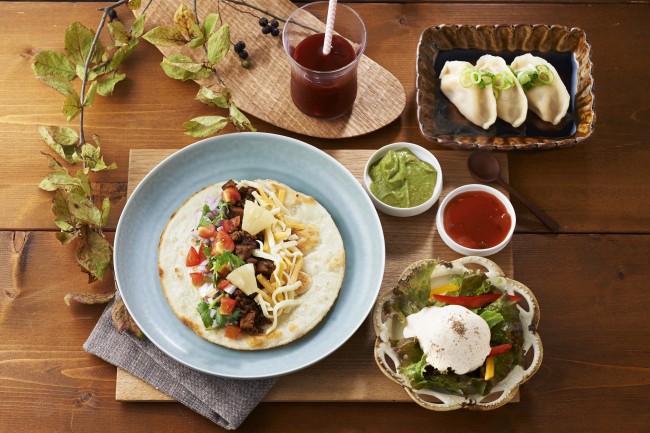 In 2019, IPPUDO is releasing unique, creative and delightful spring-limited Ramen dishes called "Haruiro Tonkotsu Ramen (Spring Colour Tonkotsu Ramen)" at their 1/2PPUDO stores.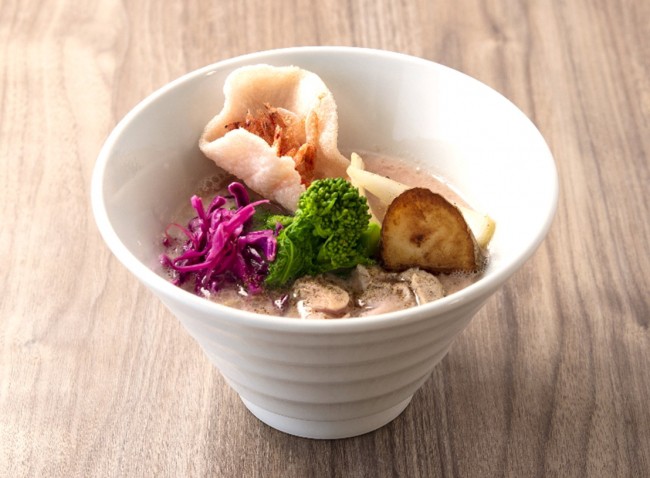 The Spring Colour Tonkotsu Ramen has Tonkotsu soup blended with beets that creates fairly pink Sakura colour and topped with colourful spring vegetables such as red cabbage, broccolini, butter sauteed onions and fried potatoes as well as roasted basil chicken, Sakura shrimp and a pink shrimp cracker.
This charming Sakura themed Ramen is available from 1 March to 20 April, and only 30 dishes are available daily in each stores. (From 7 to 31 March at Shibuya store). The price is 815 yen for a single bowl and 500 yen when you order as a set dish.
If you are either a Ramen fan or Sakura lover, you should definitely grab a chance try this delightful Cherry Blossom Ramen by IPPUDO in Japan this spring!
1/2PPUDO Stores
-Shibuya Hikarie Store
Map: http://bit.ly/2SCqF5m
Hours: 11:00~23:30 (Monday to Saturday)/ 11:00~23:00 (Sunday)
-Shinjuku Lumine EST Store
Map: http://bit.ly/2VAkbpg
Hours: 11:00~23:00 (Monday to Friday) /11:00~22:30 (Saturday, Sunday and Holiday)
-Lumine Tachikawa Store
Map: http://bit.ly/2SGjclN
Hours: 11:00~22:00
-CELEO Hachioji Store
Map: http://bit.ly/2tLDGzB
Hours: 11:00~22:00
---
For more exciting news and information about cherry blossom season 2019 in Japan, here are some more articles for you to check out 🙂
▽Related Articles▽
▼Editor's Picks▼
---