Botejyu Shibuya: Authentic Osaka Style Okonomiyaki
Botejyu Shibuya: Popular Okonomiyaki Restaurant from Osaka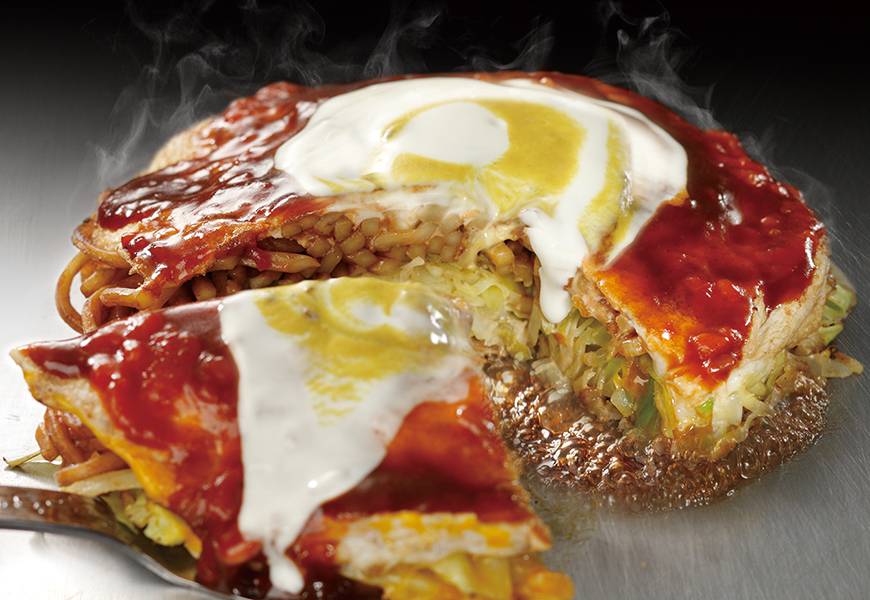 Botejyu is a long-running franchised Okonomiyaki restaurant founded in Osaka in 1946, and has numbers of branches across Japan including over 10 in Tokyo. Botejyu offers authentic Osakan style Okonomiyaki dishes made with their original recipes including blended dough with soup stock and flour, selected ingredients and original sauce. Botejyu is also known as the first Okonomiyaki restaurant that started using mayonnaise for topping, which is a standard today. Delicious and gourmet Okonomiyaki are crispy outside, and soft and fluffy inside, and dishes are available with various toppings from simple one to unique and innovative ones. Besides, there are various other Osaka local dishes on the menu such as Yakisoba (fried noodle), Modanyaki (Okonomiyaki with Yakisoba) and Takoyaki (octopus ball).
Botejyu Shibuya (ぼてぢゅう 渋谷宮益店) is located at one of the busiest streets of the neighbourhood and only 3 mins on foot from Shibuya Station. Although ordinary Okonomiyaki restaurants in Japan have homey and bustling atmosphere, and usually let customers make their own dishes on the built-in iron plate on each table, Botejyu Shibuya branch has a modern and stylish interior design with clean and sophisticated atmosphere which is appealing to female customers or single customers. The dishes are made by order in the kitchen and brought to the table on an iron dish with the sizzling sound. They also offer a large selection of alcohol beverages including wine and cocktails which goes with their Okonomiyaki dishes.
Dine at Botejyu and indulge yourself with various authentic Osaka local dishes in Tokyo without travelling across the country!
How to access: 3 mins walk from Shibuya Station
Hours: 11:00~23:00
Budget: lunch 1,000~2,000 yen / dinner 2,000~3,000 yen
Genre: Okonomiyaki, Teppanyaki
For more information about dining out in Shibuya area, I have listed more articles for you to check out 🙂
▽Related Articles▽
---