Best Restaurants and Cafes at Hokkaido New Chitose Airport
From Ramen to Seafood, 7 best food to try at New Chitose Airport!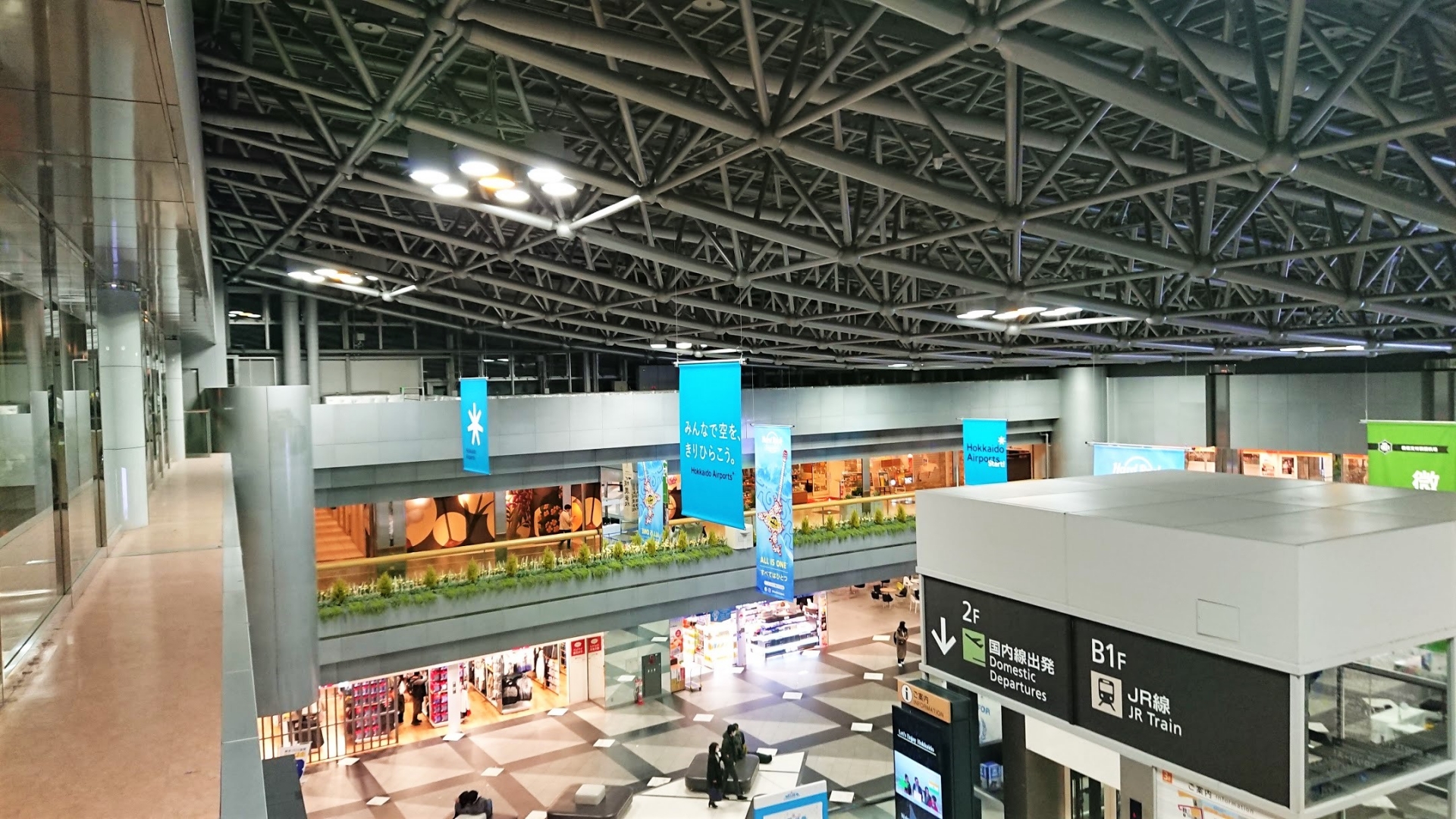 Hokkaido's busiest airport, New Chitose Airport welcomes most visitors to Hokkaido everyday. The airport is known as "The most delicious Airport in the world" as there are hundreds of restaurants and cafes offering yum-yum Hokkaido's fresh local food. How delightful to have your one last supper in Hokkaido just before taking a flight 🙂 From seafood to Ramen, here is a list of 7 most popular restaurants & cafes in the airport!
1. Biei Senka (美瑛選果)
Biei is a small town in a heart of Hokkaido which attracts thousands of tourists with its tremendous crop field and the landscape. Bieisenka is a regional shop merchandises local products. Their best selling item is "Corn bread". It's a roll bread stuffed with Biei's local sweet corn sold in a box (5pc). The bread is baked 5 times a day and is sold out right after they come our from the oven! So make sure you queue like others to taste this yummy rolls.
Location: Domestic Terminal Building, 2F
Hours : 8:00–20:00
2. Hanabatake Bokujo Cafe (花畑牧場十勝チーズ工房 MOZZARELLA BAR)
Hanabatake ranch is a local farm in south Hokkaido and became hugely known in the last decade for "nama caramel"- really soft and fresh caramel. It's also known for producing the award winning Raclette cheese. This is one of the fewest Hanabatake ranch's cafe where you can enjoy their fresh food including "Triple Cheese Pasta" (the pic on top) which can take you to heaven!
Location: Domestic Terminal Building, 3F
Hours : 10:00–20:00 (last order at 19:30)
3. Doraemon WAKUWAKU Sky Park Cafe (ドラえもん わくわくスカイパークカフェ)
If you love the famous Japanese amine character Doraemon, this must be your paradise! Doraemon Wakuwaku Sky Park includes an amusement space with greetings by Doraemon's characters, kids play zone, library, shop and cafe where you can easily spend a couple of hours! At the cafe, the adorable characters themed food and beverages are served. It's too cute to eat!
Location: Domestic Terminal Building, Connecting Passage 3F Smile road
Hours : 10:00–18:00 (Last Order 17:30)
4. Ebisoba Ichigen (えびそば一幻)
New Chitose Airport has a section called "Ramen Dojo" which is over 10 Ramen restaurants gather in one place. Hokkaido's local Ramen obsession is pretty huge compering to other prefectures and here in Ramen Dojo, many kinds of Ramens from different towns in Hokkaido are served. The best selling Ramen in Ramen Dojo is "Ebi Soba" from Ichigen. Shrimp broth Ramen stimulates everyone's appetite!
Location: Domestic Terminal Building, 3F
Hours : 10:00–21:00 (Last Order 20:30)
5. Matsuo Jingisukan (松尾ジンギスカン)
Jingisukan is one of Hokkaido's most significant dishes especially common in Northern area. It's a grilled mutton&veggie dish like "BBQ in Hokkaido style". If you wanna have a try, "Matsuo Jingisukan" could be the best place. It's a long-established franchised restaurant in Hokkaido serving a dish from one portion on a small metal plate. Try with a beer!
Location: Domestic Terminal Building, 3F
Hours : 10:00–21:00 (Last Order 20:30)
6. Lavi
Surprisingly, Hokkaido also does curry! Hokkaido's soup curry has originated from the capital city "Sapporo" and has grown widely for the last couple of decades. Tomato based runny curry sauce with lots of spices and Hokkaido's local meat and vegetables is served with rice. It will surely blow your mind!
Location: Domestic Terminal Building, 3F
Hours : 10:00–20:30 (Last Order 20:00)
7. Fukutei (ふく亭)
Maybe you have already had many of seafood while you are in Hokkaido, but it can never get enough! Have a very last Hokkaido's seafood dish before you leave! Fukutei is a franchised "Kamameshi" (kettle rice) restaurant in Hokkaido beloved by locals. Kamameshi is a common rice dish in all around Japan cooked in an iron pot with meat,veggie and broth but the Hokkaido ver is not very ordinary as it comes with fresh seafood on top!
Location: Domestic Terminal Building, 3F
Hours : 10:30–21:00 (Last Order 20:40)
Let's enjoy the land of gourmet "Hokkaido" till the very last moment! For travel guide in Hokkaido, please check out these articles below 🙂
▼ Editor's Picks ▼
---