The Ichi|Online Shop For Beautiful Japanese Traditional Crafts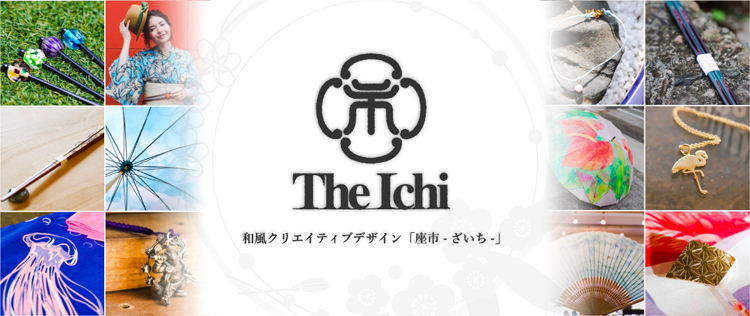 The Ichi is an online shop specialized in beautiful Japanese crafts. It is managed by Wagokoro, a company with over 20 years of history and who has the goal of bringing "Japanese culture to the World".
Wagokoro first started by selling accessories with original Japanese patterns in flea markets and at Design Festa, a popular art festival where creators from all over the world can showcase their creations. Then, a store was quickly opened in the trendy district of Daikanyama, and the product lineup was expanded over the years.
*Please note that this article contains affiliate links.

Nowadays, Wagokoro focuses on several services, including kimono rental and stores featuring products such as traditional umbrellas, chopsticks, accessories, and Japanese hairpins. The Ichi is their way to make souvenirs that might be difficult to find online more readily available.
Yukata: casual summer kimono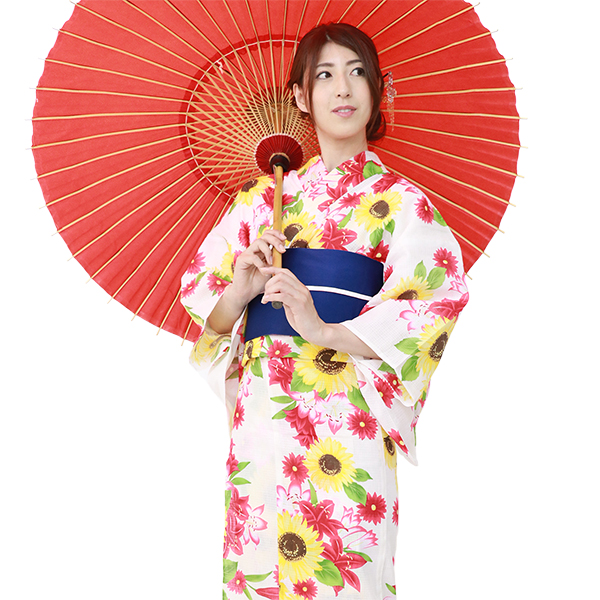 Yukata is one of the most popular Japanese garments during the summer. Usually made of cotton, Yukata literally means bath clothes, and though it can be used as a bathrobe, especially in the onsen towns, it is also often worn during fireworks displays, bon-odori festivals, or in ryokans.
The Ichi features dozens of reasonably priced yukatas for women, men, and kids. They come with traditional to more modern or pop designs and are the perfect souvenir to have a piece of Japan back home.
Umbrellas: an original gift idea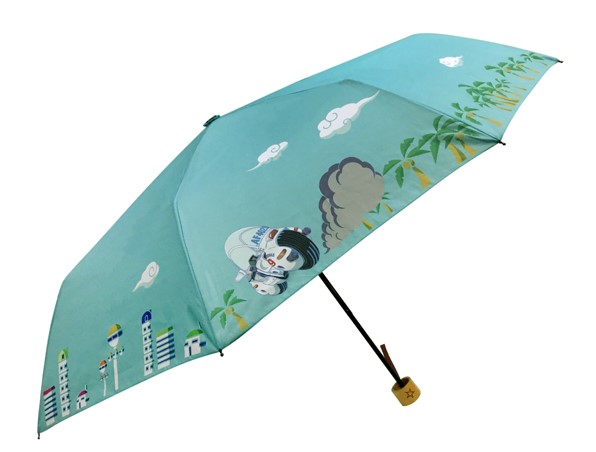 The Ichi has several types of umbrellas, each with unique patterns. Some of our favorites are the Hokusai Bangasa. These unique umbrellas are based on the traditional oil-paper umbrellas, also known as wagasa in Japan. The patterns are made by Hokusai Graphic, a company that gets inspiration from the U-kiyoe creations of Hokusai.
All the umbrellas are made of natural wood for the shaft and handle, flexible rib structure, and have a unique design. Some has traditional aesthetics while others feature anime-related landscape, such as Dragon Ball.
During the Edo period (1603-1868), umbrellas became popular in Japan. At the same time, a popular kabuki play called Sukeroku featured a scene with a bull's-eye pattern umbrella, which became iconic in the traditional culture. Japanese umbrellas are of course used during rain, but they also have a sense of beauty attached to them.

Chopsticks: Traditional and timeless souvenir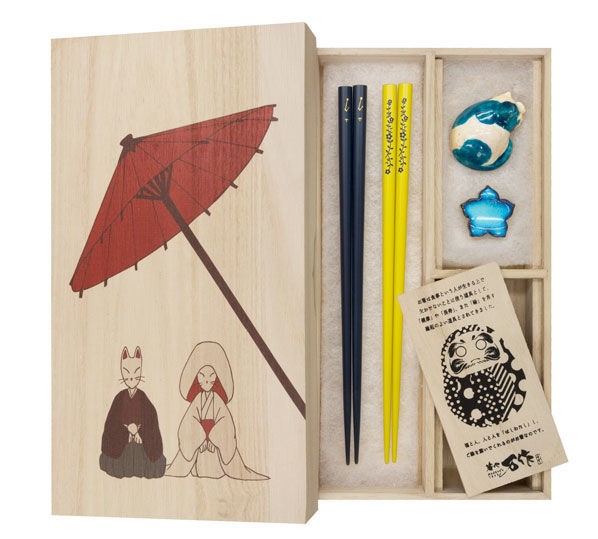 Japan has a lot of shops selling chopsticks. But what makes each pair different? Several points come into consideration: if it was handcrafted or not, the rarity of the wood used, the design, etc. The Ichi works with Mansaku, a popular specialty shop from Kyoto.
They are well known to use traditional lacquering techniques such as wajima, tsugaru and wakasa. Their chopstick rests are made using kiyomizu and kyutani earthenware firing techniques. Many of the chopsticks available on The Ichi comes as a gift set, including a beautifully hand painted wooden box.
Kanzashi: Beautiful Japanese hairpin

Among The Ichi's products, Kanzashi, or Japanese hair stick, is the most unique. These beautiful ornaments are usually used in traditional hairstyles, but they are also perfect for a regular fashion routine. At Wagokoro, all product planning, design, and manufacturing are done in-house, and all the kanzashi hair sticks are handmade by craftsmen, assuring the highest quality level.
Kanzashi has a long history that is supposed to trace back as far as to the Heian Period (794-1185) when women used to wear wildflowers or branches in their hair during festivals. People believed that they could be used as a good luck charm and to ward off evil.
At the end of the 16th century, after a long period during which leaving hairs hanging became the norm, women started to dress their hair again, but more for the practical reason of not interfering with their daily work. It's only during the Edo Period (1603-1868) that kanzashi came back in force, with new designs made to answer the needs of an increasing number of different hairstyles. For example, it is during that time that the tama (round) kanzashi was popularized, to the point that it remains one of the most used nowadays.
With the westernization of Japan, Japanese hairpins were used almost exclusively with kimonos or by geishas. However new styles that can easily fit with casual clothes have emerged, making them a popular fashion accessory again.
Different styles of hair ornaments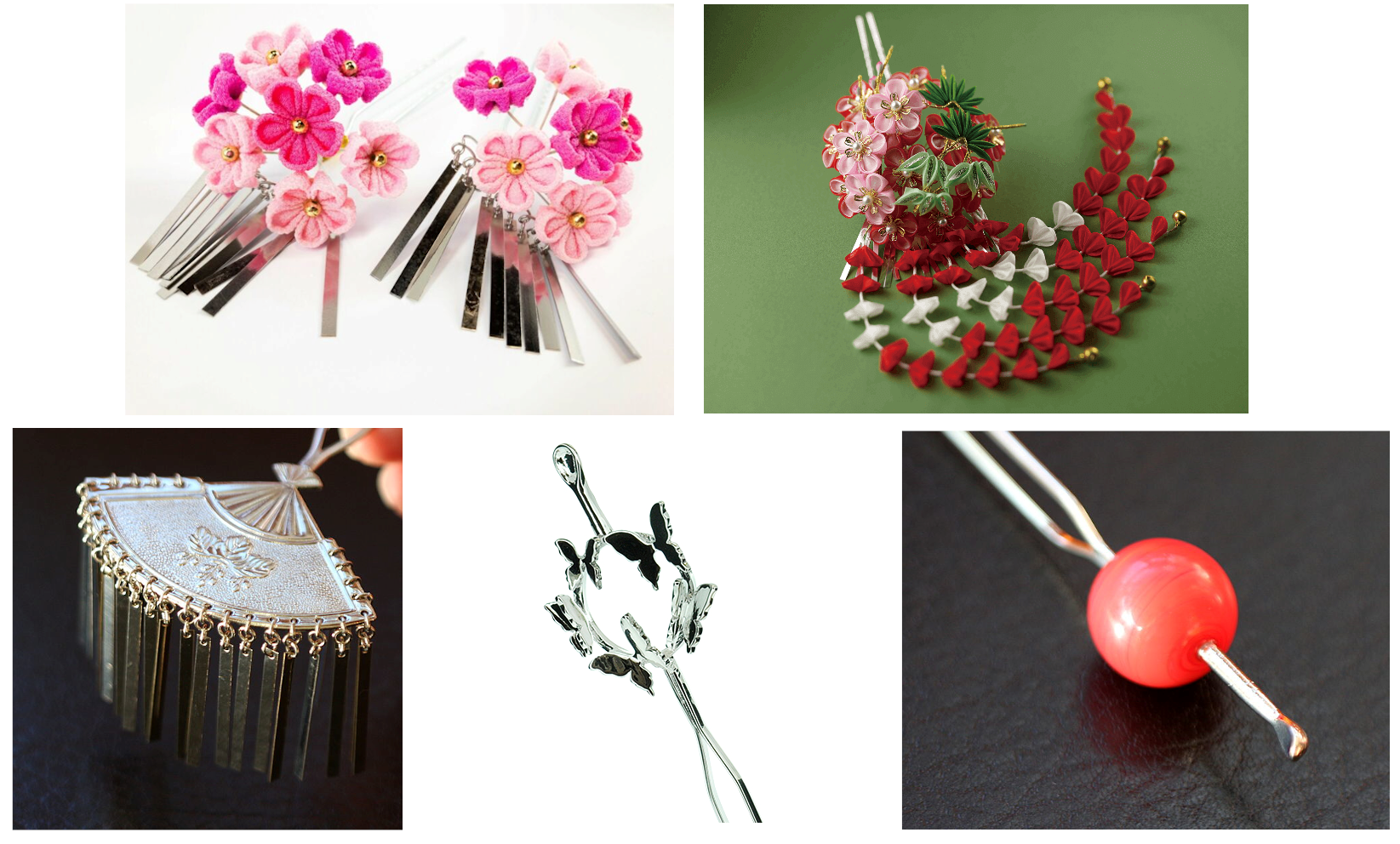 One of the beautiful things about the kanzashi is that each one is unique and many different styles exist. Among them, some of our favorites are:
■Tama kanzashi: Very simple, this type of kanzashi is one of the most popular and features a ball typically made of coral or jade.
■Edo kanzashi: Widely used during the Edo period, this type of kanzashi is a shorter version, usually made of silver.
■Hirauchi kanzashi: These hairpins have a flat, rounded decoration. They are usually made of silver, and were typically worn by women of a samurai family, as the family crest could be engraved inside the frame.
■Bira Bira kanzashi: Known as the "Dangling" style, these Japanese hairpins are made of chains hanging from the body that produce a pleasant tinkling sound when moving. The most expensive ones were traditionally made from tortoiseshell with large and beautiful ornaments.
■Hana kanzashi: Very beautiful, these are flower-shaped. Maiko (apprentice geisha) wear them, but also girls and young women along with a kimono. A different one can be worn every month, following the popular seasonal flowers.
As you can see, there are many different types of kanzashi. The Ichi features hundreds of them. This can make it difficult to know which ones to choose. You can find some of our favorites below.
Fan-shaped hairpin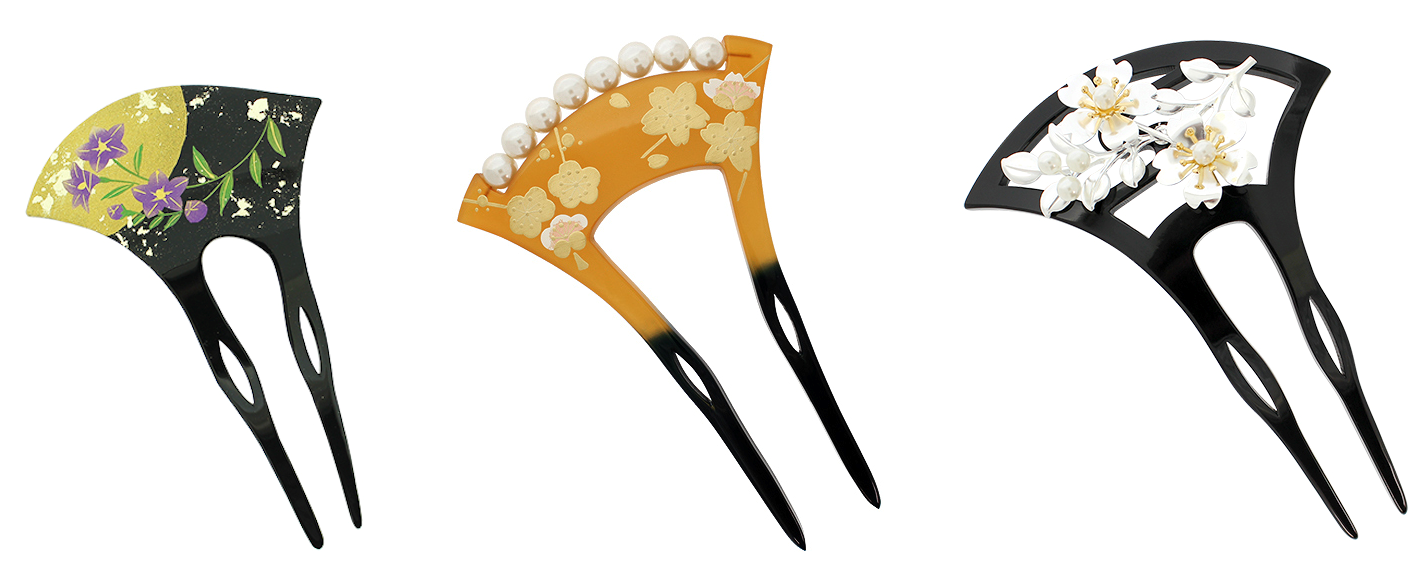 Left: This hairpin was shaped to look like a fan. The design features bellflowers illuminated by a large full moon. It is made using the makie technique, or Japanese lacquer with gold leaf scattered using a brush.
Middle: This hairpin features golden cherry blossoms and plums carefully drawn one by one by craftsmen. It is easy to match with traditional or formal clothes.
Right: This hairpin has shining silver petals of cherry blossoms with a small pearl in the middle, giving it a three-dimensional aspect. A beautiful piece of traditional Japan.
Find them on wargo.jp:
https://www.wargo.jp/products/detail3557.html
https://www.wargo.jp/products/detail3436.html
https://www.wargo.jp/products/detail3435.html
Single-branch hairpin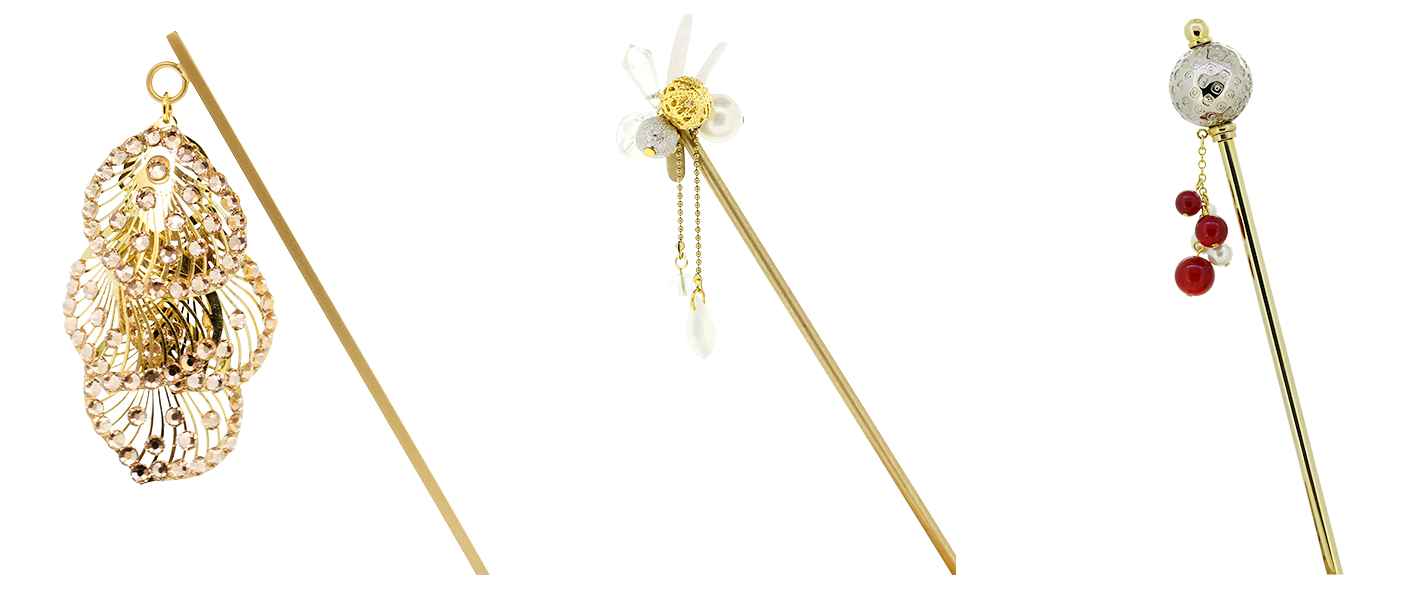 Left: This beautiful hairpin was made by stacking flour parts to look like decorative feathers. Plenty of beads were also arranged so they could shine under the light.
Middle: This hairpin uses natural stones and beads, which provide beautiful light shimmers when worn. The large flat stone was inspired by the petals of the morning dew. It goes very well with daily clothes.
Right: This hairpin was made in collaboration with Hello Kitty. It features a handmade gamelan ball with a chime inside of it, and is supposed to bring happiness. It has a traditional kanoko, or fawn pattern, and Hello Kitty is hidden inside of it.
Find them on wargo.jp:
https://www.wargo.jp/products/detail3456.html
https://www.wargo.jp/products/detail3473.html
https://www.wargo.jp/products/detail3470.html
Tama hairpin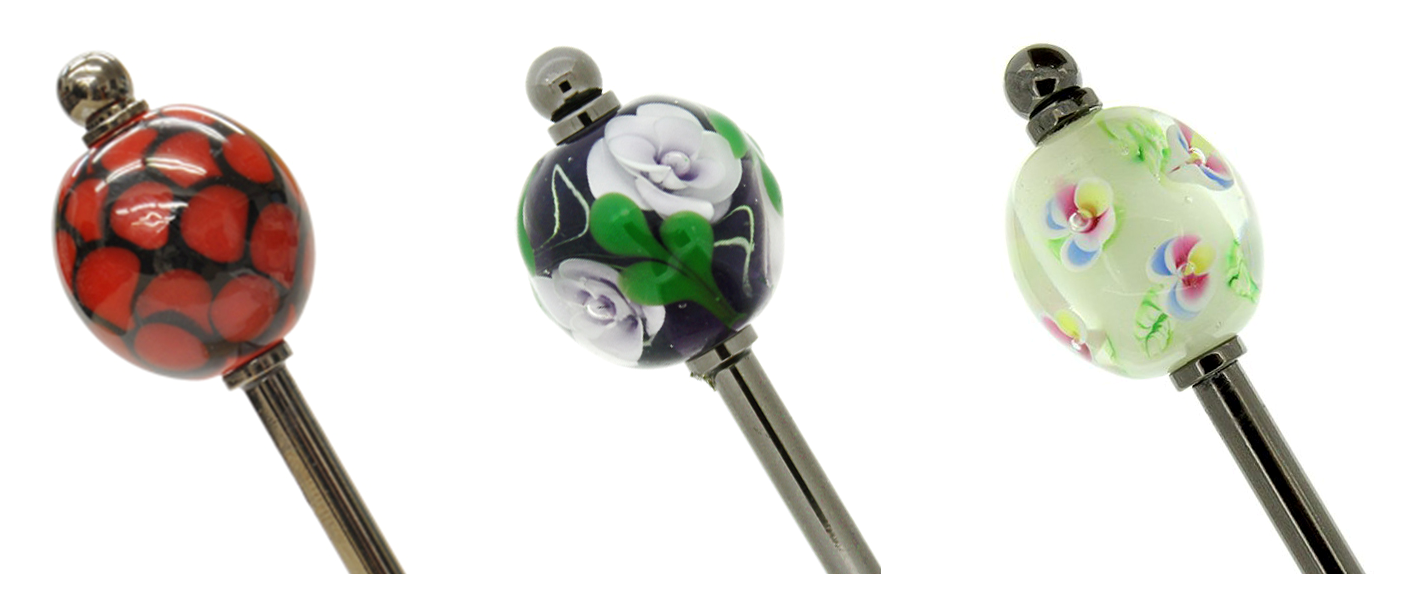 Left: This simple dragonfly ball hairpin features a simple, yet impactful, red and black scale pattern. Perfect for everyday use.
Middle: This hairpin was made to celebrate the miracle that was the creation by scientists of a blue rose, which was only made possible using advanced technology.
Right: The motif is based on a garden pansy, a spring flower popular in Japan. It features calm and discreet colors.
Find them on wargo.jp:
https://www.wargo.jp/products/detail2141.html
https://www.wargo.jp/products/detail2216.html
https://www.wargo.jp/products/detail2215.html
Anime-related hairpin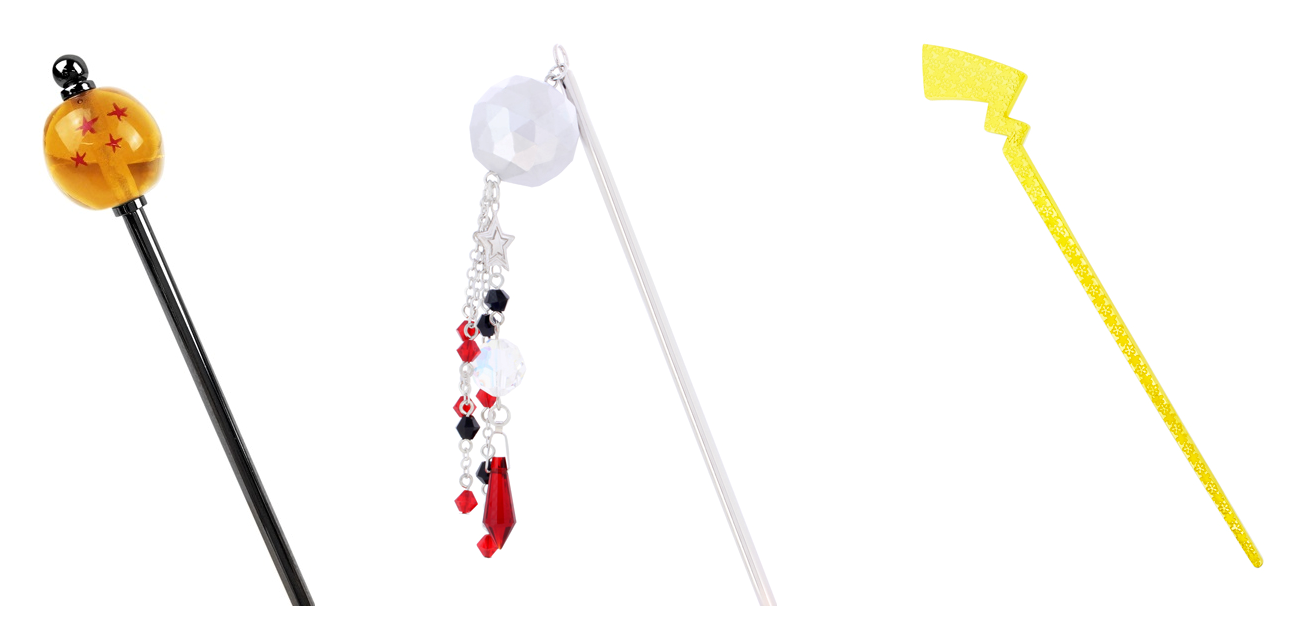 Left: First collaboration between Wargo and Dragon Ball, this hairpin features the "Four-Star Dragon Ball", the one Grandpa Gohan had and which Goku kept after he passed away.
Middle: This hairpin has the image of "Persona 5 Dancing Star Night". The red and black beads are arranged in the image of the game, and a star charm was also added.
Right: This original hairpin uses the motif of Pikachu's tail, and is instantly recognizable. The surface is decorated with Japanese cherry blossoms, and a special resin process was used to add a subtle yellow-brown gradation
Find on wargo.jp:
https://www.wargo.jp/products/detail12165.html
https://www.wargo.jp/products/detail11982.html
https://www.wargo.jp/products/detail11437.html
As Wagokoro is one of the leading companies trying to repopularize kanzashi, we can only recommend that you visit one of their shops if you come to Tokyo. Otherwise, their online website that offers overseas shipping.
---