Best Convenience Store Meals in Japan!
Cheap, healthy and delicious, best DIY CONBINI Food at 7-Eleven in Japan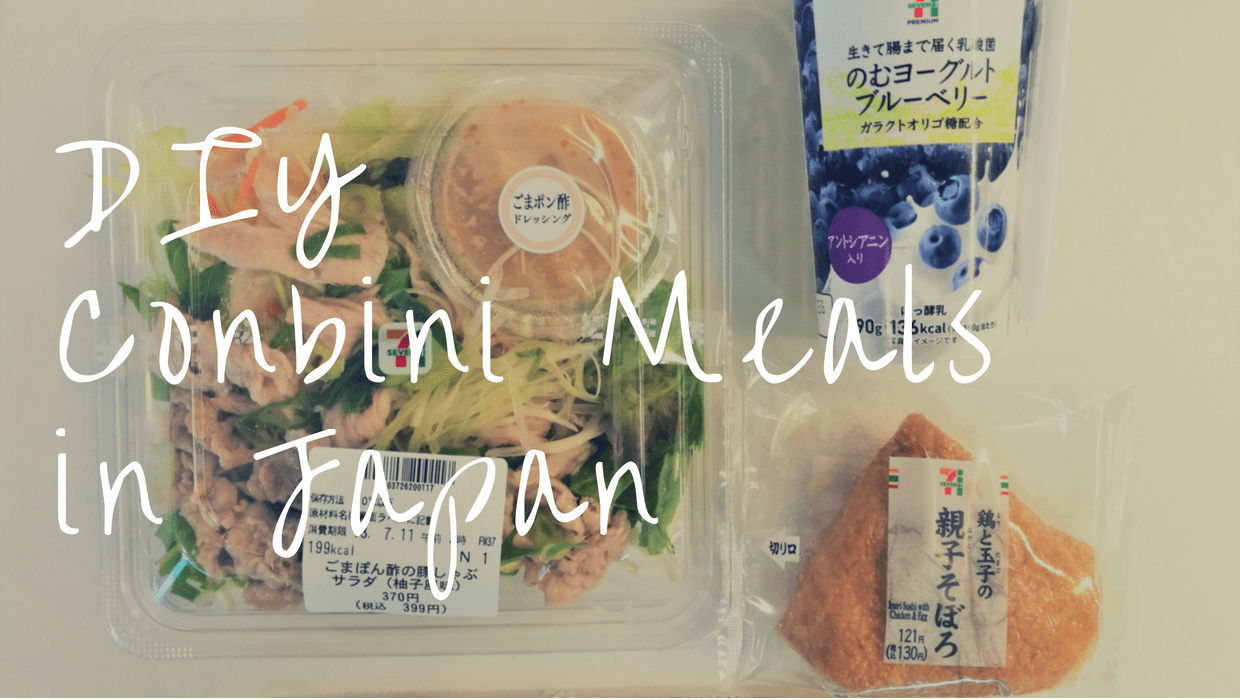 One of my favourite things about Japan is convenience stores located across the country. Commonly called CONBINI in Japanese, and they are literally super convenient that offer everything we need for 24/7 including food, drinks, snacks, stationery, cosmetics, freshly brewed coffee, free seating spaces , free restroom.
Convenience store is a popular place to buy lunch among busy workers, and a huge variety of food is sold such as cup noodles, bento boxes, ready-made food, rice balls (onigiri), sandwich, hot snacks, etc. Many of you may think that the foods sold at conbini are kind of junk, but that's totally wrong! Nowadays, cupnoodles and Karaage (deep-fried chicken) are not only the option, but you can find a lot of healthy dishes such as salad, steamed chicken and so on. Moreover, the taste of dishes has been improving day by day that taste as good as fresh food from restaurants. Buying lunch at conbini can save a lot of money as a whole meal should costs around $5~10 (500~1,000 yen), and of course save time if you are a busy worker.
Just like others, I sometimes go to conbini to buy my lunch when I have no time to prepare my lunch on the day before. And it's kind of fun to think what to have and customize my lunch meal at the store.
In this article, I'm sharing lunch meals of mine and my colleagues from our favourite convenience store, 7-Eleven, and you may get some ideas how amazing meals you can create at the conbini in Japan!
1. Late Afternoon Summer Lunch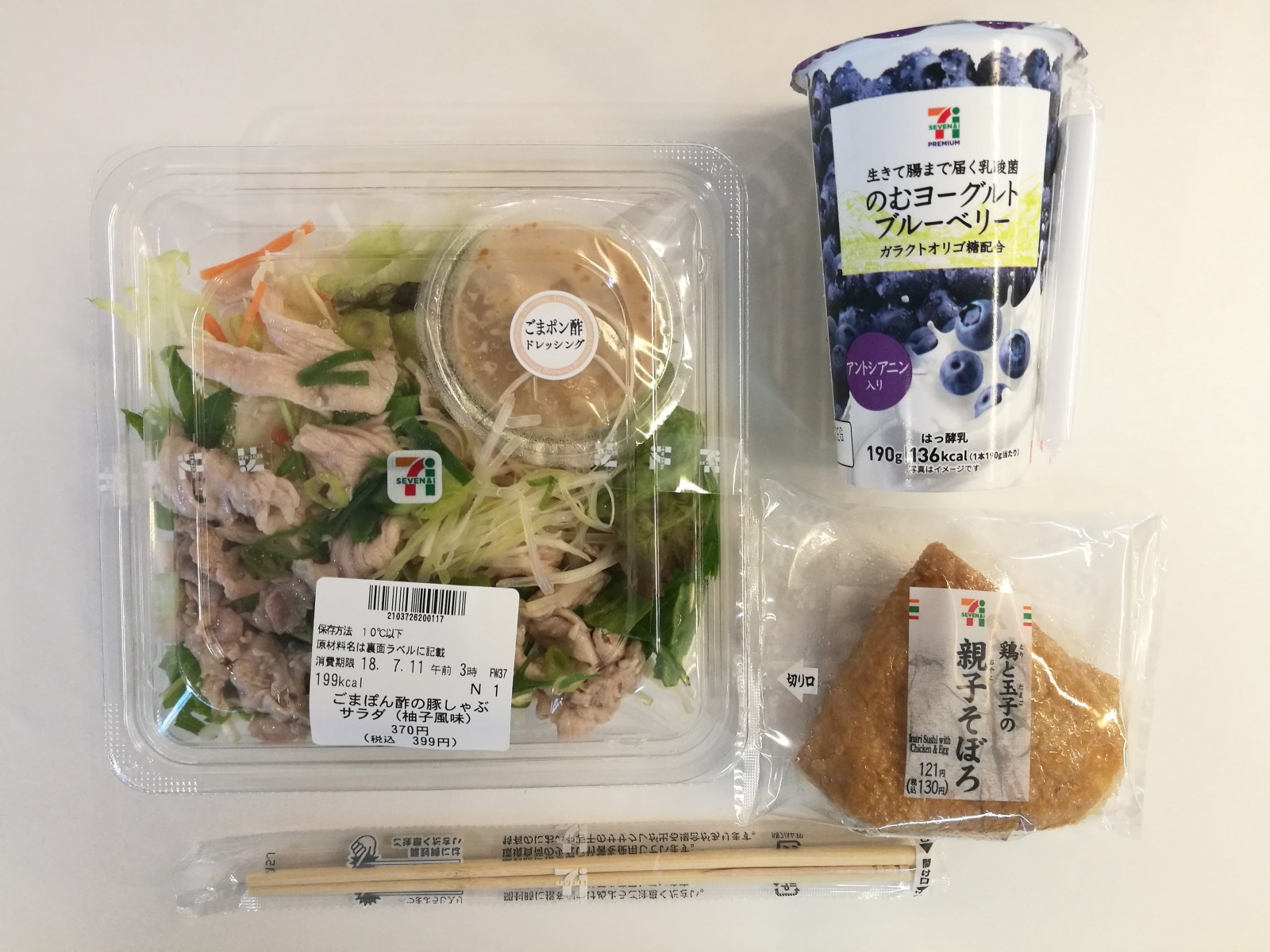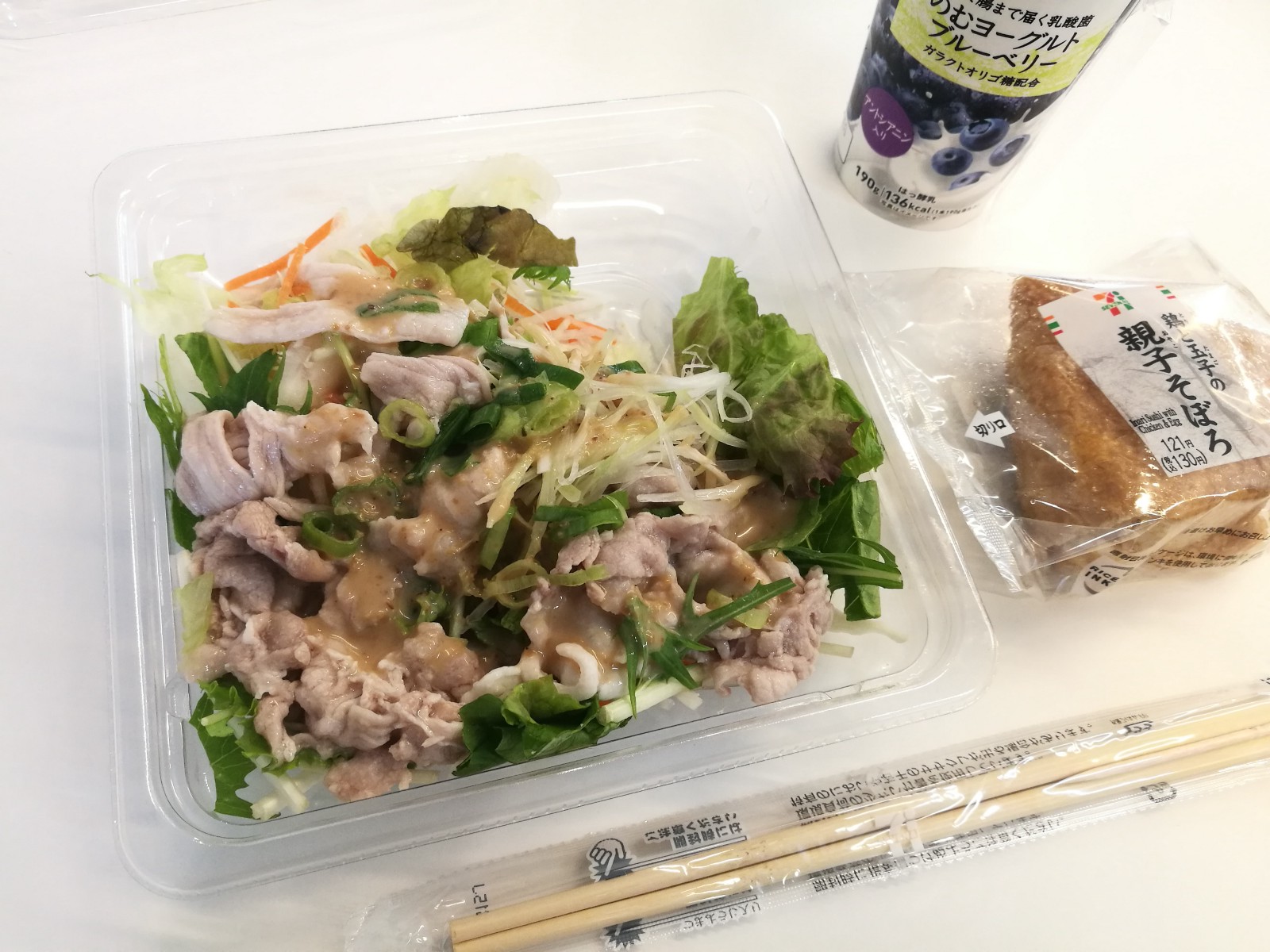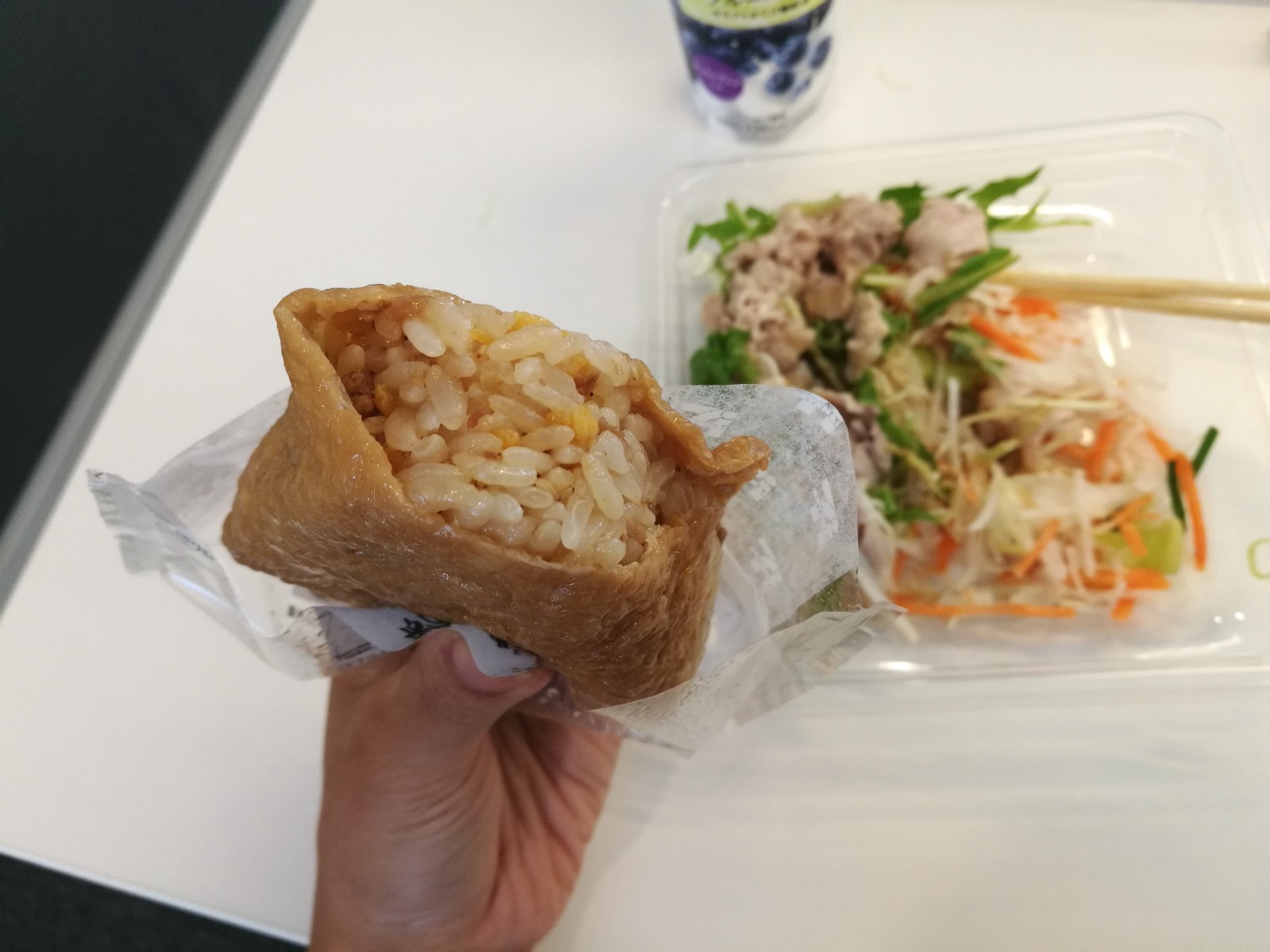 Light but nutritious, it's a perfect choice when you have no appetite during hot summer! I picked a deluxe salad with pork shabu-shabu and Inari Sushi style onigiri which comes with deep-fried tofu skin! Picked the 7-Eleven's yogurt drink as my healthy dessert, which has real blueberries in rich and milky yogurt. It's less than 600 kcal all together, and costs 656 yen with tax (around $6)!
Total: 656 yen
-Pork Shabu-Shabu Salad with yuzu-sesame dressing (ごまポン酢の豚しゃぶサラダ) 399 yen
-Inari Sushi with Chicken and Egg (鶏と玉子の親子そぼろ) 130 yen
-Yogurt Drink Blueberry (飲むヨーグルト ブルーベリー) 127 yen
2. Deluxe but Affordable DIY Lunch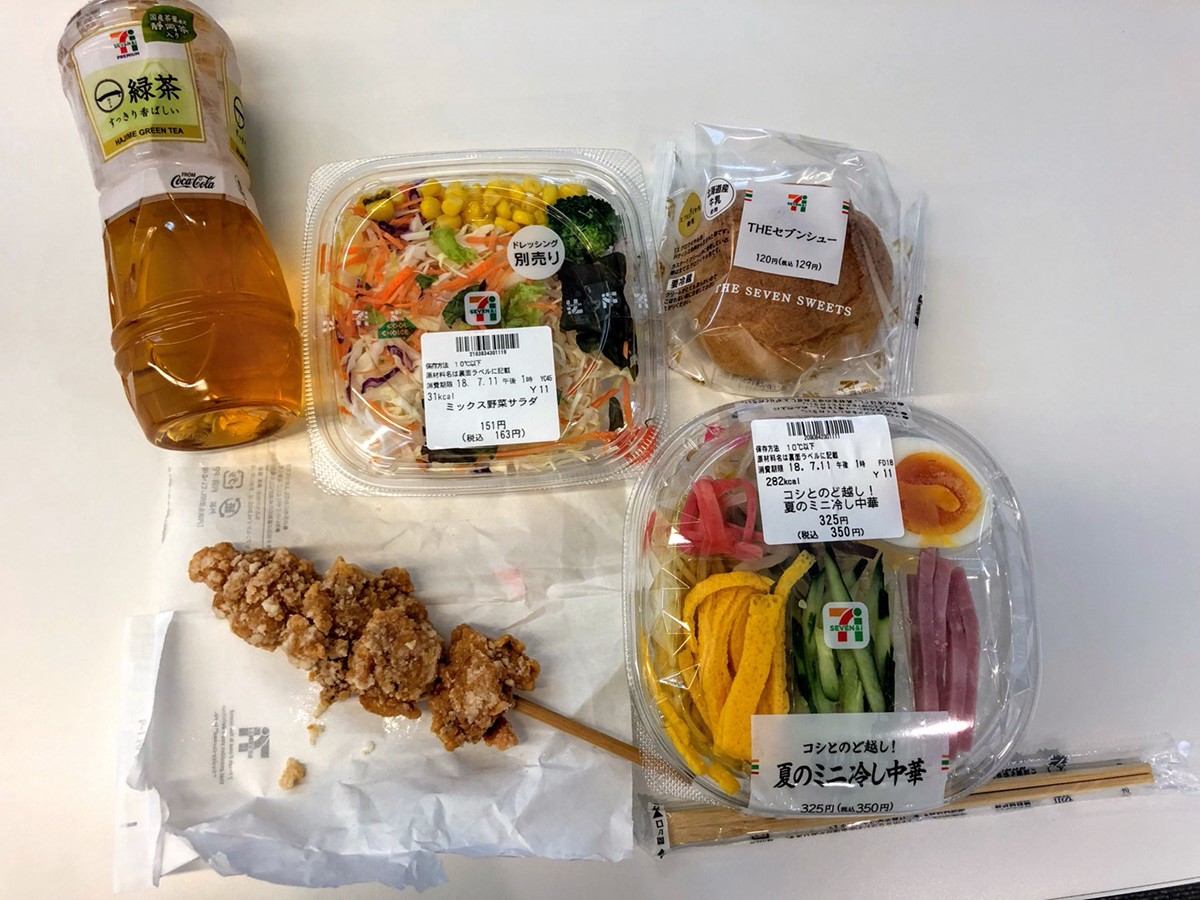 This one is from my colleague. He's got 7-Eleven's all stars in one lunch meal with a small Hiyashi Chuka (Cold Ramen), side salad, karaage stick, cream puff and a bottle of green tea! How wise of him to pick so many different items but still keeping the budget so tight?? All these items costs only 865 yen including tax (around $8)!! I'm not sure about the calories, but I'm guessing around 8–900 kcal. He seemed pretty stuffed after tucking in all items!
Total: 865 yen
-Mini Hiyashi Chuka (夏のミニ冷し中華) 350 yen
-Mixed vegetable Salad (ミックス野菜サラダ) 163 yen
-Karaage Stick (からあげ棒) 123 yen
-Cream Puff (The Sevenシュー) 129 yen
– Hajime Green Tea (一緑茶) 100 yen
3. Big Meal under $ 5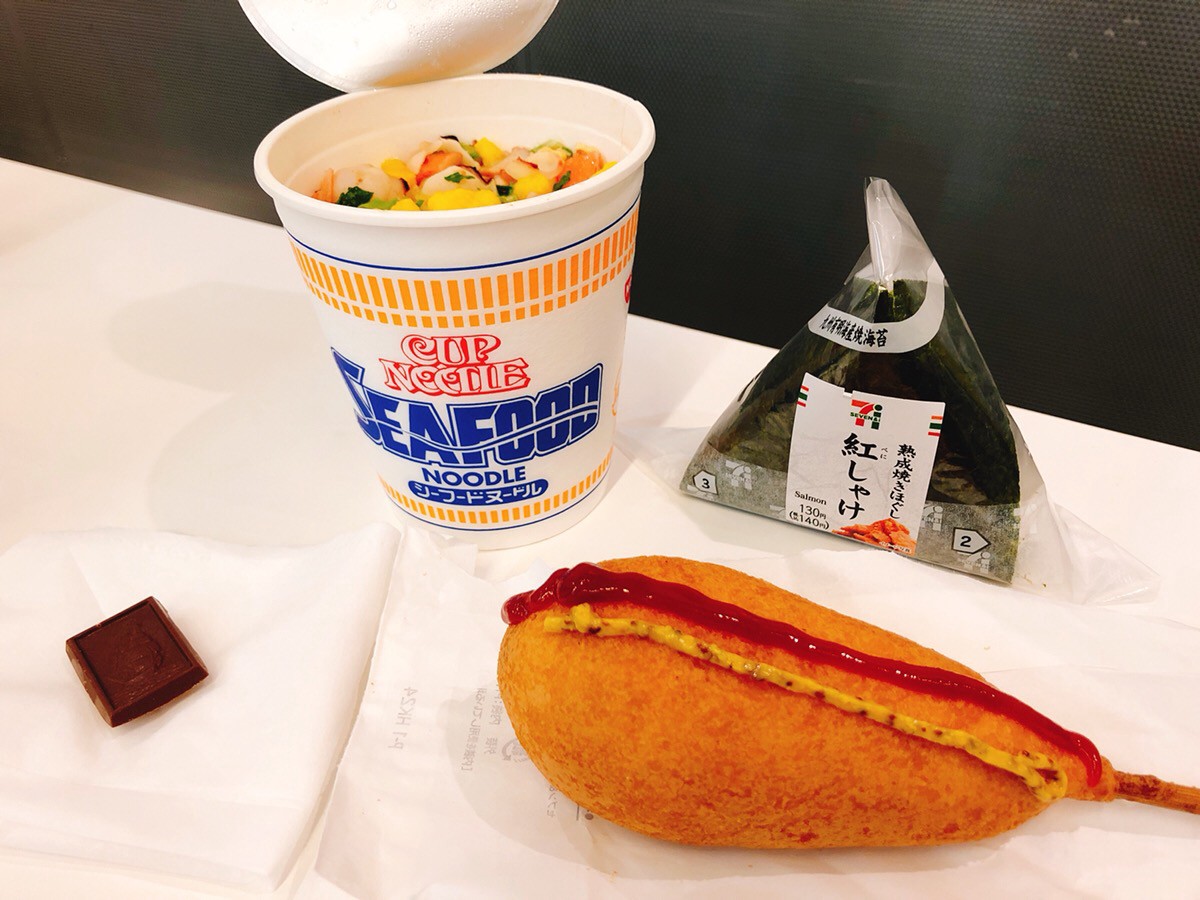 My colleague has tasted himself with creating a high volume conbini meal with the cheapest price, and I think he has succeeded cos look at the amount of the food and the price he paid!! The combination of Cupnoodle, Onigiri and American Dog might not be the healthiest, but surely can satisfy the stomach. For the reward, I gave him a piece of chocolate as a dessert 🙂
Total: 432 yen
-Nisshin Seafood Noodle 184 yen
-Salmon Onirigi 140 yen
-Big American Dog 108 yen
+ A chocolate from me FREE
4. Guilty Pleasure Stars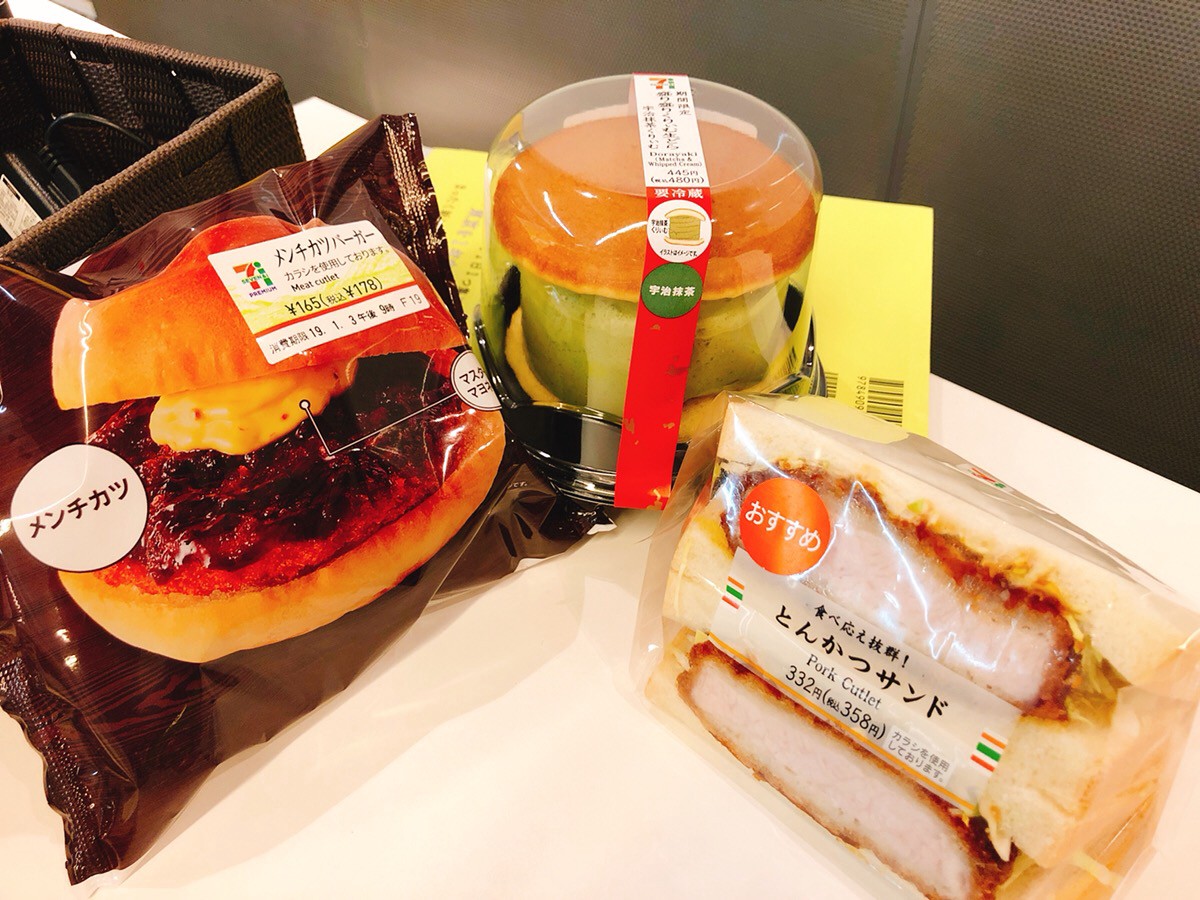 Another meal from my other colleague. As you can see, he was quite hungry and went for meaty option. Tonkatsu (pork cutlet) Sandwich is one of his favourite 7-Eleven dishes. To finish his deluxe late lunch meal with a joy, he treated himself with the ridiculously big Matcha cream Dorayaki which costs more than the sandwich!! A true guilty pleasure!
Price: 1,016 yen
Tonkatsu Sandwich 358 yen
Meat Cutlet Burger 178 yen
Matcha & Whipped Cream Dorayaki 480 yen
How did you enjoy the list?? Please note that this article will be updated regularly with more DIY conbini meals 🙂 So please keep in touch and check our lunch meals out !! Meanwhile, I think you would also enjoy reading these articles, too!
▽Related Articles▽
▼Editor's Picks▼
---