RemoSpace: Online Meeting System with Real-Time Transcription and Translation
RemoSpace to Launch Real-Time Meeting Transcription and Translation and a New Low-Cost SIM Card REMO Mobile

Introducing RemoSpace, which enables real-time transcription and translation of online meetings. This new online meeting system could be greatly helpful for companies that often hold multilingual online meetings. In addition, a new low-cost SIM card brand, REMO Mobile is launching.
On 2 September 2021, RemoSpace held a press conference and announced the launching of a new low-cost SIM card brand "REMO Mobile" and the online meeting service "RemoSpace" that combines real-time voice transcription and translation, starting on the same day.
REMO Mobile
The low-cost SIM card brand, REMO Mobile provides data-only plans without calling and texting options, and they are available with various data capacities. The prices are 1GB/490 yen, 3GB/590 yen, 5GB/990 yen, 10GB/1,280 yen and the line up is up to 100GB/6,980 yen.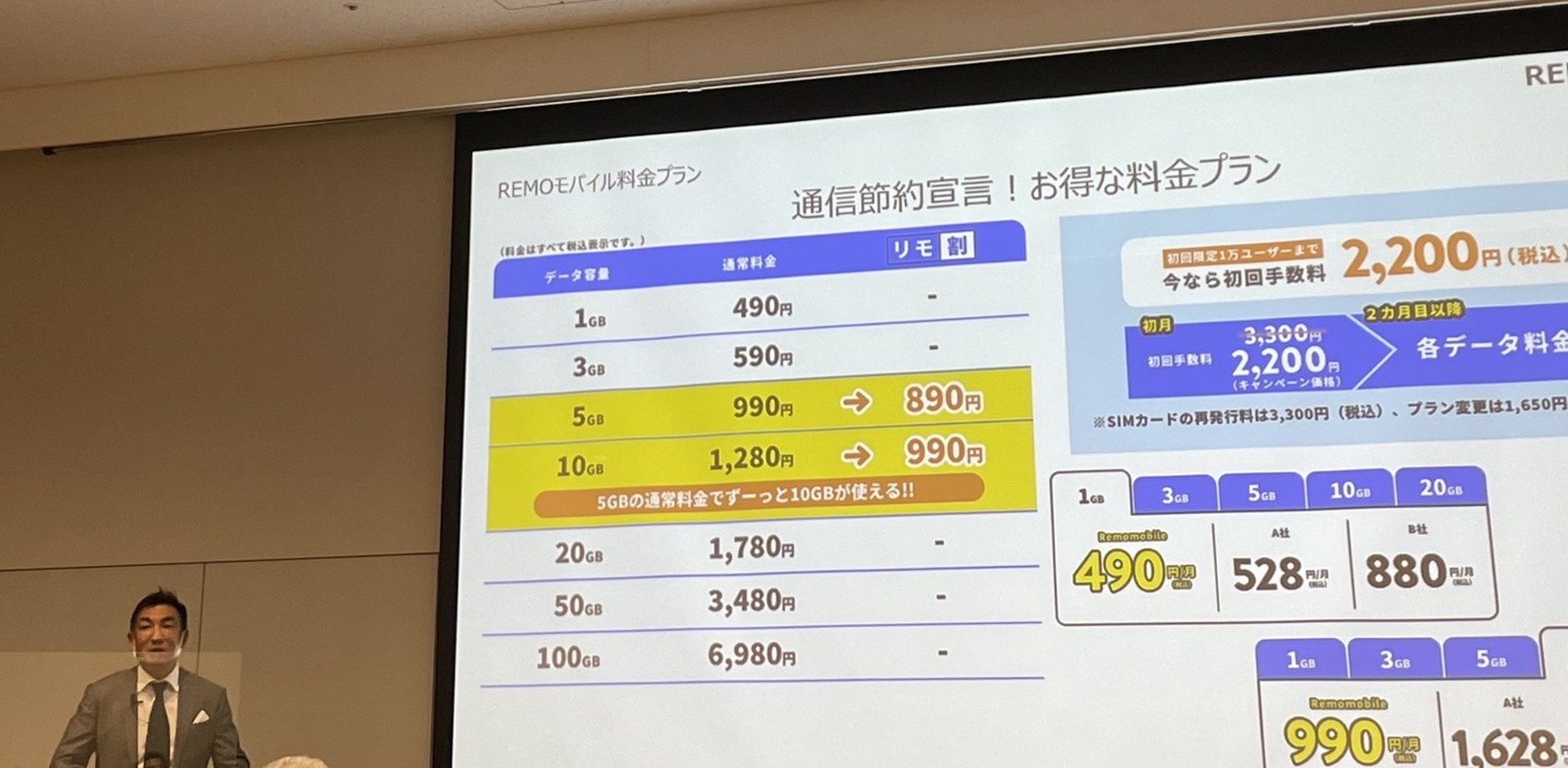 Moreover, the first 10,000 users can receive the special discount "Remo Wari" and use the discounted plans (5GB/890 yen and 10GB/990 yen) permanently. Also, the initial fee of 3,300 yen will be discounted to 2,200 yen.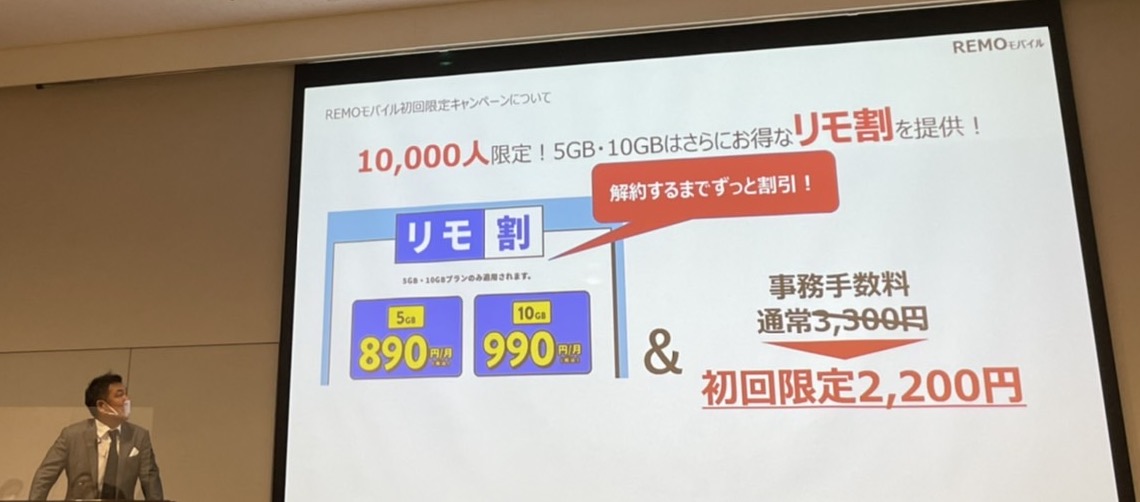 Mr. Masuda of RemoSpace who took the stage at the conference, explained how he was excited about providing a new low-cost SIM service as he had been working on data communication services from before.
It will be able to support 5G network in the near future. Though the telecommunication is a rapidly-changing industry, he aims to provide users trends constantly as own service.
RemoSpace
The online meeting service, RemoSpace is currently available for Windows and Android, and being developed for use on iOS and macOS in the near future.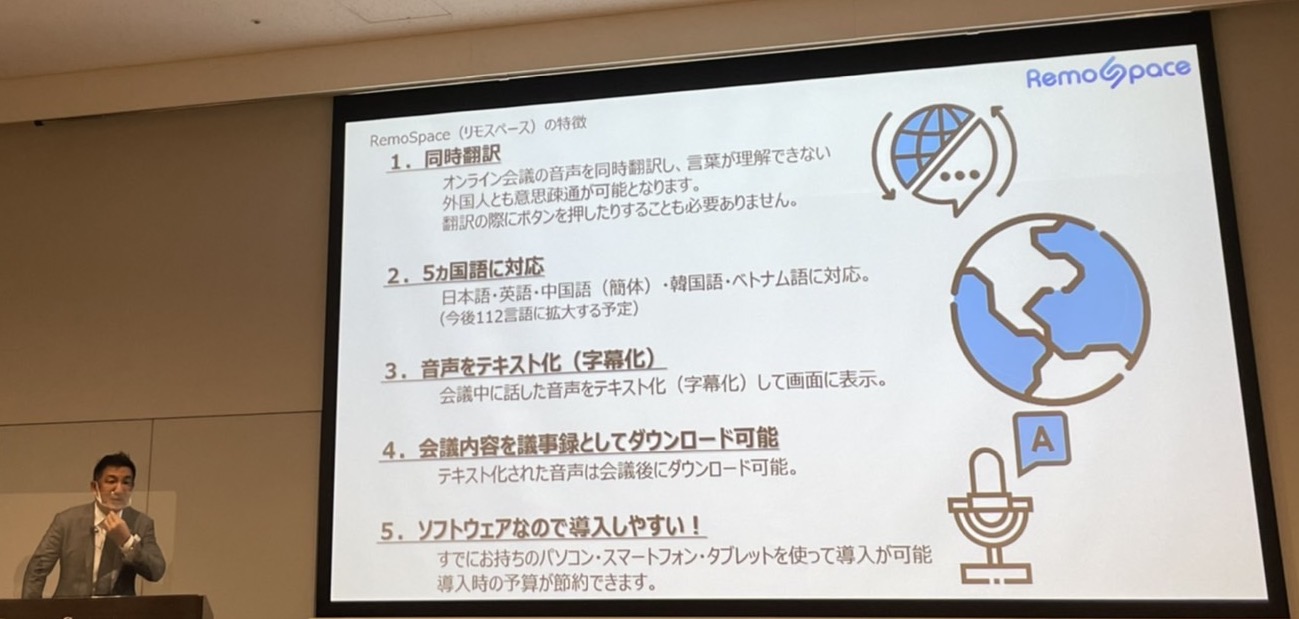 RemoSpace enables to hold online meetings for up to 10 people and transcription in real-time. It's suitable for creating minutes since it recognizes voices and transcribes audio to text by speakers.
Originally, the company had been working on a highly accurate translator called "KAZUNA" for the 2020 Olympics.
Using this translation software, RemoSpace was developed so that business meetings between Japanese and overseas companies and communication with overseas branches can be proceeded smoothly without interpreter amid the coronavirus crisis.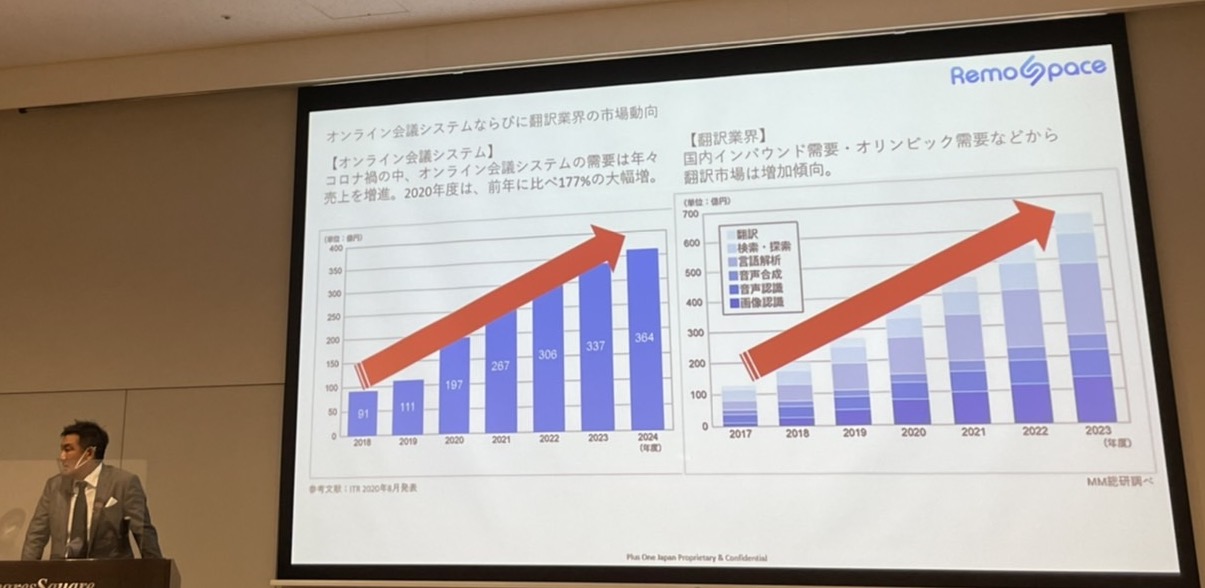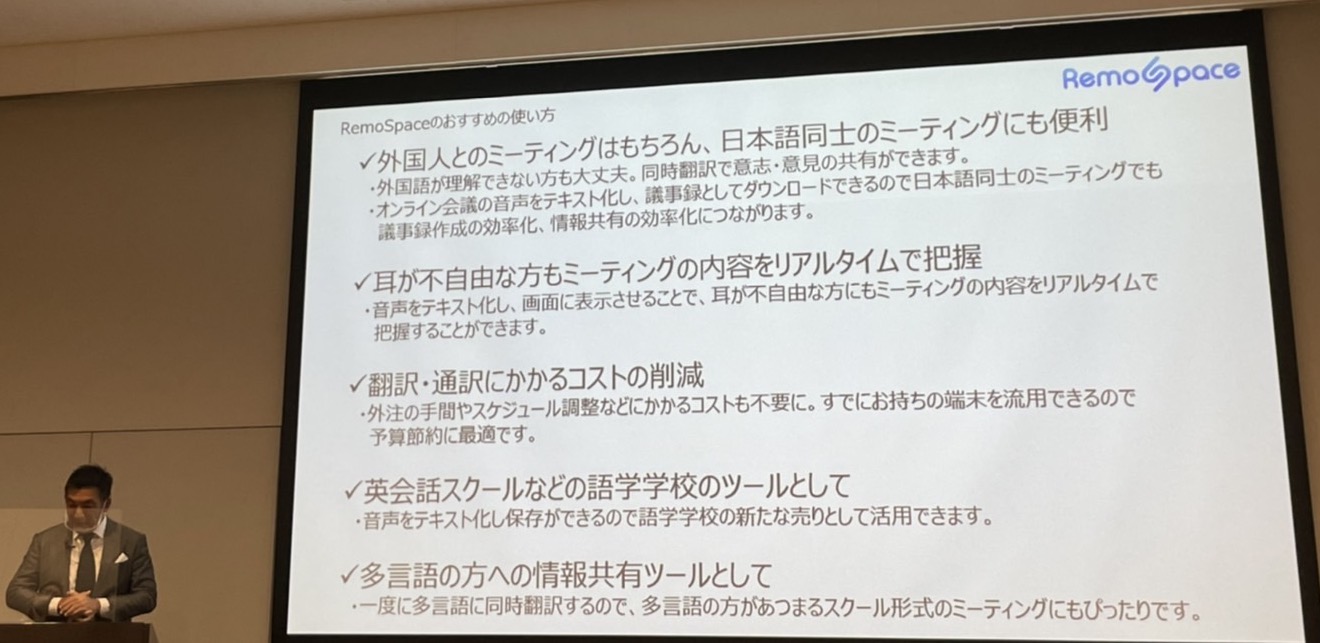 In addition, it translates multiple languages in real-time. Currently, translations are available for five languages: Japanese, English, Chinese, Korean and Vietnamese, and there are plans to increase the number of supported languages to 112 in the future.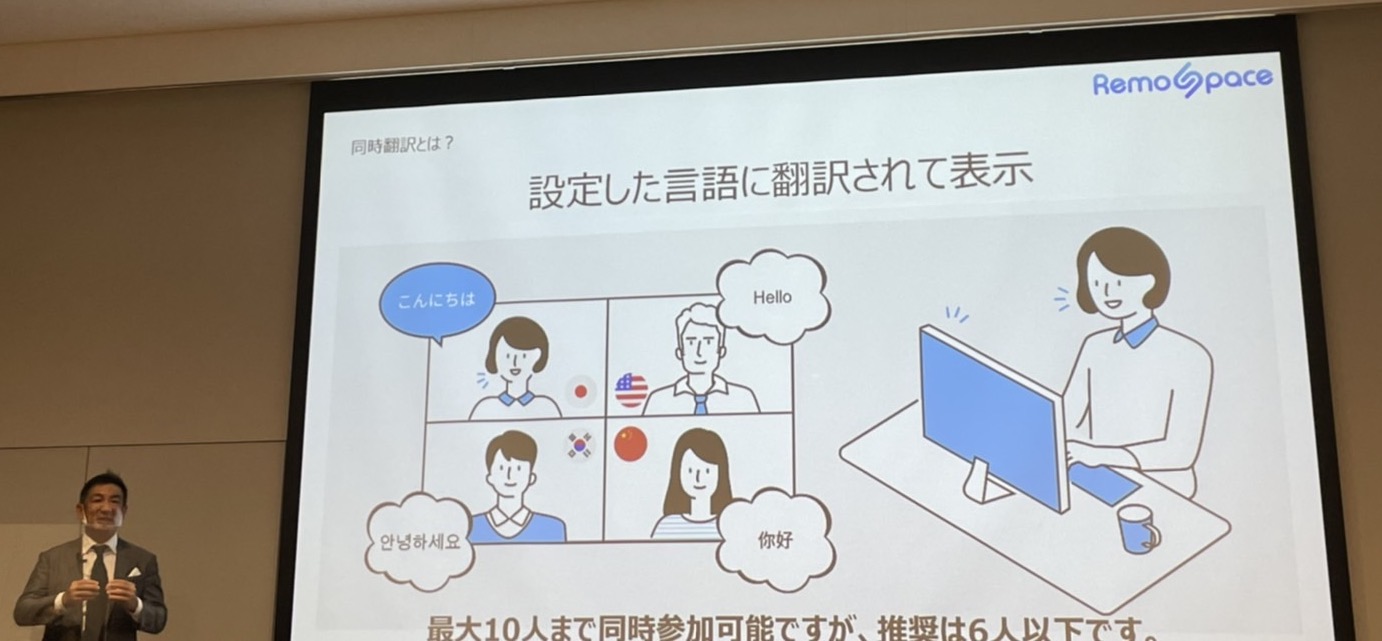 The conference included a presentation of the video, showing the meeting that was actually held in multiple language, and each language was translated and transcribed to text.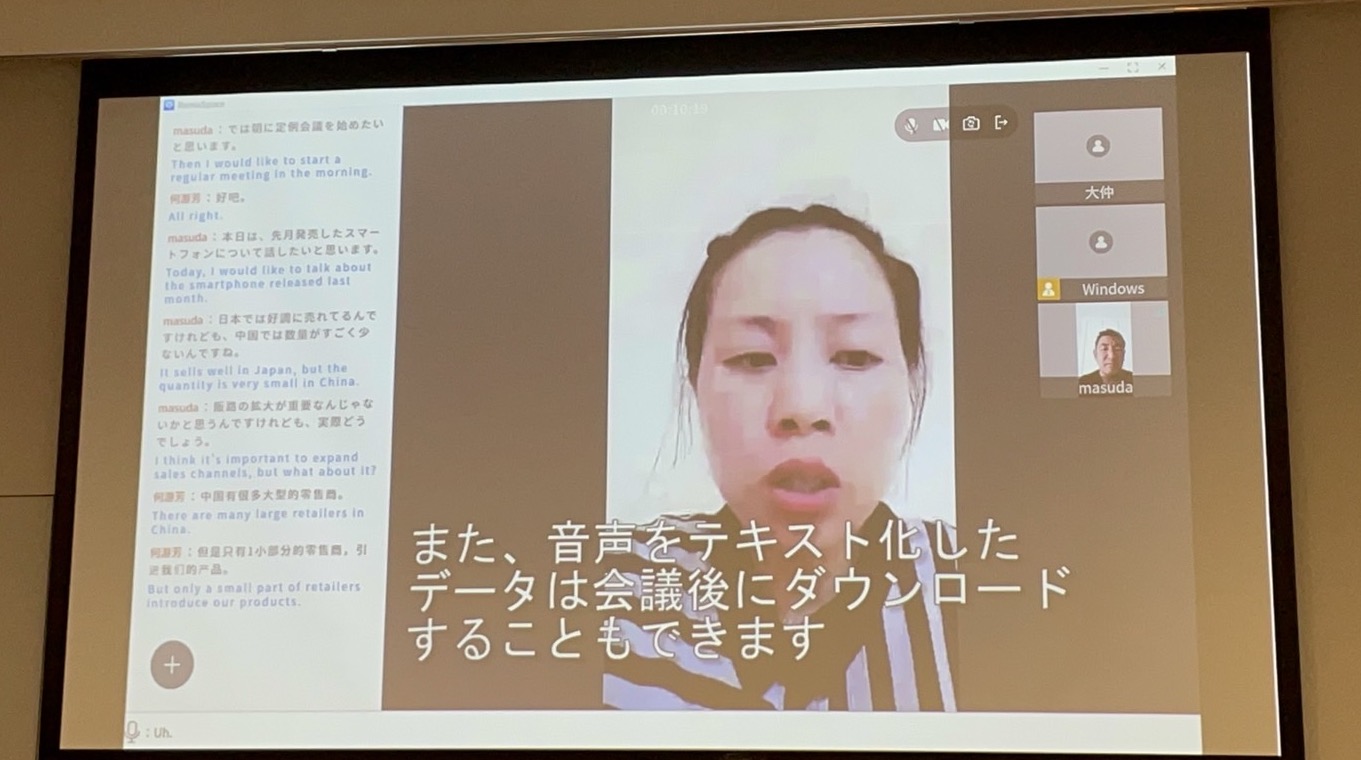 Mr. Masuda himself said that he has many opportunities to do online business meetings in multiple languages, and explained why he created RemoSpace, saying "I thought we can create a service that can make conversations even more smoothly considering the needs in the time of the COVID-19 crisis."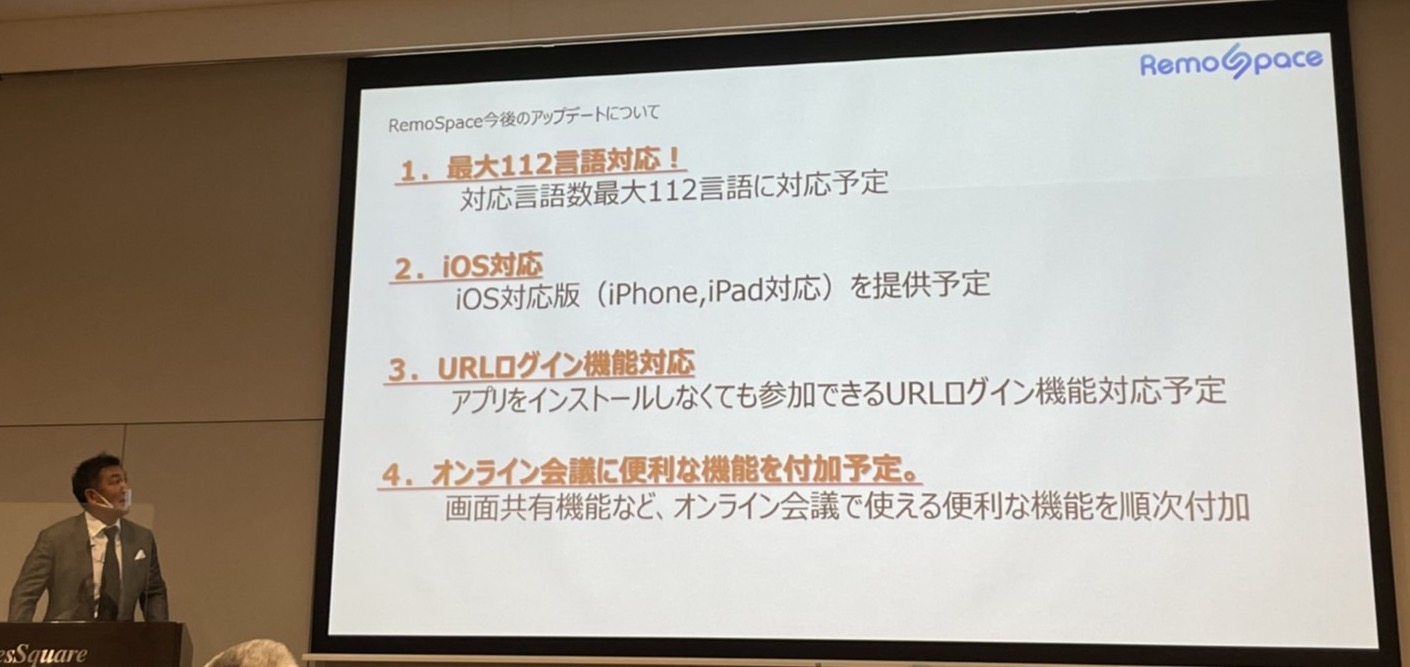 RemoSpace is targeting the BtoB market, and will provide flexible usage fees for each contract without having specific rates. As a guide, it's 3,000 yen for 60 mins.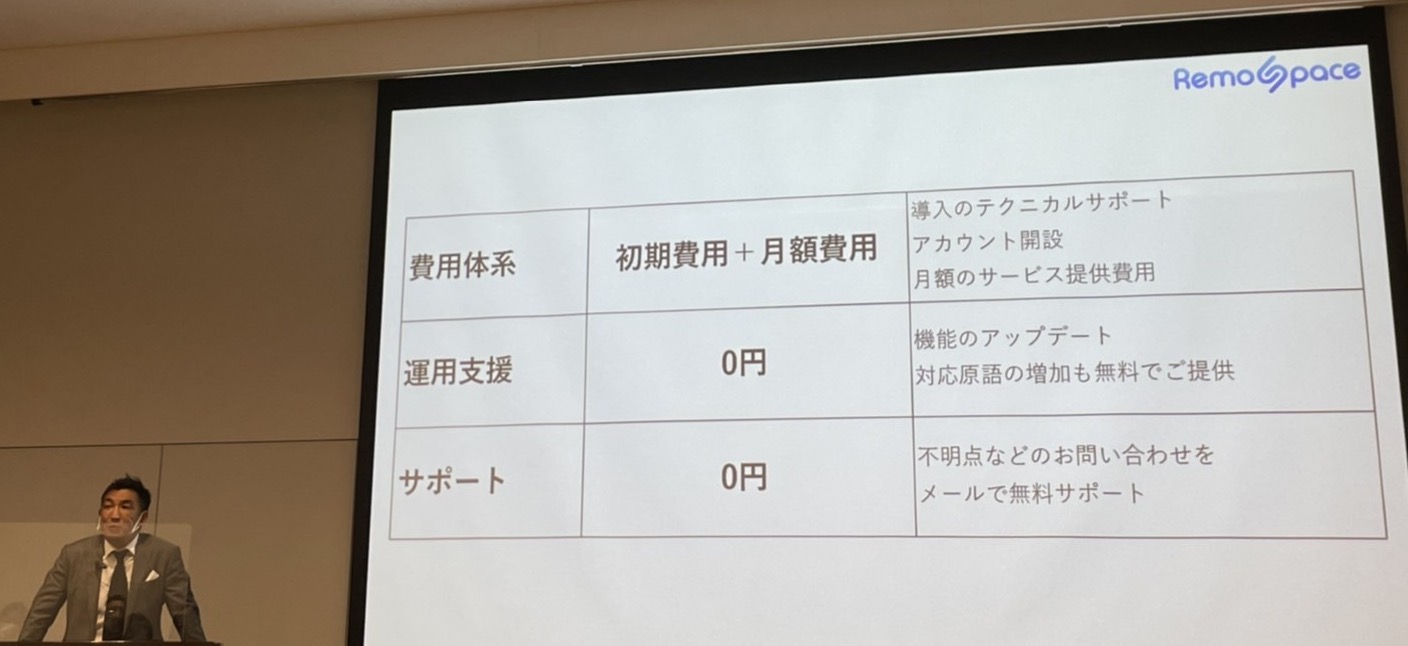 For your information, the founder of RemoSpace Mr. Masuda and CEO Mr. Onaka also run TAKUMI JAPAN, which provides translators such as Kazuna eTalk 5. Mr. Masuda explained the relationship between TAKUMI JAPAN and RemoSpace, saying "There is no capital ties, and we divide them as TAKUMI JAPAN is hardware and RemoSpace is software".
---