5 HALAL JAPANESE RESTAURANTS in Tokyo
Best Muslim Friendly HALAL restaurants in Tokyo, serving authentic Japanese dishes

It's not easy to be a Muslim in non-Muslim country like Japan. However, as the number of Muslim immigrants and visitors has been increasing significantly in last couple of years, growth of Muslim friendly sites in Japan is one thing that the country focuses on nowadays. Introducing 5 greatest "Muslim-Friendly" stores in Tokyo!
Muslim visitors to Tokyo have some options for dining as there are quite many international Halal restaurants. But when you visit Japan, of course you want to try traditional Japanese dishes, right?
Actually, traditional Japanese cuisine "Washoku" is made with lots of non-Halal ingredients. Pork is commonly eaten in Japan and some of main seasoning for Japanese dish like soya sauce, miso and mirin all contains a bit of Sake (Japanese alcohol).
But don't worry, as Japan has been trying to adopt with international cultures, there are several Japanese restaurants that serves Japanese dishes with Halal ingredients.
To identify Halal restaurants in Japan, find shops with the sticker below! The sticker is given only to the restaurants officially approved with "Local Halal Restaurant Certificate". The restaurants below are all approved.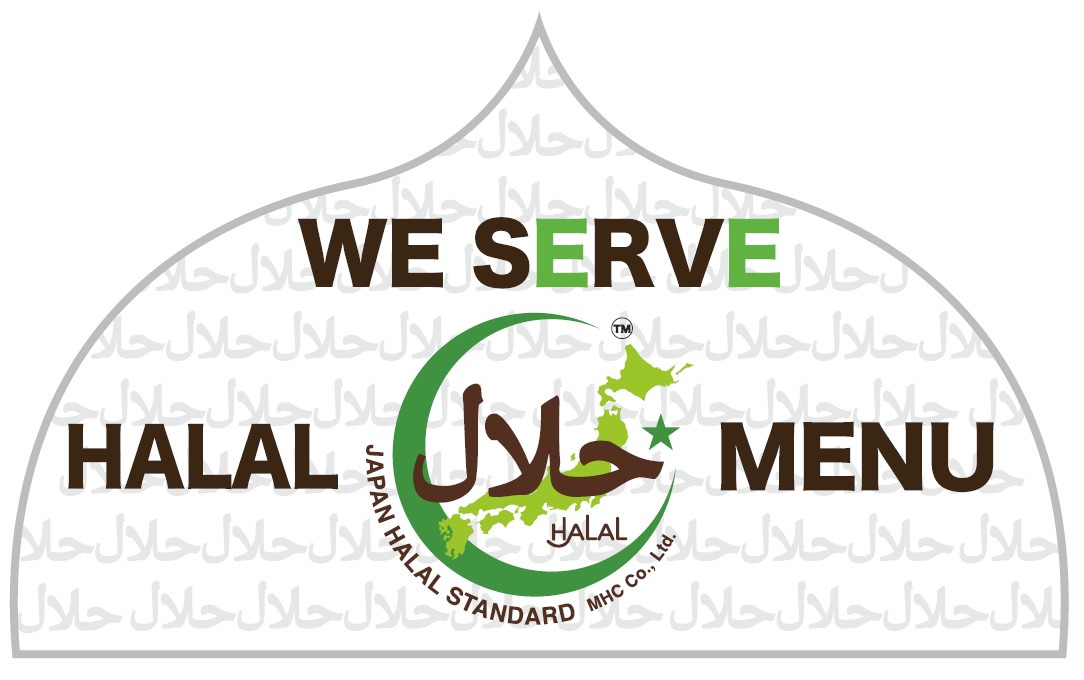 1. Hanasaka Jisan
The most popular Halal Japanese restaurant which serves over 1,000 Muslims every year. Hanasaka Jisan is creative Japanese food restaurant offering very original Halal friendly dishes yet very traditional.
Address: Sakura Build B1F 3–22 Sakuragaoka Shibuya Tokyo
Nearest Station: 1 min walk from Shibuya station/South exit
Hours: 17:00 to 24:00
2. KUSUMOTO
Authentic Japanese restaurant in Nishiazabu. If you want to try fine dinning style Japanese food, this is the place to visit. Kusumoto takes their pride to create authentic dishes with finest ingredients from particular suppliers. Booking in advance is an essential.
Address: 3-23–5 Nishiazabu, Minato-ward, Tokyo
Nearest Station: 7 mins walk from Roppongi station
Hours: 18:00 to 23:00
Closed: Sundays&public holidays
3. Saishoku Teppan Ippin (Permanently Closed)
One of the most popular Japanese dishes "Teppanyaki" restaurant in Ebisu. Enjoy the fine steak cooked on iron plate by professional Teppanyaki chefs! The restaurant also serves home made Ramen with only Halal ingredients (Halal chicken broth).
Address: Rangus-Daikanyama 2F, 2–13–16, Ebisunishi, Shibuya, Tokyo
Nearest Station: 8 mins walk from Ebisu station/West exit
Hours: lunch 11:30 to 15:00 /dinner 17:00 to 23:00 (22:30 on Sundays)
4. Sakura Project (Permanently Closed)
An Izakaya style restaurant serving food with fresh ingredients from Kyushu region has gone Halal since 2015. You can enjoy typical Japanese Izakaya snacks (pub snack) and Yakiniku (Japanese style BBQ). All meat are Halal beef and Halal chicken.
Address: Seagullhouse Bld.3F, 1–13–5, Nishiikebukuro, Toshima-ku, Tokyo
Nearest Station: 1 min walk from Ikebukuro station/South exit
Hours: 12:00 to 24:00
5. Asakusa Umegen
Traditional Japanese confection store established in 1907 in Asakusa . If you wish to take some authentic Japanese sweets to your country as a souvenir, this is really good place to shop!
Address: 3–10–5 Nishiasakusa, Taito-ward, Tokyo
Nearest Station: 12 mins walk from Asakusa station
Hours: 11:00 to 18:00
↓↓↓For more articles about Japan, check these links!! ↓↓↓
▽Related Articles▽
▼Editor's Picks▼
---