TAPAS MOLECULAR BAR: the Michelin-Starred Molecular Gastronomy in Tokyo
Experience the Miraculous Molecular Gastronomy at Tapas Molecular Bar in Mandarin Oriental Hotel, Tokyo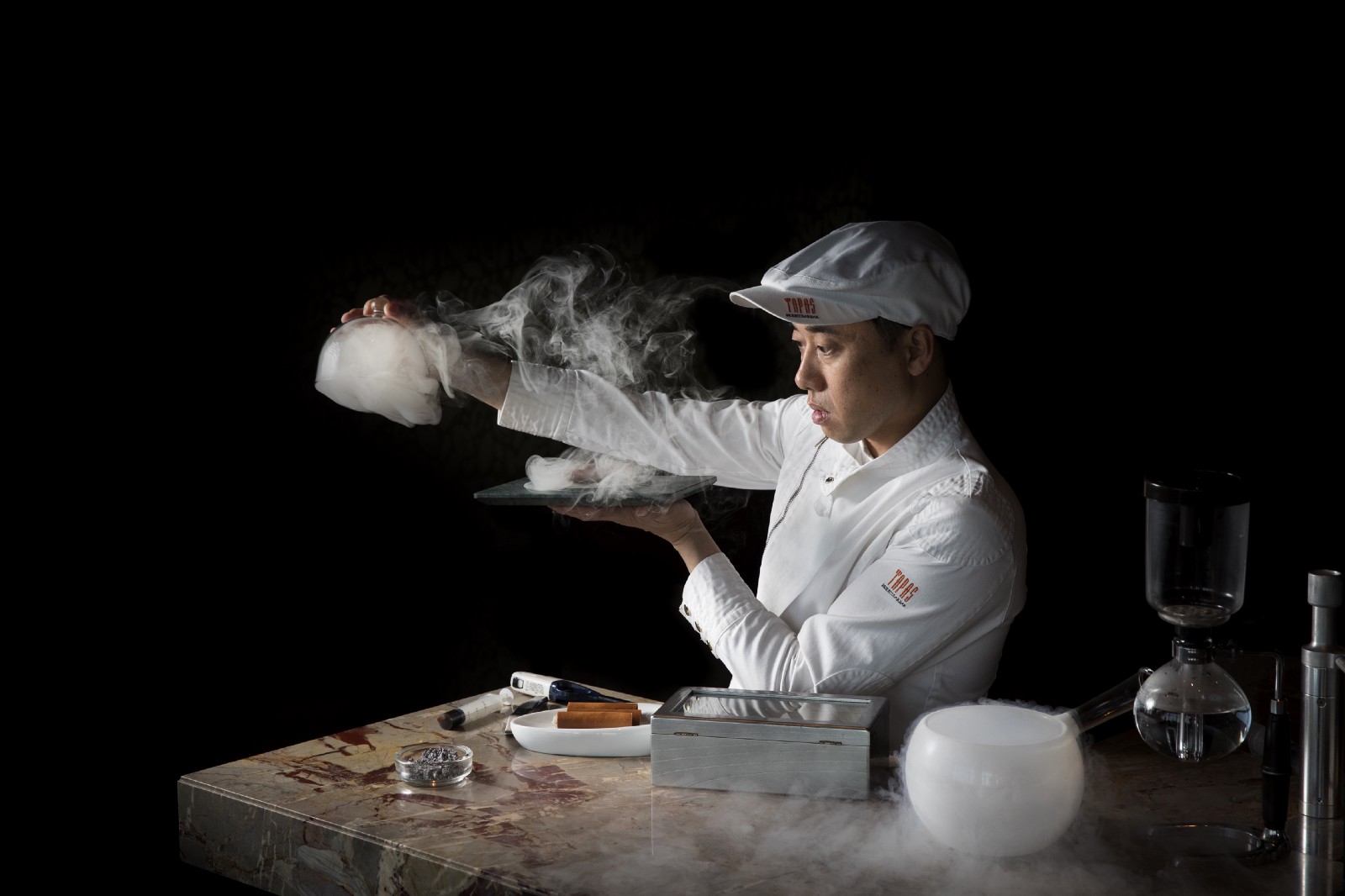 The gorgeous culinary creation with a magical gastronomy entertainment.
TAPAS MOLECULAR BAR is a molecular gastronomy restaurant serving multi course meals with a fusion of Japanese and Western cuisine. It's located in one of the finest, most luxury five-star hotels, Mandarin Oriental, Tokyo in the heart of the metropolis.
The restaurant has been honored with numbers of awards in past years, including one star by the world most influential restaurant guide, Michelin Guide and the second place of "Best Fine Dining Restaurants in Japan in 2016" by TripAdvisor, the best known travel website in the whole world.
About the restaurant
TAPAS MOLECULAR BAR offers an exclusive dining experience by innovative molecular cuisine, only with 8 seats at one time. The restaurant is situated at the chic Oriental Lounge on 38th floor of the hotel, offering an amazing view of Tokyo Bay.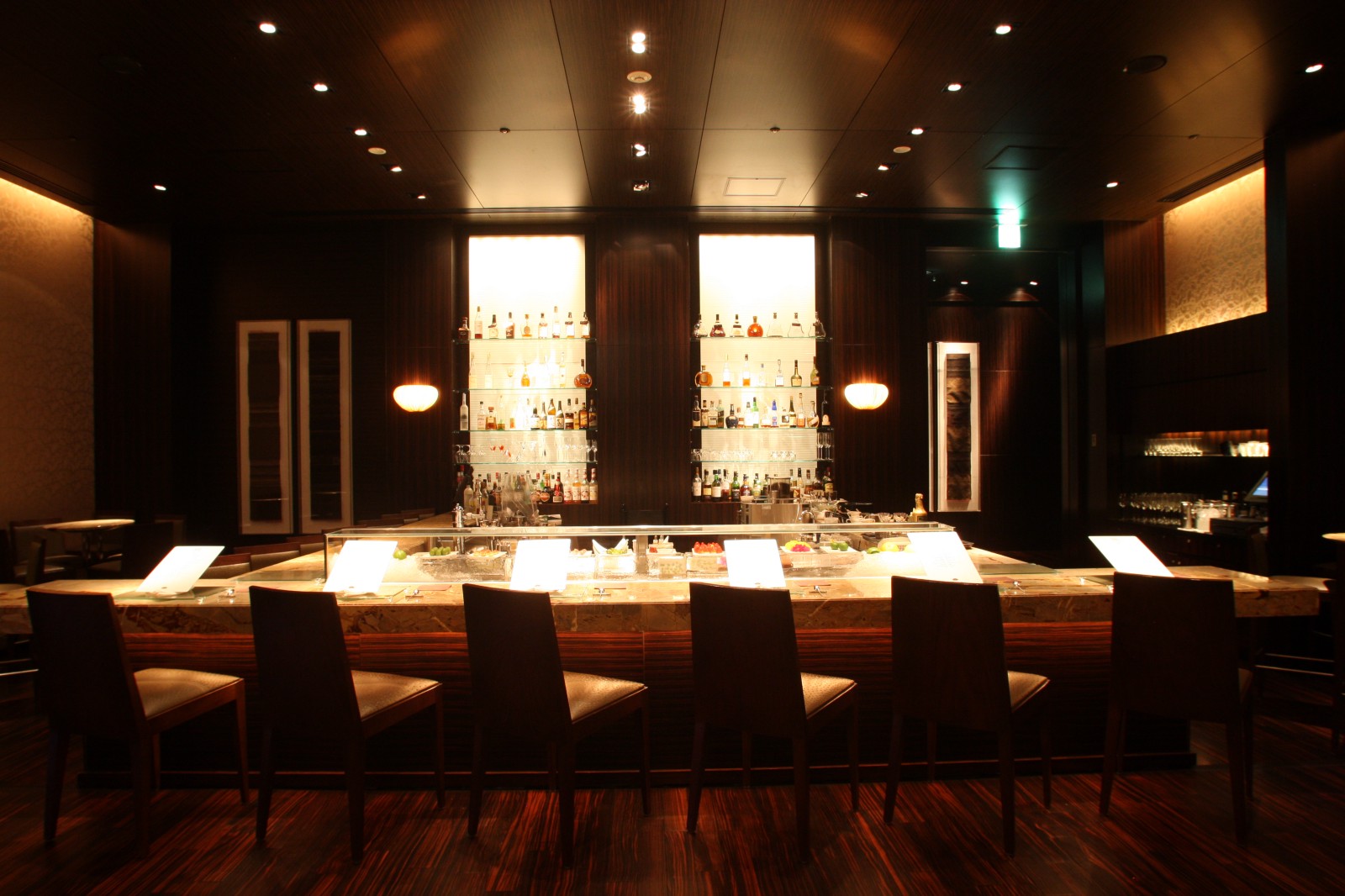 Dinner is served exclusively for 16 guests per day with two rounds from 6:00pm~ and 8:30pm~, and lunch is served only on weekends (Saturday, Sunday and Holiday) from 1:00pm~. Each course lasts about 2 hours and seats must be reserved in advance.
As well as the phenomenon taste of dishes certified by the Michelin Guide, the process of making dishes is highly praised about this restaurant. The team of talented chefs prepare dishes right in front of guests, using finest ingredients and lab equipment with molecular gastronomy "the science of cooking".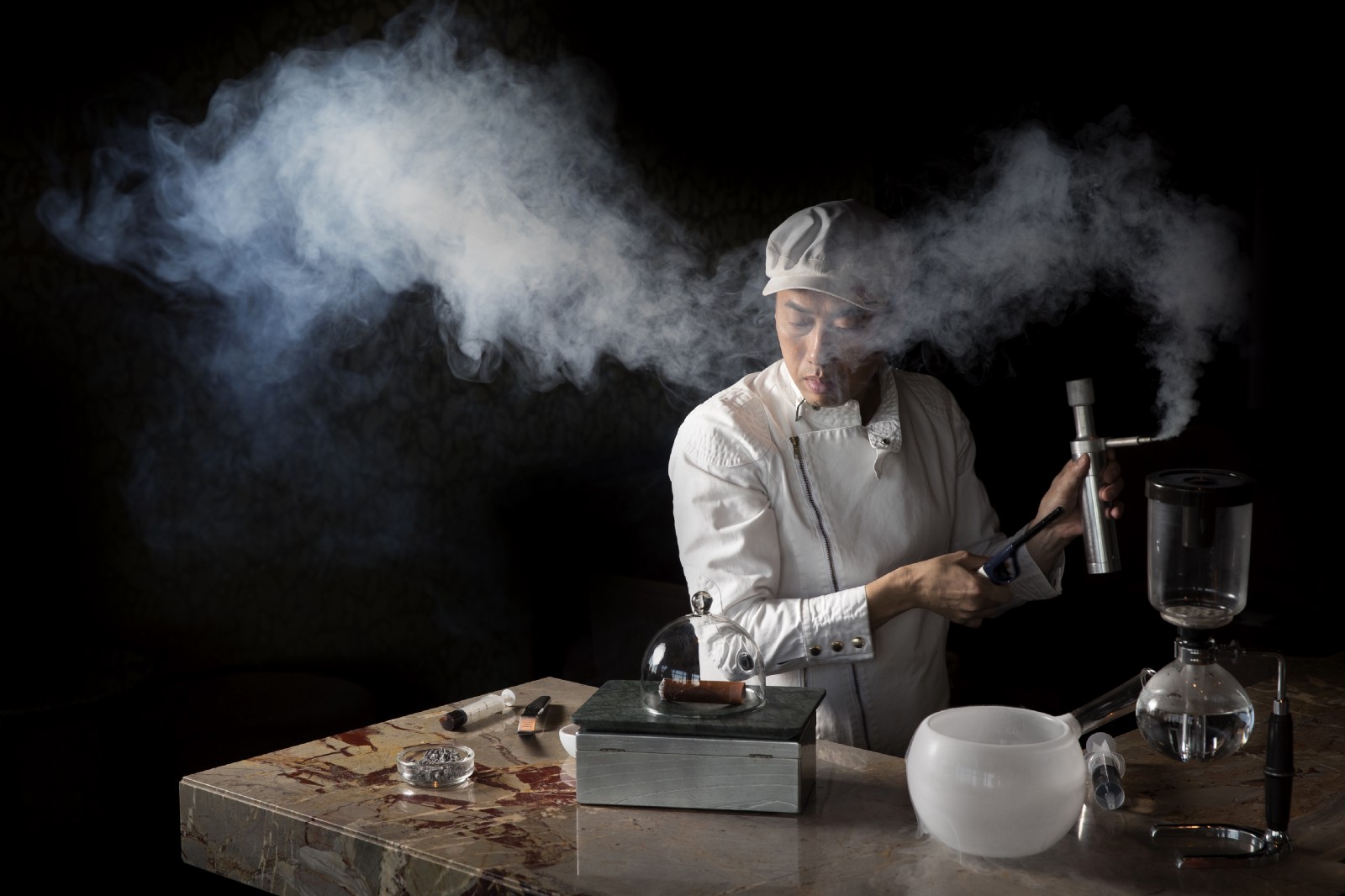 It's not ordinary multi-course meal, but the dining experience at TAPAS MOLECULAR BAR is simply an entertainment of magical culinary art.
---
FOOD
Inspiring and creative dishes are served at TAPAS MOLECULAR BAR with a scientific method by the remarkably talented chef from Hong Kong.
Meat, seafood, vegetables, all the selected finest ingredients and preparation methods are precisely calculated for molecular gastronomy cooking everyday.
Each dish is served in Tapas style portions beautifully, and brought to surprise guests with a delight. With the first impression of each dish, it's hard to guess what's the taste like, and once you taste, new flavour and texture will surely stimulate your imagination and basic concept of food like never before.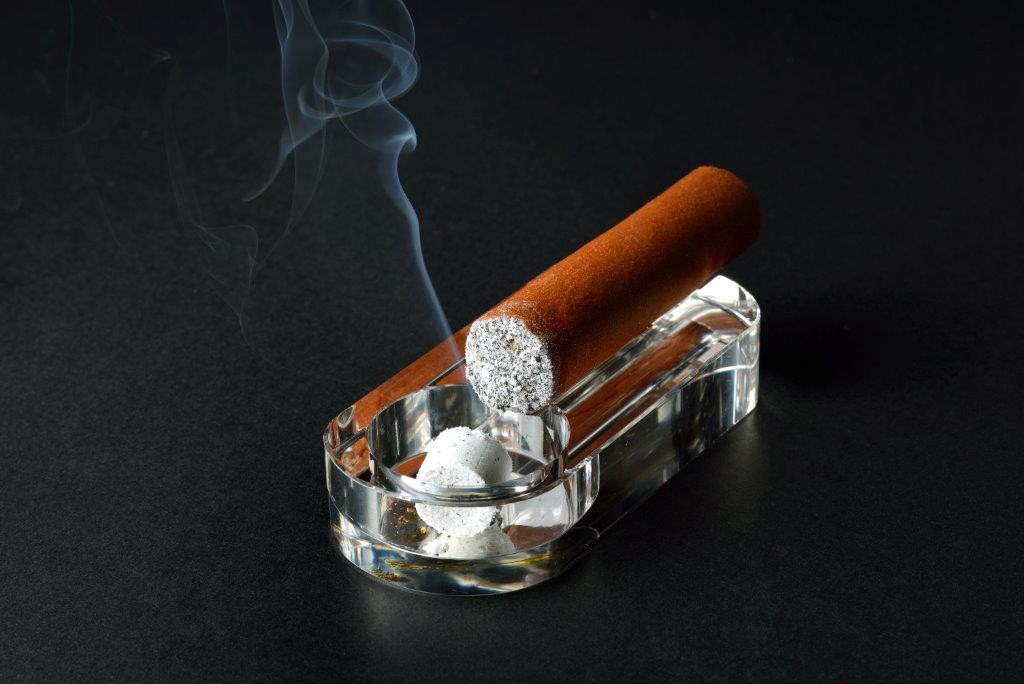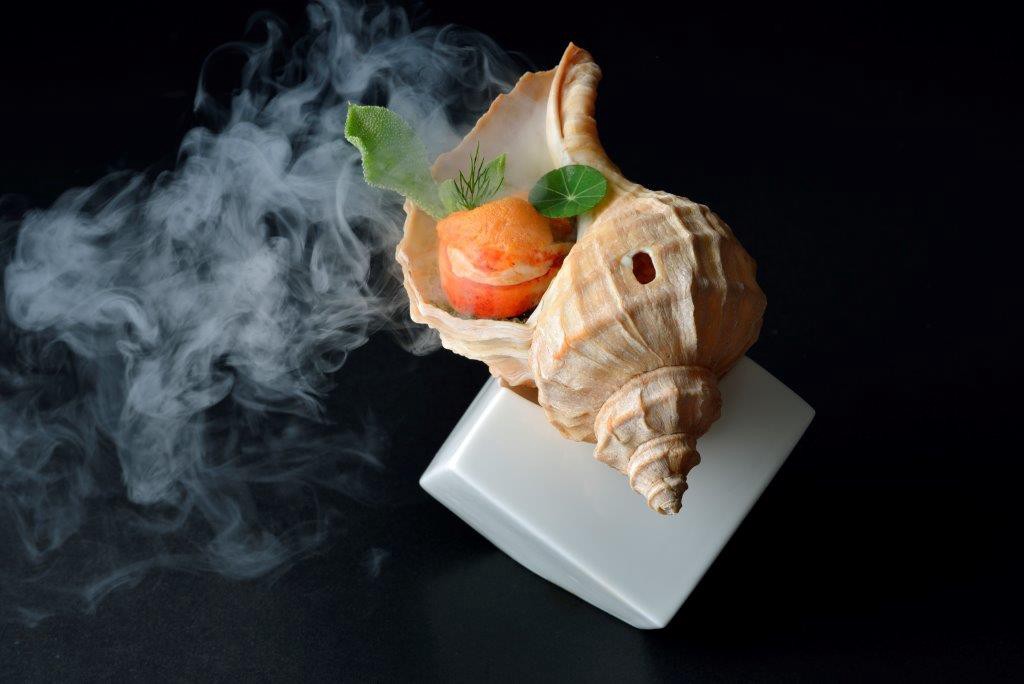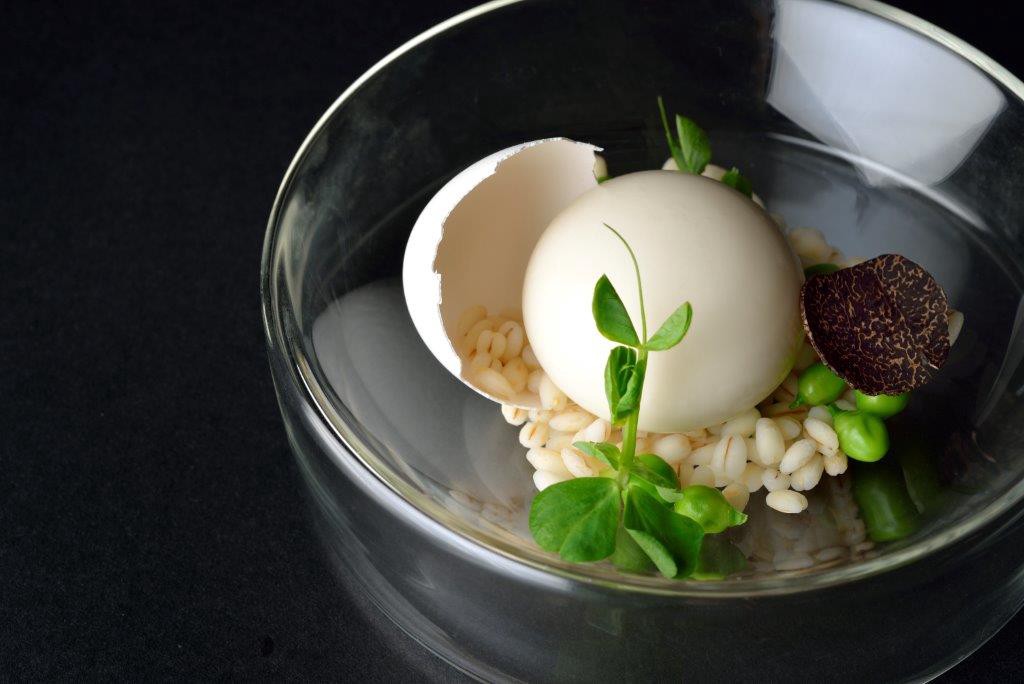 The restaurant also offers a large selection of wine to go perfectly with their course dishes.
Their menu varies depending on ingredients and season, so visit and see what kind of "magic" will be spelt on your dish.
MENU: http://www.mandarinoriental.com/tokyo/fine-dining/tapas-molecular-bar/
<< Make a reservation at TAPAS MOLECULAR BAR, NOW! >>
---
CHEF
Ngan Ping Chow
The molecular gastronomy mastery, Chef Ping has begun his cooking career in a hotel in Hong Kong. In 1996, he flew to Europe where he had fine dining experiences in several restaurants, then carried on in some countries. Nextly, he went back to his country to work at the Krug Room Hong Kong at the five-star hotel Mandarin Oriental, Hong Kong. He finally moved in Japan in 2013, and he has managed to win his first Michelin star at TAPAS MOLECULAR BAR in Tokyo.
---
About Mandarin Oriental, Tokyo
With a wonderful gastronomic experience, it's also highly recommended to stay at this 5-starred hotel, Mandarin Oriental, Tokyo, one of the most highly praised hotels in the world.
Each room has a spectacular view of Tokyo metropolis, and the hotel offers exceptional service and facilities for guests including a spa and fitness.
▷Check the availability of Mandarin Oriental Tokyo◁
---
Nearby Tourist Attractions
Mandarin Oriental, Tokyo is located in Nihonbashi area, only 8 minutes walk to Tokyo Station and very easy to access numbers of landmarks in the city.
The famous Imperial Palace is right in front of Tokyo Station, and the popular shopping district Ginza and the fresh seafood Tsukiji Market are both located at down south. The well-known pop culture district, Akihabara is also in a short distance.
---
Reservation
<< Make a reservation at TAPAS MOLECULAR BAR, NOW! >>
Tel: +81 (3) 3270 8188 (9am-9pm)
MAP:
Nearest Station: Mitsukoshi-mae Station (三越前駅)
Hour (Lunch): by reservations only at 1:00pm (Sat/Sun/Holiday)
Hour (Dinner): by reservations only at 6:00pm or 8:30pm
Tel: +81 (3) 3270 8188 (9am-9pm)
Website: http://www.mandarinoriental.com/tokyo/fine-dining/tapas-molecular-bar/
▽Related Articles▽
▼Editor's Picks▼
---