3 Best Affordable Ryokan in Tokyo
Best Ryokan in Tokyo with Exclusive Tours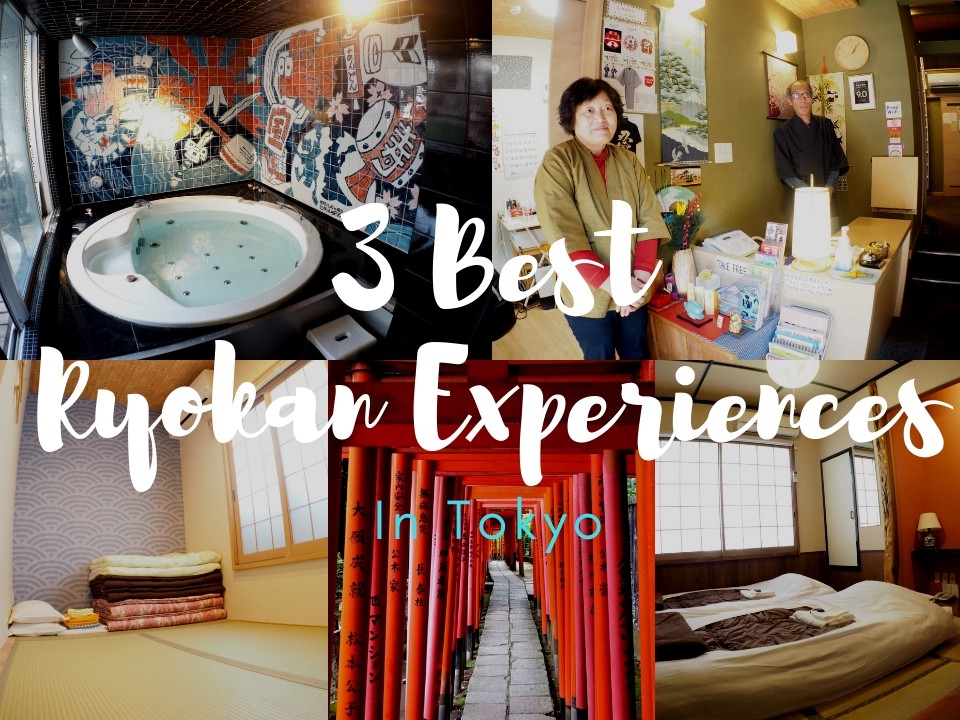 Get to know what it is to stay at a Ryokan in Tokyo; an experience that is starting to increase in popularity within foreign visitors.
"Ryokan" are Japanese-style hotels where you can have a traditional Japanese experience during your stay. Traditionally, they include Tatami-floored rooms where you can sleep in a Futon, Japanese-style meals containing seasonal ingredients, and a large communal bathtub always ready with warm water for you to get in and wash away all the stress and fatigue from your body.
For the past 40 years, the Ryokan have been steadily decreasing in numbers from the big cities as westernization has been proceeding. This, to the point that most people associate the word "Ryokan" with the more rural areas of Japan, as they still can be seen more in these areas.
But recently there has been a revival in popularity of the Ryokan, and this is due to visitors from around the world being interested in staying at these places, looking for a unique experience. In Tokyo, this is also the case and Ryokan are becoming something that people look for when they plan to visit.
I had the great pleasure to go visit 3 of the most popular Ryokan in Tokyo. I will share with you from my experience, the features and characteristics that make each of them so popular, especially within foreign visitors. Each of these Ryokan has a distinctive appealing point that makes many of its visitors want to come back on their next visit to Tokyo.
*Please note that this article contains affiliate links.
---
1. Andon Ryokan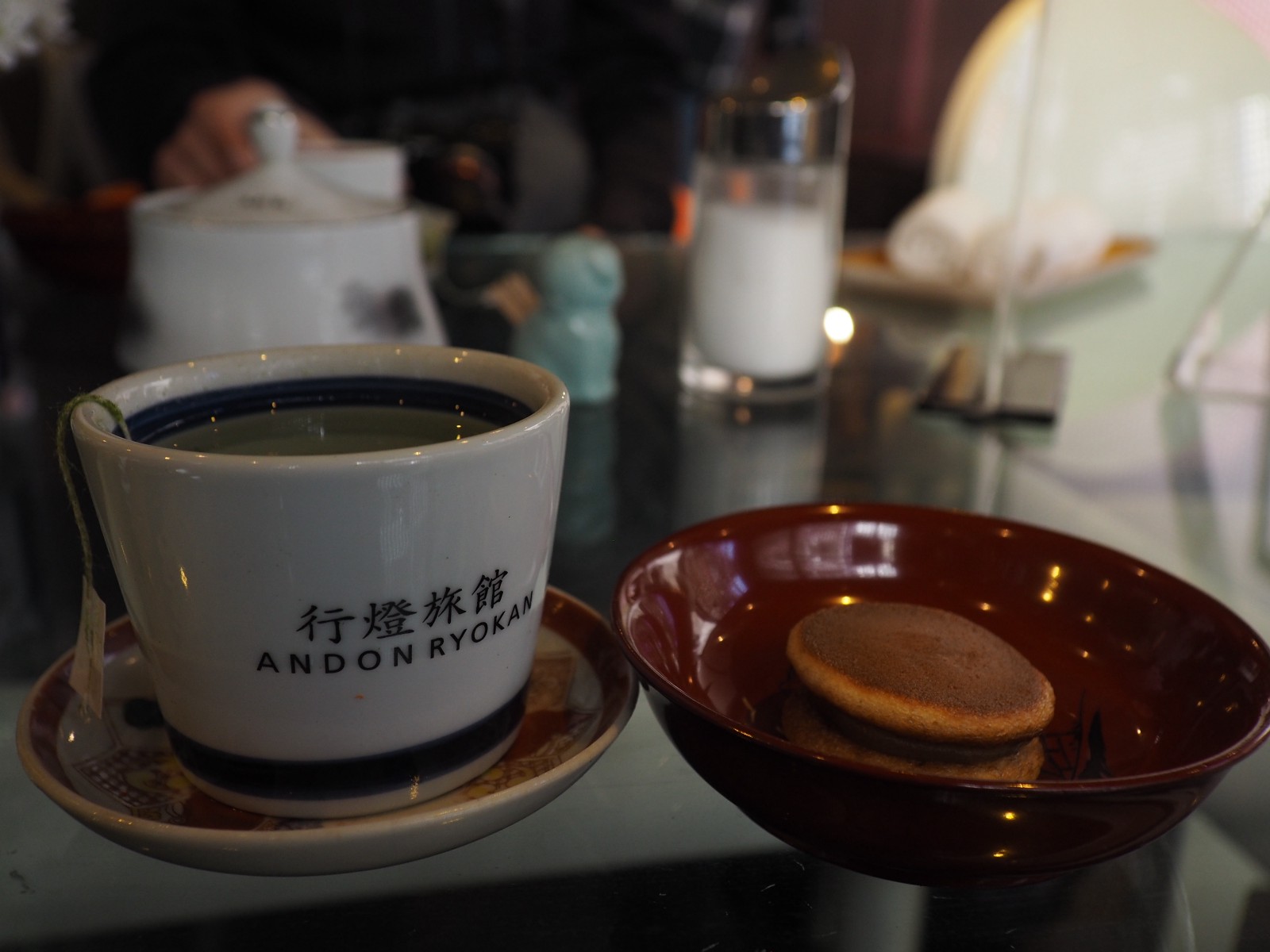 Opened in 2003, Andon Ryokan is Tokyo's first designer Ryokan. It provides a nice mixture of the Ryokan experience and a guesthouse's atmosphere.
Showing us the Ryokan is Megumi san.
When you first walk through the entrance, you will notice the naturally well-illuminated dining area where you can enjoy your meal (which you can choose from Japanese-style and western-style) while socializing with other guests. This area seems very so like a guesthouse, but once you advance to the hallway, you will notice a change in tone.
The hallway has a dark monotone theme with minimalistic lighting that creates an elegant atmosphere. The stairways are relatively narrow, but no need to be worried about your luggage, since they have built a special elevator for large luggage.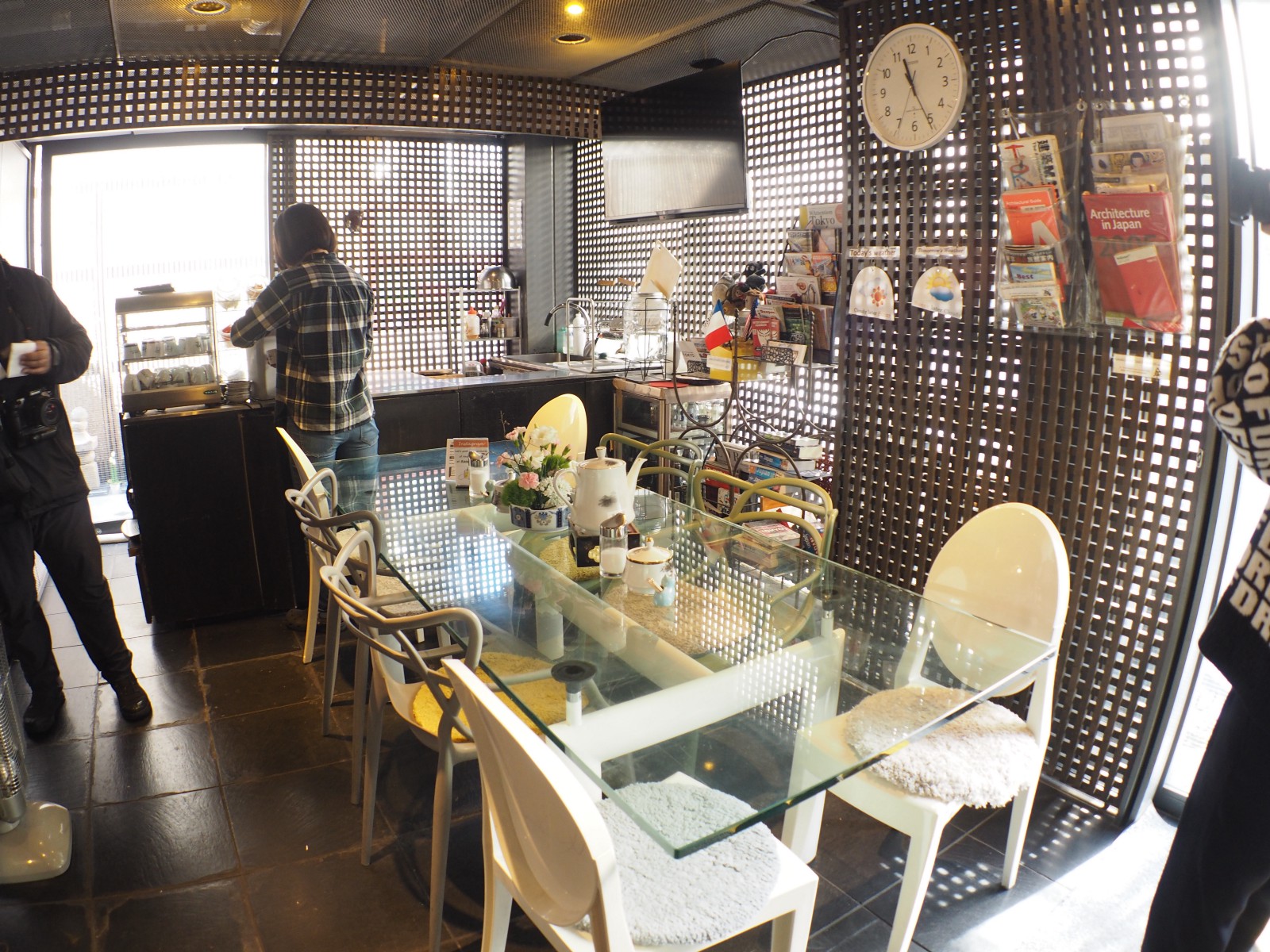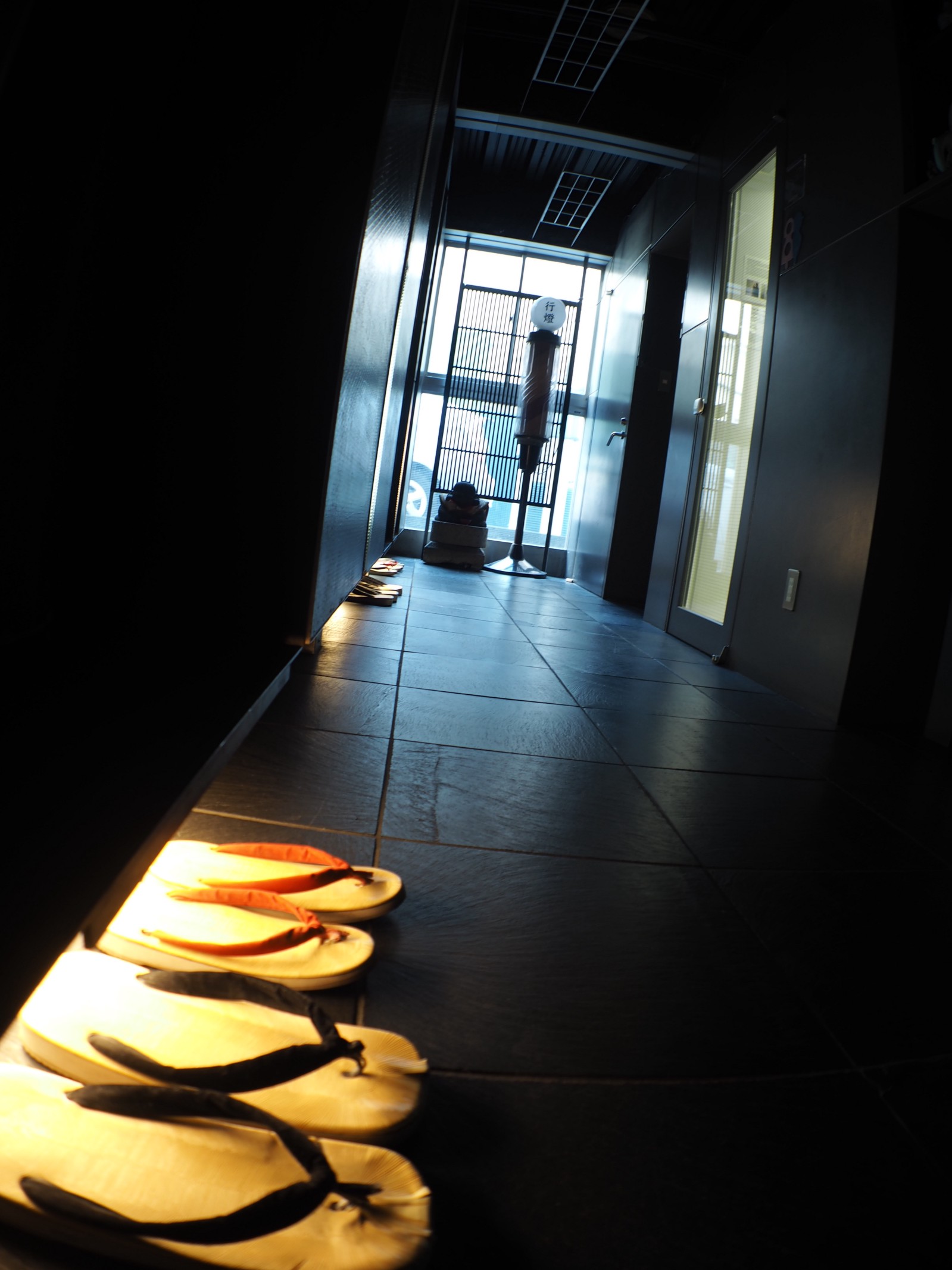 Entering the rooms, they are just like a Ryokan. Maybe not as spacious as traditional Ryokan, but it includes TV, WiFi, and has enough space to place your luggage. You can choose from single room, double room, and twin room.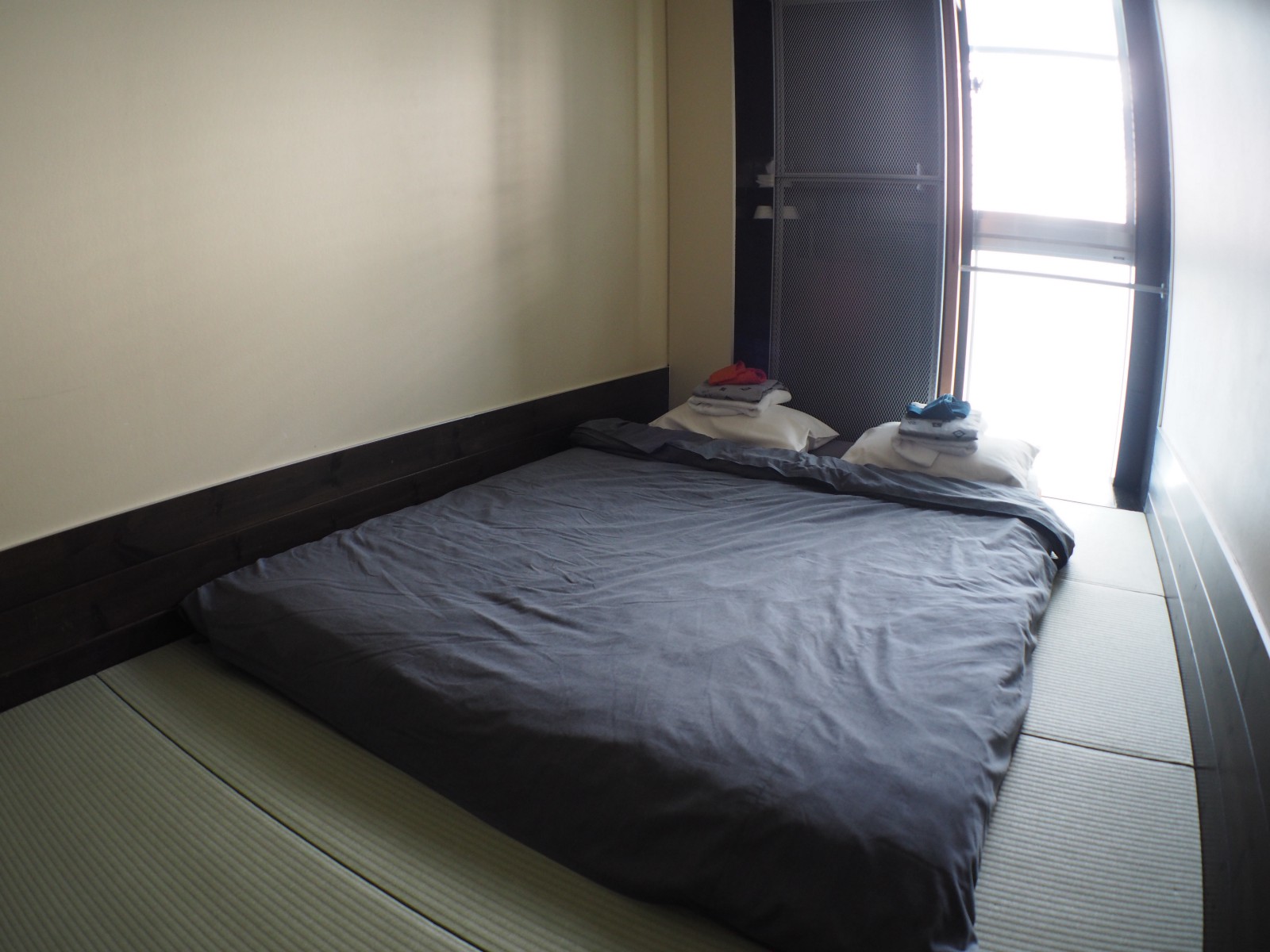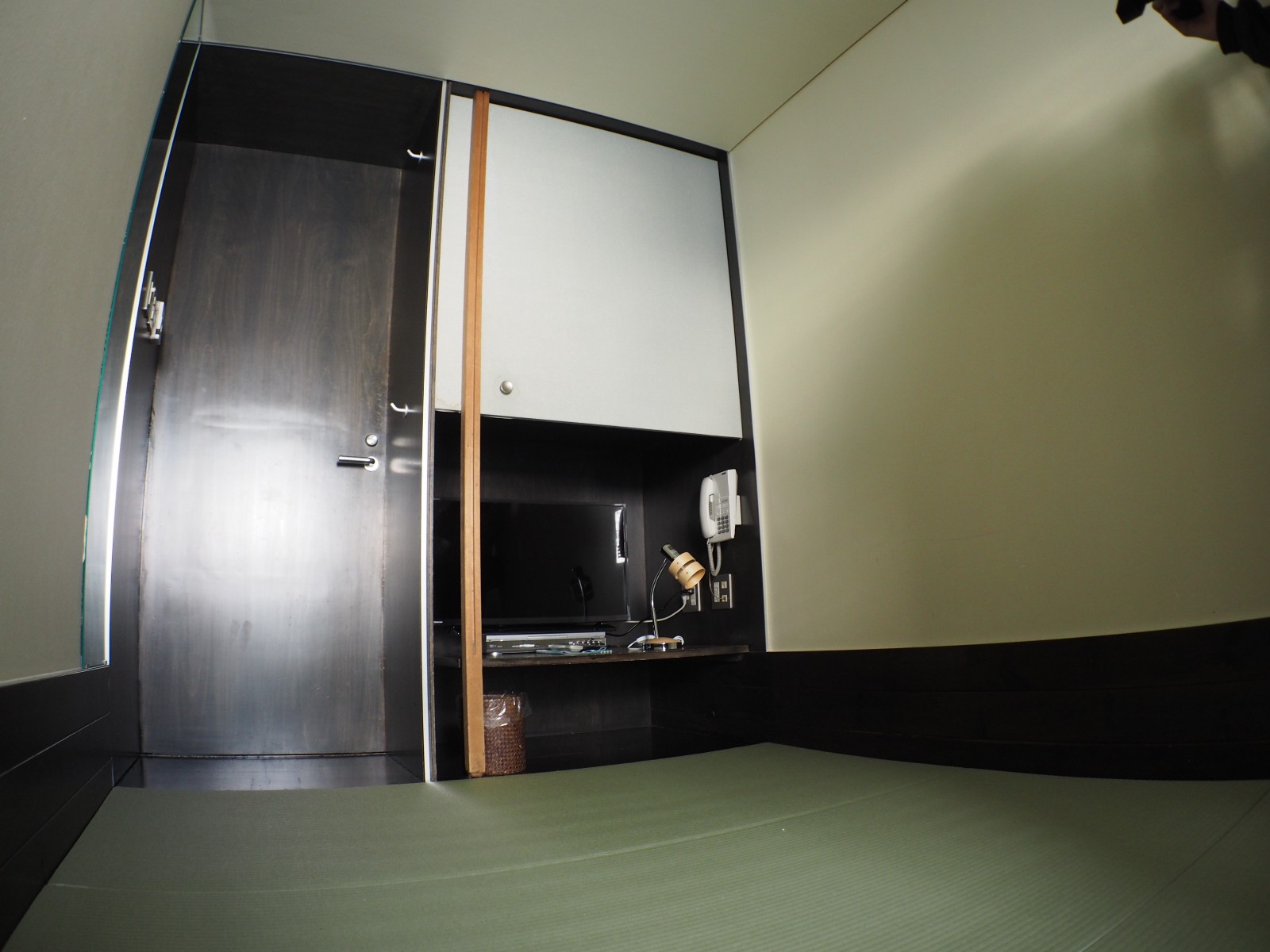 One of the main attractions is the jacuzzi on the 4th floor. You can make reservations to relax in the jacuzzi while enjoying the artistic tiled interior design of the bathroom.
On the rooftop, there are two bench tables where you can enjoy a beer while enjoying a clear view of Tokyo Skytree.
Another thing you will notice about this Ryokan is the variety of antiques and art pieces decorating the hallways and stairways. The founder of Andon Ryokan is a lover of art and a collector of antiques, and this has become one of the charm points of this Ryokan.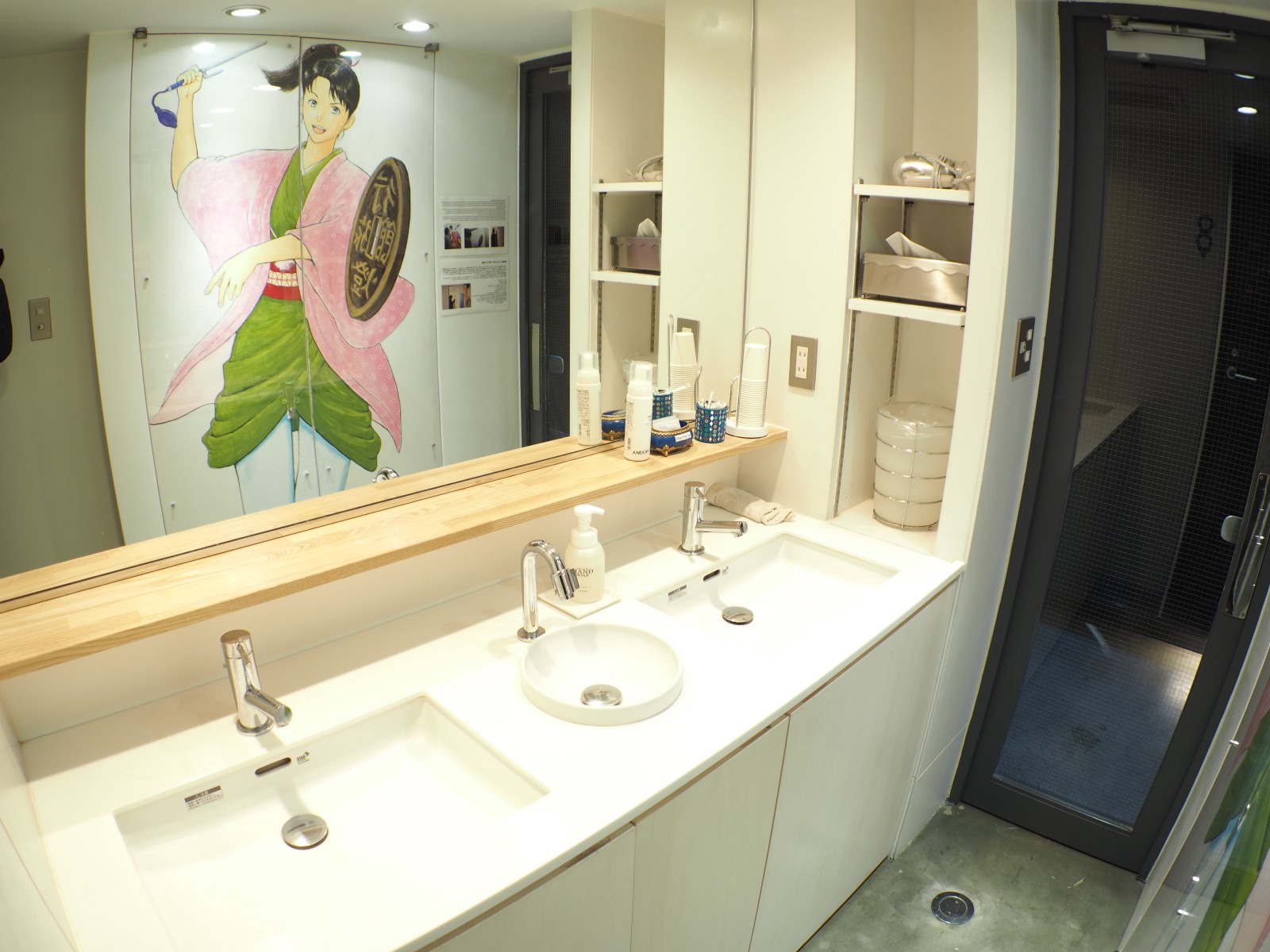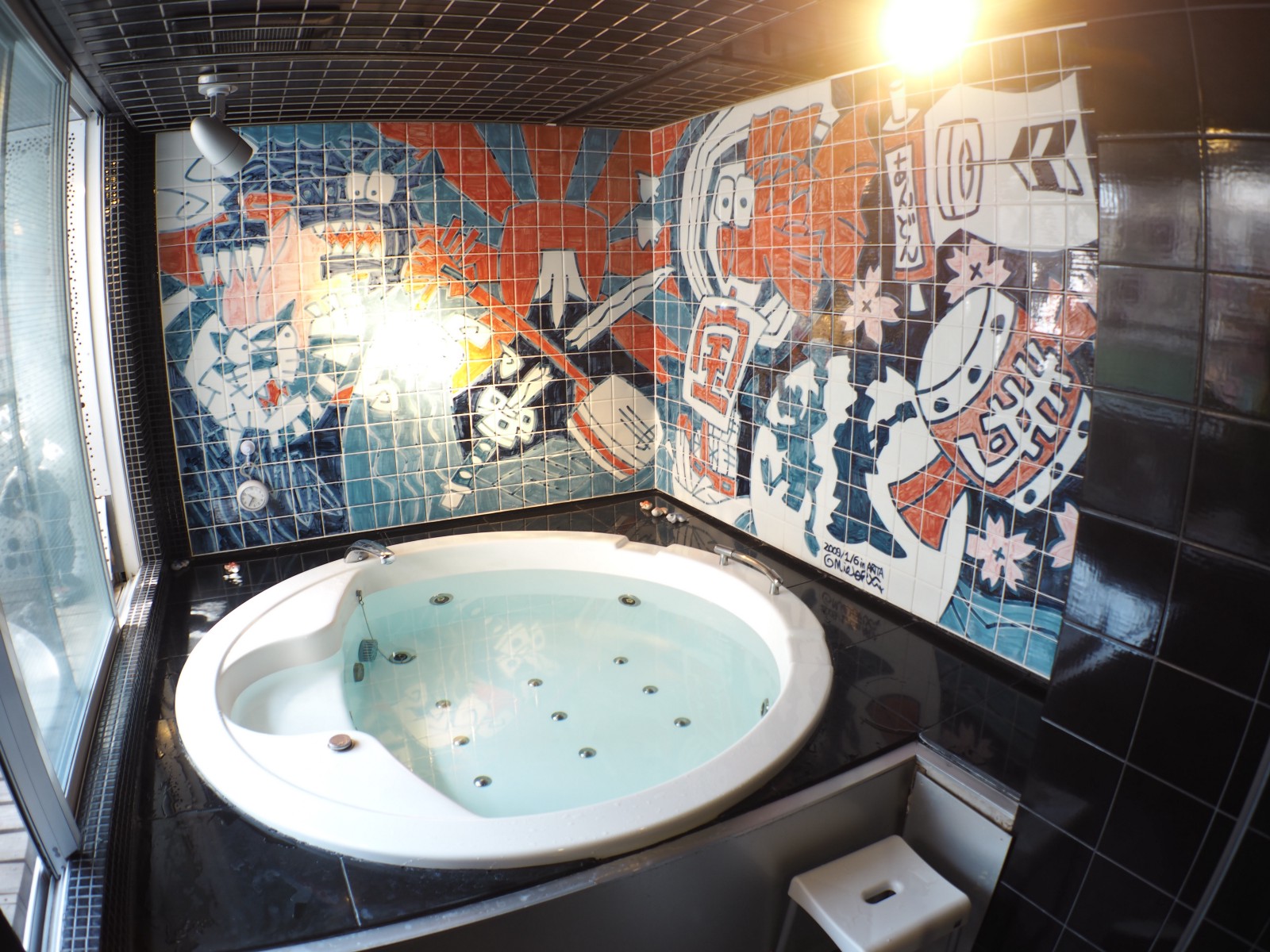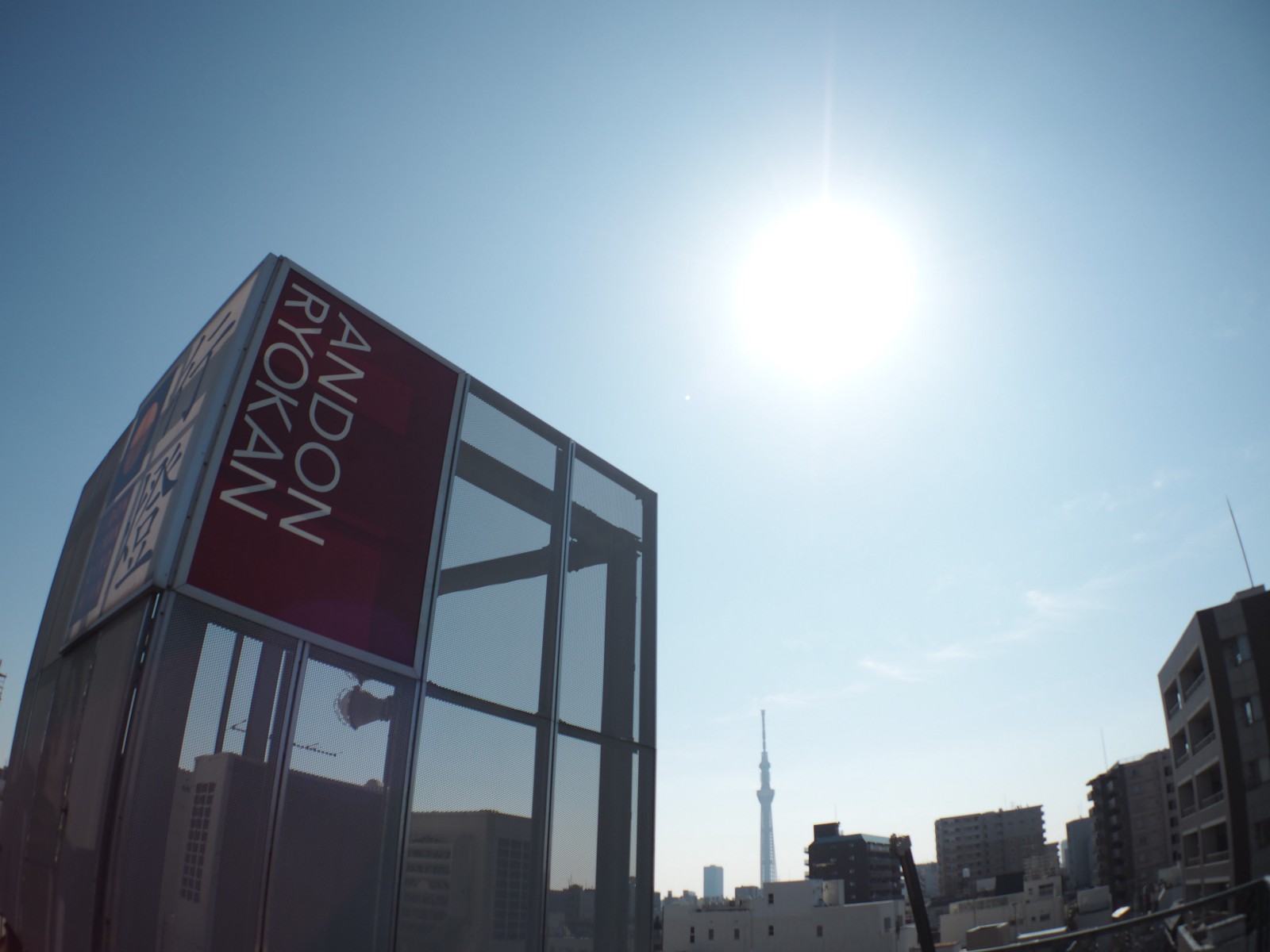 Also, an attractive feature is the variety of plans it offers. According to Megumi san, the "Sento plan" (Japanese-style public bath included) is the most popular plan amongst foreign visitors. They also have fun plans such as "Cosplay shooting plan" and "Cherry blossom viewing plan".
Talking with Megumi san, she said that they are always looking for new ways of providing an enjoyable stay for visitors, and one of the things they are putting most effort is in the providing of information.
They are also planning on amplifying the dining area and make it into a café where they can serve the visitors hand-made pastry.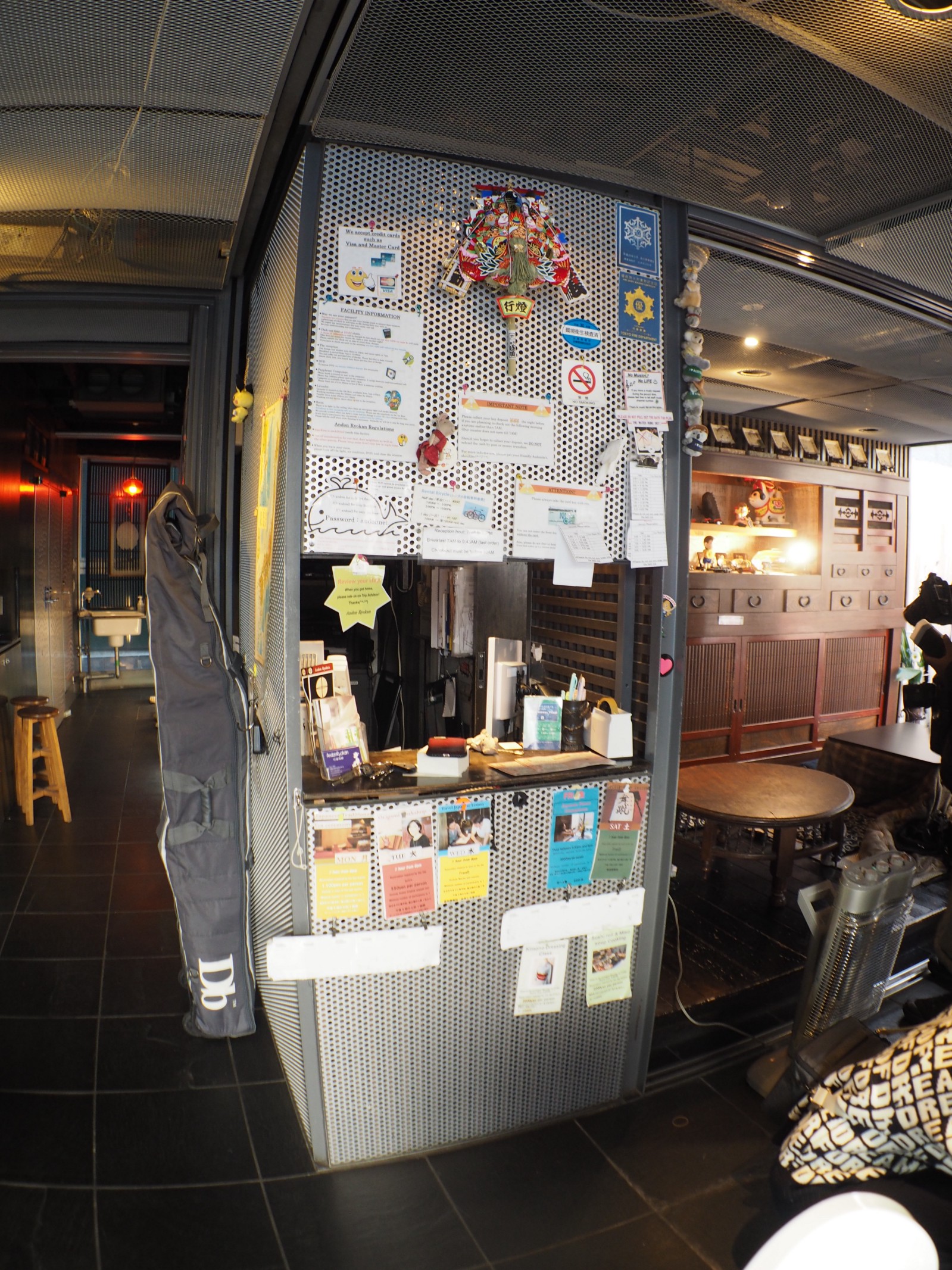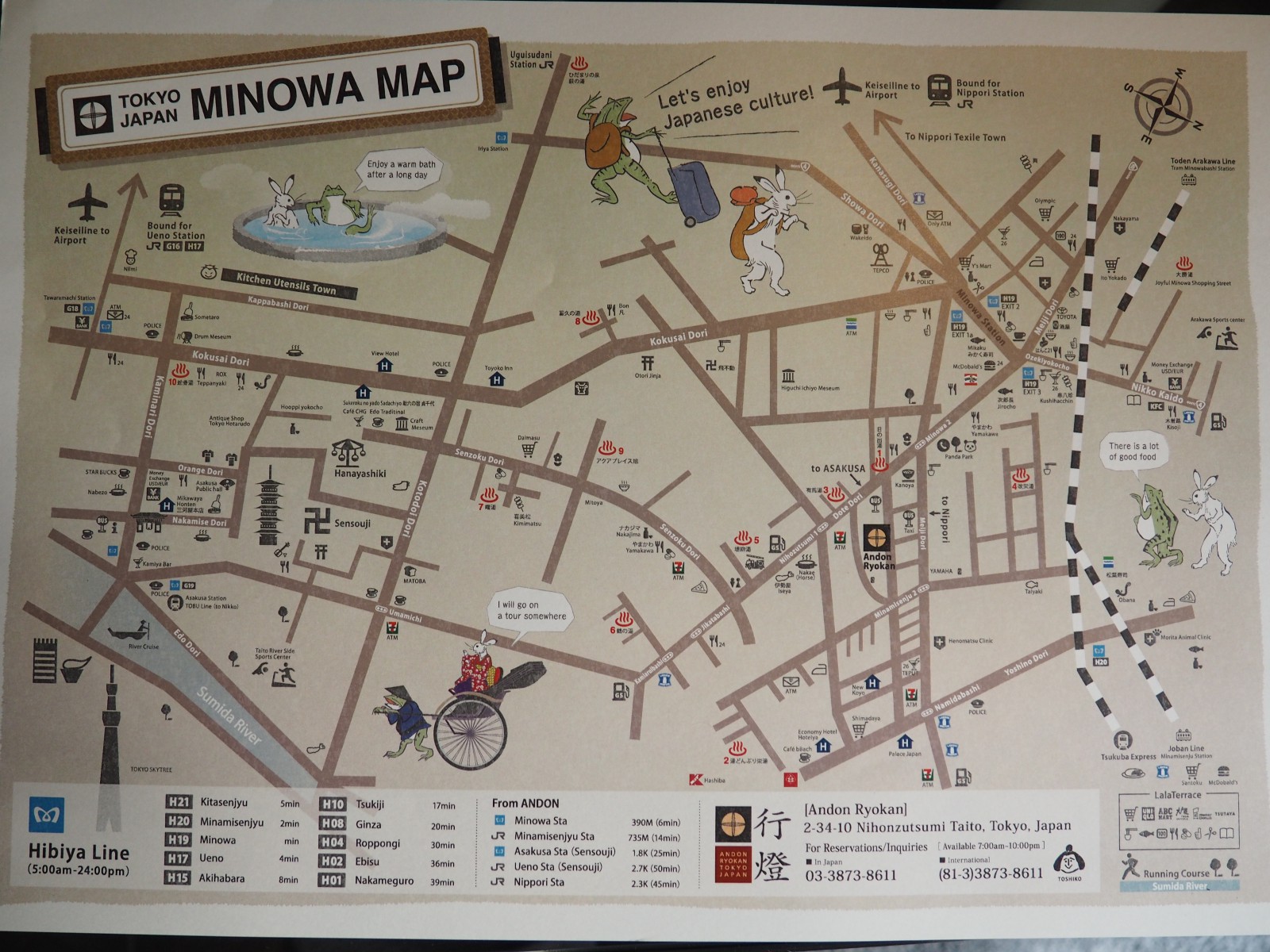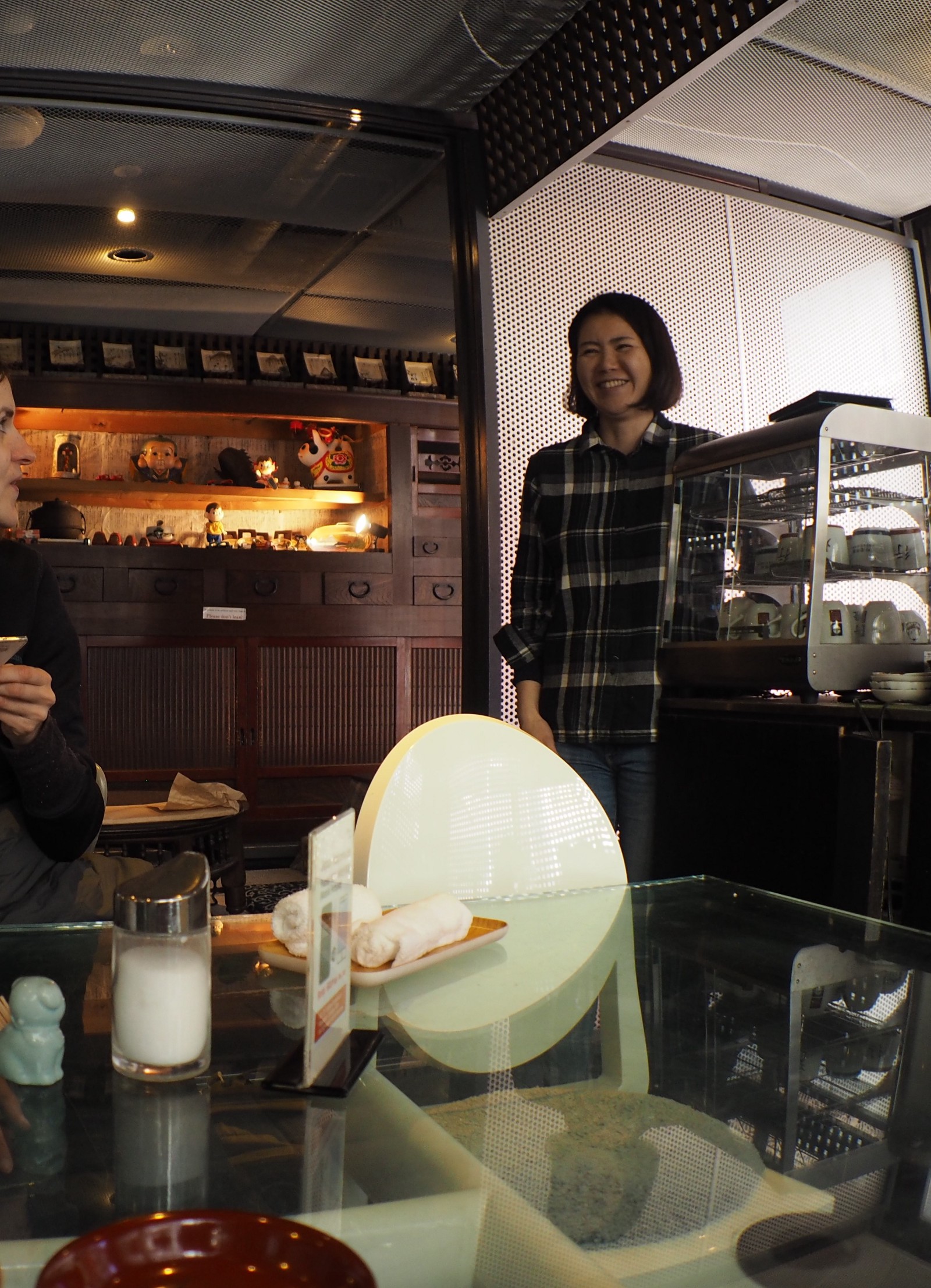 Located in the central area of Tokyo, transportation is not a problem. It only takes a 5-minute walk to Minowa-station, which is just 2 stops away from Ueno-station.
▶︎Book your room at Andon Ryokan◀︎
Map: https://goo.gl/maps/PSU2MTKWxAm
Access:
5-minute walk from Minowa station (Tokyo Metro Hibiya Line)
15-minute walk from Minamisenju station (JR Joban Line)
Rooms: 24 (All non-smoking)
Check in / Check out: 2 pm / 10 am
Meals: Japanese or Western-style breakfast (optional extra)
If you're planning in staying in Andon Ryokan, we strongly recommend taking the Adachi Fish Market Tour.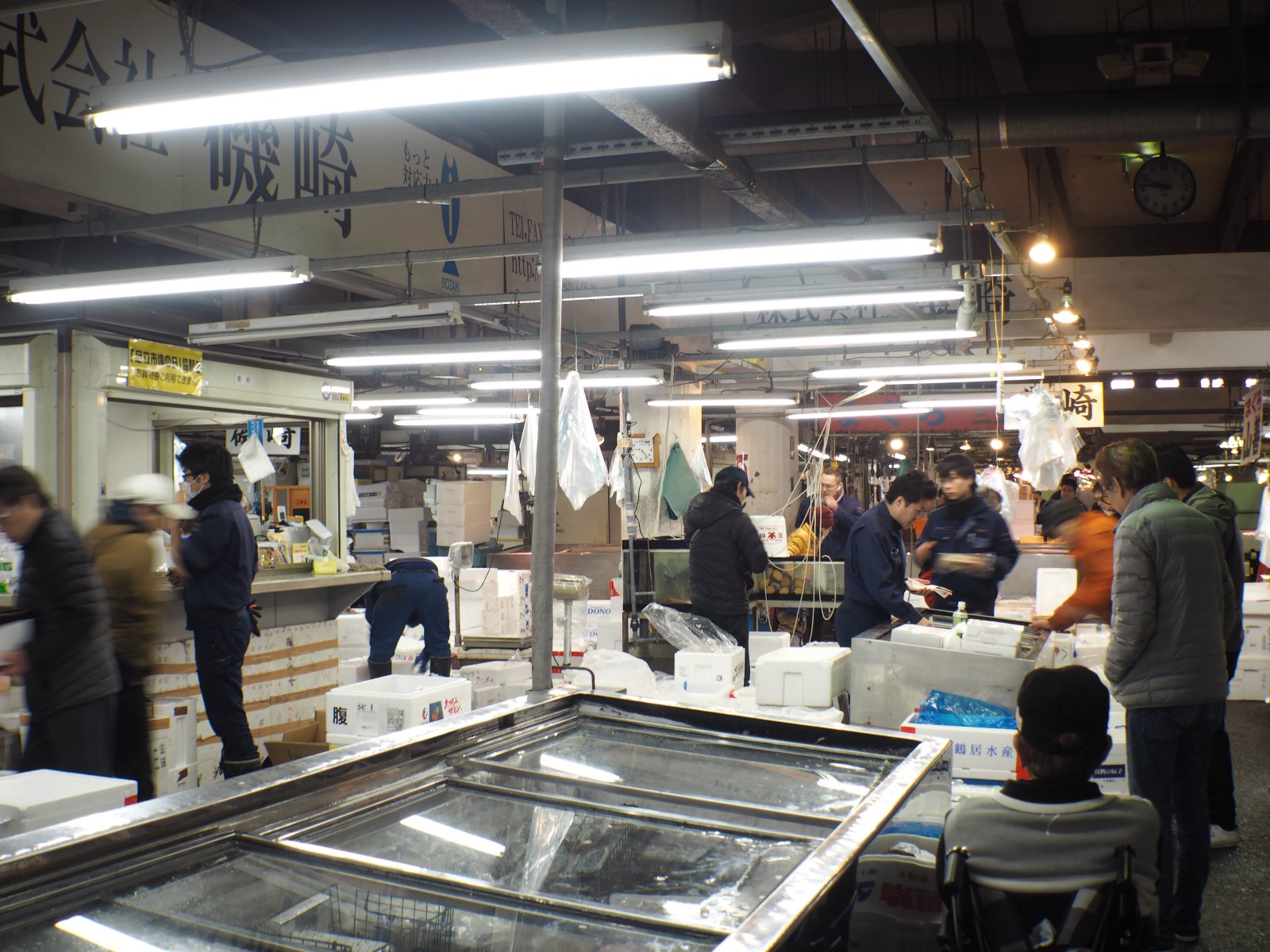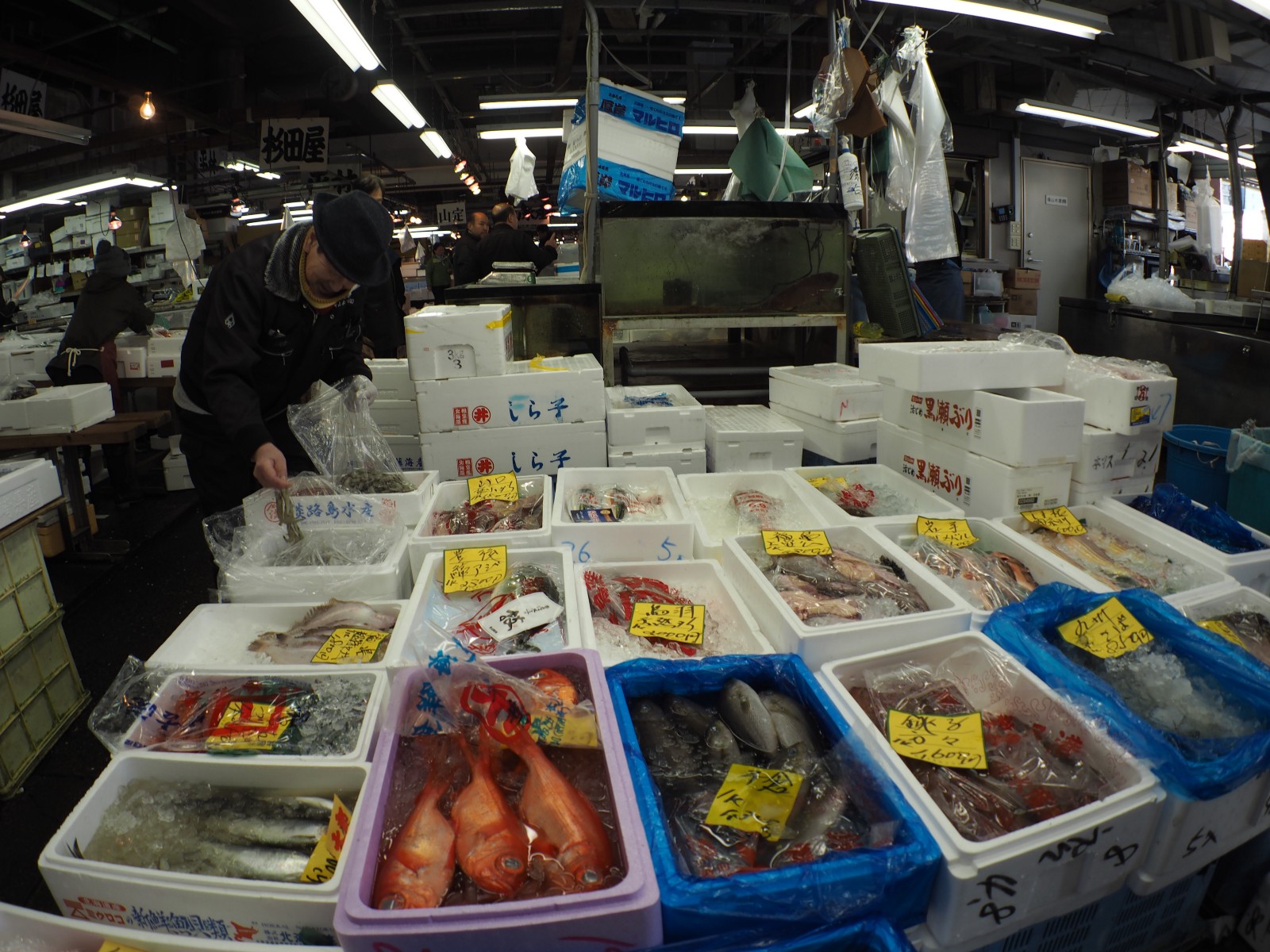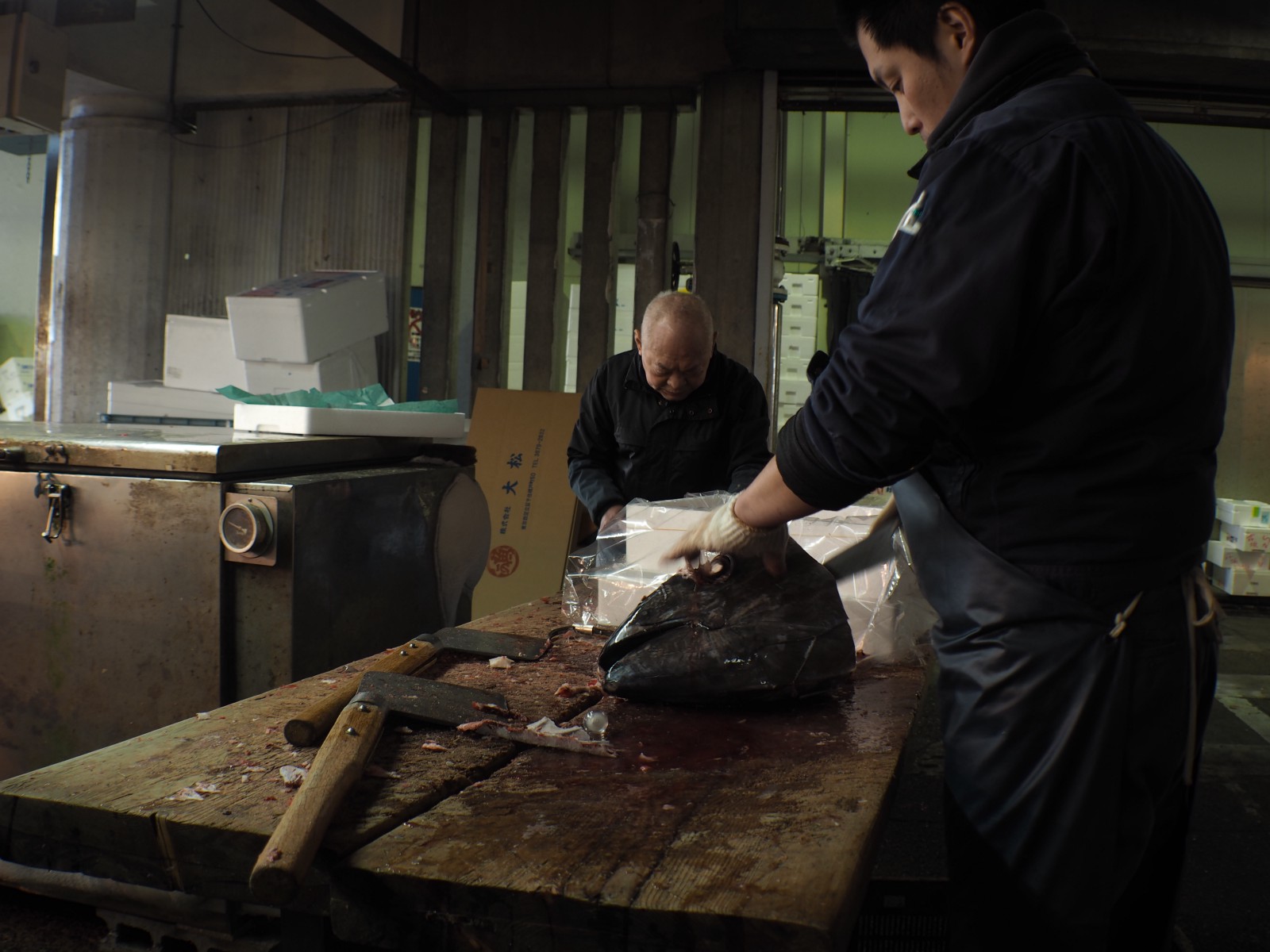 The Adachi fish market is one of the important fish markets in Tokyo, located near Senjuohashi station. You will see fishermen, intermediaries, and restaurant employees viding and trading on the great variety of fresh seafood. You can also see tuna cutting demonstrations.
Although relatively small in comparison to other major markets such as Toyosu Market, you will find the same excitement and vitality during trading hours.
You won't find that many foreign visitors in this place yet as this is a not a major attraction yet, which I think it makes it a good opportunity to blend in with the locals and experience the local market atmosphere.
2. Komatsu Ryokan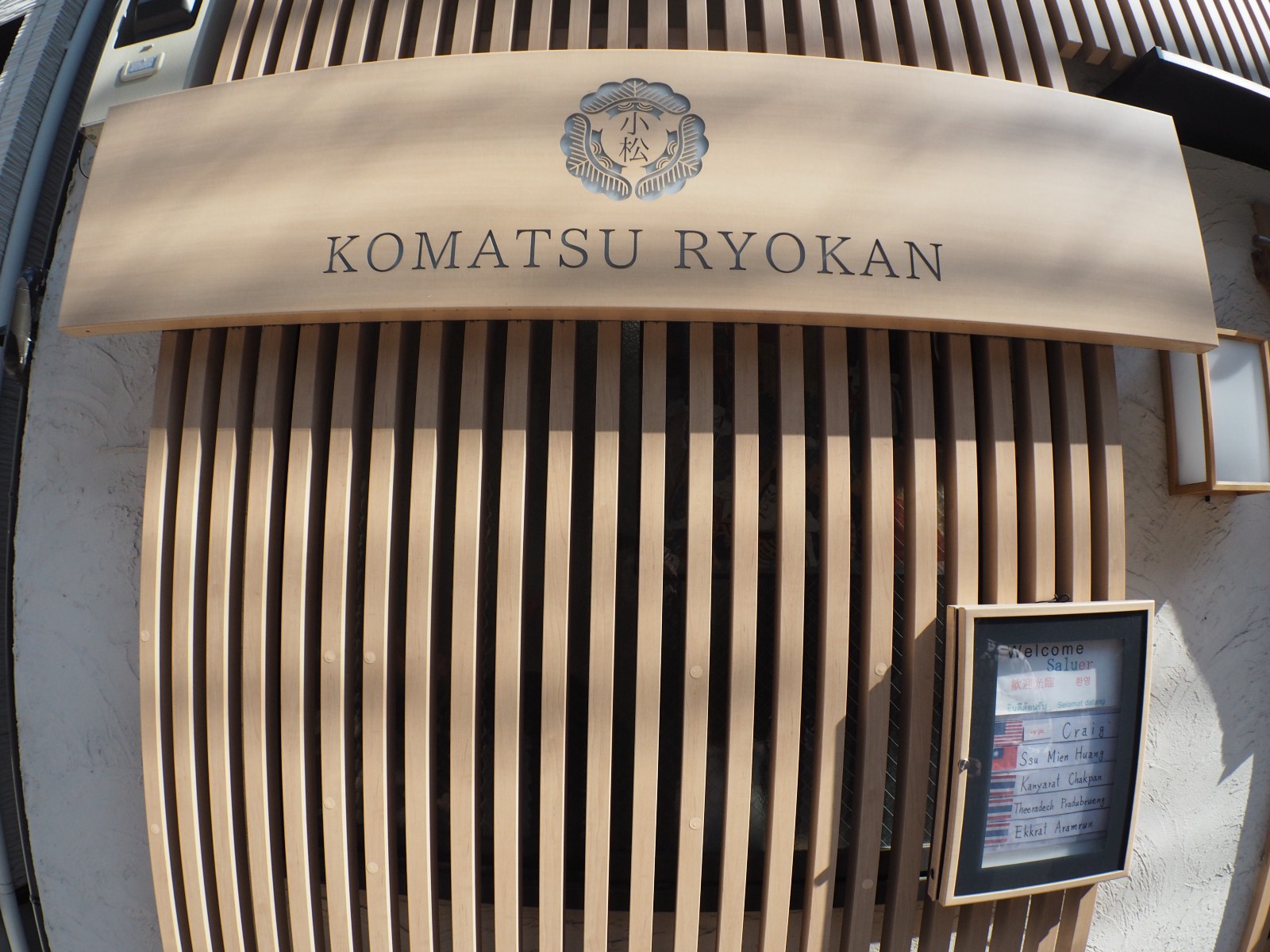 Opened in December 2015, Komatsu Ryokan is a more modern, yet cozy Ryokan that has excellent access to public transportation.
The Owner and founder, Furuichi san, showed us himself the Ryokan.
The place is within walking distance to Ueno and has easy train access to Akihabara and Asakusa.
The interior design was composed by an Italian designer, creating a modern, clean, and cozy aesthetic throughout the entire Ryokan.
The Ryokan is minimalistic in its features having only 5 rooms and two showers. There are no meals, but being located so close to Ueno, you will find a great variety of restaurants to choose from.
The rooms have a variety of sizes; from a cozy small room for one person to a family-type room with a loft included. All rooms include the essential amenities, and in the shared space on the 1st floor, you will find a small kitchen with refrigerator, microwave, and toaster.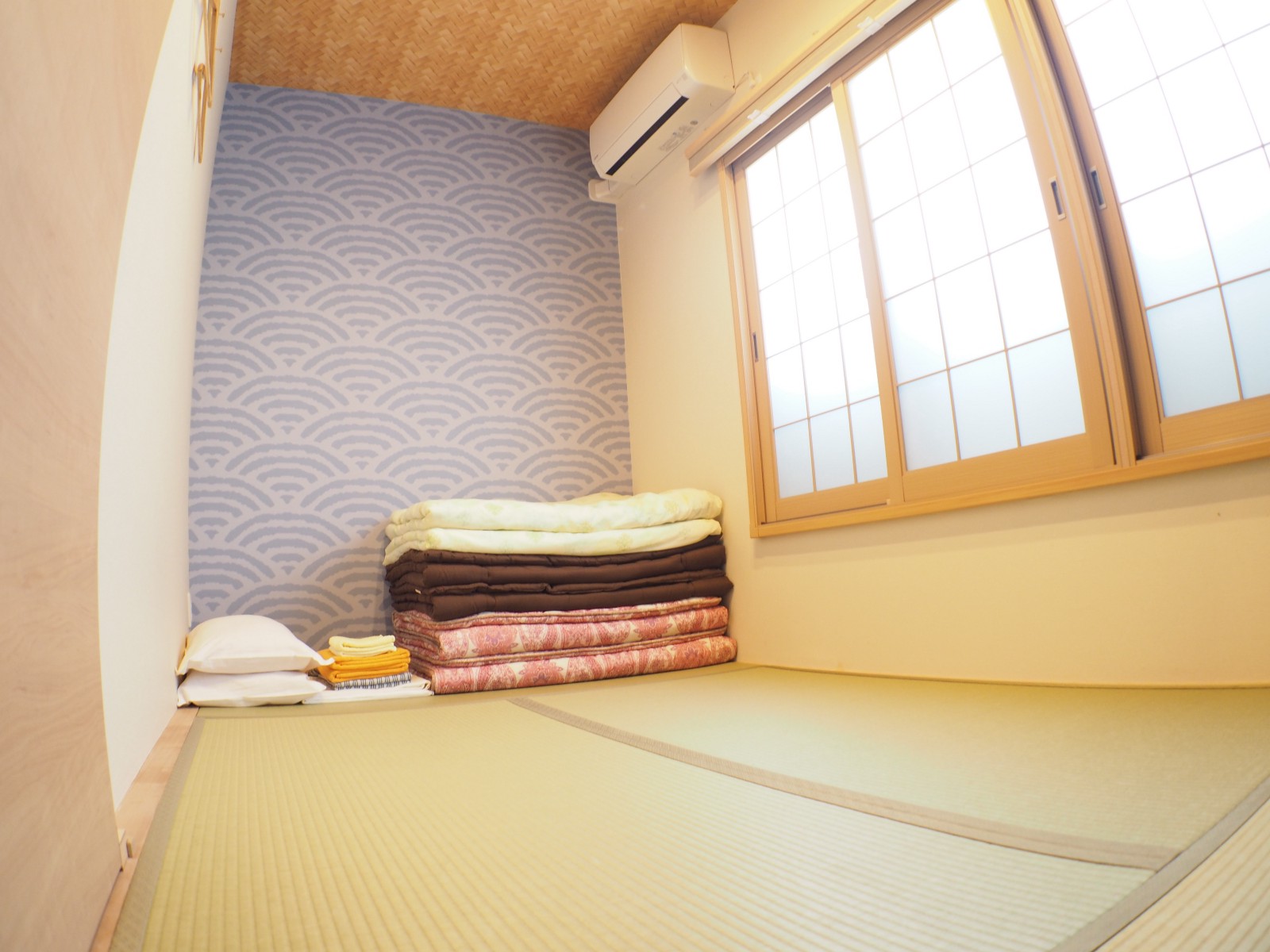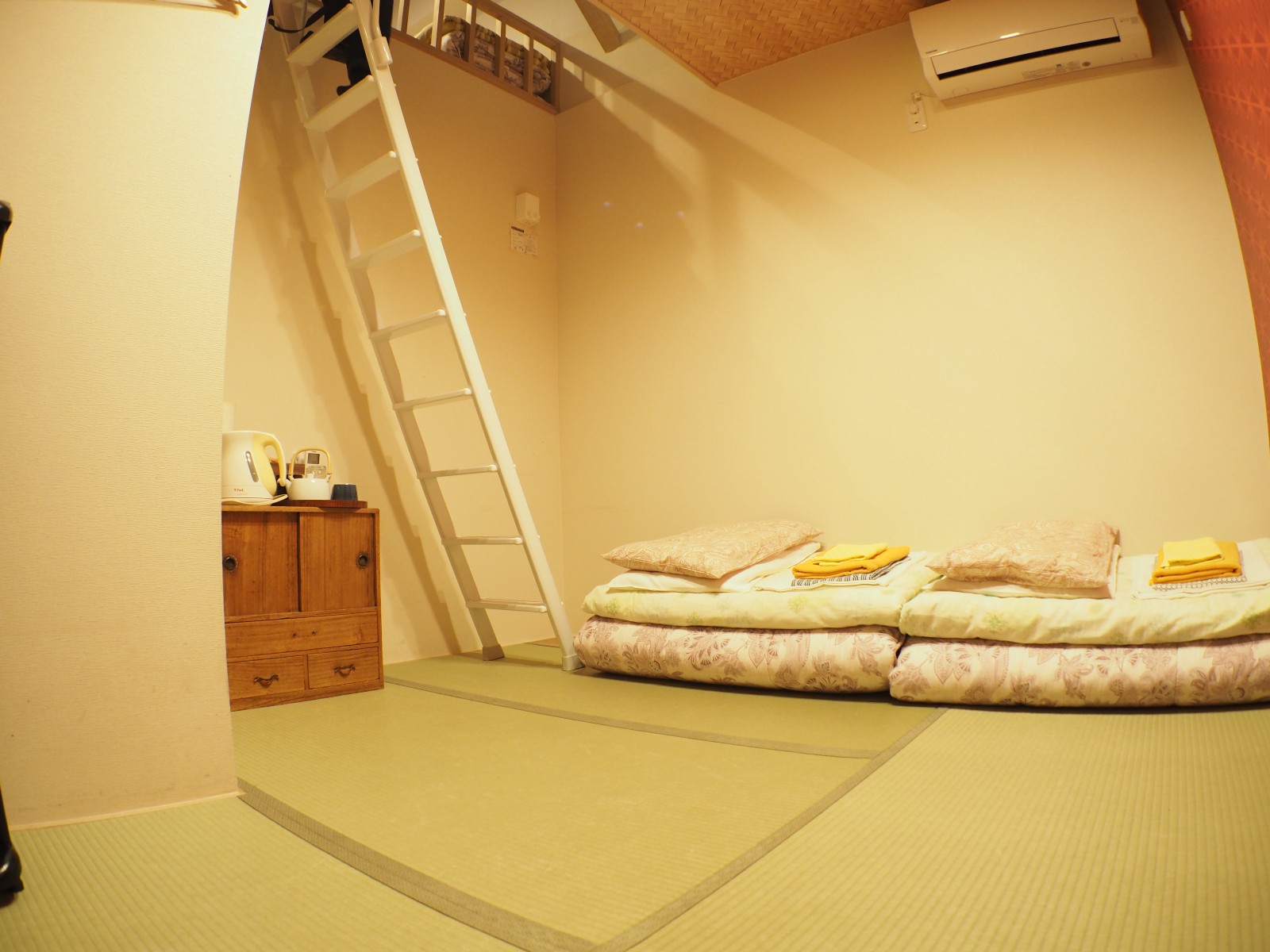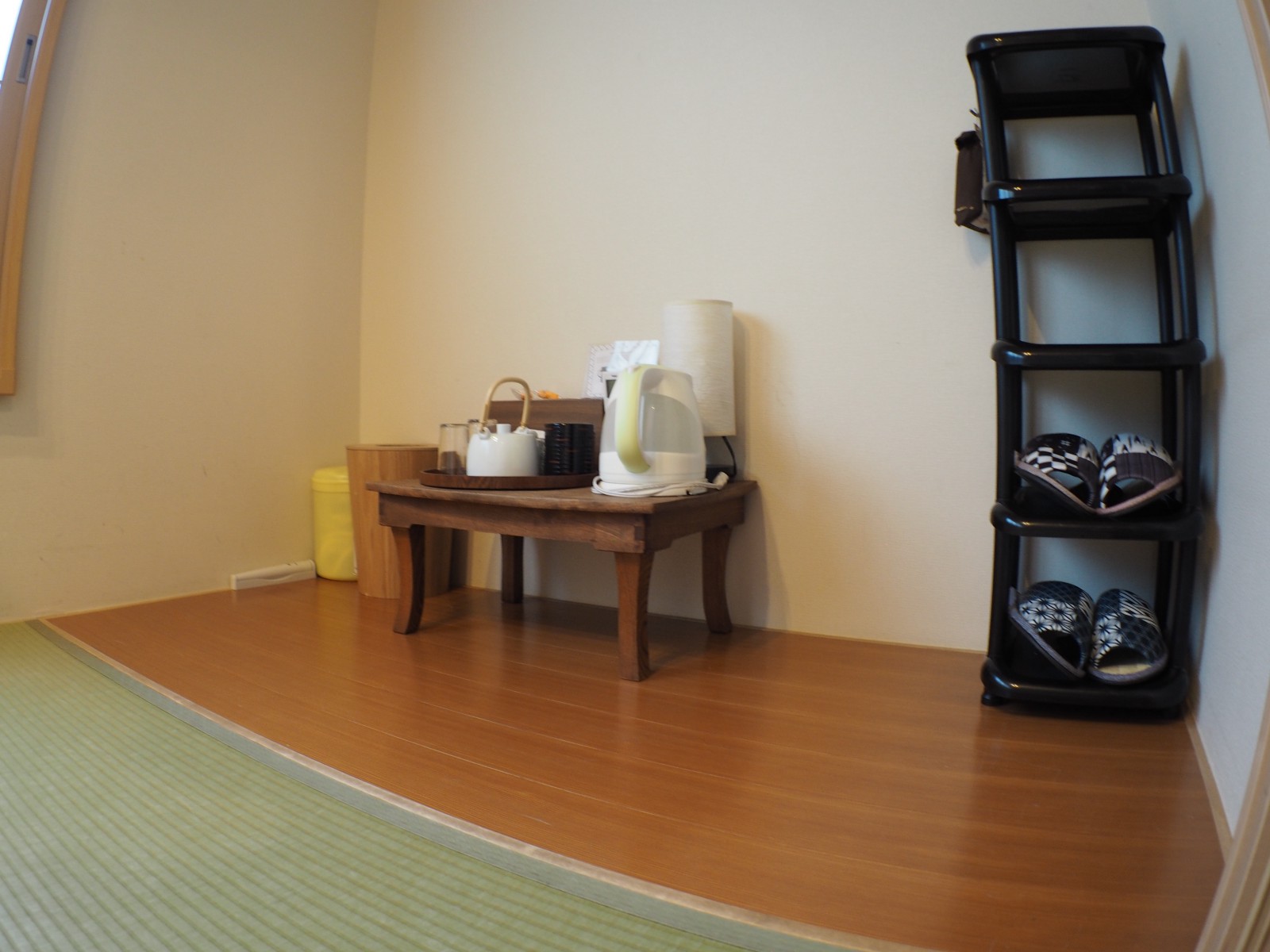 Security is well guaranteed having locked outer doors and security camera.
The building is not sound-proof and being so close to Ueno, it can get a little noisy outside. But in the amenities, you will find disposable earplugs in case it becomes necessary.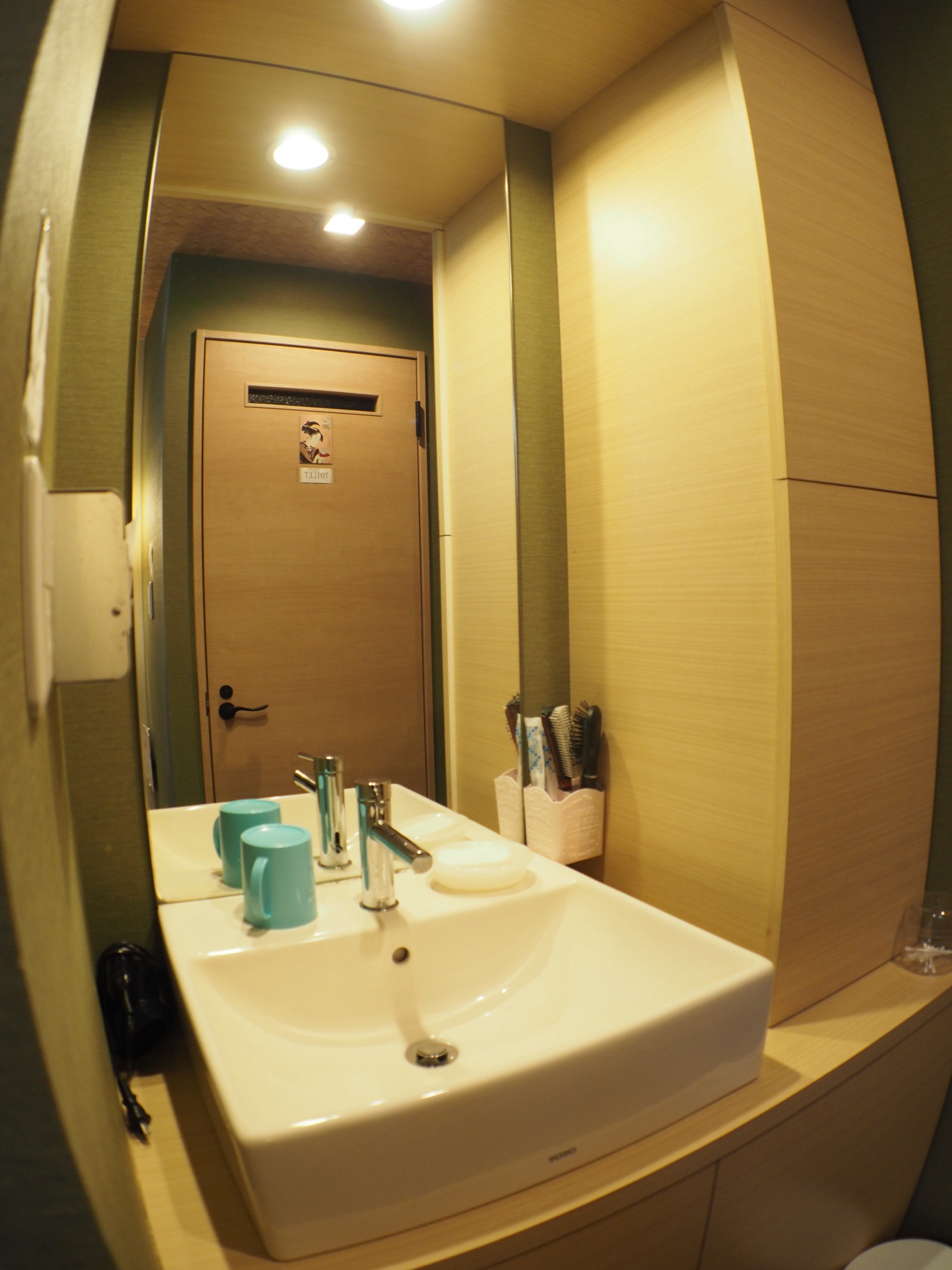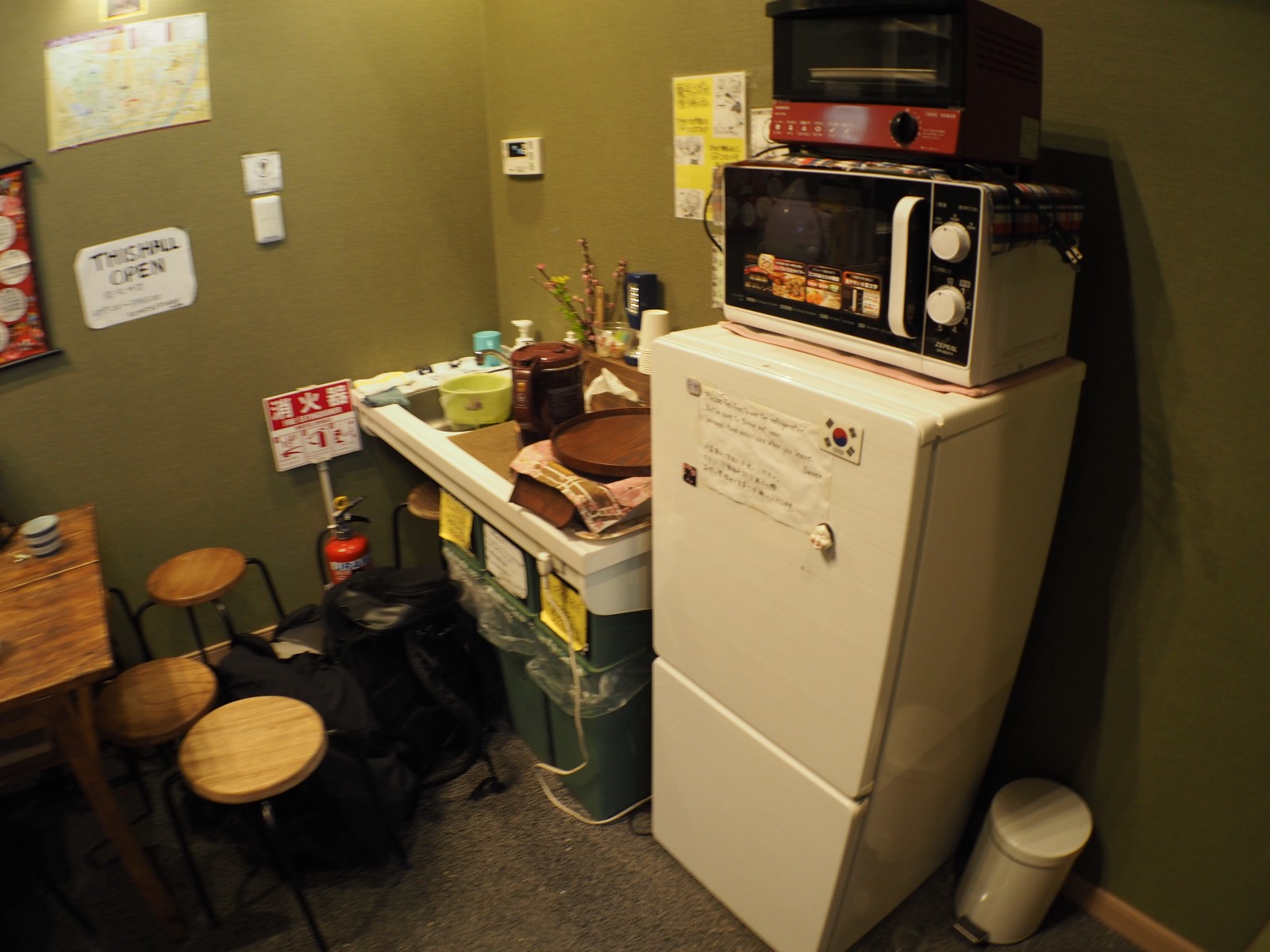 I asked Furuichi san about what he thinks makes Komatsu Ryokan so popular. He said the strength of Komatsu Ryokan is in the soft aspect of service, as opposed to the hard. He says his idea of a good experience in a Ryokan depends on the interaction between the staff and visitors. And certainly, you can see this mentality reflected in various aspects of the Ryokan.
The first thing you will notice when you get to the Ryokan is that your name will be printed on the front of the entrance on your arriving day, which makes you feel special and welcomed. You will also see humorous signs posted around the establishment. But most of all, Furuichi san has an ear-to-ear smile that makes you feel comfortable in the Ryokan.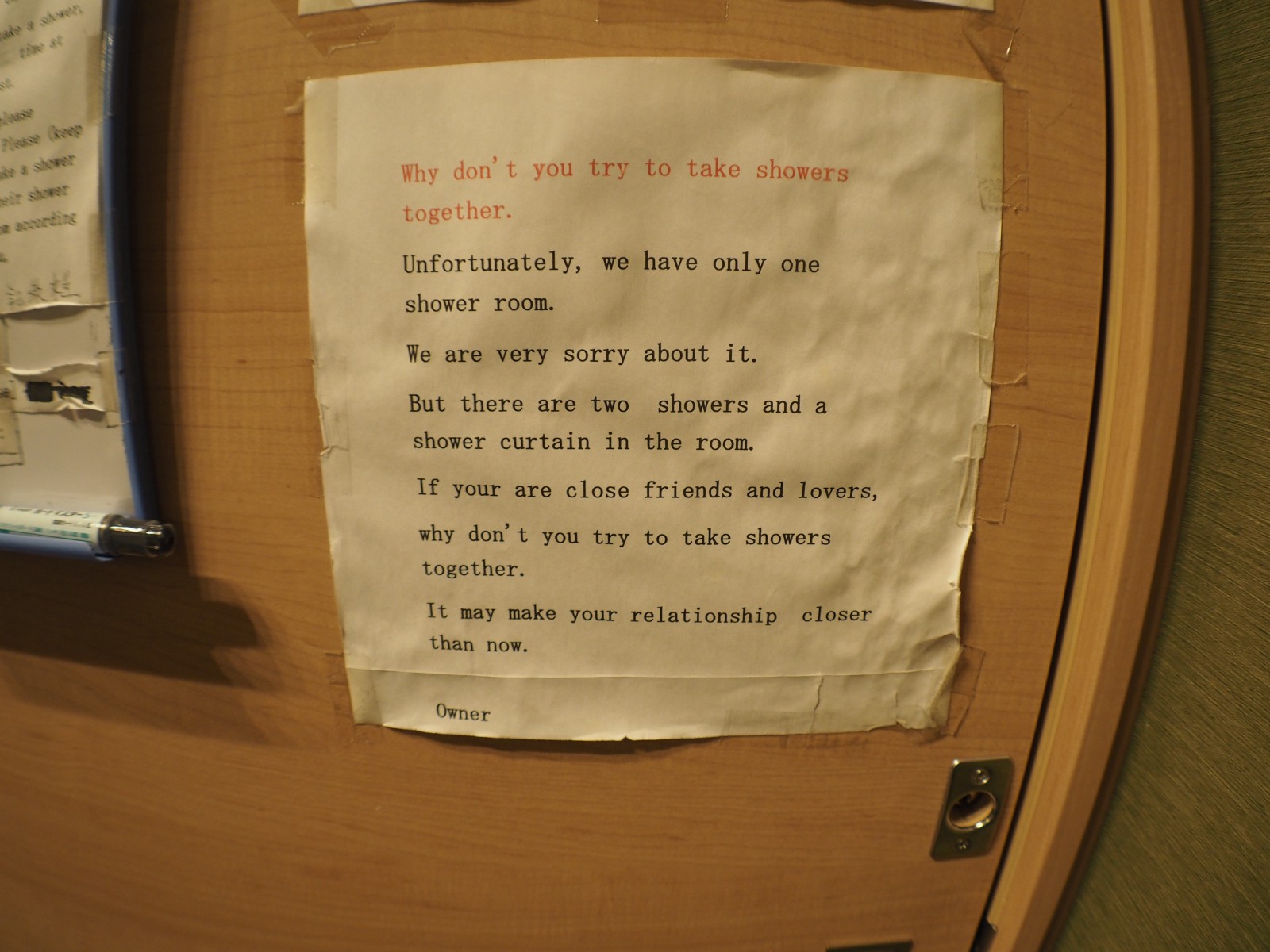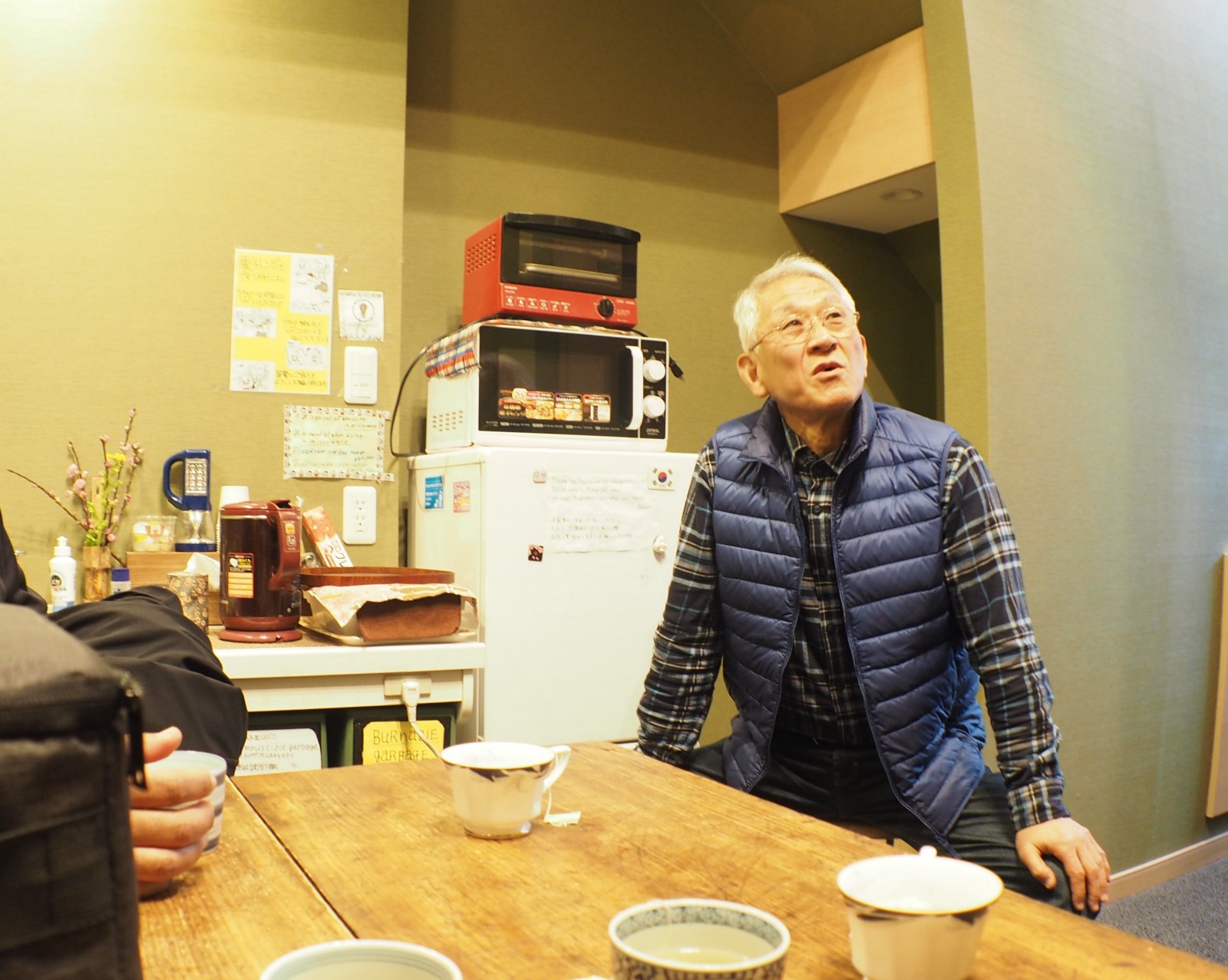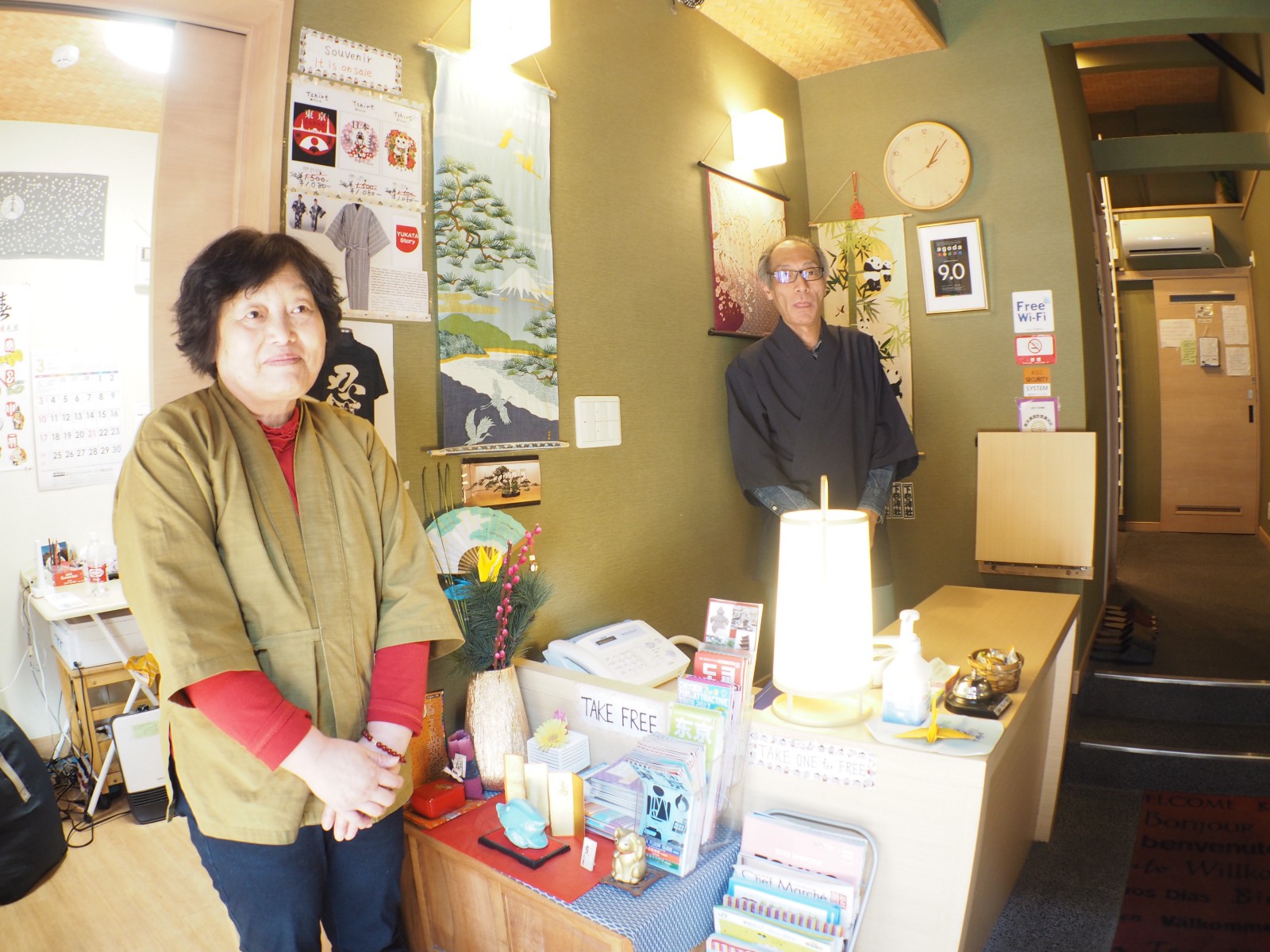 ▶︎Book your room at Komatsu Ryokan◀︎
Map: https://goo.gl/maps/u84i4HXBm3t
Access:
3-minute walk from Shin Okachimachi station (Toei "OedoLine")
3-minute walk from Inaricho station (Tokyo Metro "Ginza Line")
9-minute walk from Ueno station (JR Lines, Tokyo Metro Lines)
Rooms: 5 (All non-smoking)
Check in / Check out: 1 pm / 11 am
Meals: No meals
Some good options for when you stay at Komatsu Ryokan are the "Sumo show & Chankonabe lunch" and the "Aizome fabric dyeing".
The Sumo show & Chankonabe lunch are held on Mondays and Thursdays. It consists of a demonstration made by former Sumo wrestlers, explaining techniques, history, and culture surrounding the national sport. You can also take pictures with the Sumo wrestlers. Afterward, you will experience a Sumo wrestler's typical meal which is the Chankonabe.
"Aizome" is the Japanese word for dyeing textiles with indigo leaves. Japan has a long history of indigo dyeing and has perfected the techniques in doing this to the point that it has become worldly renowned. You will learn the various techniques and get to make your own Aizome pieces.
3. Ryokan Sawanoya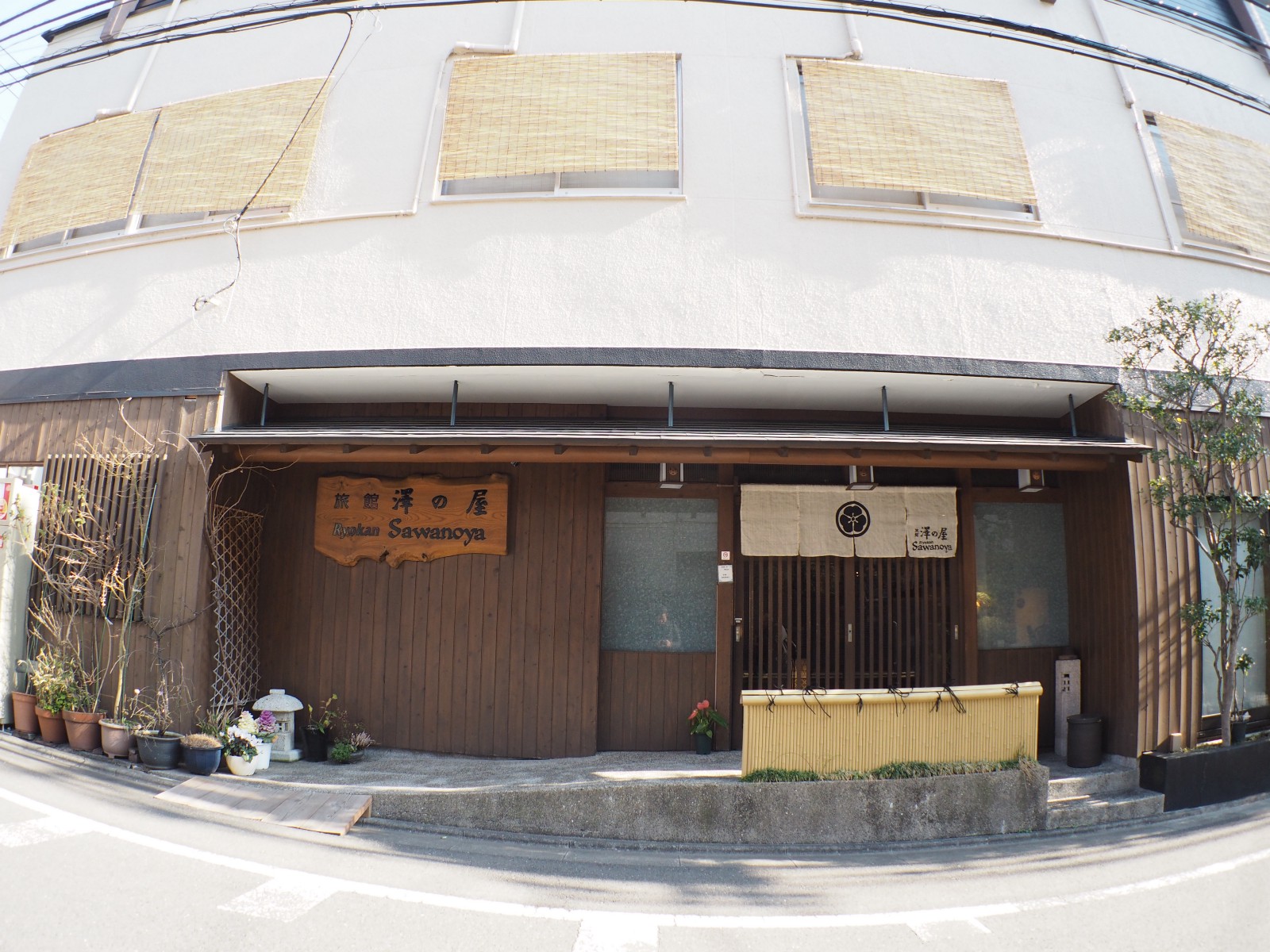 Ryokan Sawanoya is run by the Sawa family and is a very traditional-style Ryokan. Located near one of the most fascinating old towns of Tokyo known as the Yanesen area, This Ryokan has won Tokyo's highest-rated inn on TripAdvisor several times.
Ryokan Sawanoya opened for the first time over 60 years ago and has gone through big changes, adapting its style accordingly with the changing culture of Tokyo. After going through a lot of trial and error, it has now become one of the most famous Ryokan in Tokyo.
Sawa san (son) showed us the Ryokan.
The entrance has a traditional Japanese style that instantly attracts your eye.
Once you get in, you will see the elegant check-in area and dining area which has a cozy western feel. Here is where you can have your western-style breakfast (optional extra) and they also have seasonal activities from time to time.
On the side, you will find the information area. An impressive number of pamphlets for tourist attractions from all around the country in many different languages can be found here. They even have a machine for guiding tourists around the city.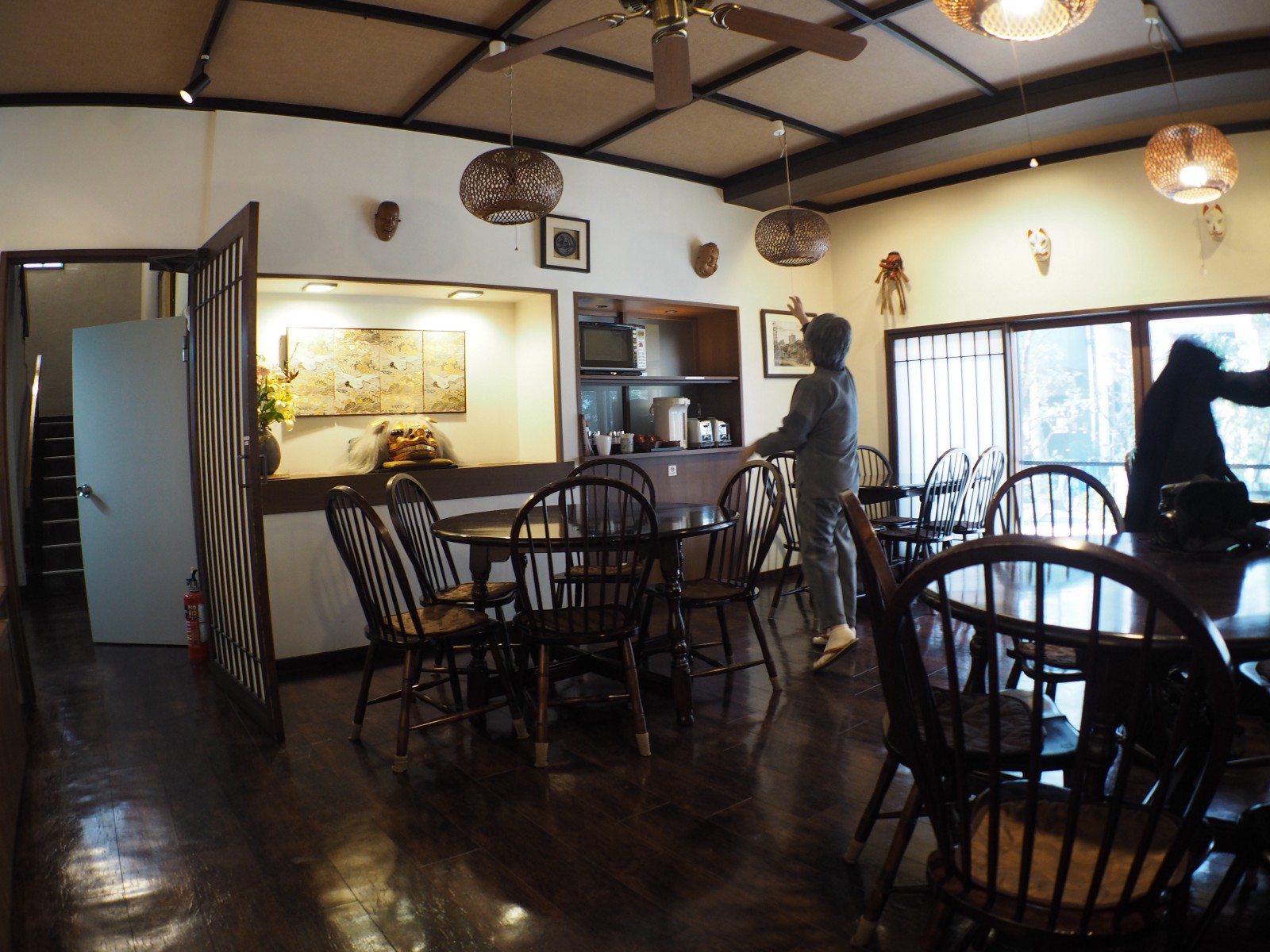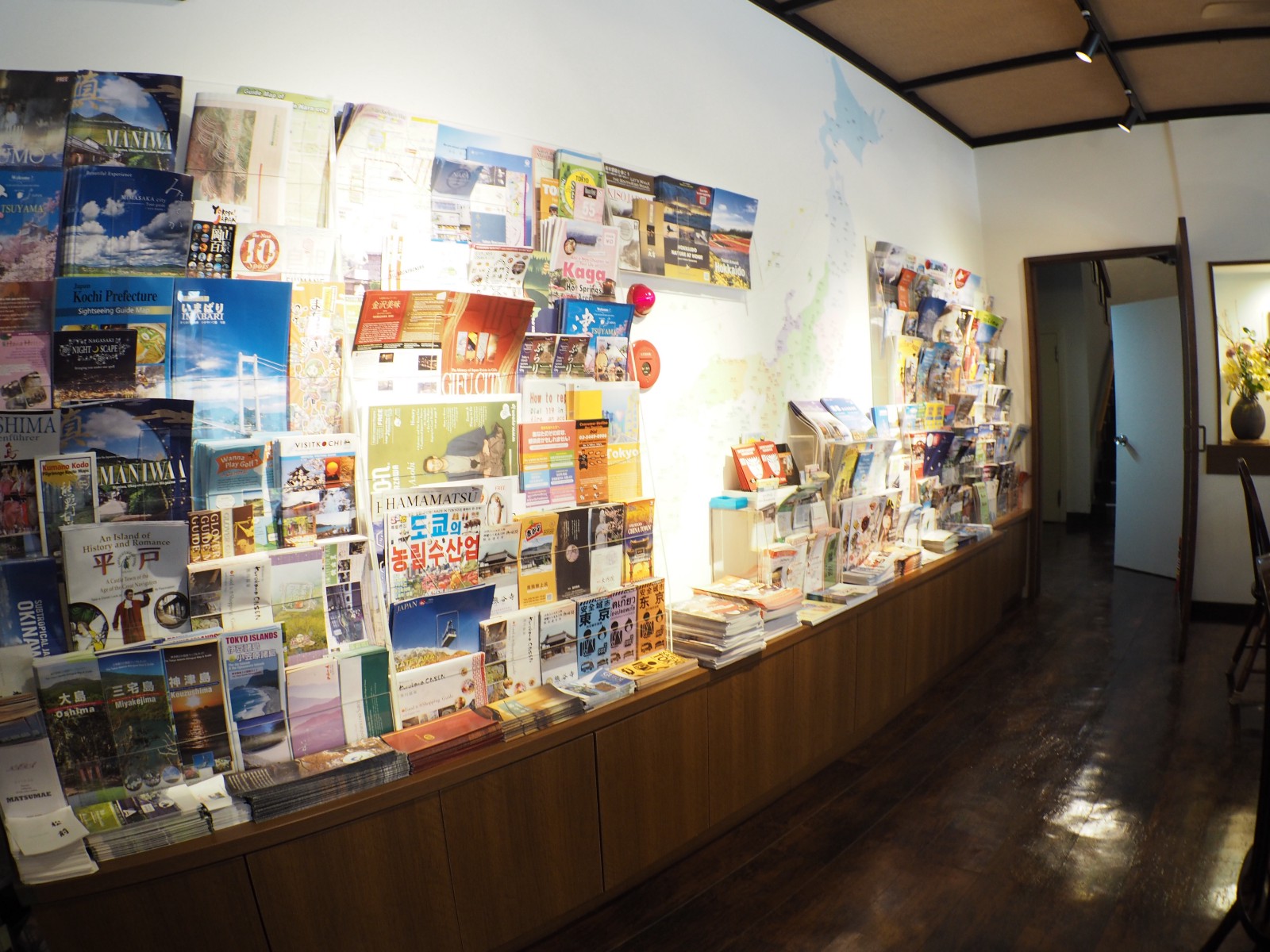 The hallways and stairways are spacious, and you will see many antique and art pieces decorating the walls. These pieces are a collection of Sawa san (mother) and are part of the personality of this Ryokan.
There are two Japanese communal baths with a garden view that you can reserve to enjoy an uninterrupted traditional Japanese bath experience.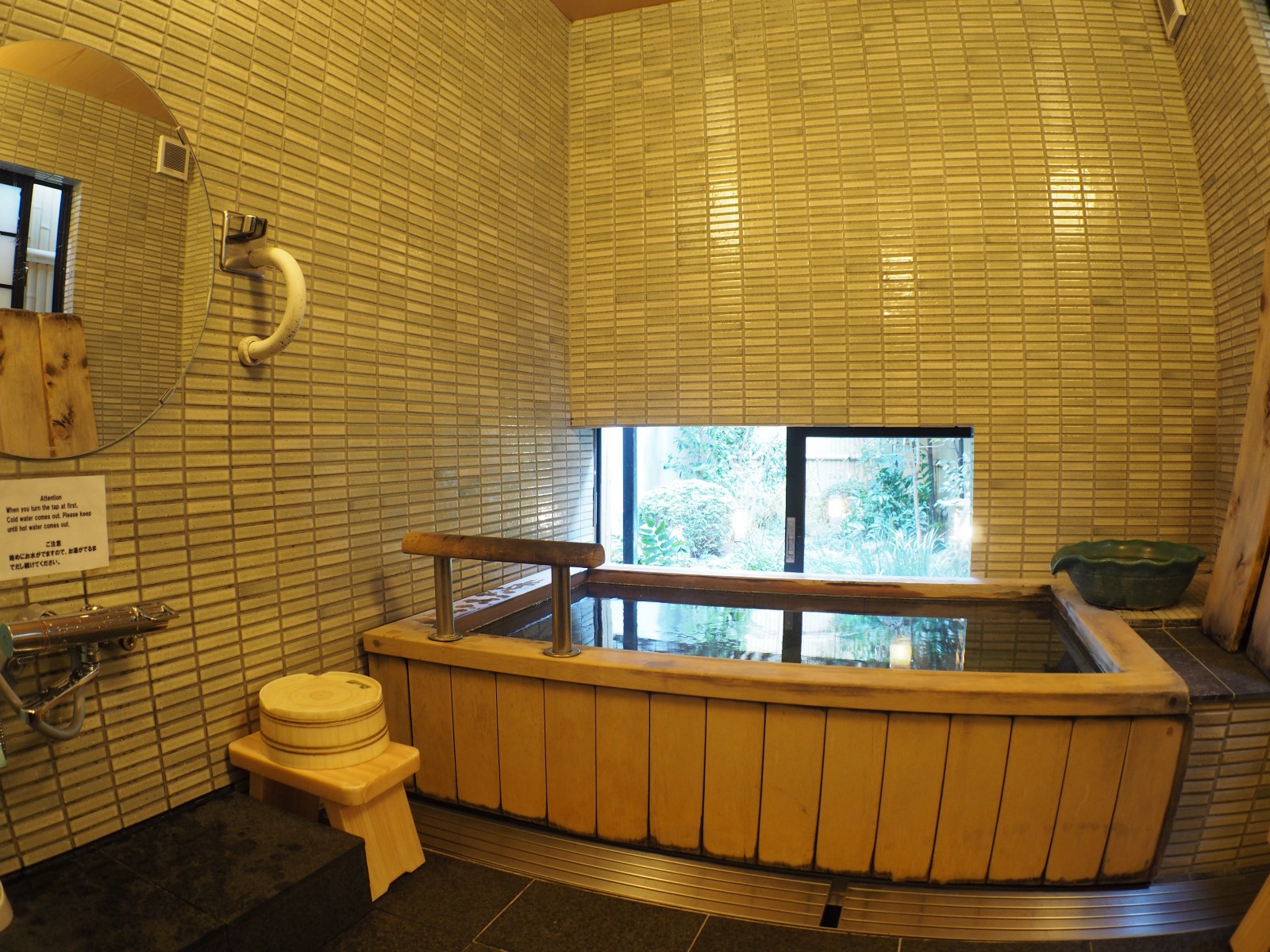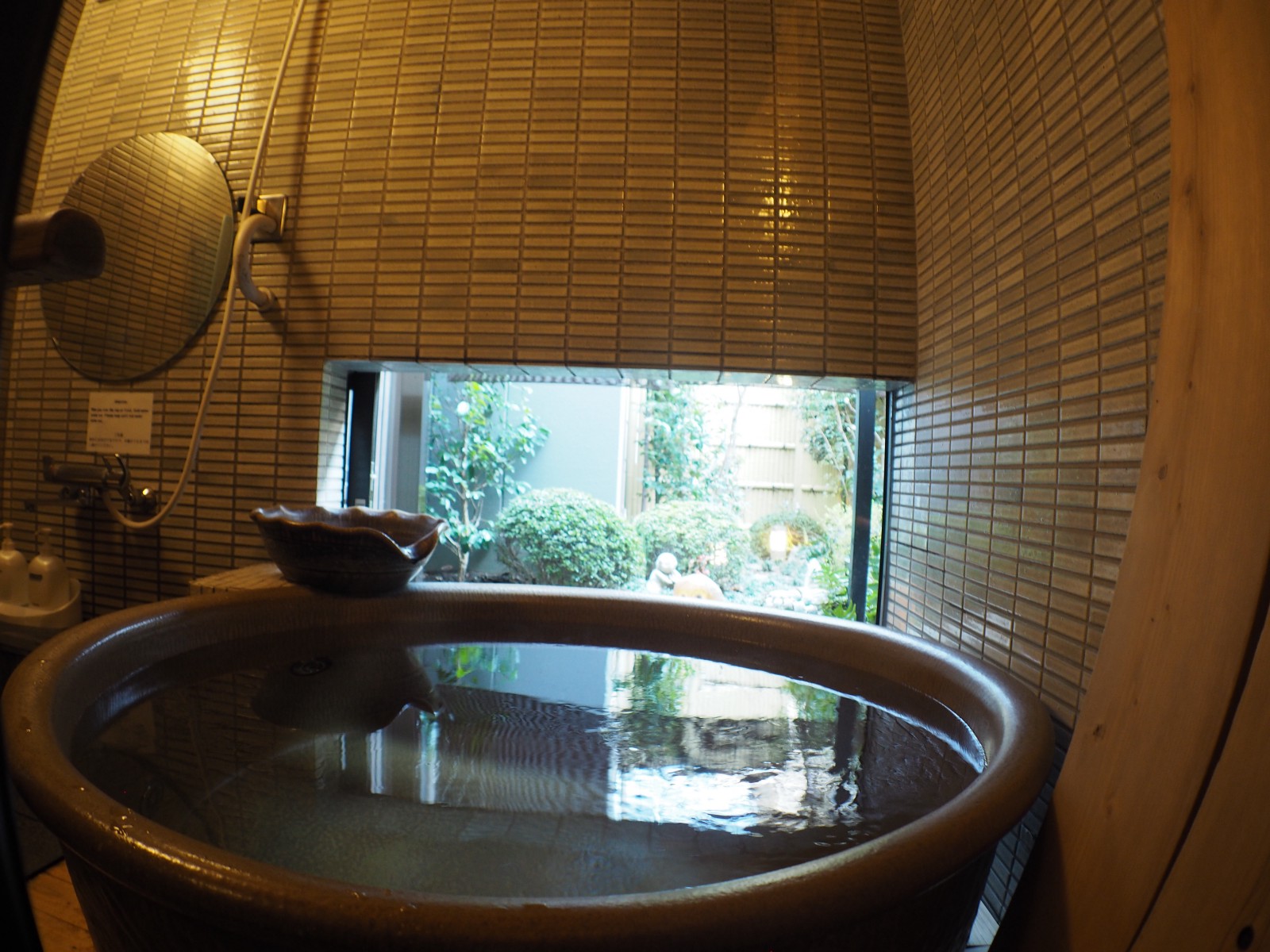 The rooms come in various sizes but are relatively spacious. Some of the rooms even come with their own toilet and bathroom with Japanese-style bathtub.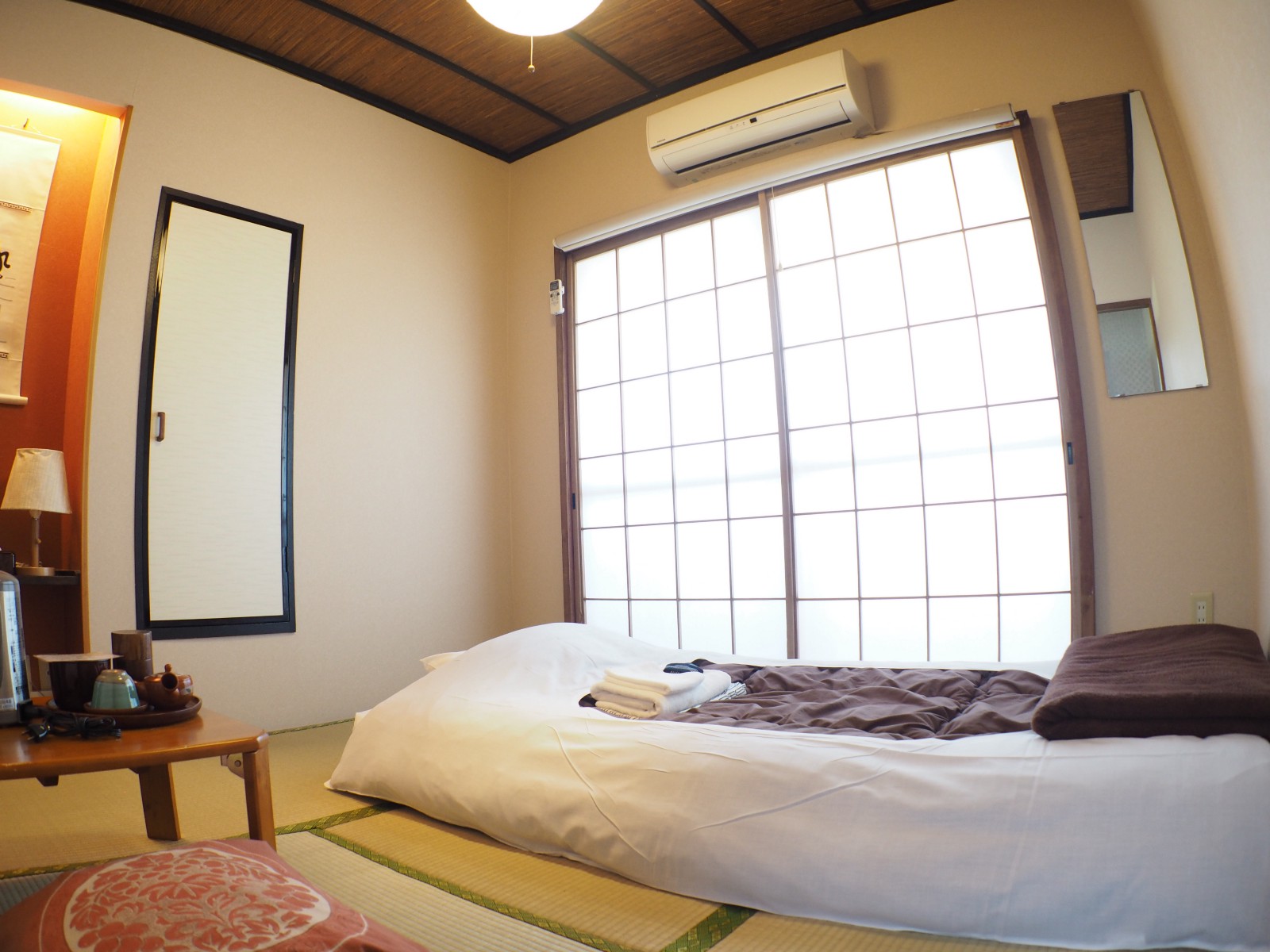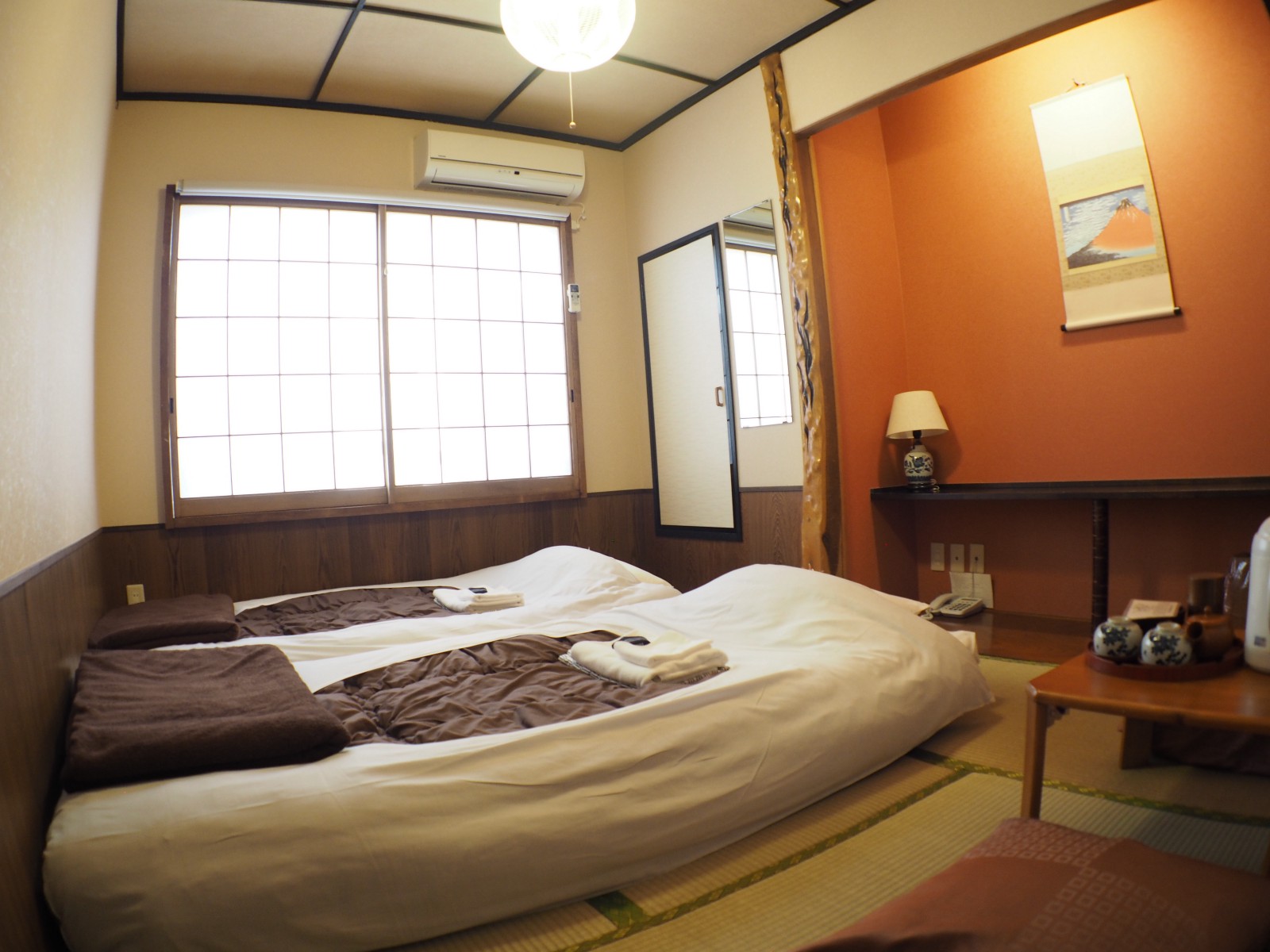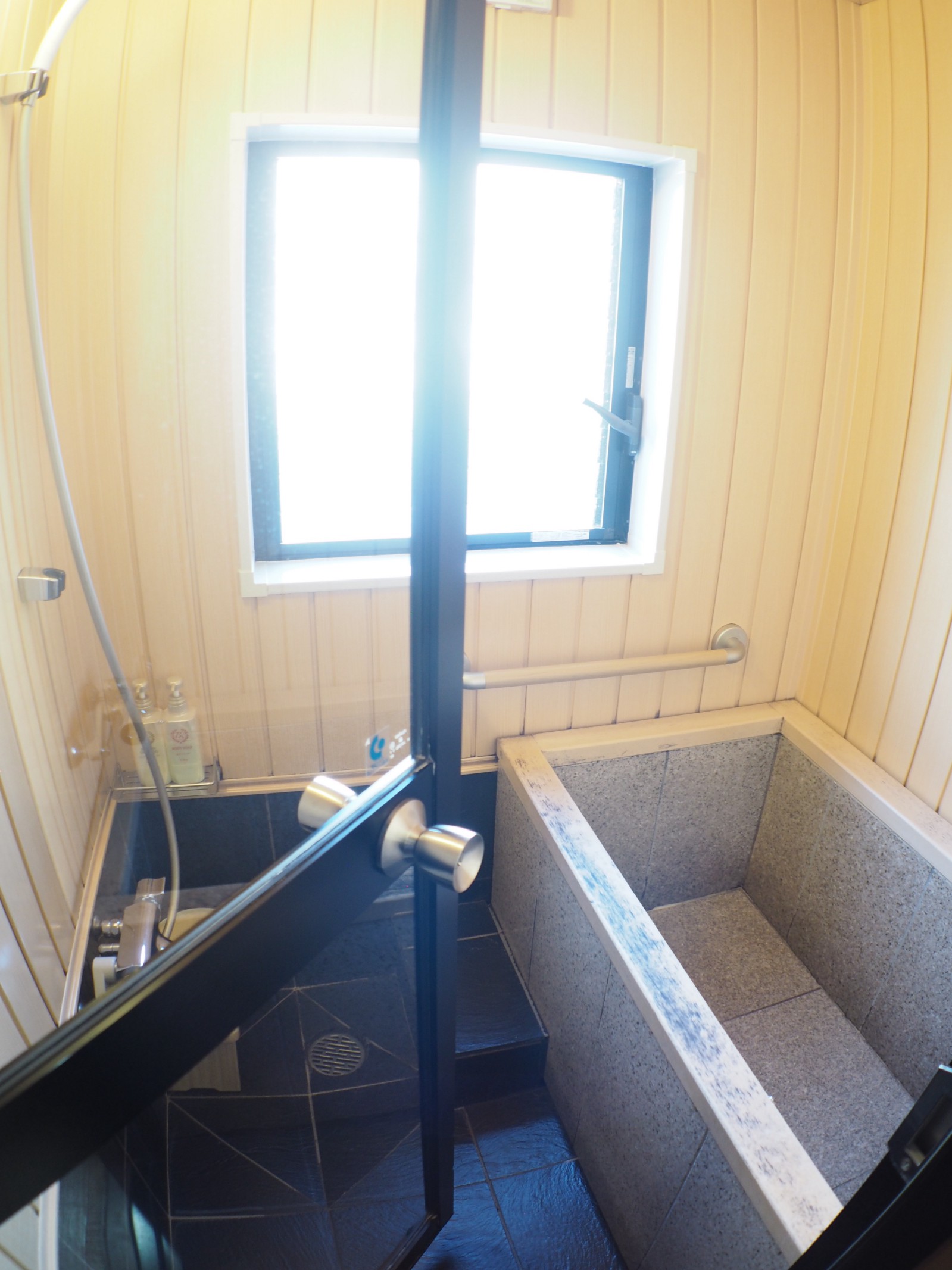 As I mentioned before, Ryokan Sawanoya had to go through a lot of changes and this is because they were affected by the increase of popularity of western-type hotels in the '70s and '80s. Ryokan Sawanoya did what very few Ryokan had done back then, which is starting to appeal to foreign visitors. Sawa san says it was difficult in the beginning because of the difference in culture. It was necessary to make the visitors know the correct way of staying at a Ryokan. They went through a lot of trial and error, and slowly found the ideal way to receive visitors from different cultures. They have received visitors from 89 countries and nowadays, they are proud to be one of the most preferred Ryokan in Tokyo.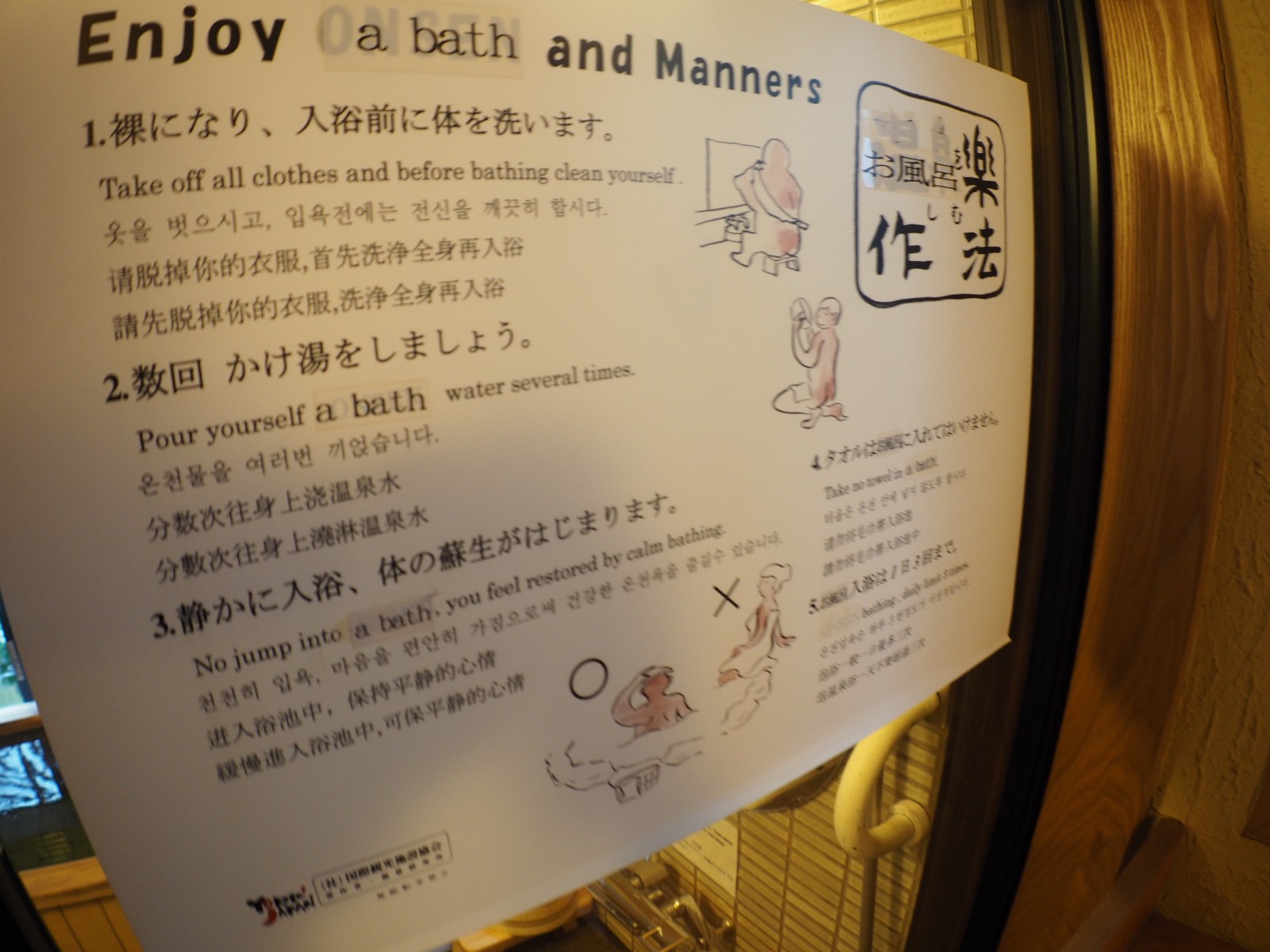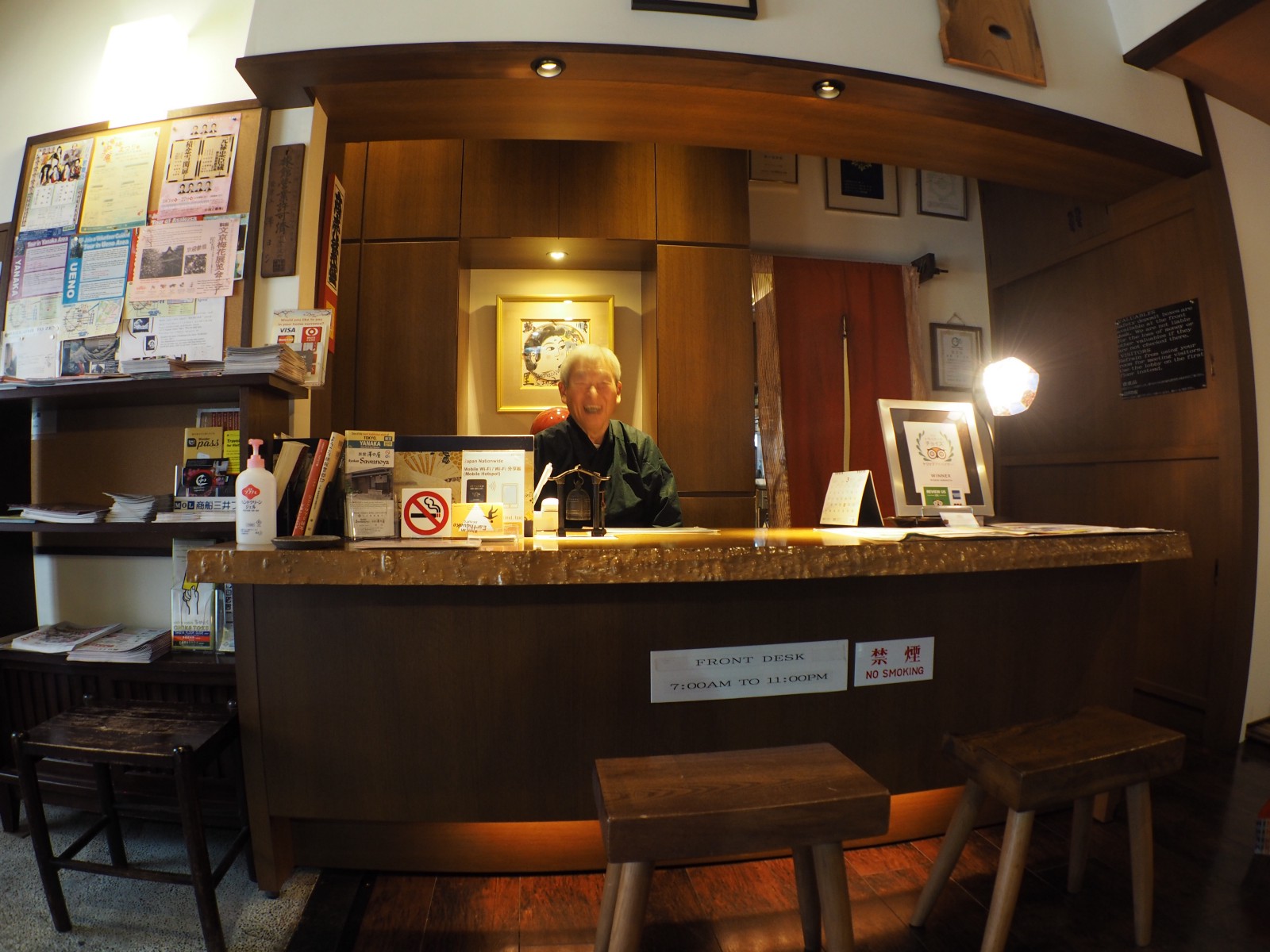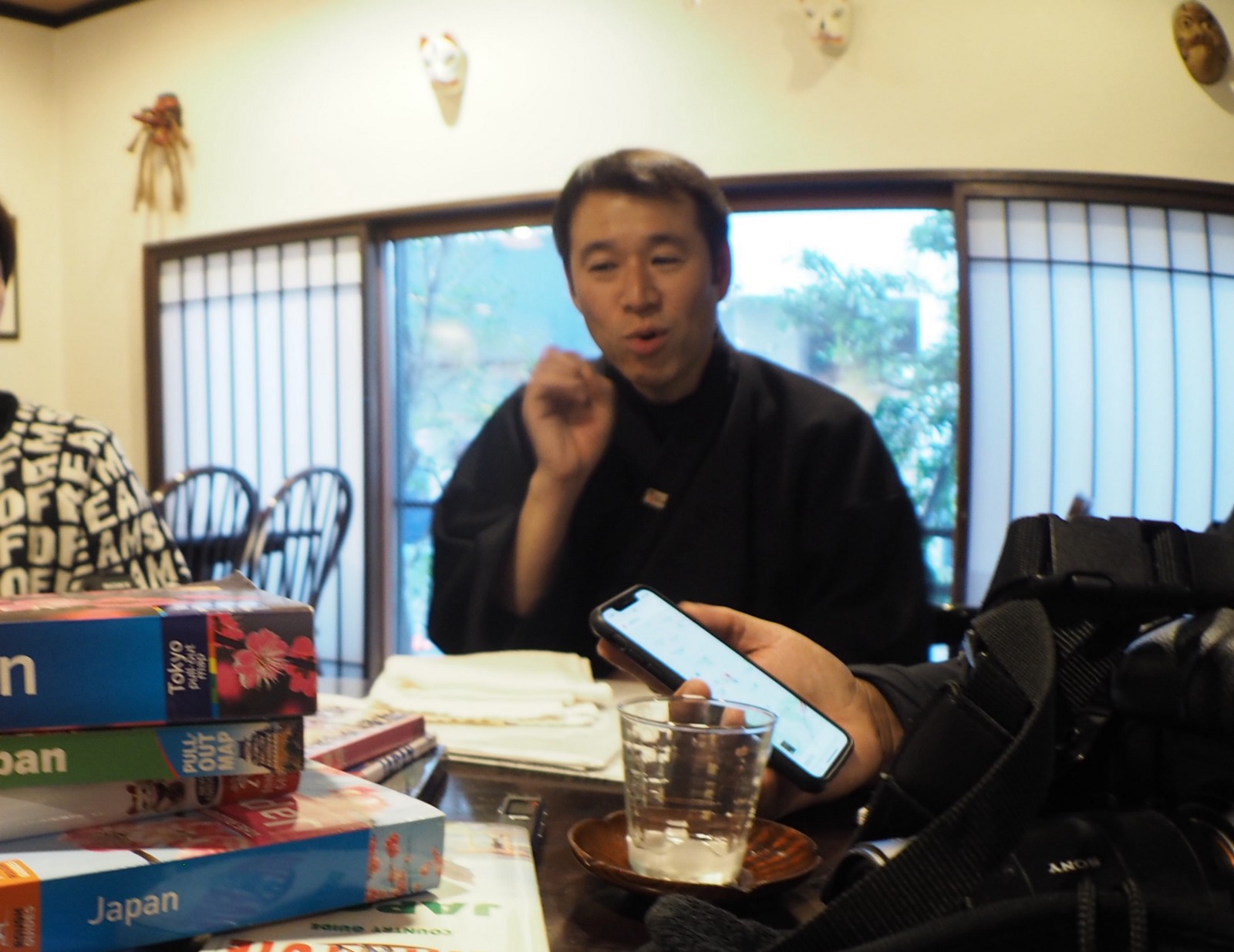 Official Website: http://www.sawanoya.com/
Map: https://goo.gl/maps/x53qRKwkqp22
Access:
7-minute walk from Nezu station (Tokyo Metro "Chiyoda Line")
Rooms: 12 (All non-smoking)
Check in / Check out: 3 pm / 10 am
Meals: Western-style breakfast (optional extra)
If you're planning to stay at Ryokan Sawanoya, the "Tokyo Yanesen Neighborhood Tour" is a must!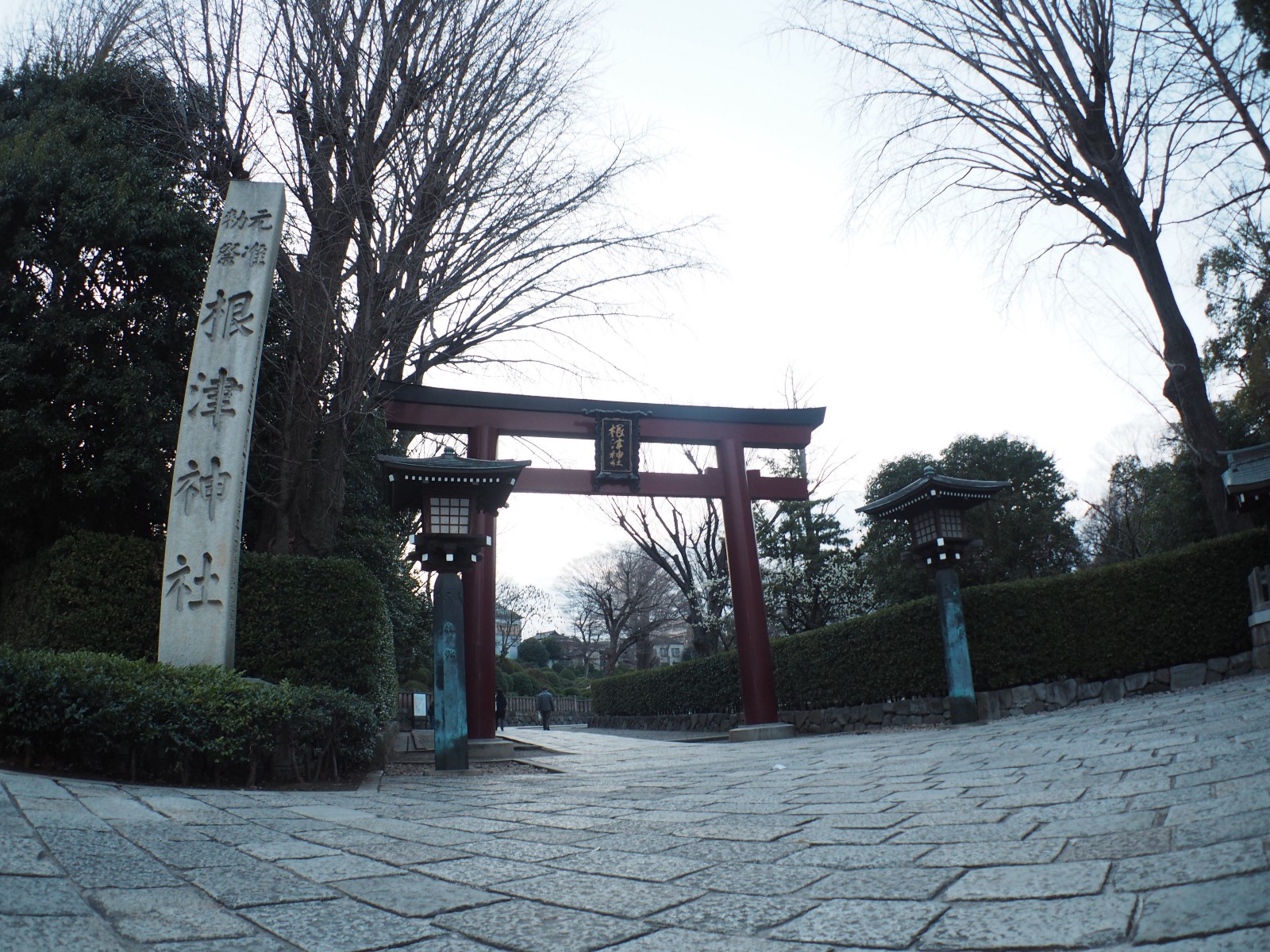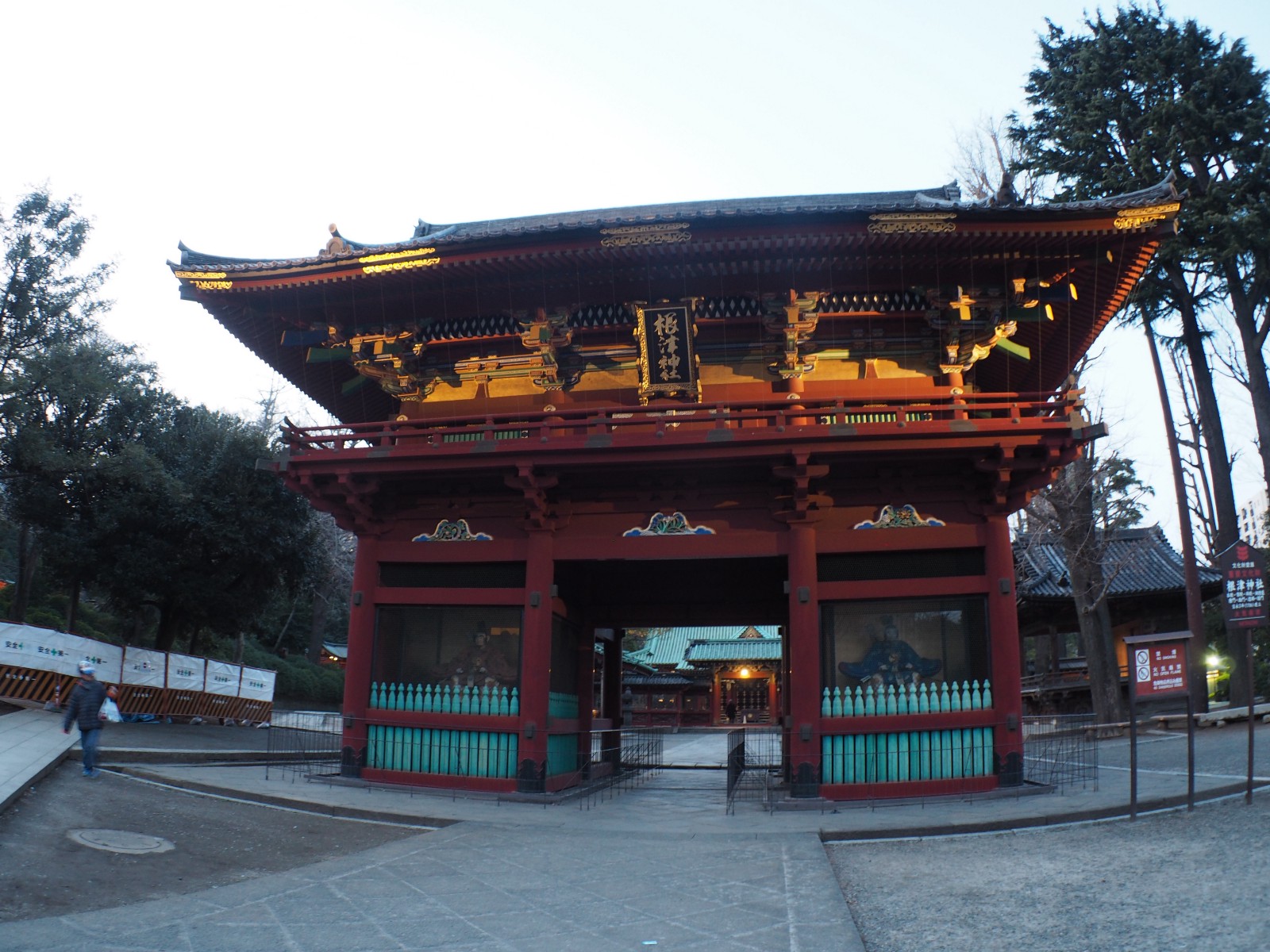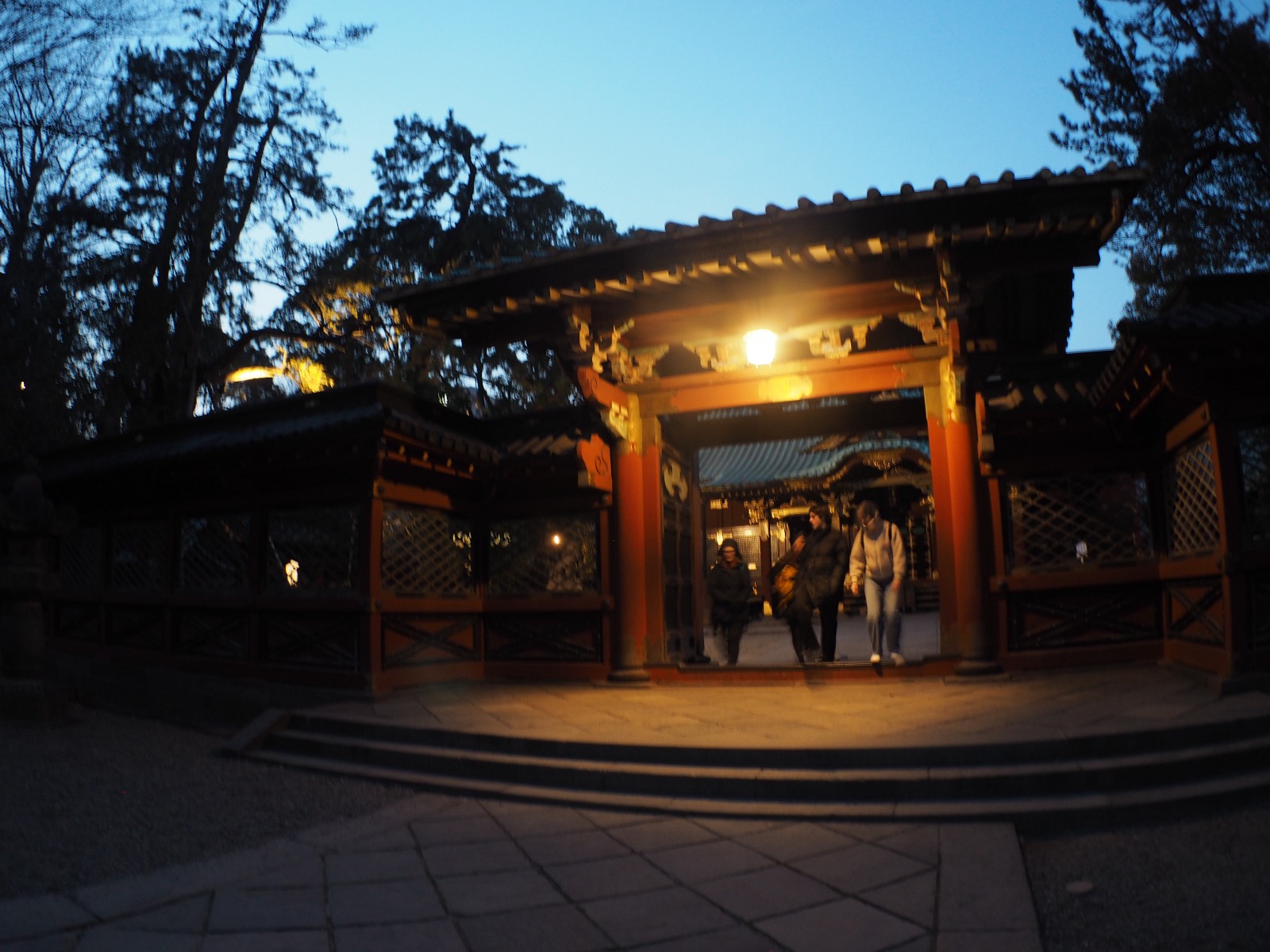 "Yanesen" is how people call the Yanaka, Nezu, Sendagi area. This area is filled with nice small shops, traditional food restaurants, historical shrines and temples, and lots of cats. It is such a fun area to spend the day. Buy some traditional snacks and eat as you walk around, feeling and experiencing the "Shitamachi" atmosphere of old-town Tokyo.
Nezu Shrine, one of the most important landmarks of the area, was established over 1,900 years ago and it is famous for its azalea festival held in April.
---
If you're planning on visiting Tokyo, why not try and visit a Ryokan? Staying at a Ryokan is such a unique experience, you don't want to miss out if you have the opportunity. Not only is it a Japanese experience, but also a regional experience, since Ryokan tend to be different depending on the region they are located.
Central Tokyo may not be well known for its Ryokan, but as you can see in the examples above, there are these hidden gems, and they are all located in very convenient areas near interesting and historical areas that are rich in culture.
I hope this article has helped you in any way to consider staying at a Ryokan. Or if you were already interested, hopefully, I was able to provide some points that will make that feeling stronger.
In the following article, we have compiled information on various types of accommodations in Japan, including hotels and traditional Ryokan. With our Japan Accommodation Guide, find the perfect lodging experience for you!
▽Subscribe to our free news magazine!▽

For more info about travel in Tokyo, check these articles below, too!
▽Related Articles▽
▼Editor's Picks▼
---