Ramen Buffet BUTA: All-You-Can-Eat Ramen under $10 in Tokyo!!
<>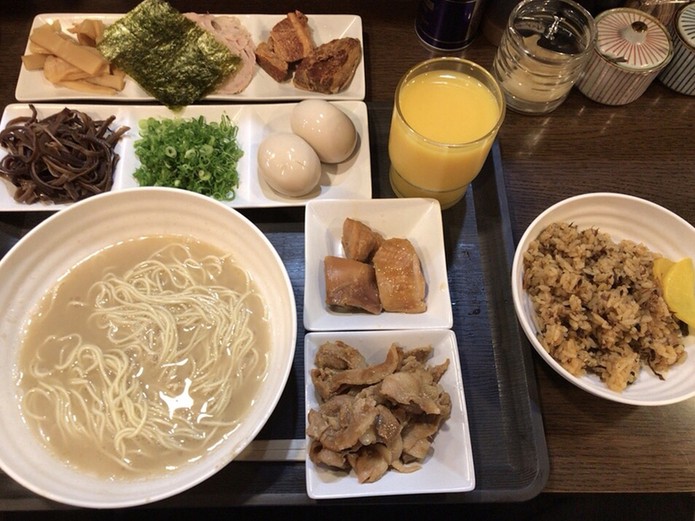 Too good to be true?? Enjoy unlimited delicious Ramen in Asakusa, Tokyo for less than 1,000 yen!!!
---
Tokyo offers a variety of all-you-can-eat deals from seafood and BBQ to desserts, but Ramen sounds quite new to everyone! Ramen is arguably the most popular nation's food, and how amazing to enjoy Ramen endlessly..
A mind-blowing Ramen restaurant has newly opened this year in Tokyo! Ramen Buffet BUTA (拉麺ビュッフェBUTA) is located in Asakusa area, one of the most popular tourist districts in Tokyo. Only one minute away from Asakusa Station (Tsukuba Express). Find the piggy sign at the shop front 😉
It's not literally "endless" Ramen as the time is limited for 30 mins, yet you can eat as much Ramen as you want only for 980 yen, which is an amazing deal!
Ramen Buffet BUTA's Ramen is an authentic Tonkotsu flavour (rich and creamy pork broth), and the firmness of noodles can be chosen (extra hard, hard, normal and soft).
On top of unlimited Ramen, toppings, rice, salad and desserts are available in buffet style, too. You can create your own Ramen dish by adding toppings such as boiled egg, pork belly and a variety of condiments, as well as side dishes.
If you are a Ramen lover and wanna challenge your appetite with the delicious Ramen dish, this is definitely worth visiting! Add Ramen Buffet BUTA on your bucket list now 😉
-Info-
Access: 1 min walk from Asakusa Station (Tsukuba Express)
Hours: 11:30~22:00 (Closed on Wednesday)
Price: adult 980 yen/kids 490 yen
Looking for more all-you-can-eat deals in Tokyo?? Then you may wanna check out these articles below!
More Ramens?? Then check these out 😉
↓↓Here are our top picks↓↓
---