New Entry Restrictions over the Omicron Variant from December 1st, Japan
Japan would not allow foreigners residents coming from certain African countries to enter.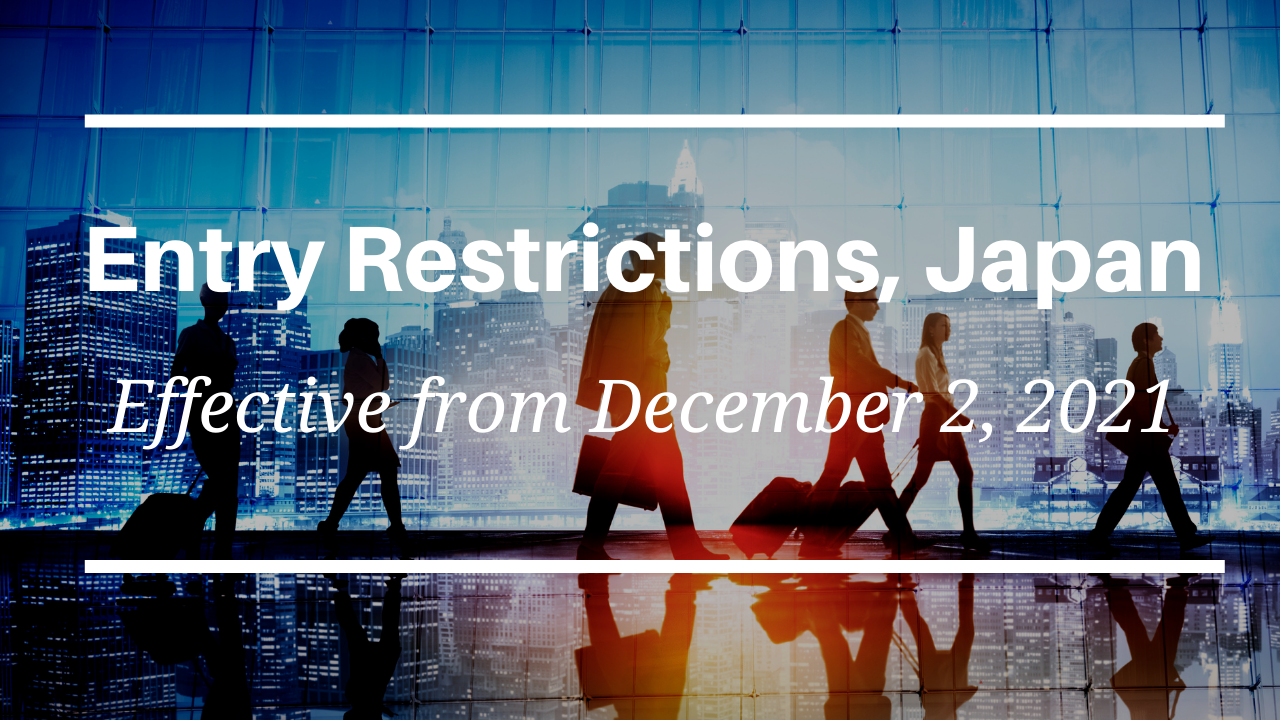 On November 29 Prime Minister Fumio Kishida made an important statement that the government will ban all foreign travelers from entering Japan, starting from November 30.
We explain this announcement and the new entry restrictions in this article:
But basically, the new entry restriction bars all new incoming foreigners from all across the world to prevent the omicron variant from coming in and growing in the country. So that means that all foreign people coming for student exchanges, business trip and any other purposes including those who were allowed to visit Japan under the easing regulation effective November 8 now they cannot enter again, so we are back to the previous situation.
The possibility of shortening the quarantine for fully vaccinated persons to 10 days upon presentation of a negative PCR test was also canceled, and of course, the 3-day quarantine for business travelers too.
There are exceptions to the entry ban: Japanese and foreign residents returning to Japan(as up to now). However, they are required to be placed in isolation for 14 days again while the Japanese travelers were required to be isolated for 3 days if they fulfill certain conditions as getting fully vaccinated.
Today, following the first confirmed infection with Omicron strains in Japan, the government has announced new measures.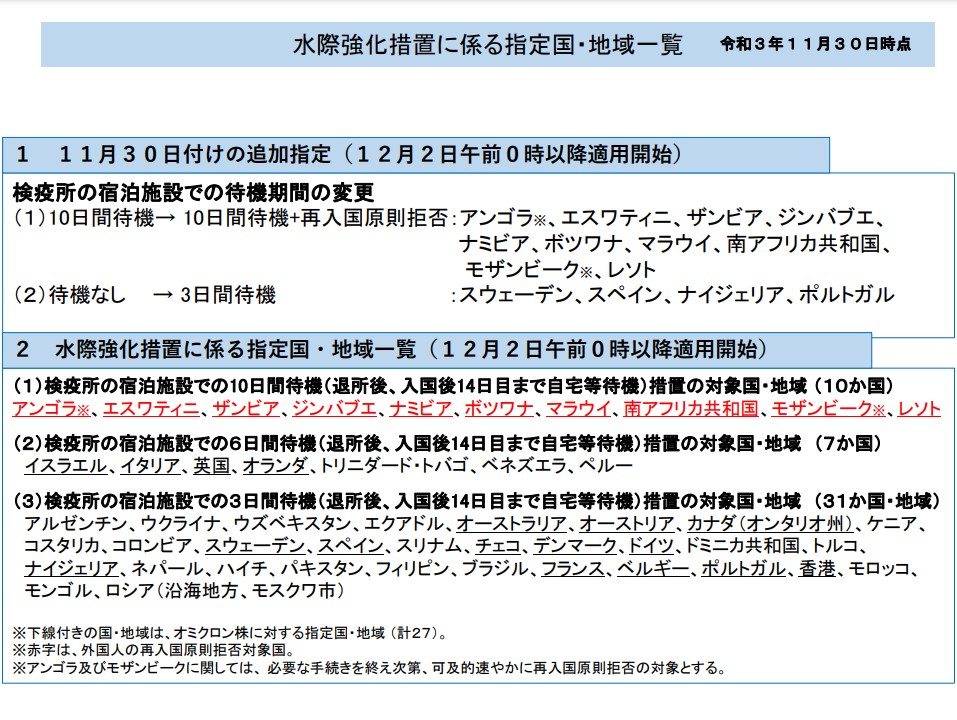 One of the most important changes is that foreigners, resident or non-resident, coming from any of the following countries would not be allowed to enter Japan:
-South Africa
-Botswana
-Eswatini
-Lesotho
-Namibia
-Zimbabwe
-Mozambique
-Malawi
-Zambia
-Angola
Also Sweden, Spain, Nigeria, Portugal, among other countries, are added to the list of countries that need to quarantine the first 3 days in hotels provided by the Japanese government.
Thus, the new list is as follows:
– 6 days in a place designated by these authorities, if the person has spent the last 14 days before arriving in Japan in Israel, the United Kingdom, the Netherlands, Italy, Trinidad and Tobago, Venezuela and Peru.
– 3 days in a place designated by these authorities, if the person has been in the last 14 days before arriving in Japan in Argentina, Ukraine, Uzbekistan, Ecuador, Australia, Austria, Canada (Ontario), Kenya, Costa Rica, Colombia, Spain, Sweden, Suriname, Czech Republic, Denmark, Germany, Dominican Republic, Turkey, Nigeria, Nepal, Haiti, Pakistan, Philippines, Brazil, France, Belgium, Portugal, Hong Kong, Morocco, Mongolia and the Russian Kai region of Primorye and the city of Moscow.
If you are wondering how are the designated facilities by the Japanese authorities and how is the process, here is my first-hand experience this summer returning to Japan from Spain and spending 3 days in a quarantined hotel.
Note: Travelers arriving at Japan before midnight on December 2nd are not subject to the new measures. Those who arrive there after midnight on December 2nd are required to follow the rules.
---
Also, news began to spread today that the Japanese government is requesting airlines to cancel all new bookings for international flights arriving in Japan until the end of December. This will affect both Japanese and foreign passengers.
An NHK news report states that according to the airlines, the number of reservations for incoming flights increased in December because Japanese living abroad are spending the New Year's Eve and New Year's vacations in Japan.
The same NHK news also states that it is said that reservations that have already been completed will not be canceled, but the target of the request to stop new bookings includes Japanese abroad, and Japanese who have not made reservations are indeed returning to Japan.
---
Check our newsletter for the latest trends in Japan!
▼See Other people's Opinion?▼
---