Entry Requirements from Japan to European countries – January 7th 2022 Updated
Check the entry PCR test requirements from Japan to European countries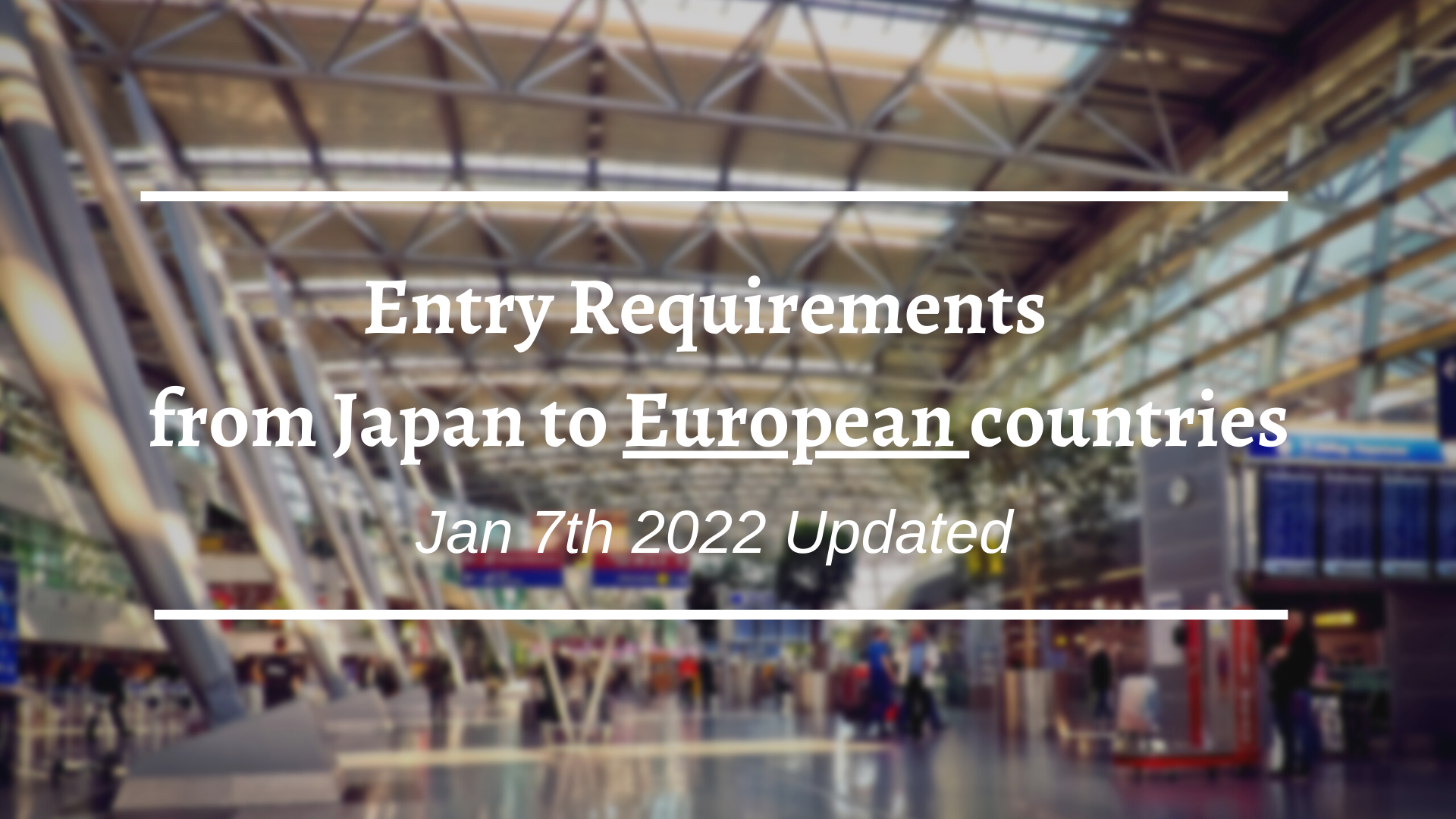 This is an article for people living in Japan that summarizes the latest updates in COVID-related entry rules of worldwide countries. Please note that the rules in this article ONLY apply to the passengers departing FROM JAPAN who had been in no other countries within the last 14 days before departure.
For passengers that do not fly direct, but make a stopover in one or more countries be sure to check not only your final destination but also the countries your flight will be transiting to see if they have any entry requirements for those transit passengers. For example, if you fly from Japan to Australia directly, then the pre-departure PCR test must be taken within 72 hours. But if your flight to Australia by transiting at Singapore, then the PCR test must be taken within 48 hours!
Also, some airlines may set their own rules (e.g. Etihad required the certificate 48 hours before landing for unvaccinated people).
We try our best to deliver the most up-to-date information in this article, but depending on the spread of new variants of COVID and the status of infection in each region, governments in the world frequently and suddenly make changes with very short notice. So we recommend you double-check with your embassy, airline, or government web page for valid entry requirements at your departure date and time.
---


Our affiliated clinic Clinic Nearme offers the COVID-19 PCR test and the negative certificate next day for 22,000 JPY (if you tested negative of course). You can also have the certificate the same day for an extra 3,300 yen (the total would be 25,300 JPY).
■
Austria
Test Type: Saliva ×
Test Type: Swab 〇
Requirements
1. Proof of full vaccination (2dozes) OR proof of past infection+recovery AND 2. A negative PCR test (within 72 hours before arrival) OR proof of a booster vaccination (booster is valid from the first day) *Children under 12 are exempted and follow the protocol of the attending adult/s.
Last Updated 2021-12-29
■
Azerbaijan
Test Type: Saliva ×
Test Type: Swab 〇
Requirements
An official certificate of fully vaccination or recent recovery from COVID-19 for 18 yrs and over. PCR test within 72 hours before departure for 1 yr old and over. "Vaccination certificate issued in Japan is NOT confirmed to be effective for entry. And it must be issued by the state only (T Care Clinic Vaccination Certificate is NOT applicable.)
Last Updated 2021-12-29
■
Belgium
Test Type: Saliva ×
Test Type: Swab 〇
Requirements
PCR test within 72 hours before arrival or Rapid Antigen test 36 hours before arrival (Belgium residents are exempted but this does not based on nationality. Even a Belgian citizen need pre-travel tests if living in Japan).
Last Updated 2021-12-29
■
Bulgaria
Test Type: Saliva ×
Test Type: Swab 〇
Requirements
PCR test within 72 hours before arrival, Rapid Antigen test within 48 hours before arrival, Vaccination certificate, or Recovery certificate (within 180 days). Children under 12 are exempted. PDF accepted.
Last Updated 2021-12-29
■
Croatia
Test Type: Saliva ×
Test Type: Swab 〇
Requirements
PCR test within 72 hours before arrival, EU Accredited Antigen test within 48 hours before arrival, valid vaccination/recovery certificate, or valid EU Digital COVID Certificate (children under 12 are exempted if accompanied by qualified parent/s) depending on which entry category you fall into.
Last Updated 2021-12-29
■
Cyprus
Test Type: Saliva ×
Test Type: Swab 〇
Requirements
In effect from Jan 4 to Jan 15 2022, PCR test within 48 hours before departure. And all passengers regardless of vaccination history, will undergo a PCR laboratory test upon arrival.
Last Updated 2021-01-01
■Denmark
Test Type: Saliva ×
Test Type: Swab 〇
Requirements
All persons without residence in Denmark need PCR-test within 72 hours before entry, or a rapid antigen-test within 48 hours before entry. People residing in Denmark can either take a test before entering Denmark, or take a test within 24 hours after entry.
Last Updated 2021-12-29
■
England
Test Type: Saliva ×
Test Type: Swab 〇
Requirements
PCR test within 2 days before departure for all passengers of 12 yrs and over, regardless of the vaccination status. For example, if you travel directly to England on Friday, you could take a test any time on the Wednesday, Thursday or Friday. If your journey to England is a multi-leg journey, you can take the test in the 2 days before the start of the first leg. PDF accepted.
Last Updated 2021-12-29
■
Finland
Test Type: Saliva ×
Test Type: Swab 〇
Requirements
PCR/Antigen test within 48 hours before arrival AND a valid vaccination/recovery certificate. Finnish citizens/permanent residents are exempted. (All the requirements apply until 31 Dec 2021 to persons born in 2005 or earlier. From 1 Jan 2022 onwards, the requirements apply to persons born in 2006 or earlier.)
Last Updated 2021-12-29
■
France
Test Type: Saliva ×
Test Type: Swab 〇
Requirements
PCR/Antigen swab test within 48 hours before departure regardless of vaccination status (children under 12 are exempted).
Last Updated 2021-12-29
■
Georgia
Test Type: Saliva ×
Test Type: Swab 〇
Requirements
PCR test within 72 hours before arrival (full vaccination certificate or recent recovery certificate holders and children under 10 are exempted).
Last Updated 2021-12-29
■
Germany
Test Type: Saliva ×
Test Type: Swab 〇
Requirements
PCR/Antigen test within 48 hours before arrival (children below 6 are exempted), proof of recovery, or vaccination. If entering Germany with a carrier (e.g. an airline), PCR tests may be taken a maximum of 48 hours before the departure. But antigen tests must not be taken more than 48 hours before arrival in Germany even if travellers are being transported by a carrier.Travelers who are only transferring at an airport in Germany are also required to present proof of their COVID‑19 status taken within 48 hours before departure.
Last Updated 2021-12-29
■
Greece
Test Type: Saliva ×
Test Type: Swab 〇
Requirements
PCR swab test within 72 hours before arrival, antigen (rapid) within 24 hours before arrival regardless of the vaccination status. recovery proof, or nationality. (children under 5 are exempted). Bring your Vaccination/Recovery certificate, it may facilitate the procedures upon arrival.
Last Updated 2021-12-29
■
Hungary
Test Type: Saliva ×
Test Type: Swab 〇
Requirements
PCR test within 72 hours before arrival or a valid EU Digital COVID certificate of vaccination/recovery (travelers under 18 attended with valid certificate holders are exempted).
Last Updated 2021-12-29
■
Iceland
Test Type: Saliva ×
Test Type: Swab 〇
Requirements
PCR Test within 72 hours before departure. Travellers with a proof of full vaccination/recent COVID infection can have PCR- or antigen test. Non-fully vaccinated or previous infection must have PCR-test. Children born 2005 or later are exempted. Those who live in Iceland, or who have a network in Iceland, must go for COVID-19 testing within 48 hours of arriving in Iceland.
Last Updated 2021-12-29
■Ireland
Test Type: Saliva ×
Test Type: Swab 〇
Requirements
All passengers aged 12 and over & fully Vaccinated or recovered from COVID-19: Antigen test (within 48 hours before arrival) or RT-PCR test (within 72 hours before arrival). Unvaccinated/haven't completed vaccination: RT-PCR test (within 72 hours before arrival).
Last Updated 2021-12-29
■Italy
Test Type: Saliva ×
Test Type: Swab 〇
Requirements
PCR swab within 72 hours before arrival OR Antigen test within 24hours before arrival. Need to present WITH one of the valid Green/Vaccination/recent Recovery certificates. (Children under 6 are exempted from pre-travel tests). PDF accepted.
Last Updated 2021-12-29
■
Lithuania
Test Type: Saliva ×
Test Type: Swab 〇
Requirements
PCR swab test within 72 hours before arrival or Rapid Antigen test within 48 hours before arrival (a valid proof of fully vaccination or recently recovered from COVID19 infection are exempted from pre-departure tests).
Last Updated 2021-12-29
■
Malta
Test Type: Saliva ×
Test Type: Swab 〇
Requirements
Travellers 12 yrs and over not in possession of a recognized vaccine certificate need nasopharyngeal RT-PCR within 72 hours before arrival. Children between 5 and 11 (both ages included) accompanying vaccinated parents/guardian/s must have nasopharyngeal RT-PCR within 72 hours before arrival
Last Updated 2021-12-29
■
Netherlands
Test Type: Saliva ×
Test Type: Swab 〇
Requirements
1. PCR Test within 48 hours before departure OR 2. Rapid-antigen within 24 hours before departure.
Last Updated 2021-12-29
■
Norway
Test Type: Saliva ×
Test Type: Swab 〇
Requirements
PCR/Rapid Antigen Test within 24 hours before arrival IF a valid Norwegian COVID Certificate with QR code or COVID Recovery certificate cannot be presented (children under18 are exempted). *For people arriving by plane, the test can be taken within the 24 hours before departure time.
Last Updated 2021-12-29
■
Poland
Test Type: Saliva ×
Test Type: Swab 〇
Requirements
All travelling from non-Schengen countries must present a proof of negative COVID test (PCR or antigen:lateral flow), taken within 24 hours before arrival, counting from the date of receiving the result (children under 5 are exempted).
Last Updated 2021-12-24
■
Portugal
Test Type: Saliva ×
Test Type: Swab 〇
Requirements
PCR test within 72 hours before departure or Rapid Antigen within 48 hours before departure, unless you have valid EU Digital certificate or younger than 12. (Japanese Vaccination Certificate is currently not applicable for entry.) Further rules apply to entry to Madeira/Azores.
Last Updated 2021-12-29
■
Romania
Test Type: Saliva ×
Test Type: Swab 〇
Requirements
During the timeframe from Dec/10 2021 until Jan/8 2022, PCR test within 48 hours before departure regardless of vaccination status (some exempt conditions exist, please check the government announcement).
Last Updated 2021-12-29
■
Russia
Test Type: Saliva ×
Test Type: Swab 〇
Requirements
PCR test within 48 hours before arrival for all travelers including children and infants of all ages. Certificate in printed format.(Russian nationals are exempted.) Entry is banned to the passengers who stayed in the red-listed countries in last 10 days.
Last Updated 2021-12-29
■
Serbia
Test Type: Saliva ×
Test Type: Swab 〇
Requirements
PCR test within 48 hours before arrival, vaccination certificate issued in Serbia (or in a country with which Serbia recognizes as valid), or COVID recovery certificate issued within 6 months of arrival & issued in Serbia (or in a country with which Serbia recognises as valid).
Last Updated 2021-12-29
■
Scotland
Test Type: Saliva ×
Test Type: Swab 〇
Requirements
PCR/Antigen Test within 2 days before departure (children under 12 are exempted). PDF accepted.
Last Updated 2021-12-29
■
Spain
Test Type: Saliva ×
Test Type: Swab 〇
Requirements
For non-Spanish national, Vaccination Certificate, PCR test within 72 hours before arrival, or Rapid Antigen test within 48 hours before arrival, depending on which entry category you fall into. (Children under 12 are exempted.)
Last Updated 2021-12-29
■
Sweden
Test Type: Saliva ×
Test Type: Swab 〇
Requirements
PCR/Antigen test within 48 hours before arrival regardless of vaccination status. Swedish citizens/residents and children under 12 are exempted from the requirement to present a negative covid test.
Last Updated 2021-12-29
■
Switzerland
Test Type: Saliva ×
Test Type: Swab 〇
Requirements
PCR test within 72 hours before arrival (children under 16 are exempted). This applies regardless of vaccination status or recent recovery from COVID infection. Effective as of Dec 20, 2021 Rapid Antigen test within 24 hours before arrival is valid again.
Last Updated 2021-12-29
■
Tajikistan
Test Type: Saliva ×
Test Type: Swab 〇
Requirements
PCR swab test within 72 hours before departure (children younger than 3 are exempted).
Last Updated 2022-01-01
■
Ukraine
Test Type: Saliva ×
Test Type: Swab 〇
Requirements
Non-Ukrainian citizens must have PCR or Rapid Antigen Test within 72 hours before arrival (fully vaccinated certificate holders and children under 12 are exempted).
Last Updated 2022-01-01
■
Uzbekistan
Test Type: Saliva ×
Test Type: Swab 〇
Requirements
PCR Test within 72 hours before arrival regardless of the vaccination status.
Last Updated 2021-12-29
▽Related Articles▽
---