5 Dark Tourism Sites Across Japan
Where to find the best Dark Tourism destinations in Japan

Dark tourism. It is defined as "tourism involving traveling to places historically associated with death and tragedy", and there are many of these destinations around the world that are popular. Japan, being a country with a long history, has its share of sites that have gone through rough times and therefore can serve as important history lessons.
Although there is a controversial aspect of dark tourism concerning whether it is correct or not to profit from these places, it all comes down to the value of the lesson that can be learned from it and how big of an impact can it provide to visitors. It is important not to forget about these tragedies or disasters so that we can prevent or be prepared for in case similar occurrences should happen.
Here, we will show you 5 places in Japan that have been through rough times. But we don't want to just showcase the places and tours that focus on the negative facts of these occurrences. We want to introduce to you the places and tours that take it one step further.
In Fukushima, tours show the progress made by the people after the nuclear plant mess of 3.11, which is a good idea and should be focused on to introduce the tours that show how progress is made to the visitors. In the other famous area Hiroshima, historic sites have been visited by numerous tourists from all aver the world as Peace Tourism.
This list is not about focusing on the bad, but rather the positivity about learning from the past and moving forward.
---
1. Atomic bomb memorial at Hiroshima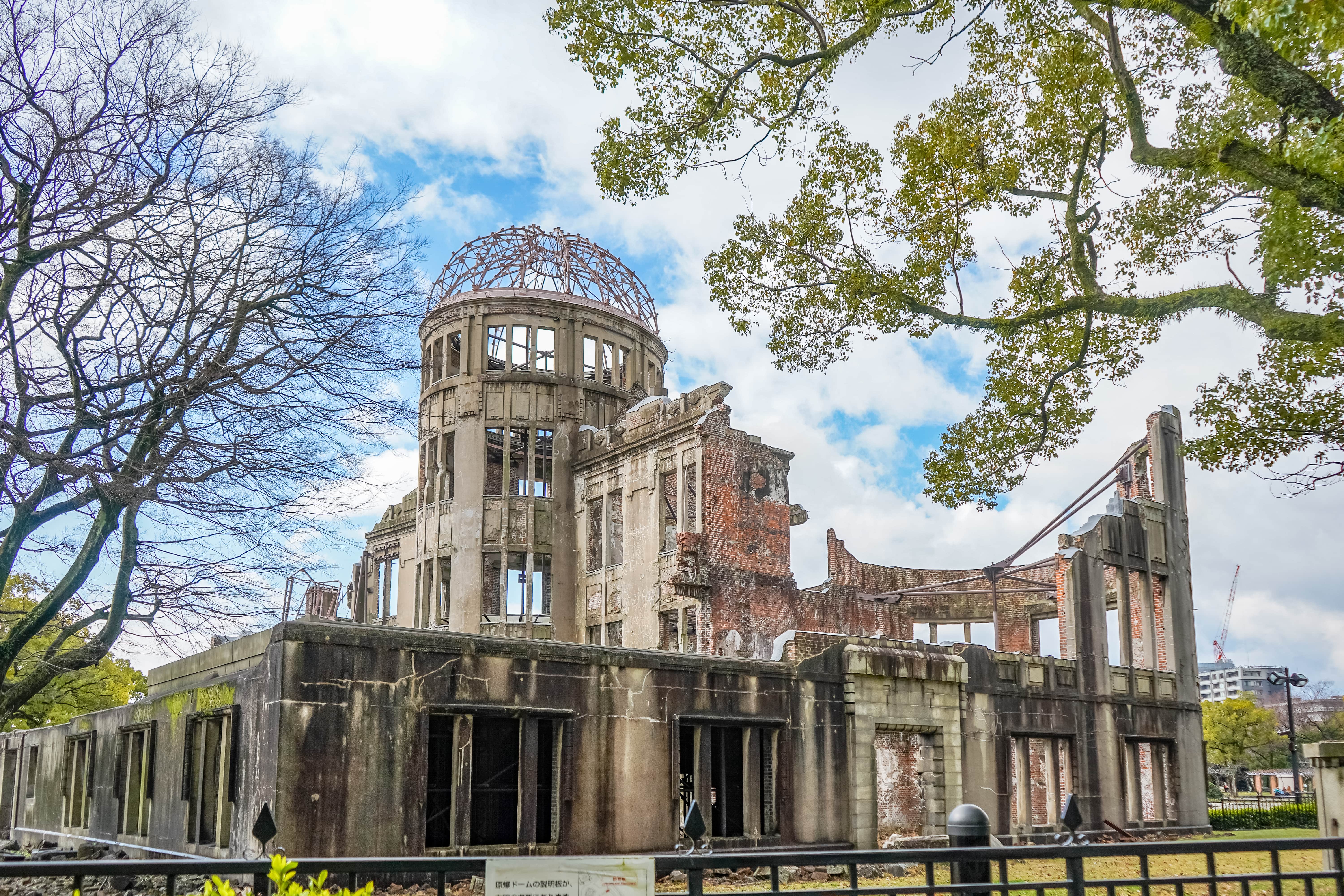 The first Peace Tourism site on our list is one affected by war. The atomic bomb was dropped over Hiroshima (広島) on the 6th of August, 1945. Nearly 140,000 people died and many more were affected by this incident.
The fact about an atomic bomb being dropped over Hiroshima during the Second World War is widely known, but it is difficult to grasp how big of an impact it had for the people in Hiroshima back then over 70 years ago.
There are many places within the city where you can see and learn about the bombing and WWII in general. there is the famous Hiroshima Peace Memorial (原爆ドーム) also known as "Atomic Bomb Dome" which is the ruins of a building that stood near the hypocenter but managed to retain most of the rebar that composes its structure.
Another famous place is the Children's Peace Monument (平和祈念像) which is a monument displaying many colorful origami cranes folded in hope for a peaceful future. These origami cranes are sent from all around the world.
If you are interested in visiting Hiroshima and want to know more about the history behind these sites, we recommend you to check this tour that will take you to the these 2 places plus other important sites such as the Hiroshima Peace Memorial Museum (広島平和記念資料館) where you can learn in detail about what happened on that day, and the Memorial Cathedral for World Peace (世界平和記念聖堂) which is a church built in hope for peace.
The tour also includes lunch/dinner and will take you to try the traditional Hiroshima-style Okonomiyaki!
Check out the link below for more details about the tour, and don't forget to use the exclusive coupon code "5DC2FHGN" available ONLY for my readers!
Recall the Memory of War in Hiroshima and Feel "Live"!!
2. Nagasaki Atomic bomb memorial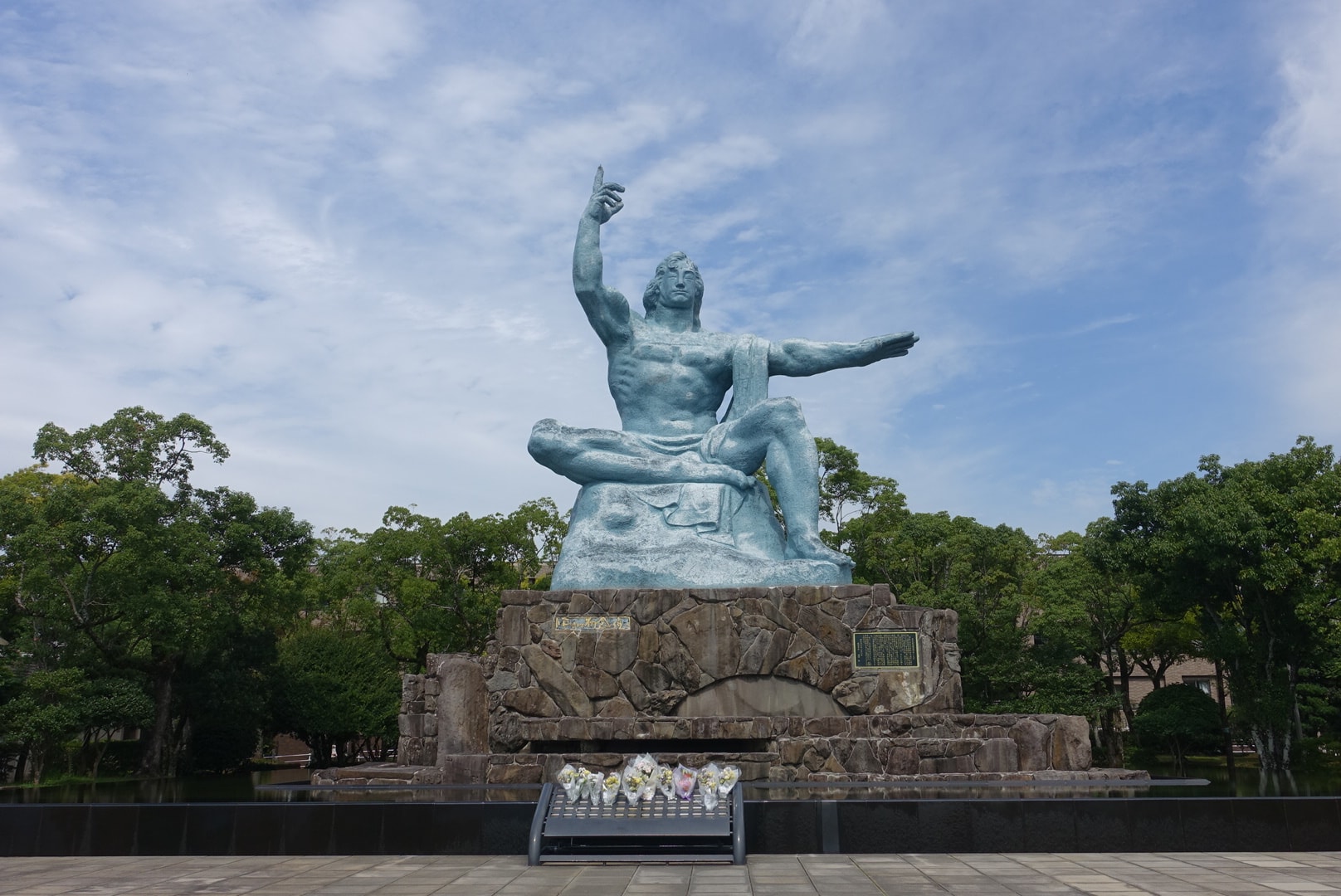 Nagasaki (長崎) is historically an important city, being the only point of entry to the country during the Edo-period. Because of this, you can see in the buildings that there's a lot of European influence in it. This Makes Nagasaki an aesthetically unique city among the major cities in Japan.
Similarly to Hiroshima, Nagasaki also was victim to the devastating force of an atomic bomb during WWII. But when people talk about atomic bombs, they usually talk more about Hiroshima than Nagasaki. Maybe this is because Hiroshima had about twice the number of casualties.
But did you know that the atomic bomb dropped over Nagasaki was considerably more potent compared to the one dropped over Hiroshima? It is said that there were fewer casualties in Nagasaki because of the smaller population and also because of the mountainous land structure that prevented the explosion to affect neighboring towns.
Still, that doesn't mean Nagasaki didn't suffer. About 74,000 were killed and 36% of the city infrastructure was destroyed.
There are various places you can visit to learn and feel the weight of the effect of the atomic bomb.
The most famous place is Peace Park(平和公園) where you can find building ruins along with explanations about the incident. You can also find here the Peace Statue(平和祈念像) which was built in memory of the victims and in the hope of a peaceful future.
Another symbolic site is the Sanno Shrine(山王神社) which is a Shinto shrine affected by the explosion. There is a one-legged Torii at the entrance. This torii was literally half-destroyed but miraculously kept standing.
Also, don't forget to visit the Nagasaki Atomic Bomb Museum(長崎原爆資料館) where you can see and learn in detail the aftermath of the blast and more about WWII.
Official Tourism Website: https://travel.at-nagasaki.jp/en/
3. Fukushima after 3.11(Nuclear power plant disaster)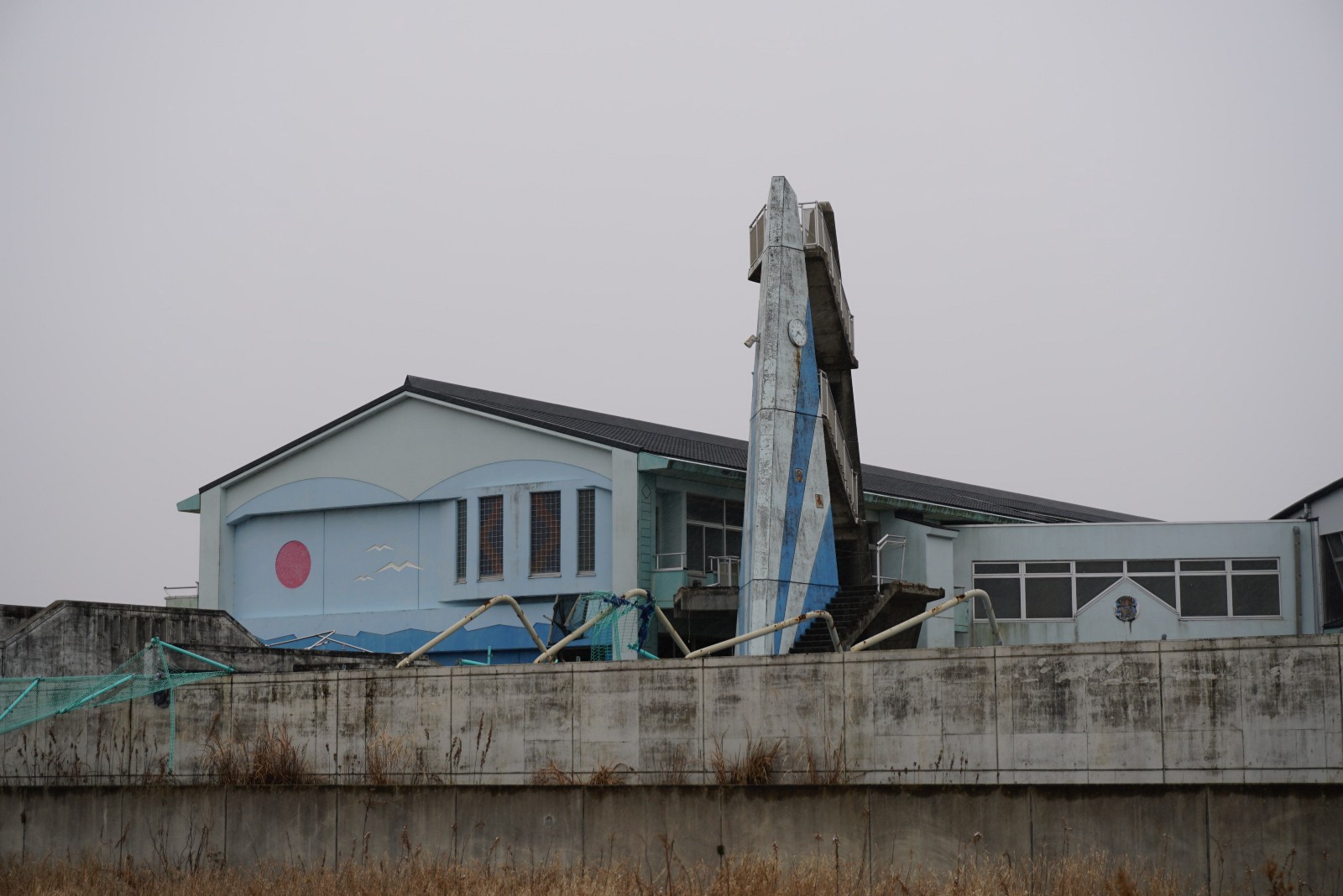 Fukushima (福島) is located in the northern part of Japan, about 1 hour and a half long ride from Tokyo by bullet train. It is famous for its beautiful nature, Kokeshi dolls, and delicious rice and sake. It also produces an important percentage of the entire amount of peaches and nectarines produced in the country.
Sadly, nowadays Fukushima is better known worldwide for the catastrophic nuclear power plant meltdown that occurred back in 2011.
The gigantic earthquake that hit northern Japan on March 11, 2011, not only was devastating because of its force(Magnitude 9.0) but also because it caused equally catastrophic secondary disasters. About one hour after the earthquake, a 15m tall tsunami hit the shores of Fukushima, causing a series of events that led to the meltdown of one of the nuclear power plants. This meant that enormous amounts of radiation were leaking out, contaminating the air and water. The people living in the area had to evacuate immediately, having to abandon all their land and possessions.
It has been over 8 years since, and things in Fukushima look better now. Of course, there are still big issues that need to be dealt with, but the people who live near the affected areas have been uniting forces to recover from the disaster.
Click here to see the current state of Fukushima!!
If you are considering visiting Fukushima, I would recommend taking a tour. What makes this tour different from the others on this list is that there are no famous monuments nor huge elaborated museums where you can learn about the incident. This tour will let you see the actual abandoned places as they were during the day of the nuclear disaster. You will also get to listen directly to stories and raw comments of the people who were present that day and were hugely affected. This is something possible only because of its recency.
4. Kobe after the Great Hanshin Earthquake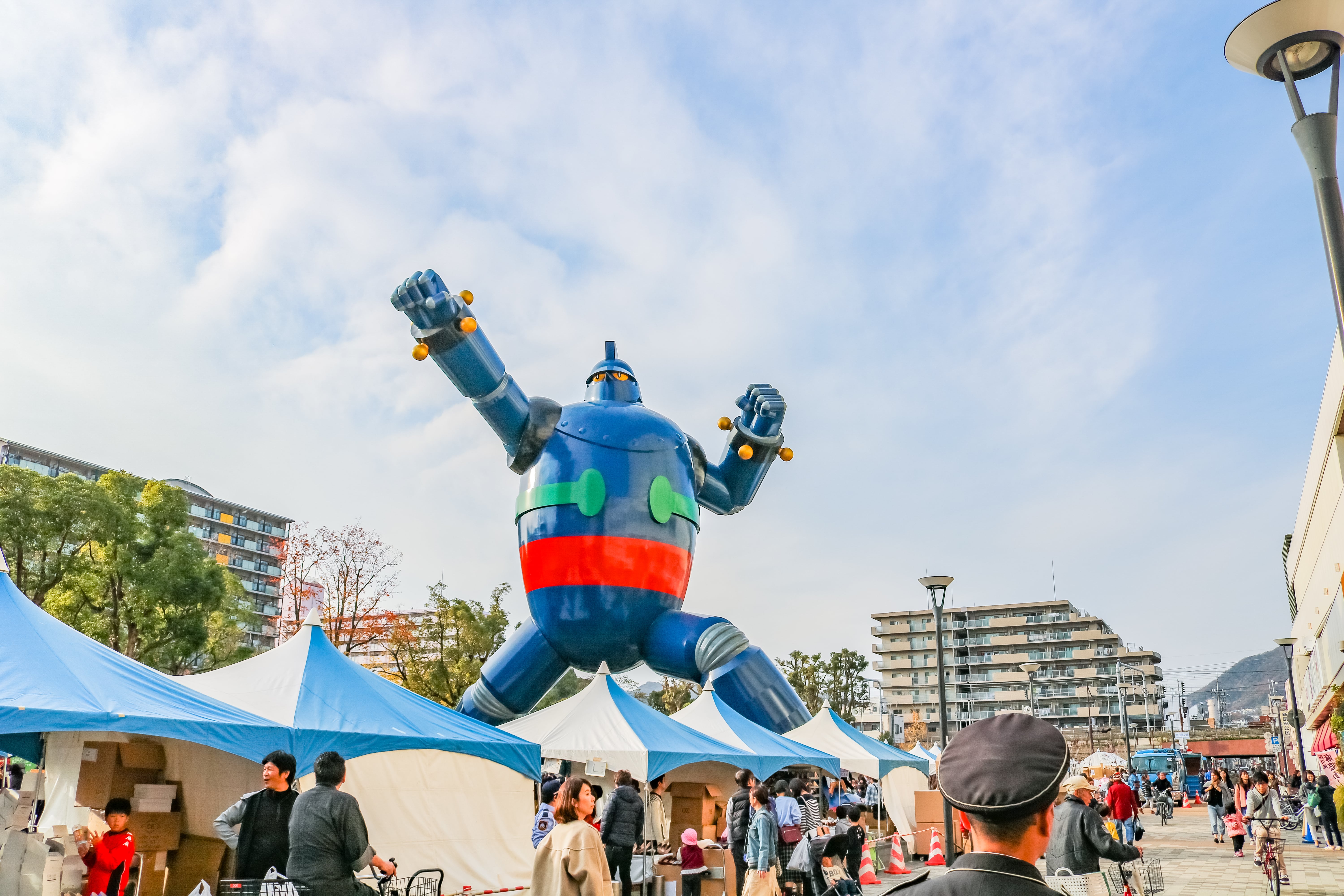 Kobe (神戸) is a beautiful port city that has lots of attractive architecture, exquisite food, and fun touristic spots, making this a very popular place among foreign visitors. But did you know that this city was victim to one of the most devastating natural disasters in Japanese history about 25 years ago?
On January 17, 1995, an earthquake of Magnitude 7.3 stroke the highly populated Hanshin(Osaka & Kobe) area. This earthquake had a disastrous effect killing over 6,400 people.
Out of the affected areas, Kobe had it especially bad. But this is difficult to imagine since the city has since completely recovered and become one of the most popular and attractive places to visit in all of Japan.
We recommend the following tour that will allow you to see and learn about the catastrophic effects of the earthquake and also how Kobe was able to recover and reconstruct the city in less than a decade.
This tour will take you to several places that have a story behind the earthquake.
The Disaster Reduction and Human Renovation Institution(人と防災未来センター) is where you can learn how the earthquake happened and how it affected the city. You will also visit the Monument of Tetsujin 28(鉄人28号のモニュメント) which was constructed as a symbol of recovery.
Ikuta Shrine(生田神社) and Nankinmachi (Chinatown) are popular touristic places, but you will learn in this tour interesting stories concerning these places relating to the earthquake. These are just a few of the many sites you will see on this tour.
Check out the link below for more details about the tour, and don't forget to use the exclusive coupon code "5DC2FHGN" available ONLY for my readers!
Revived Kobe: Discover the History of the Great Earthquake!!
5. Kumamoto reconstruction tour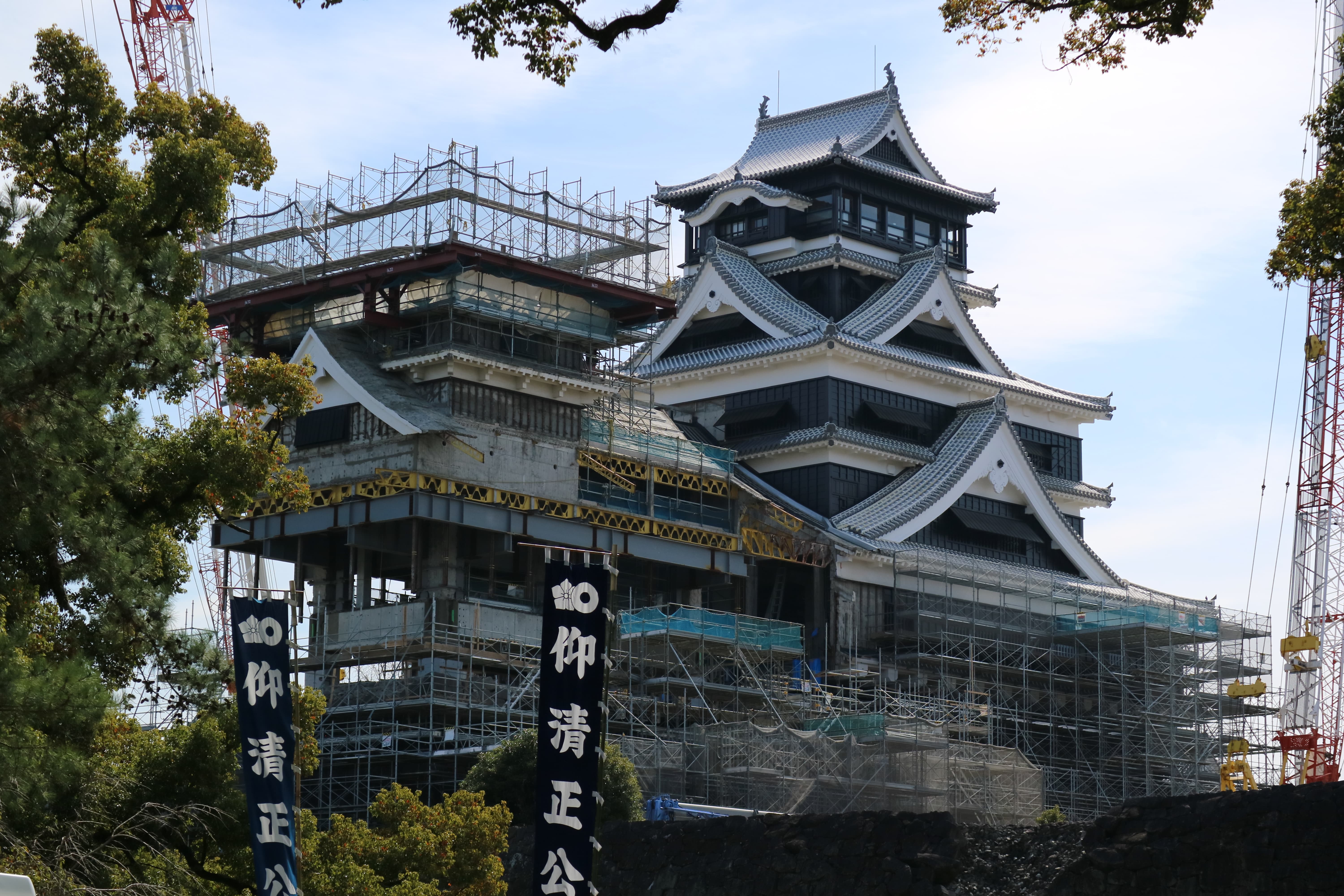 Lastly on our list is Kumamoto (熊本), which is the place affected by the most recent disaster. The Kumamoto earthquake happened on April 16, 2016. Rather than being one huge earthquake, it was a series of various strong earthquakes, the biggest one being of magnitude 7.0. The earthquake killed over 50 people and injured more than 3,000.
Several historically valuable buildings and structures also suffered big damages, especially since these are mostly made of wood and therefore are susceptible to earthquakes and fire.
The 2 most famous affected buildings were Kumamoto Castle(熊本城) and Aso Shrine(阿蘇神社).
Kumamoto Castle is the most recognizable landmark of the city having an important place in Japanese history. The castle was constructed over 400 years ago and suffered major damages on the roofs, outer buildings, and walls. It is estimated to take 20 years for a complete restoration. The outer appearance of the castle itself didn't suffer that much, so you will be able to contemplate its beauty from the outside.
On the other hand, Aso Shrine has an even longer history, being constructed over 2,300 years ago. It suffered more, having the tower gate and the worshiping hall completely collapsed. Reconstruction is estimated to take about 6 years.
Kumamoto is in itself an attractive touristic place full of beautiful sites to enjoy nature and great food as well. If you're thinking of visiting Kumamoto, I think it could be a good idea to add some of these reconstruction sites to your visit. You will not only learn about the incident and how the people are giving their best to overcome these difficult times, but you will also be contributing to filling the reconstruction costs.
Official Tourism Website: https://kumamoto.guide/en/
---
About Unique Experience Japan
Unique Experience Japan is a tourism project that has come true by the collaboration beyond industry between a tour operator who provides unique tour experiences for visitors to Japan and media with an impressive knowledge of travel.
We have a strong will to provide one of a kind tours and activities for international tourists to have unforgettable travel experiences in Japan. To achieve the vision, we deliver tourist information in the form of the travel themes reviewed from the point of view like no one has done before, and provide tour plans to travelers to enjoy Japan according to each theme.
There are a number of attractive places and experiences existing at various locations in Japan. Besides, visitors can have completely different experiences even at the same location by changing the timing or perspective of visiting. However, many of the attractions in Japan are not well-recognized by tourists yet, as most of them only visit classic or popular tourist destinations and did not reach such attractions during their trip. Our mission is to assist tourists to discover the wonderful diversity of unknown parts in Japan.
We believe that our vision and action will help you to enrich your travel experience in Japan.
---
I hope you enjoyed this list of dark tourism destinations. When people travel to a country, they tend to focus on the positive things that happened in that country's history, and that is ok. But I also think that by getting to know the bad things that happened throughout history, you get to know a place in a much more personal level.
By traveling to these places you will have the opportunity to learn about the harsh, but important, parts of human history and the strength that it took to overcome these hardships. And at the same time, you will be helping out with restoration.
I would like to end this article by reminding you that when visiting these kinds of sites, please don't forget to be respectful of the places and people. The locals around these places are grateful that you have an interest in the site. They would be even more grateful if you can show them that you understand the weight and meaning of these sites.
If you want more ideas for unusual ways of traveling, check out the following articles!
▽Related Articles▽
▼Editor's Picks▼
---