5 Best Buddha Statues in Japan
Greatest Daibutsu Buddha all over Japan from Kamakura to Nara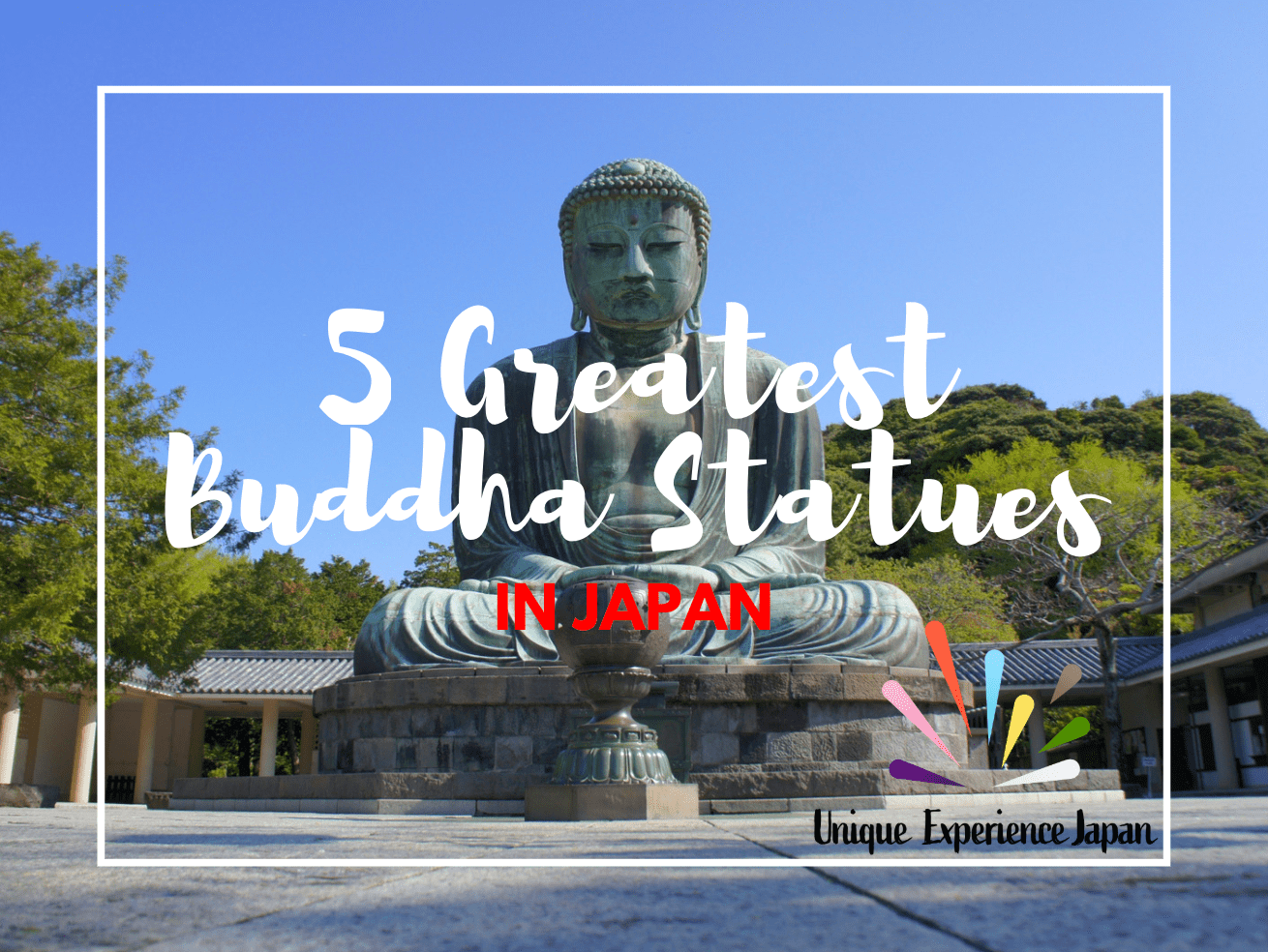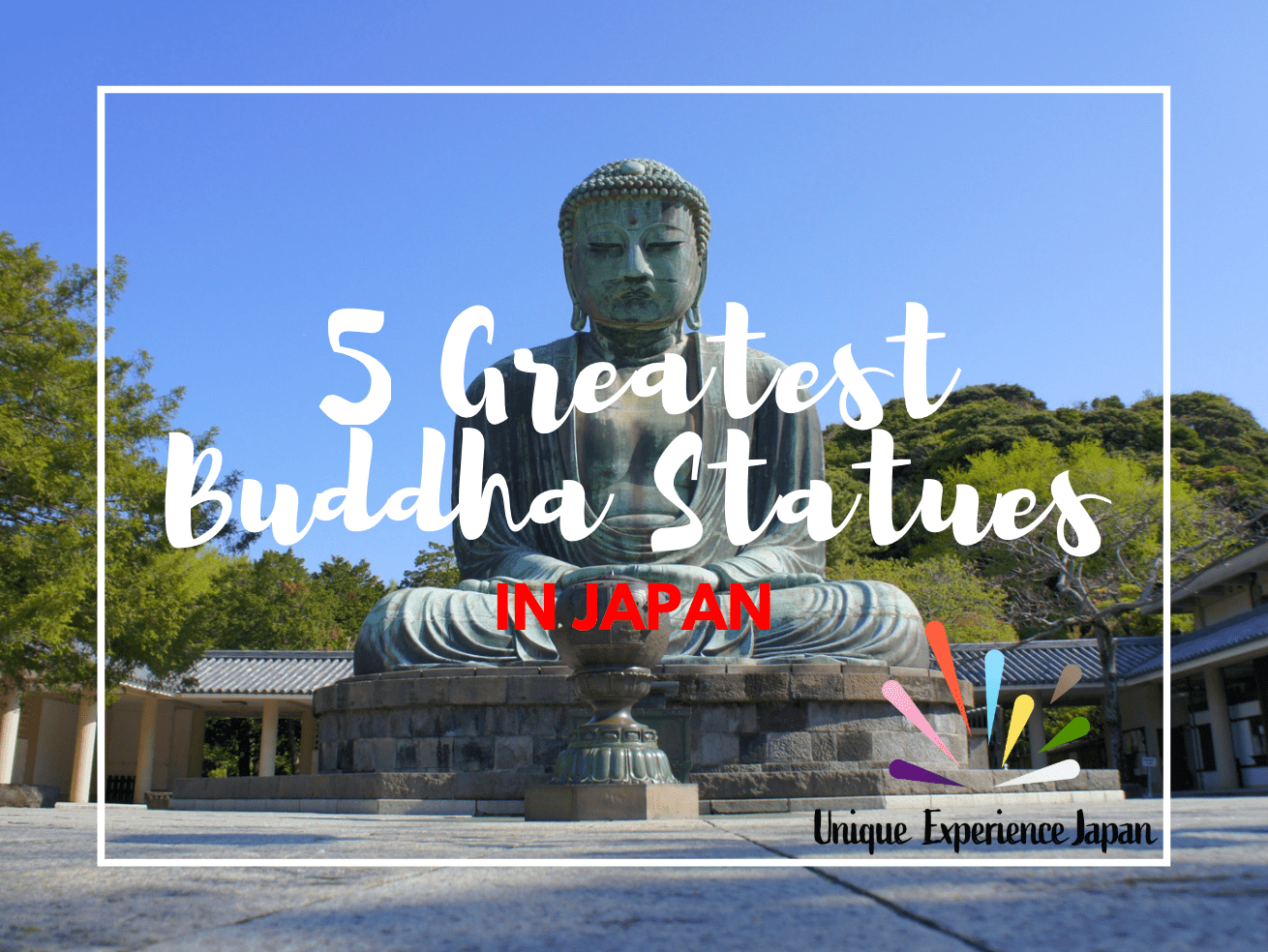 Buddha statues, which are know as "Butsuzo" or "Daibutsu" in Japanese, is a symbol of majestic Buddhist temples. You can see a variety types of Buddha statues at temples all around Japan from small to gigantic ones since there are about 75,000 temples in the island country.
Buddha statues have been made and set at a temple in hope of peace and happiness of citizen based on Buddhism. Buddhism is the religion originated in India and China and coming to Japan in around the 6th Century.
It is said that the first Buddha statue was made in Japan around the early 7th Century. Japanese people have prayed in front of a Buddha statue with their hands clasped since then. A temple itself is one of the most popular tourist attractions to foreign travelers, and Buddha statues are what they should see in Japan. Here are must-visit Buddha statues all over Japan from the famous spots to hidden gems. In addition to a Buddha statue itself, there are numerous tourist spots to visit around it. Here are also popular day-trip tours taking you to wonderful spots near the Buddha statues with booking links of the tours. Click the links for more details if you are interested.
1. Kamakura Daibutsu Buddha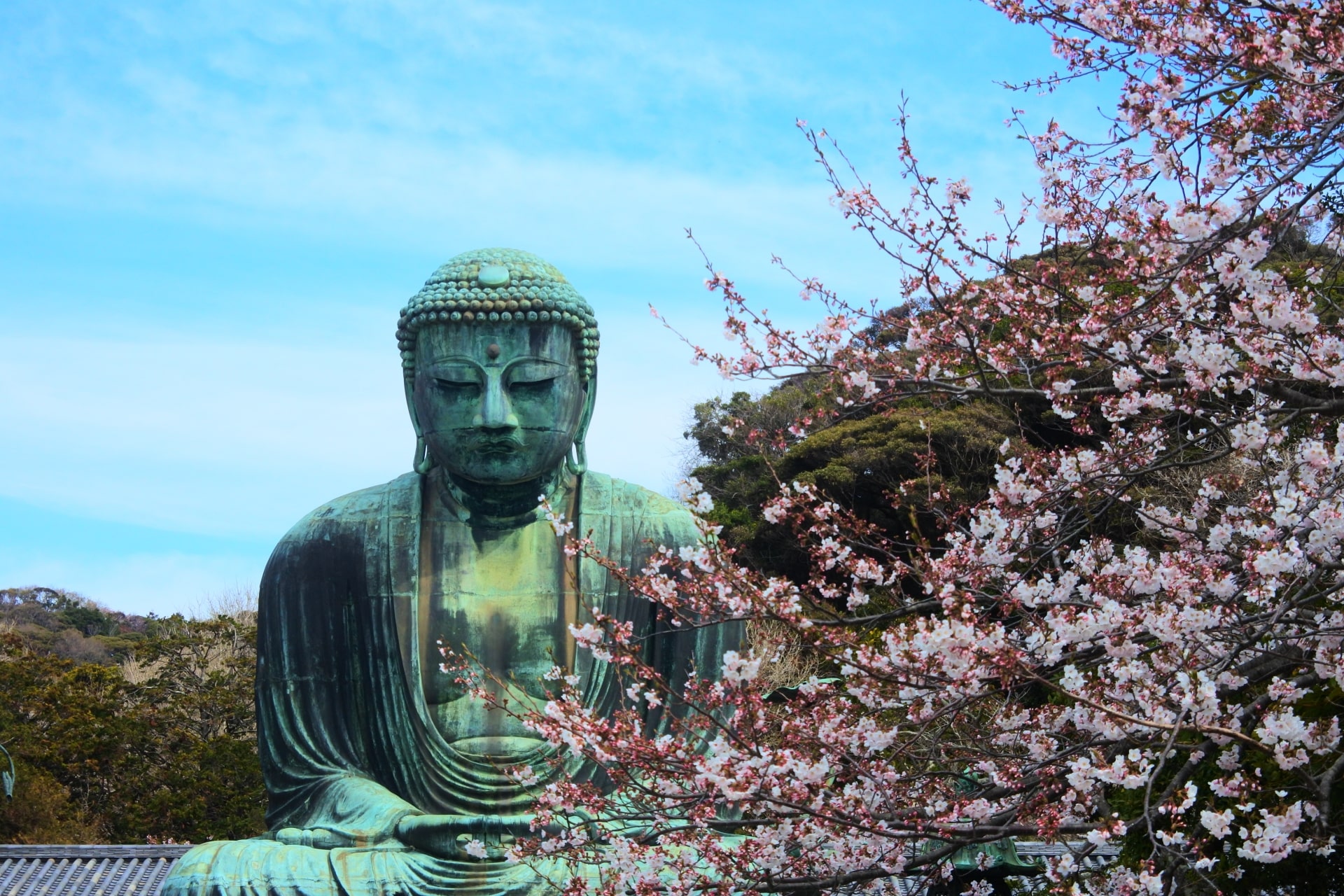 Kamakura is one of the most popular day-trip tourist destinations from Tokyo and has a lot of famous temples. Kamakura Daibutsu Buddha (鎌倉大仏), which is also known as the Great Buddha of Kamakura, is the symbol of Kamakura. The majestic sitting Buddha statue is located in Kotokuin Temple, having a height of 11 meters. Kamakura flourished as the economic and political center of Japan in the Kamakura Period (1185-1333), and the temple and Buddha statue were built in around the mid 13th Century. The great Buddha statue has had excellent cultural and historical value since it has been well-preserved since it was founded.
Many tourists visit Kamakura for seeing and worshipping for Kamakura Daibutsu Buddha. Kotokuin Temple is also known for beautiful cherry blossoms blooming in spring and there are lots of nature spots around it: for example, the bamboo forest at Hokokuji Temple and the Japanese traditional garden at Jomyoji Temple. You can enjoy tasting Kamakura's regional food including Matcha green tea and Japanese traditional desserts. If you don't miss the chance to see the Great Buddha and those historical and nature spots in Kamakura, it is recommended to join this day-trip walking tour. The special coupon code "5DC2FHGN" is offered for my readers to get a special discount for the tour. For more details about the tour, click the link below!
2. Nara Daibutsu Buddha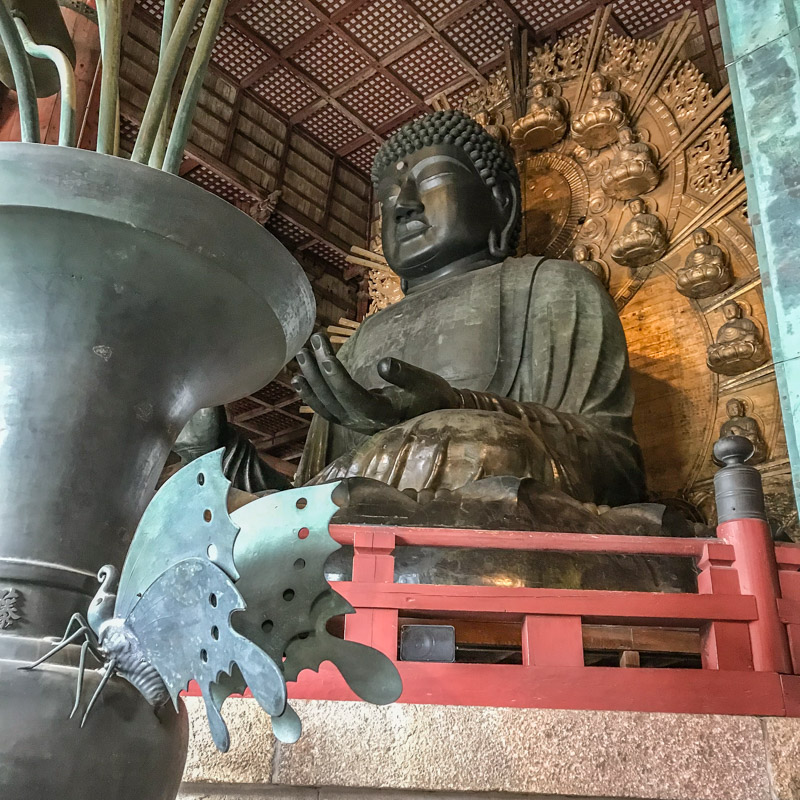 Nara Daibutsu Buddha (奈良大仏), which is called "Rushanabutsu (盧舎那仏)" in Japanese, at Todaiji Temple in Nara is one of the most famous and popular Buddha statues in Japan. The Buddha statue is about 15 meters tall sitting on the 3 meters tall base. Todaiji Temple was founded in the early 8th Century by Emperor Shomu (enthroned during 724–749). The construction project of the temple was started by his command to settle people's worries about natural disasters like earthquakes and spread of disease.
There are a large number of national Important Cultural Properties in the site of Todaiji Temple in addition to the sitting Buddha statue. Especially, Kondo Main Hall and Nandaimon Gate are what you should not miss. Nara Daibutsu Buddha and Todaiji Temple are located in Nara Park where over 1,000 wild deers inhabit. Nara is mainly visited for the historical buddha statue, Todaiji Temple and Nara Park by travelers from the neighboring tourist cities Kyoto and Osaka. If you travel in Kyoto or Osaka, Nara is the best side trip destination. For those who want to visit other attractive spots including shrines, a breathtaking observatory, swordsmith, a tea house on top of the biggest sitting Buddha statue, this guided tour will help you. Book the tour in this link below with the exclusive coupon "5DC2FHGN" now.
The ancient capital Nara has other historical spots with temples and unique Buddha statues. The mountain area Mt.Yoshino (吉野山) located in the north of Nara is also famous as a nice spot for viewing cherry blossoms, where over 30,000 cherry blossom trees color the mountain in spring. Kimpusenji Temple (金峯山寺) is one of the most powerful temples in Nara and there is impressive Buddha statues in it. For digging Nara deeper, this one-day tour below will be your perfect option!
3. Ushiku Daibutsu Buddha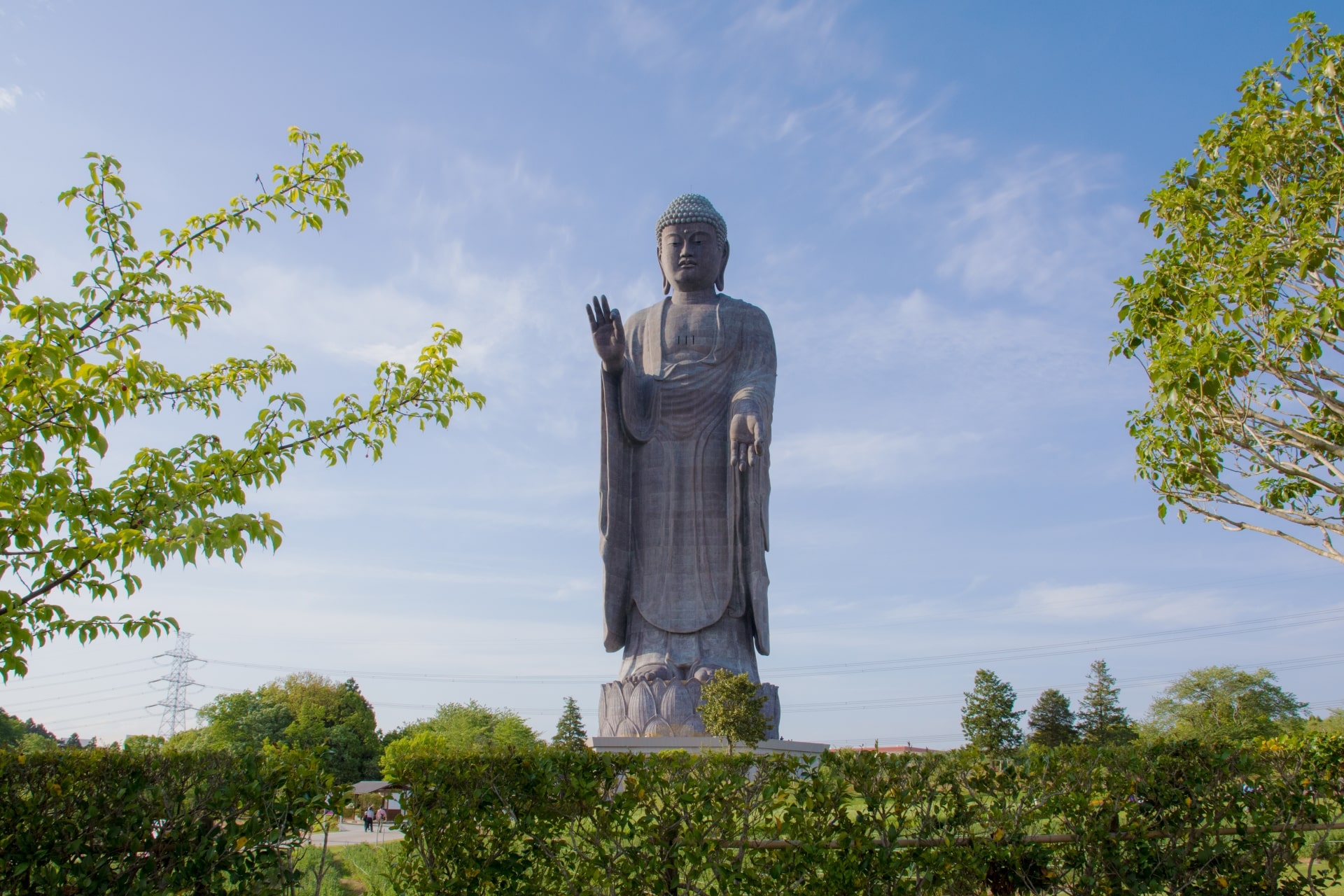 Ushiku Daibutsu Buddha (牛久大仏), founded in 1992, is located in Ushiku, Ibaraki Prefecture. There are Buddha statues in three basic poses in Japan: sitting, standing and reclining. Ushiku Daibutsu Buddha is the 4th tallest standing statues in the world and taller than any other bronze statues in the world. The 120 meters tall buddha statue, which is the tallest one in Japan of course, is so large that the famous Nara Daibutsu Buddha can be in its hand.
You can go inside the Buddha statue's body consisting of 5 floors and some cultural experiences are offered there. For instance, practice of hand-copying Buddhist sutras on the 2nd floor and observatory on the 5th floor (at a height of about 85 meters). Seeing seasonal events and flowers are also one of the best things to do near Ushiku Daibutsu Buddha. The Buddha statue is lip up in the evening twice a year: Bon Holidays (August) and New Year's Holidays. Fireworks are also fired off at New Year's Holidays. The park of Ushiku Daibutsu Buddha is colored by cherry blossoms in spring, hydrangeas in summer and cosmos in autumn. On top of those things, a zoo and a Japanese traditional garden is located next to the Buddha statue. It is easy to take a day trip from Tokyo, so highly recommended to visit if you stay in Tokyo.
4. Sendai Daikannon Buddha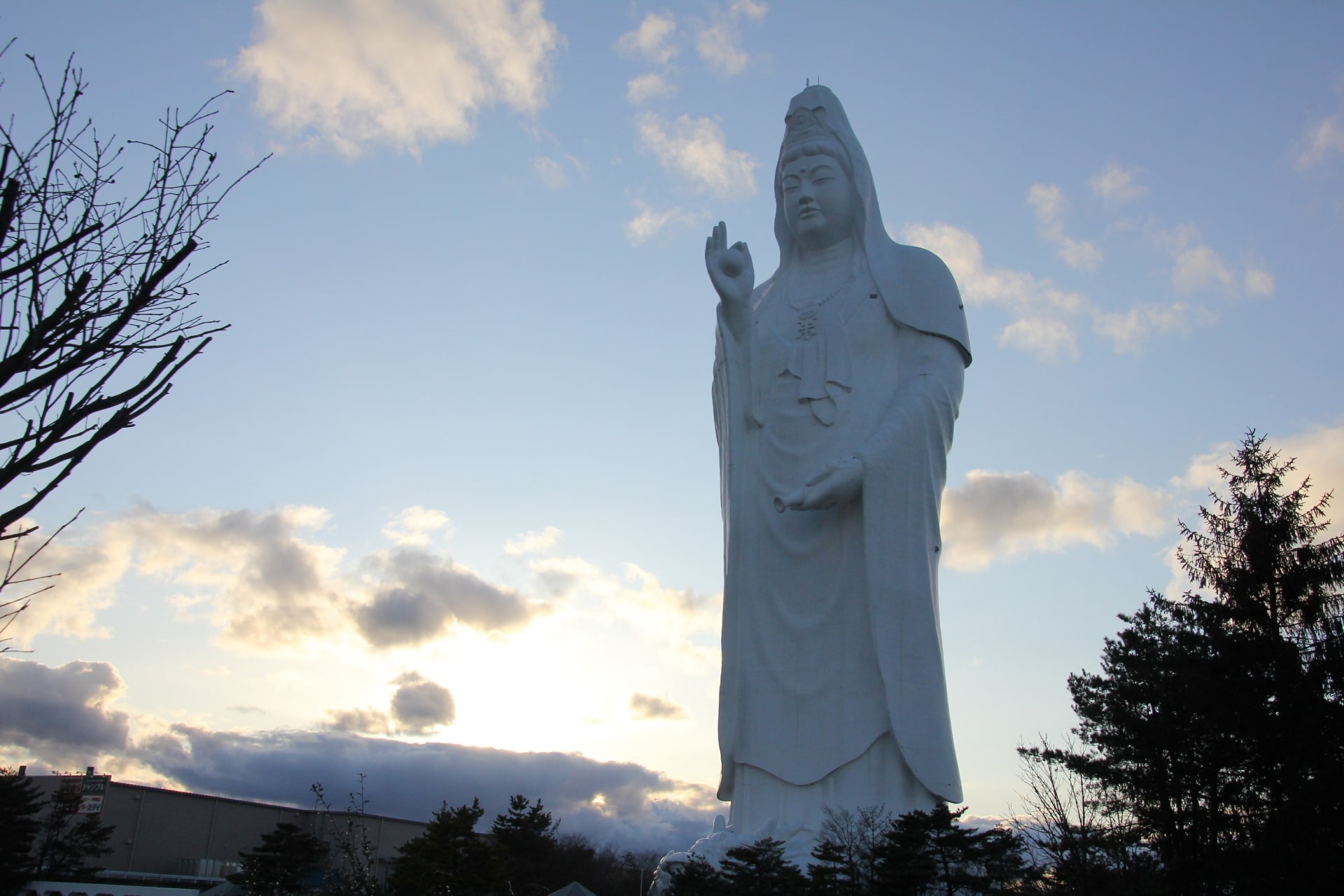 The 100 meters tall standing Buddha statue is located in the largest city in Tohoku Region Sendai, which is the 2nd tallest Buddha statue in Japan. There are numerous things to do in Sendai, and the enormous Buddha statue named Sendai Daikannon Buddha (仙台大観音) is a less touristy but must-see attraction. Sendai is one of populated cities with over a million residents in Japan, and the town is more densely packed with buildings than other countrysides. You can see the unique view there since Sendai Daikannon Buddha stands in the town. It is woven into the fabric of daily life in the residential area and as if you were in the movie world.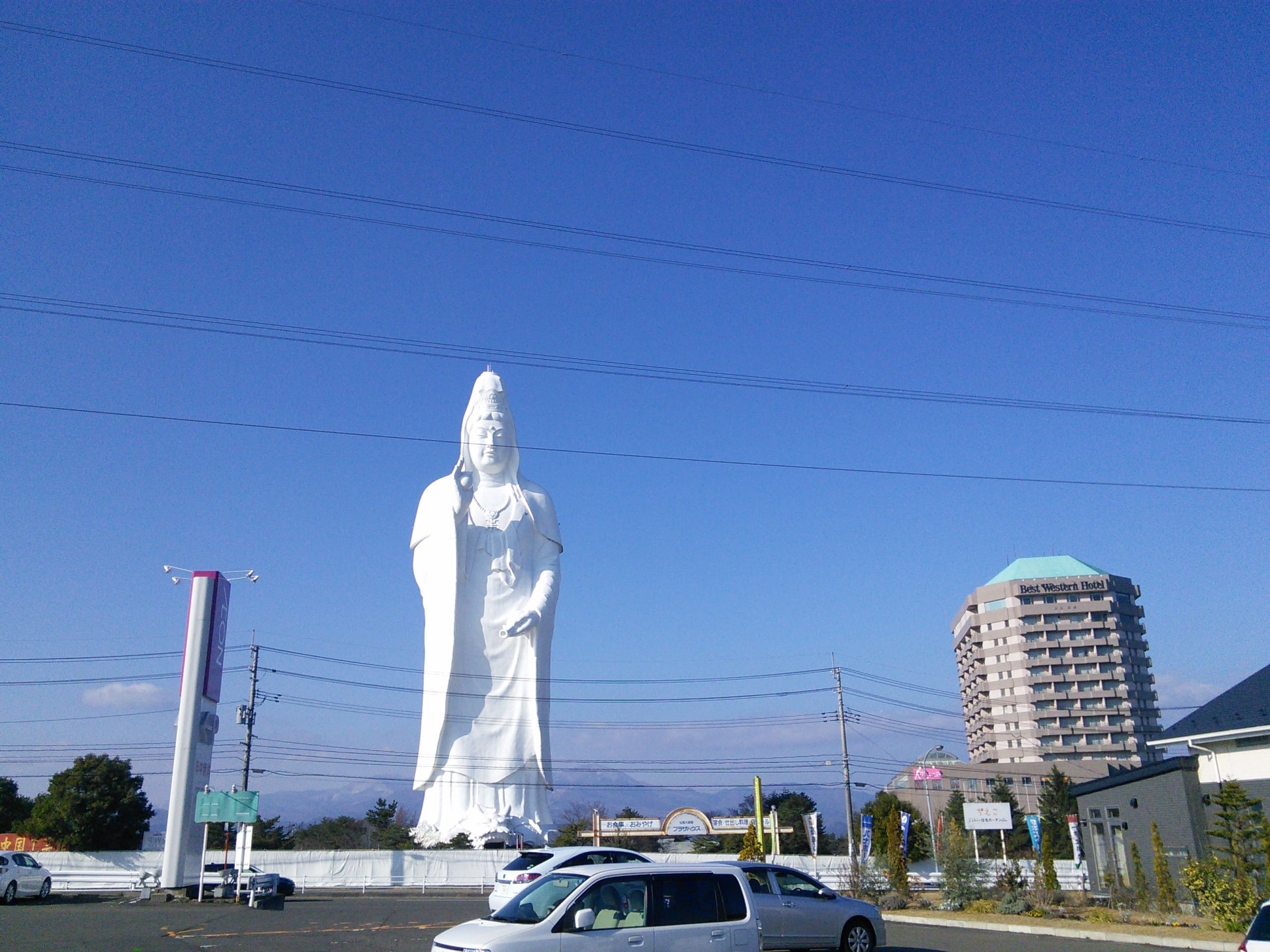 The gigantic Buddha statue belongs to Shingon Buddhism Daikanmitsuji Temple (大観密寺) which was built in 1991 at the same time as the Buddha statue. You can go inside the standing Buddha statue through the dragon-shaped entrance. There are a great number of objects related to Buddhism including over 100 Buddhas in the Buddha statue which is made up of 12 floors. Taking the elevator to the top floor let you view the superb scenery of the town from observation windows. It is a little far from Tokyo area but you can easily get to Sendai from Tokyo by Shinkansen. If you are interested in Japanese religion or culture, don't miss the chance to see the unbelievable Buddha statue in Japan.
5. Nanzoin Temple Buddha in Fukuoka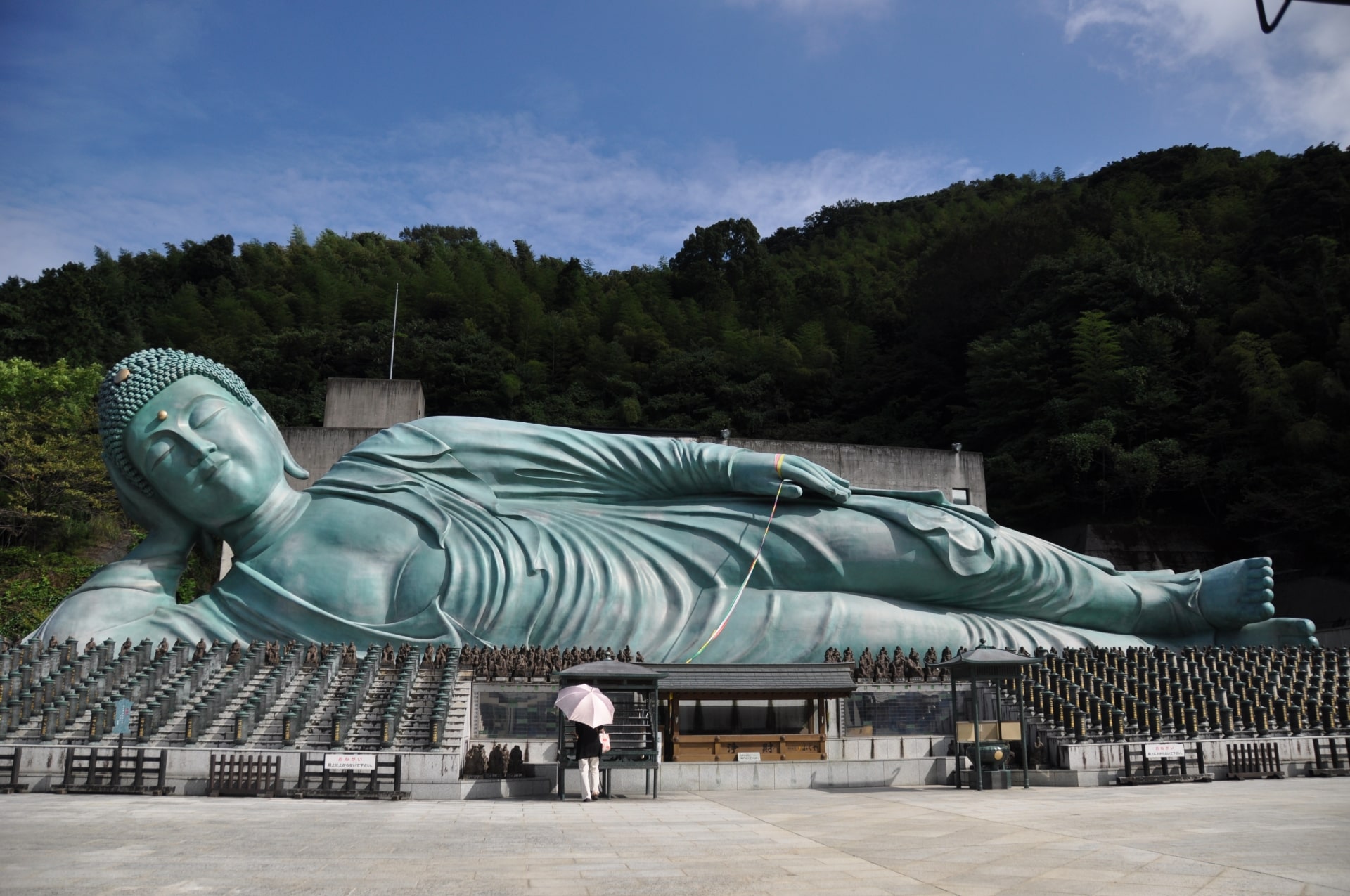 There is the largest reclining-style Japanese Buddha statue in Fukuoka Prefecture, the largest and most popular tourist area in Kyushu Region. Nanzoin Temple Buddha (南蔵院大仏) is one of the most unique Buddha statues in Japan for its hugeness and the lying pose. Reclining Buddha statues are well known worldwide for the one at Wat Pho in Thailand and The Great Buddhas of Monywa in Myanmar. The Buddha statue located to the east of Fukuoka City has a height of 11 meters and length of 41 meters which is longer than the height of Statue of Liberty (heel to top of head) in New York.
Nanzoin Temple, a Shingon Buddhist temple, was founded at the current location Sasaguri in 1889, and the reclining Buddha statue was completed in 1995. Besides the symbolic Buddha, there are some other attractions in the site including Fudo Myoo statues and more objects. Sasaguri is famous for the Sasaguri pilgrimage route where people visit 88 temples, and Nanzoin Temple is a main temple of the 88 temples. Here is an interesting and famous story about the Buddha statue and the temple. It is said that worshipping at the Buddha statue would bring you good fortune since the chief priest of the temple has won the lottery a lot (including estimated a million dollars at a time). And, he has used much of the money for the temple.
Fukuoka itself is a hot tourist destination for delicious regional food, rich nature spots and so on. For excursion from the center of Fukuoka, Itoshima Island is also highly recommended to travel. This day-trip cycling tour guides you to the highlights of the island, and you can use this special discount coupon for it: "5DC2FHGN". Click the link below for more details!
---
About Unique Experience Japan
Unique Experience Japan is a tourism project that has come true by the collaboration beyond industry between a tour operator who provides unique tour experiences for visitors to Japan and media with the impressive knowledge of travel.
We have a strong will to provide one of a kind tours and activities for international tourists to have unforgettable travel experiences in Japan. To achieve the vision, we deliver tourist information in the form of the travel themes reviewed from the point of view like no one has done before, and provide tour plans to travellers to enjoy Japan according to each theme.
There are numbers of attractive places and experiences existing at various locations in Japan. Besides, visitors can have completely different experiences even at the same location by changing the timing or perspective of visiting. However, many of the attractions in Japan are not well-recognized by tourists yet, as most of them only visit classic or popular tourist destinations and did not reach such attractions during their trip. Our mission is to assist tourists to discover the wonderful diversity of unknown parts in Japan.
We believe that our vision and action will help you to enrich your travel experience in Japan.
---
If you visit temples on your trip, don't forget to see great Buddha statues there to feel the long history of Buddhism and the architectures. For more info about Japan, check these articles below, too!
▽Related Articles▽
▼Editor's Picks▼
---